Red Wine Pear Crisp with Spiced Streusel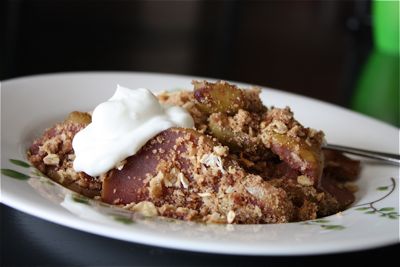 Another month…another gathering of the Cooking Light Virtual Supper Club.  This month one of our members suggested the theme, Cooking with Wine.  Now if you know me, you know that got me excited.  I love my wine.
There were so many great Cooking Light recipes using wine to choose from!  I really wish this "club" wasn't virtual…I would love to have each of these wonderful ladies cooking these dishes for me!
Cheese Fondue with Apples – Shelby from Grumpy's Honeybunch
French Onion Soup – Helene from La Cuisine d'Helene
Baked Rice with Butternut Squash – Val from More than Burnt Toast
Salmon with White Wine-Mustard Sauce – Jamie from Mom's Cooking Club
Red Wine Pear Crisp with Spiced Streusel – Aggie from Aggie's Kitchen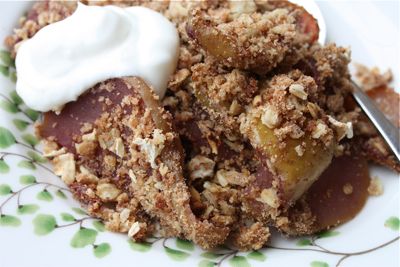 I'm not a huge dessert eater (not saying I don't like dessert…just don't have it often) but when I do I tend to make something with fruit.  I like fruit cobblers/crisps/crumbles…whatever you want to call them.  I like them because they are easy to make, usually without too much fuss, and for the most part they are on the healthy side.  This pear crisp was just that.  I've never made a crisp/cobbler/crumble with pears, so I was looking forward to trying this.  Unfortunately, I couldn't find Bosc pears to make this with (as the recipe calls for), so I had to settle for Bartlett and I left the skins on (it may not look as pretty but the skin is where the nutrients are!).  And instead of the whipped topping I opted for a dollop of vanilla Greek yogurt.
I don't have to tell you how delicious my kitchen was smelling while the pears were simmering in the wine and then baking in the oven with the spiced streusel.  It is a great fall dessert to treat yourself with.
The recipe can be found here on Cooking Light's site.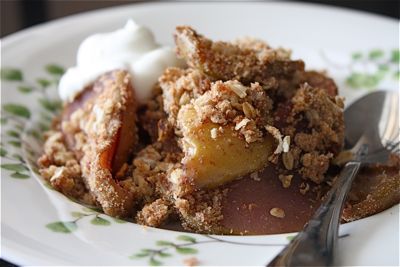 Are you following me on Instagram, Twitter, Facebook and Pinterest? If you'd like to subscribe to Aggie's Kitchen and have each post delivered straight to your e-mail box, then please add your email here. Happy cooking!
There are affiliate links in this post. I make small earnings through any purchases made through these links. Thank you for supporting Aggie's Kitchen!