Roasted Mushroom and Pepper Wrap
I had one of the best lunches I have had in a while at a little shop in Lake Mary called That Deli! I really wasn't sure what to expect other than a sandwich when I got in there…but once I started looking over their menu I found myself having a lot of trouble narrowing down what I wanted to eat.  This place has so many awesome sounding sandwiches and salads…I ended up ordering the Looney Shrooms on a spinach wrap.  I can't tell you how good it was.  That was Friday.
On to Saturday…all I wanted for lunch was another Looney Shrooms wrap.  Lucky for me, I had most of what I needed to try to recreate it at home.  It was missing the yummy garlic mayonnaise, yes, but that was okay with me…I can usually do without mayonnaise.  What I loved about this wrap was all the roasted veggies and their flavor.  It was filling, yet light since all it is is veggies!  And that's what I wanted since it was a Gator Game Day and I was going to be indulging in beer and burgers later on.  I used a tortilla wrap from La Tortilla Factory…these guys are so good for you!  They are made with whole wheat and if you are trying to get some extra fiber in your diet, these babies have 7 grams per wrap!
I used some thinly sliced cheddar cheese in my veggie wraps, but go ahead and shmear some hummus on them for some extra protein!
Enjoy!
Roasted Mushroom and Pepper Wrap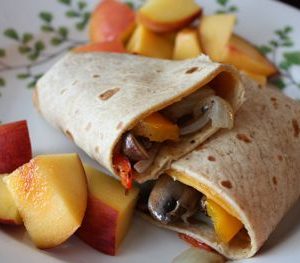 Ingredients:
1 8oz container baby portabella mushrooms, thickly sliced
1 large red bell pepper, sliced
1 large yellow pepper, sliced
1 large onion, sliced
2 cloves garlic, minced
salt and pepper
1-2 TB olive oil
cheddar cheese
whole wheat wraps
Directions:
Preheat oven to 400 degrees. In a large bowl, toss mushroom, peppers, onions and garlic with olive oil, salt and pepper. Spread on baking sheet and place in oven. Bake for approximately 20 minutes or until vegetables are softening and starting to brown.
Place 2 thin slices of cheddar cheese in center of wrap. Spoon roasted vegetables in center of wrap and on the cheese. Tuck both sides in and roll wrap like a big cigar. Cut in the center. Serve with fruit for a light and healthy lunch or dinner!
Are you following me on Instagram, Twitter, Facebook and Pinterest? If you'd like to subscribe to Aggie's Kitchen and have each post delivered straight to your e-mail box, then please add your email here. Happy cooking!
There are affiliate links in this post. I make small earnings through any purchases made through these links. Thank you for supporting Aggie's Kitchen!