Game Day Snack – Bacon Cheddar Apple Melts
Yay for Friday!  What does everyone have planned for the weekend?  We've got some fun stuff going on….flag football tonight, pumpkin patch and pony rides tomorrow, girls night in with friends Saturday night and Sea World for some Spooktacular fun on Sunday!  Oh and of course a Gator game tomorrow night!  I love this time of year.
This little creation was inspired yet again by Facebook.  I swear, I get so many ideas from Facebook friends … most of whom I have not actually seen in person for almost 15 years!  Facebook is a lot of fun that way!
These little Bacon Cheddar Apple Melts are incredibly easy to whip up and snack on while watching a game on TV (or not) while drinking a yummy fall beverage such as one of my favorites Shipyard Pumpkinhead Ale…well at least that's how we enjoyed them!  I took a major shortcut by picking up some precooked Boar Head bacon that I found in the deli section.  I like bacon, though I'm not a huge fan of the grease it produces while cooking.  These precooked strips were really good (I was skeptical but pleasantly surprised!) and cooked up in a minute in the microwave!  Of course, if you are up for frying up some bacon yourself…please do so.
Bacon, Apple, Cheddar Melts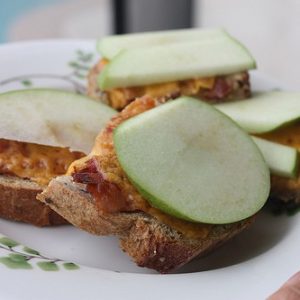 Ingredients:
loaf crusty whole grain bread from the bakery, sliced medium-thin
good sliced cheese - I used Boars Head Vermont yellow cheddar
cooked bacon slices
Granny Smith apple, sliced thin
Directions:
On slice of bread, layer bacon and cheese and place under broiler till cheese melts and browns up a bit.
Top with thin slices of apple. Cut into appropriate size for serving and enjoy!!
Are you following me on Instagram, Twitter, Facebook and Pinterest? If you'd like to subscribe to Aggie's Kitchen and have each post delivered straight to your e-mail box, then please add your email here. Happy cooking!
There are affiliate links in this post. I make small earnings through any purchases made through these links. Thank you for supporting Aggie's Kitchen!