Fish Oreganata
For those of you looking for a fish recipe for Good Friday, this is it.  This was delicious, and seriously so easy.  You probably have most of the ingredients already, just go out and get yourself some fresh fish (of course frozen is okay too) and make this for dinner.  I served it alongside some roasted broccoli.  I had to talk my kids into trying it, but once they did I didn't have to say another word.  They were rewarded with an "I tried something new!" sticker (good ole Hello Kitty and Spiderman)…an idea I stole from Jamie Oliver's new show.
Brilliant!
I originally found this recipe on my friend Patsy's blog a long time ago and have been wanting to try it for a while now.  I changed things up a bit by using panko instead of regular breadcrumbs and since I love garlic and lemon so much it was only natural for me to throw in a few extra cloves and some lemon zest.  The fresh parsley brightens it all up so if you have it use it!  (by the way…fresh Italian parsley is easy to grow and is great in so many dishes, put a pot on your counter and keep picking at it, it will pay you back with lots more and it looks and smells pretty too!)
Enjoy!  And don't forget…you have till Saturday night to enter in my Chili Cookoff Contest!  All you have to do is leave a comment with a link to your favorite chili recipe and you will be entered into a random drawing to win a gift basket from Bush's Beans.
Happy Easter and Passover!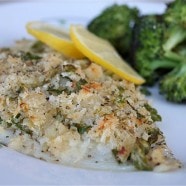 Ingredients:
1 lb mild white fish (I used haddock, but flounder, tilapia or any other white fish can be used)
2 tablespoons extra virgin olive oil
3/4 cup panko (Italian seasoned breadcrumbs will also work)
1/4 cup chopped fresh parsley
zest from one large lemon
3 tablespoons fresh lemon juice
3-4 garlic cloves, minced or pressed
1/4 teaspoon salt
1/4 teaspoon dried oregano
Directions:
Preheat oven to 425 degrees. Cover a baking sheet with foil and then spray with non-stick spray.
Place the fillets on the baking sheet. Combine remaining ingredients (EVOO through oregano) in a bowl. Press the bread crumb mixture into the fish fillets making sure they are covered. Bake until the fish is just opaque in the center, about 10 minutes.
4 servings – 6 WW Points Plus
Are you following me on Instagram, Twitter, Facebook and Pinterest? If you'd like to subscribe to Aggie's Kitchen and have each post delivered straight to your e-mail box, then please add your email here. Happy cooking!
There are affiliate links in this post. I make small earnings through any purchases made through these links. Thank you for supporting Aggie's Kitchen!
24 Responses to "Fish Oreganata"