Zucchini Nut Muffins
I've mentioned before that my little guy is a.k.a. "the muffin man" around our house.  I made these for him (and me) the other day after looking at some pitiful leftover zucchini that was screaming "use me!!" in the veggie drawer.  I adapted a zucchini bread recipe that I found in my beloved Magnolia Bakery cookbook into muffins and they turned out perfectly.  I cut down the amount of sugar and oil in the recipe by substituting natural unsweetened applesauce.  My rule of thumb (which is not backed up by any scientific baking data) is to substitute half the oil for the same amount of applesauce, and cut the sugar in just about half when doing so.  If you like more of a sweeter muffin then stick to the original amount of sugar in the recipe, but I like to cut back on the sugar whenever possible.
Don't forget to enter your favorite Chili recipe into my Chili Cookoff Contest for a chance to win an awesome gift basket from Bush's Beans!  Winner will be chosen randomly, contest ends Saturday, April 3 at midnight.
Zucchini Nut Muffins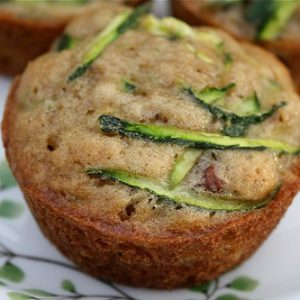 Ingredients:
1 cup all purpose flour
1 teaspoon baking soda
1/2 teaspoon baking powder
1/2 teaspoon salt
1/2 teaspoon cinnamon
1/4 cup vegetable oil (preferably canola)
1/4 cup applesauce
1/3 cup sugar (original recipe calls for 3/4 cup sugar)
2 large eggs, at room temperature
1/2 teaspoon vanilla extract
1 cup shredded zucchini, plus a little extra for optional topping (about 1 medium zucchini, with skin)
3/4 cup chopped pecans or walnuts
Directions:
Preheat oven to 350 degrees. Grease a muffin tin with non stick spray.
In a small bowl, combine the flour, baking soda, baking powder, salt and cinnamon. Set aside.
In a large bowl, n the medium speed of an electric mixer, beat together the oil, sugar, eggs, and vanilla until light and thick, about 3 minutes. Stir in zucchini.
Add dry ingredients and gently mix until just combined. Stir in the chopped nuts.
Pour the batter into muffin tins, filling each tin about 3/4 full. Sprinkle some shredded zucchini on top of each uncooked muffin. Place in preheated oven and bake for about 15-18 minutes or until toothpick inserted into center of muffin comes out clean. Let cool slightly before taking out of muffin pan. Makes a dozen muffins.
Are you following me on Instagram, Twitter, Facebook and Pinterest? If you'd like to subscribe to Aggie's Kitchen and have each post delivered straight to your e-mail box, then please add your email here. Happy cooking!
There are affiliate links in this post. I make small earnings through any purchases made through these links. Thank you for supporting Aggie's Kitchen!