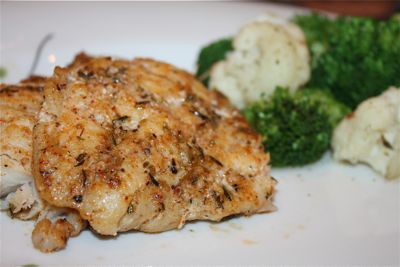 Oh my fish…this was good.  Seriously good.  I found this recipe on google yesterday as I was searching for "grouper recipes".  It popped up under Emeril on Food Network and the original recipe is called Paul's Grilled Grouper Recipe.  I made a few minor changes to the recipe, one of which instead of grilling the fish I used my cast iron skillet in the oven instead.
I don't use my cast iron skillet often, but over the summer when I was visiting my sister in law, she made us blackened red fish in a cast iron skillet that turned out so good.  I have been wanting to make fish the same way ever since.  I placed the skillet in the oven while it was preheating so it would be nice and hot once the fish was ready to cook.  Once I had the fish seasoned with the spice mixture, it hit that pan and started to sizzle…and back in the oven it went.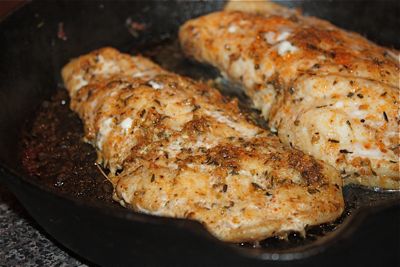 This recipe calls for Emeril's Creole Seasoning, which you can easily make at home using spices you most likely have on hand.  I had some leftover so I just sealed it up in a small tupperware container for another use.  This meal was really easy to put together.  I served the fish with broccoli and cauliflower that I steamed in the microwave and then spiced up with Ms. Dash Tomato Basil blend.  I will definitely be making this again, it was so healthy and delicious.  And you can easily substitute any fish for the grouper, I think I may try salmon next time!
Enjoy!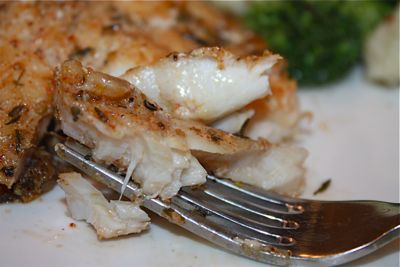 Creole Cast Iron Grouper
Recipe adapted from Paul's Grilled Grouper Recipe, Food Network
(printable recipe)
1 lb grouper
3 TB olive oil
4 cloves pressed garlic (or minced)
2-3 TB Emeril's Creole Seasoning
1-2 TB finely grated Parmesan cheese
Preheat oven to 425 degrees. Place cast iron skillet in oven while preheating. (If you don't have a cast iron skillet, just use a roasting pan, but don't preheat the pan)
In a small bowl mix together oil, garlic, seasoning, and Parmesan cheese. Brush the fish generously with mixture and place in hot skillet (be careful and don't forget to use an oven mitt!!). Place skillet and fish back into oven. Cook for about 12-15 minutes, depending on thickness of fish, until fish is translucent and flaky.
Essence (Emeril's Creole Seasoning)
2 1/2 TB paprika
2 TB salt
2 TB garlic powder
1 TB black pepper
1 TB onion powder
1 TB cayenne
1 TB dried oregnao
1 TB dried thyme
Mix all ingredients in a bowl. Store in airtight container.