Whole Wheat Pasta with Ricotta, Zucchini and Walnuts
Pasta with ricotta was a childhood favorite of mine. This Whole Wheat Pasta with Ricotta, Zucchini and Walnuts is a simple and flavorful pasta meal your family will love.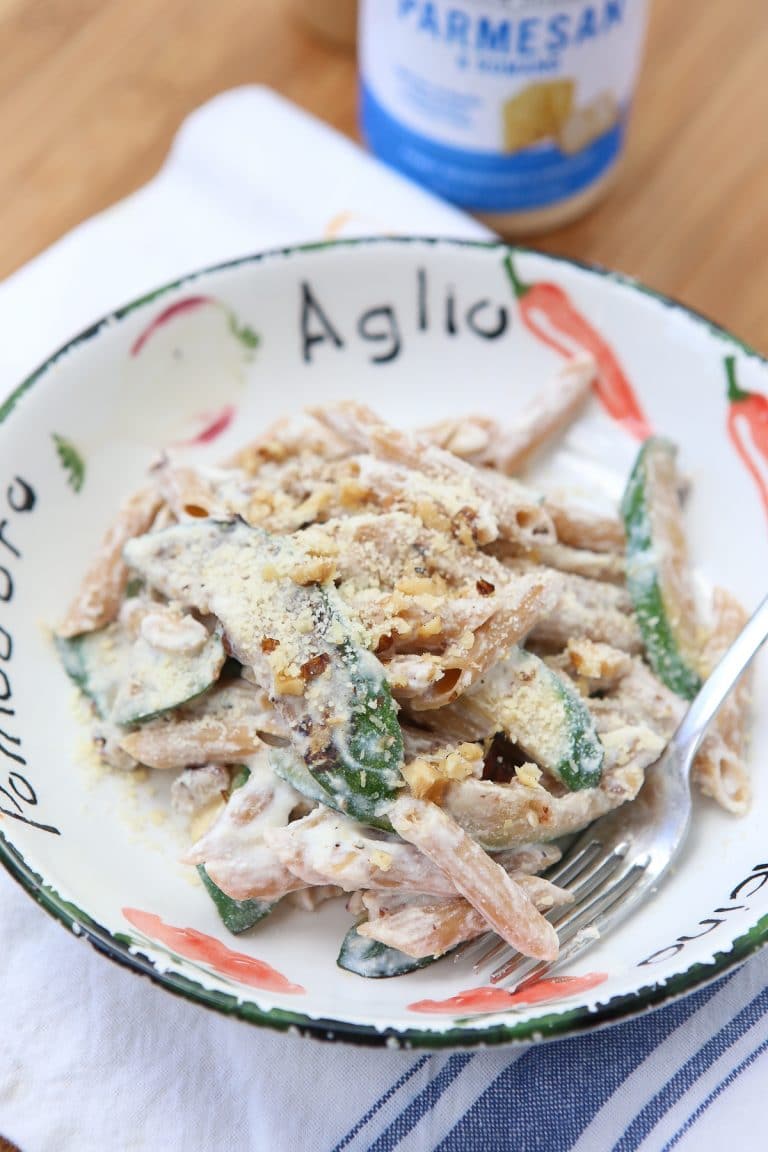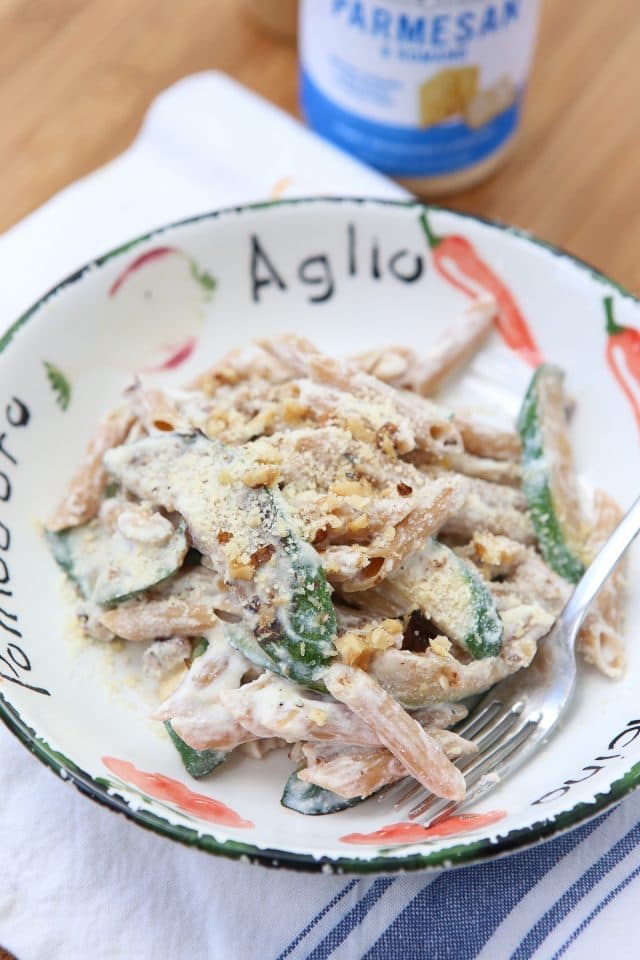 This Whole Wheat Pasta with Ricotta, Zucchini and Walnuts was made in partnership with Fisher Nuts in honor of my mom for Mother's Day. This dish is a twist on a classic recipe my mom made me all the time growing up!
One dinner I always remember eating when I was younger was pasta with ricotta. It may seem a little different to you, but to me it was basically my family's Italian version of your everyday blue box mac and cheese. Total comfort food in my book.
My mom has always been the Queen of pulling together fast dinners with whatever is on hand. I like to think I inherited this quality from her – dinner on the fly is something that I can pull of when I need to, it's something I take pride in being good at (thanks Mom!). It seems that ricotta was one ingredient my mom always had in the fridge because we ate it constantly growing up, stirred into pasta like this for dinner or just scooped into a bowl with a little sugar sprinkled on top as a snack (or in cannolis for dessert!). In fact, I was inspired by my childhood consumption of ricotta when I created this recipe for Honey Almond Ricotta Spread just last year.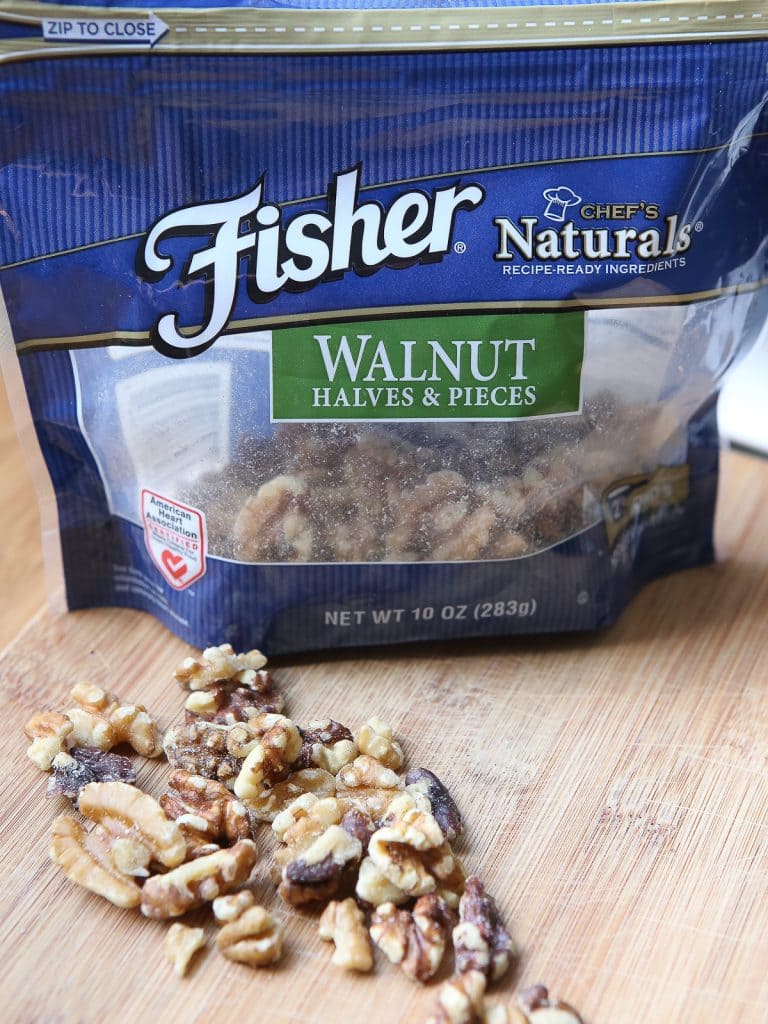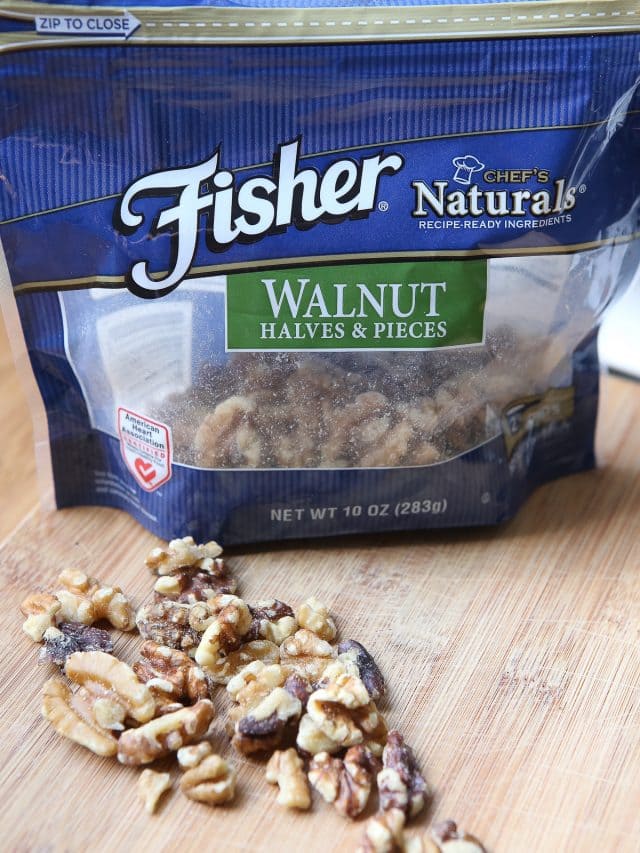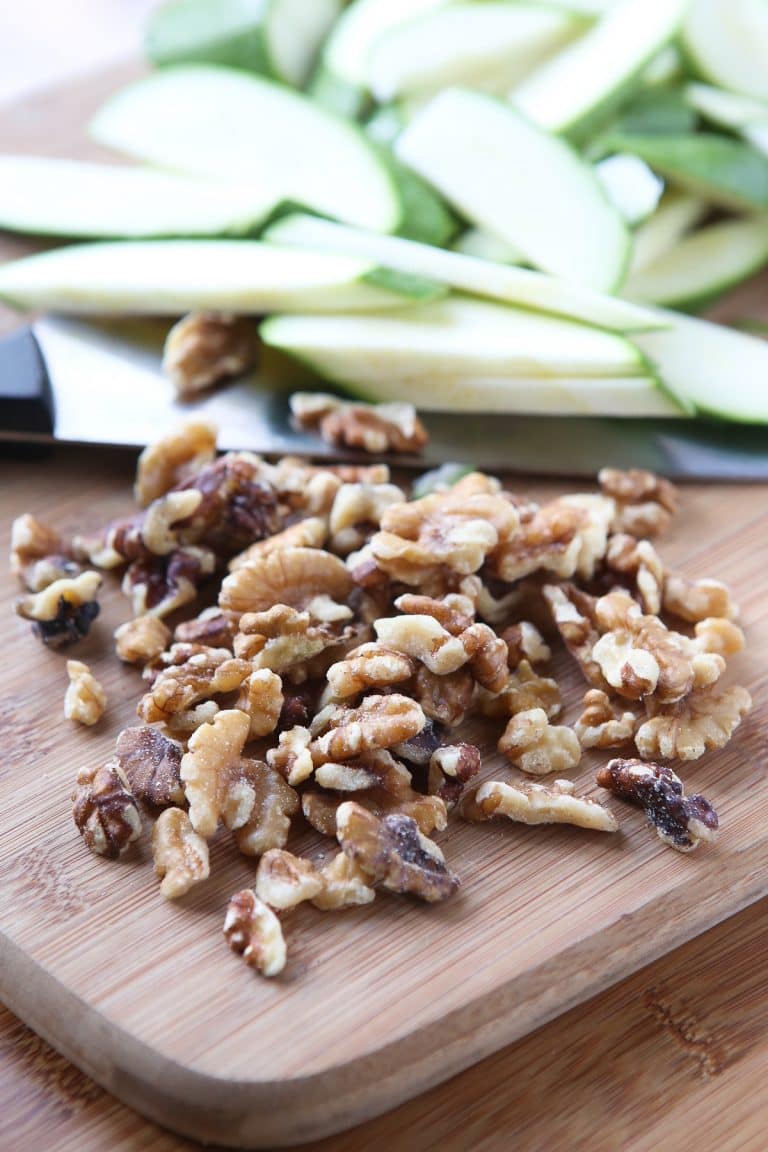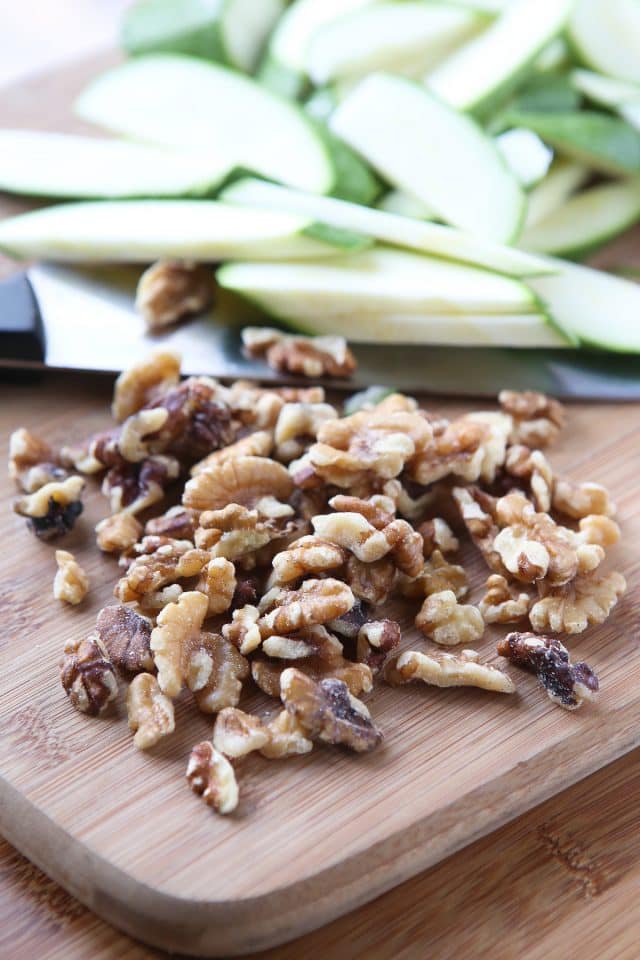 My daughter has the same love of ricotta as I do. She loves when I serve it with pasta (specifically pasta and meatballs!) and she, along with my youngest son, gobbled this dinner up when I made it for them the other night. I wanted to try something a little different than what my mom always made so I sauteed some zucchini to go with it and included chopped walnuts for some extra protein and crunch. Earthy walnuts pair up perfectly with ricotta, as well as zucchini, and my daughter made sure to tell me the walnuts in this pasta with ricotta dish was her favorite part. I loved the texture and flavor it added to the dish…and such a simple way to add it too!
This pasta is perfect for nights when you don't want to think too hard about dinner, or even if you are cooking for your own mom on Mother's Day this week. Be sure to season well with coarse salt and freshly ground pepper and of course lots of Parmesan cheese!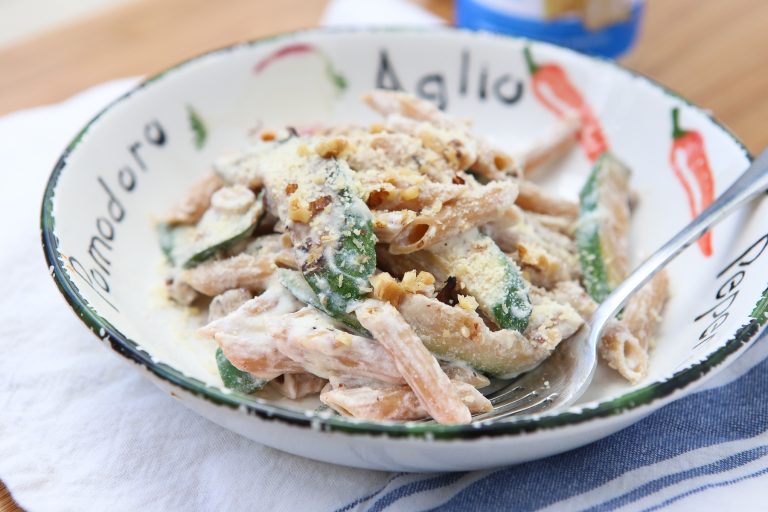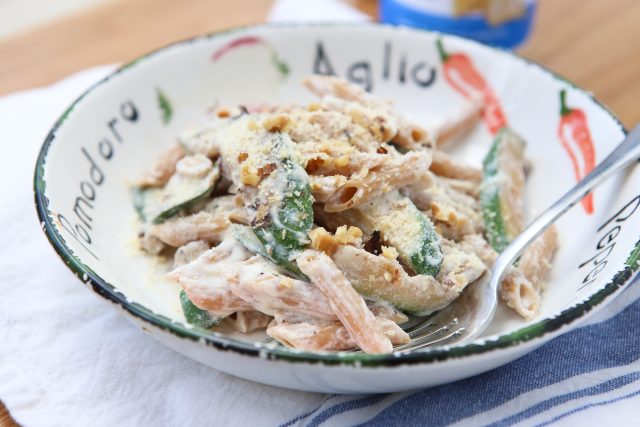 I'd love to hear from you…what are some of your favorite meals your mom made you growing up?
Pasta with Ricotta, Zucchini and Walnuts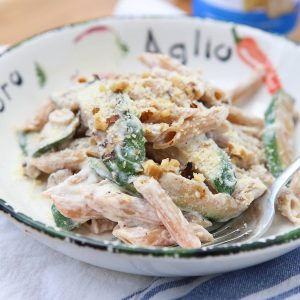 Ingredients:
2 cups uncooked whole wheat pasta (I used whole wheat penne)
1 tablespoon olive oil
2 zucchini
1/2 cup Fisher Nut Walnut Halves, roughly chopped
1/2 cup part-skim ricotta
big pinch coarse salt and fresh ground pepper
Parmesan cheese, for serving
Directions:
Cook pasta according to directions.
While pasta is cooking, heat 1 tablespoon olive oil in a large skillet. Add zucchini to pan and saute for 3-4 minutes. Season well with salt and pepper. Add walnuts and cook for 1-2 minutes longer, frequently stirring. Turn off heat.
When pasta is ready, transfer to skillet using a slotted spoon so that some of the pasta water transfers along with it. (You could also drain pasta in a strainer but set aside a few tablespoons of water first, adding to skillet along with pasta.) Once cooked pasta is skillet, add ricotta to pasta and gently fold into pasta, zucchini and walnuts letting it melt in the heat of the skillet until creamy. Season pasta and ricotta well with salt and pepper. Serve with a generous amount of Parmesan cheese.
More easy summer weeknight meal ideas:
Summer Shrimp Scampi | From Valerie's Kitchen
Chicken Zucchini Noodle Stir Fry | Two Peas and Their Pod
Sheet Pan Balsamic Shrimp and Summer Vegetables | Taste and Tell
Follow Aggie's Kitchen's board Pasta on Pinterest.
This is a sponsored conversation written by me on behalf of Fisher. The opinions and text are all mine.
I have been working in partnership with Fisher Nuts for several years, creating recipes using their preservative free nuts.
Check out my recipes below or the recipes on Fisher Nuts' website for more inspiration to include more nuts in your everyday meals:
Spring Beet and Goat Cheese Salad with Walnuts
Toasted Almond Herbed Brown Rice
Roasted Sweet Potatoes and Brussels Sprouts with Pecans
Apple, Celery and Walnut Salad with Honey Dijon Vinaigrette
Walnut and Blue Cheese Stuffed Mushrooms
Are you following me on Instagram, Twitter, Facebook and Pinterest? If you'd like to subscribe to Aggie's Kitchen and have each post delivered straight to your e-mail box, then please add your email here. Happy cooking!
There are affiliate links in this post. I make small earnings through any purchases made through these links. Thank you for supporting Aggie's Kitchen!