Slow Cooker Beef Bourguignon and Simply Mashed Yukon Golds
Create classic Beef Bourguignon in your slow cooker or crock pot – all the flavors and comfort of this delicious meal without all the work.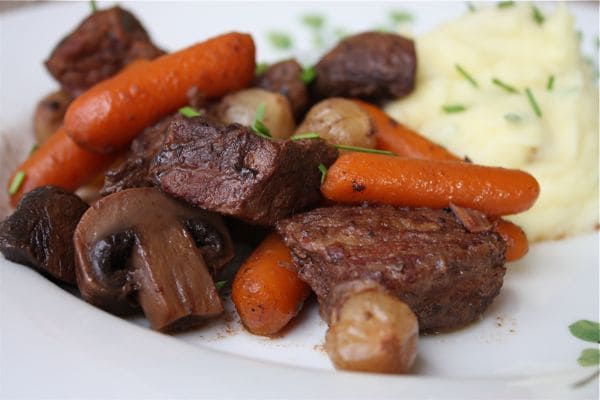 This week is the last week of the Beef. It's What's For Dinner Wednesday Challenge.  I was pretty happy to see that this last week's recipe was one that I've been wanting to try.  After seeing Julie & Julia with me, my husband requested I make Beef Bourguignon.  Although it sounded and looked delicious in the movie, I wasn't sure if a dish like it would just casually enter my weekly dinner menu.  Well it did.  And it was surprisingly simple enough thanks to Mr. Crockpot!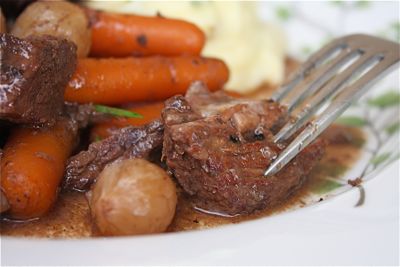 I successfully transformed the Beef Bourguignon recipe given to me by the Beef people into a slow cooker meal.  I usually turn away from recipes that call for beef browning, but this time I planned ahead and browned the beef cuts the night before and stored them in the slow cooker bowl in the fridge over night.
The next morning I dumped in some carrots, onions, mushrooms, wine and seasonings and plugged in.  It was so easy and I can't tell you how thankful I was when I got home from a really busy day of running around to the smell of beef stewing in wine.  It was well worth the extra effort the night before, I promise.
I have never had Beef Bourg (as I will lovingly refer to it as from this point on…that is one long word!) before so I don't know what to compare it too.  I omitted the bacon in the recipe to save on some calories, and added extra carrots and onions.  Instead of beef broth, I added 1/2 cup of water to the beef drippings in the pot I used to brown the meat, deglazed the pot and added the flavored liquid to the slow cooker.  After cooking on low for 8ish hours, the meat was totally fork tender.  It was delicious, and so were the mashed potatoes I made to go with it.
Print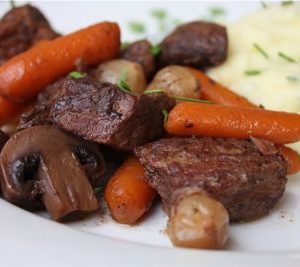 Slow Cooker Beef Bourguignon and Simply Mashed Yukon Golds
Author:
Prep Time: 15 minutes
Cook Time: 8 hours
Total Time: 8 hours 15 minutes
Yield: 6 servings 1x
Category: Beef
Method: Slow Cooker
Cuisine: French
Slow Cooker Beef Bourguignon – this comforting and flavorful classic dish made in the crock pot.
---
Ingredients
2 pounds beef chuck shoulder pot roast, cut into 1-inch pieces
1/4 cup all-purpose flour
olive oil
1 teaspoon salt
1/4 teaspoon pepper
1/2 cup beef broth
2 cups Burgundy or other dry red wine
2 tablespoons tomato paste
4 crushed garlic cloves
2 teaspoons dried marjoram leaves, crushed
8 ounces baby carrots (about 1–3/4 cups)
8 ounces fresh pearl onions, peeled or frozen pearl onions
8 ounces mushrooms, cut in half if large
Chopped fresh parsley (optional)
---
Instructions
Lightly coat beef with flour. Heat 2 tablespoons olive oil in stockpot over medium heat until hot. Brown 1/2 of beef; remove from stockpot. Repeat with remaining beef, adding oil as needed. Remove beef from stockpot and into slow cooker; season with salt and pepper. Add 1/2 cup water to stockpot and deglaze beef drippings.  Add this broth to slow cooker.
Stir in wine, tomato paste, garlic and marjoram. Add carrots, onions and mushrooms.
Cook on low heat for 8-10 hours.
---
Keywords: beef, crock pot, slow cooker
If your family enjoys beef for dinner, check out these recipes:
Cheesy Southwest Beef and Potato Skillet
Beef and Spinach Stuffed Peppers
Skinnytaste Slow Cooker Picadillo
Hard Cider Pot Roast with Mushrooms, Carrots and Onions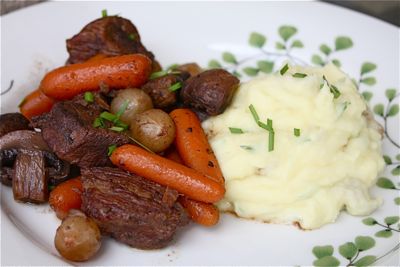 Simply Mashed Yukon Golds
Recipe from Aggie's Kitchen
8 yukon gold potatoes, quartered on halved (depending on size)
salt and pepper to taste
1/2 -3/4 cup lowfat milk
2 TB non fat Greek yogurt (or sour cream)
1 TB butter (I use Smart Balance)
4 garlic cloves, pressed
chives, optional
Place potatoes (with skin on) in pot, cover with water. Bring to a boil and cook until potatoes are fork tender. Place cooked potatoes into mixing bowl (I use my handy Kitchen Aid). Add butter, Greek yogurt and milk and start to mix. Start with 1/2 cup milk and add more if needed to taste.  Add pressed garlic, chives (optional) and salt and pepper and continue to mix until it reaches desired consistency.
Check out these other great blogs that have been participating in the Beef challenge this month!  Have a great day!
Kristen – Dine and Dish
Amy – Dinner's for a Year and Beyond
Tiffany – Eat at Home
Andy – Dinner's On Me
Kate – Cooking During Stolen Moments
Heidi – Tried and True Cooking with Heidi
Patsy – Family, Friends and Food
Are you following me on Instagram, Twitter, Facebook and Pinterest? If you'd like to subscribe to Aggie's Kitchen and have each post delivered straight to your e-mail box, then please add your email here. Happy cooking!
There are affiliate links in this post. I make small earnings through any purchases made through these links. Thank you for supporting Aggie's Kitchen!