Grilled Sweet Potato Salad
Since everyone I'm talking to these days is in the mood to grill and chill…I thought I'd go back in my archives and share a great recipe I discovered one summer long ago.
This Grilled Sweet Potato Salad is unique and just delicious. It's pairs up wonderfully with these Jamaican Jerk Chicken Wings and really with anything hot off the grill. The smoky lime dressing is the perfect complement to the sweetness of the grilled potatoes.
I honestly never thought to grill sweet potatoes until I came across this recipe.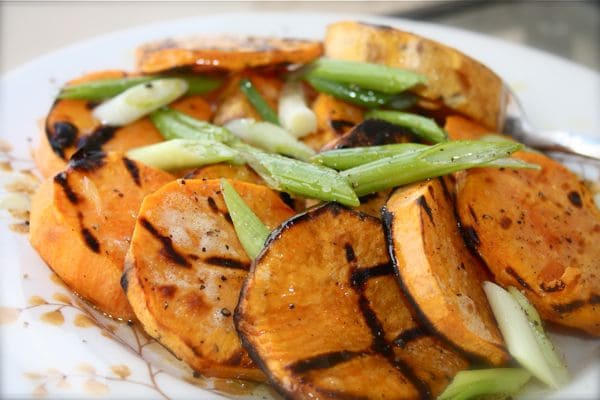 I'm always looking for new ways to enjoy sweet potatoes. They aren't just for Thanksgiving that's for sure. We love them roasted or in my family's favorite quick weeknight meal but grilling them was a fun way to change things up.
Enjoy the recipe and your weekend!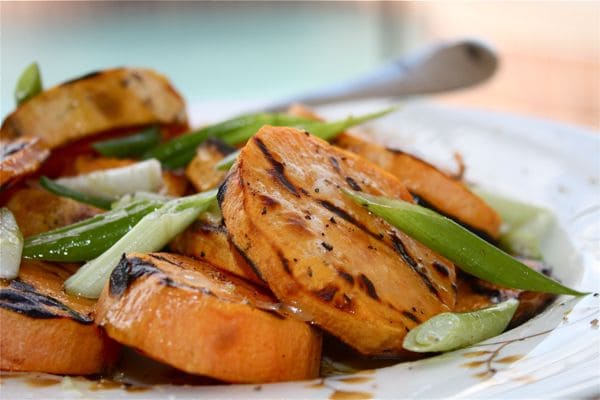 More sweet potato recipes:
Black Bean and Sweet Potato Enchilada Bake
Maple Mustard Roasted Pork Tenderloin with Mango and Sweet Potatoes
Roasted Veggie and Black Bean Burritos
Roasted Sweet Potatoes with Brussels Sprouts and Pecans
Print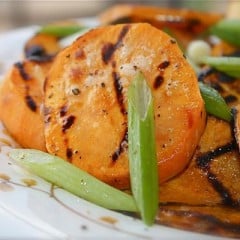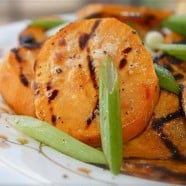 Grilled Sweet Potato Salad
---
Ingredients
2 1/2 pounds sweet potatoes, peeled
1/4 cup olive oil
1 teaspoon salt
1 teaspoon ground cumin
2–3 scallions, sliced diagonally
2 teaspoons fresh lime juice
lime wedges
handful chopped cilantro
---
Instructions
In a large saucepan, add whole sweet potatoes and cover with cold salted water by 1 inch. Bring to a simmer, covered, and cook until just tender, about 15 to 30 minutes, depending on size of potatoes. Test with a knife.
Place potatoes in a a colander and run under cold water to cool. With a sharp knife peel potatoes and cut crosswise into 1/2-inch-thick slices.
In a small bowl whisk together oil, salt, and cumin and brush some onto both sides of potato slices, reserving remaining cumin oil.
Preheat your grill. Grill potato slices on an oiled rack set 5 to 6 inches over glowing coals until golden brown, about 1 minute on each side, and transfer to a platter. Sprinkle green onion over grilled potatoes. Whisk lime juice into remaining cumin oil with salt and pepper to taste and drizzle over potatoes. Serve potato salad with additional lime wedges and chopped cilantro if desired.
Updated: I just wanted to note to keep an eye on your potatoes as they are boiling, you want them firm and not too soft. But you want to parboil them enough to take the bite out of them so they aren't completely raw on the grill.
Also, according to one of the reviews on epicurious, the potatoes can be boiled and sliced ahead of time and grilled later.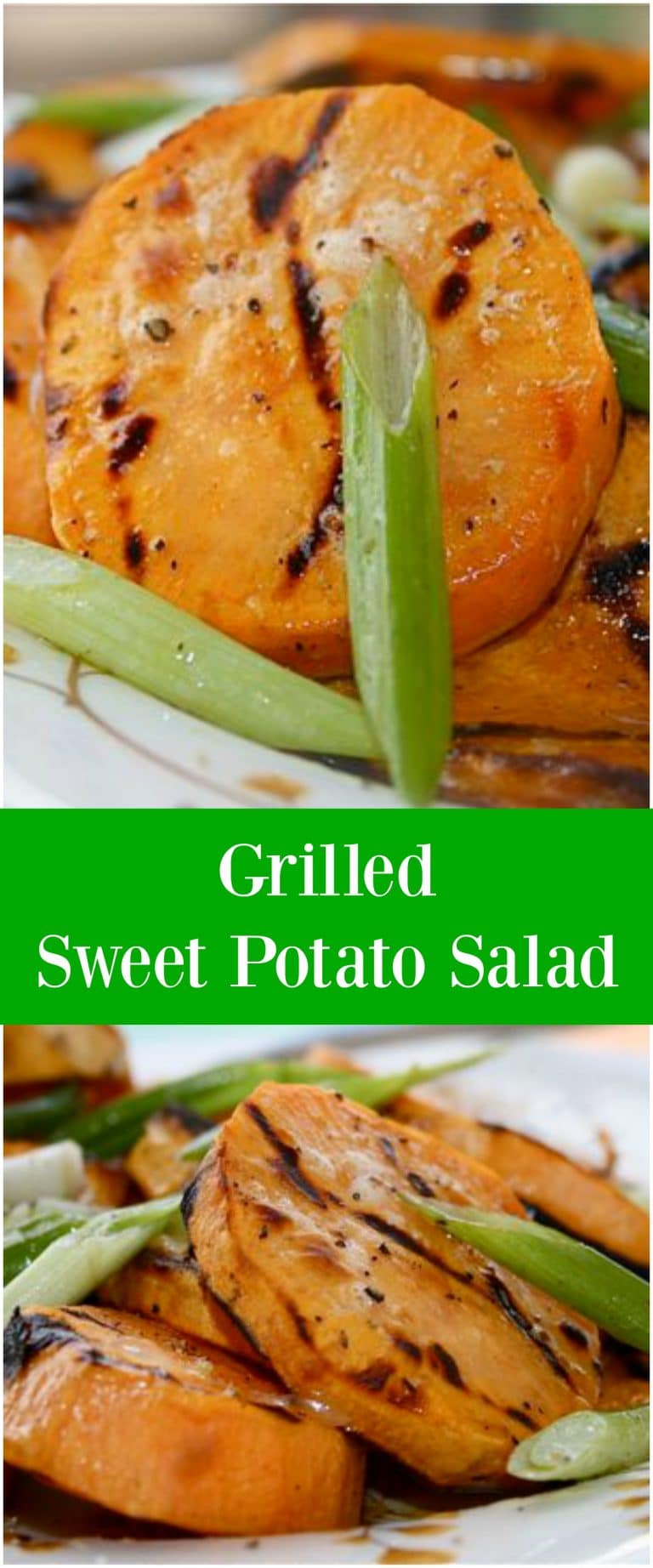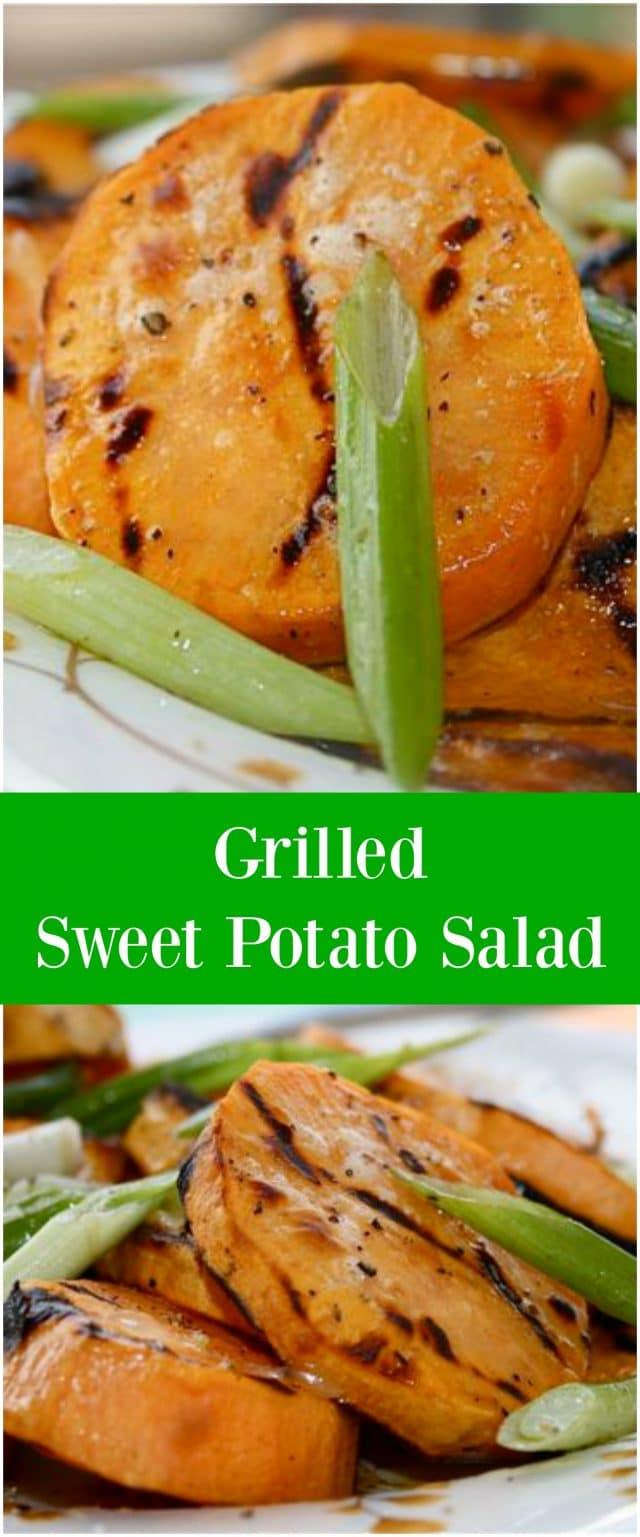 Are you following me on Instagram, Twitter, Facebook and Pinterest? If you'd like to subscribe to Aggie's Kitchen and have each post delivered straight to your e-mail box, then please add your email here. Happy cooking!
There are affiliate links in this post. I make small earnings through any purchases made through these links. Thank you for supporting Aggie's Kitchen!