Black Bean and Sweet Potato Enchilada Bake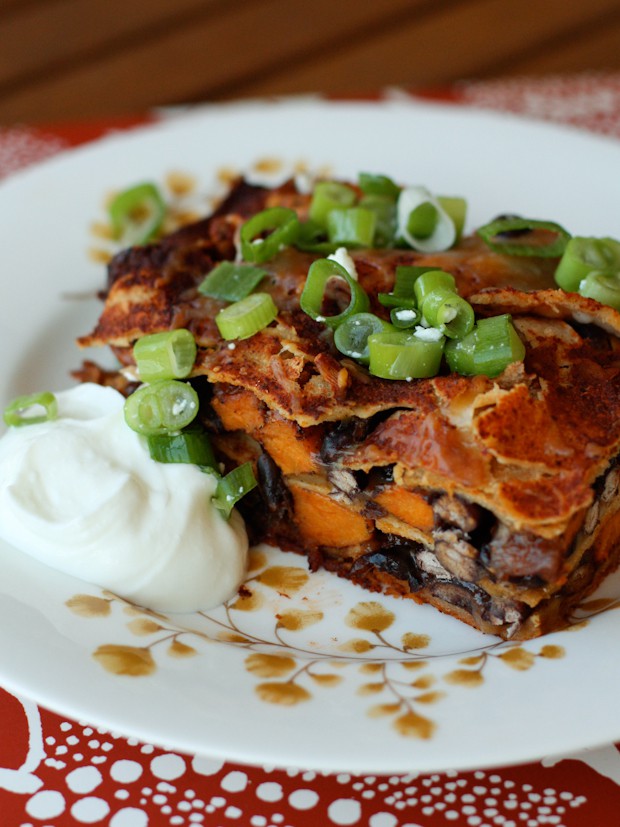 This Black Bean and Sweet Potato Enchilada Bake recipe is sponsored by Bush's Beans.
A few years ago, I discovered how well black beans and sweet potatoes go together. There have been plenty of times since that discovery where I have served myself roasted sweet potato halves or rounds topped with leftover black beans on a plate for a simple, yet filling, vegetarian lunch or dinner. There's such a good sweet and savory balance that comes from the pairing, and it's fun to experiment with it too. And not to mention, Bush's black beans and sweet potatoes are pretty much healthy staples in my kitchen so it's not hard to include them in everyday recipes.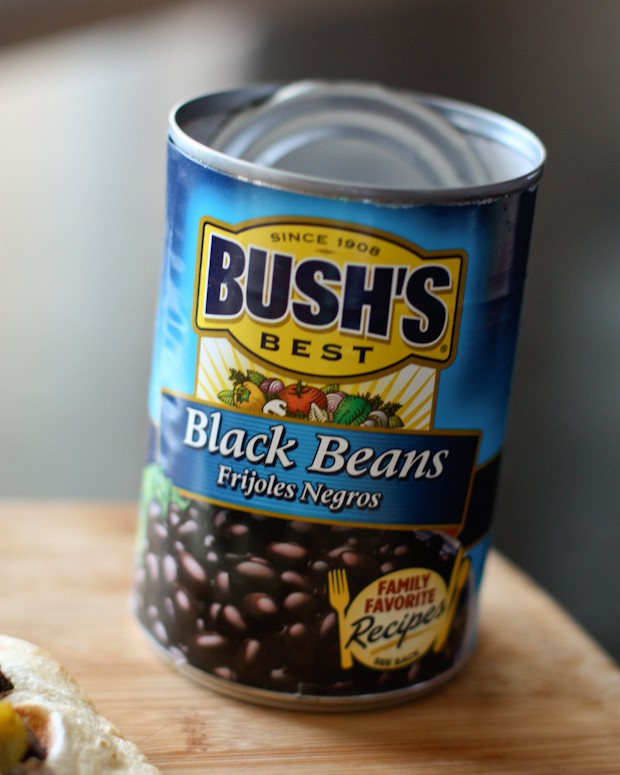 This recipe for Roasted Veggie and Black Bean Burritos are what started it all, though it's been a while since I've made them. They are actually what inspired this enchilada bake. I have been wanting to make the burritos but was looking for something I could prepare ahead of time and easily throw in to the oven at dinner time. I guess I could have probably still done that, but then I wouldn't have this new recipe to share with you, would I? 😉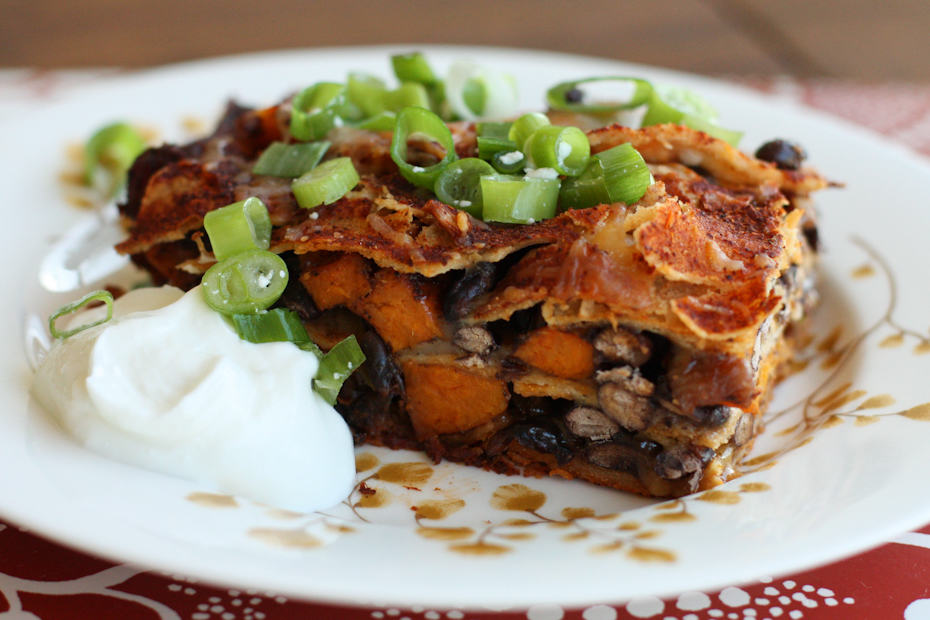 Don't be intimidated by the list of ingredients. Most of it goes into a roasting pan all at once and you can even cook it up ahead of time like I did. Having my go-to enchilada sauce recipe ready to defrost in the freezer is a huge help – if you haven't tried it yet, please do!
If you're looking for a good meatless dinner option try this one out!
Enjoy!
Black Bean and Sweet Potato Enchilada Bake
Yield: makes about 8 servings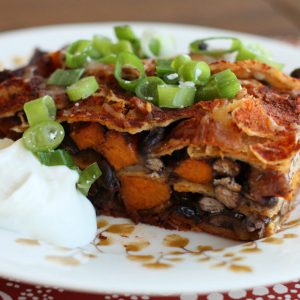 Ingredients:
For the veggie filling:
2 - 3 sweet potatoes, peeled and diced (depends on size, I used 3 small - medium sized potatoes)
2 cubanelle peppers, diced
1 red onion, diced
1 tablespoon cumin
1 tablespoon chili
1 teaspoon garlic powder
1 teaspoon paprika
3 tablespoon oil
big pinch salt and pepper
For the enchilada bake:
2 cans Bush's Black Beans, drained and rinsed
2 cups enchilada sauce (I use this one)
18 small corn tortillas
1 cup shredded Mexican blend cheese
Optional toppings for serving: chopped green onions, plain Greek yogurt or sour cream, queso fresco, chopped avocado, cilantro
Directions:
Preheat oven to 400 degrees.
In a large bowl, add all of your diced vegetables and seasonings. Add oil and toss well to coat evenly. Sprinkle with salt and pepper and pour into 2 large baking sheets. Place in heated oven and cook for 30 minutes, tossing vegetables at 20 minutes (then cooking for 10 more). This step can be done ahead of time - just refrigerate veggies and pull out when you are ready to make the enchilada bake.
To prepare the enchilada bake:
Pour and spread 1/4 cup of enchilada sauce into bottom of large glass baking dish (I used 9 x 11). Layer 6 corn tortillas evenly across bottom of baking dish. Add half of the vegetable mixture and beans (1 can) over the tortillas. Pour 1/4 cup of enchilada and 1/2 cup of cheese over bean and vegetables. Top the layer with 6 more corn tortillas and repeat next layer with more veggies, beans, sauce and cheese. Add last layer of corn tortillas to top of casserole and pour remaining enchilada sauce over entire casserole.
Bake in 400 degree oven for 20 minutes until sauce is bubbling.
Garnish and serve with one or more of: chopped green onions, plain Greek yogurt or sour cream, queso fresco, chopped avocado, cilantro
(Disclosure: I have been compensated for this post from Bush's Beans. This recipe was created with their product, but as always my opinions are my own.)
Follow Aggie's Kitchen's board Healthy Casseroles on Pinterest.
Are you following me on Instagram, Twitter, Facebook and Pinterest? If you'd like to subscribe to Aggie's Kitchen and have each post delivered straight to your e-mail box, then please add your email here. Happy cooking!
There are affiliate links in this post. I make small earnings through any purchases made through these links. Thank you for supporting Aggie's Kitchen!