Roasted Veggie and Black Bean Burritos
Savory sweet Roasted Veggie and Black Bean Burritos are a delicious vegetarian meal even meat lovers will enjoy!
Click here to Pin this Roasted Veggie and Black Bean Burrito recipe!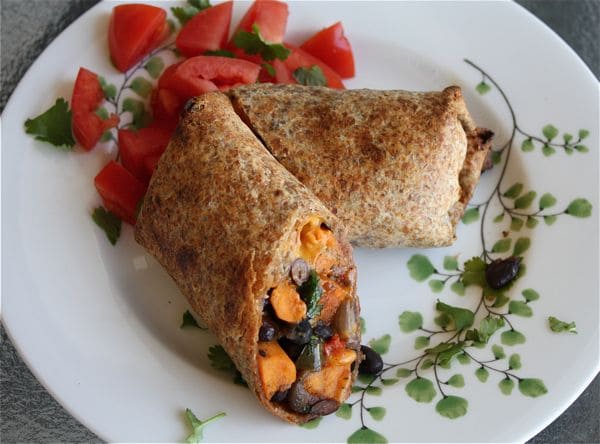 Lately, I've been trying to have more "veggie" meals for dinner.  You will not miss the meat in these Roasted Veggie and Black Bean burritos.  The flavor is awesome…smoky sweetness from the roasted sweet potatoes and vegetables combined with a nice kick from the jalapenos.  The black beans bulk it up, the cilantro keeps it fresh…and the melted cheese puts it over the top.  It might seem like an odd combination, but trust me, it works.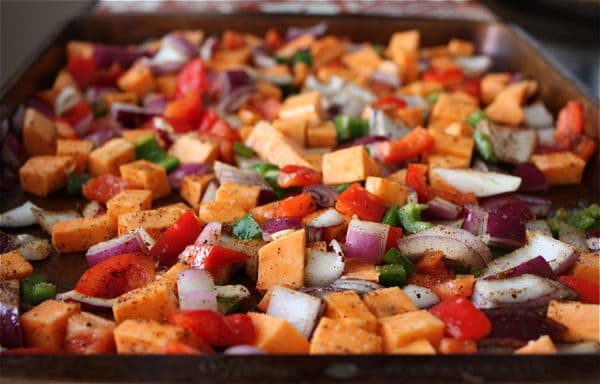 To make things easier for myself at dinner time, I chopped and roasted the veggies earlier in the day.  I stored them and the black beans in the fridge until I was ready to roll up the burritos later on.  I chopped the veggies fairly small, a little less than 1″ in size…the smaller the cut of the vegetables the quicker they roast up.  And keeping them cut small and uniform helps while stuffing the tortilla wrap.
Watch and learn how to make these easy and delicious Roasted Vegetable and Black Bean Burritos here in this video:
I can't begin to tell you how healthy and yummy these guys were…I ate leftovers for lunch all week. If you are looking for something to quickly grab and go in the evenings you are busy with your children's activities, these are a great option!
Roasted Veggie and Black Bean Burritos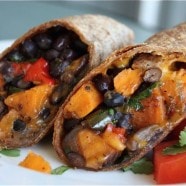 Ingredients:
2 sweet potatoes, peeled and cubed (small)
1 red pepper, cubed (small)
1 red onion cubed (small)
2 jalapenos, diced (if you want less heat sub another red pepper)
1tsp cumin
1tsp chili powder
salt and pepper
2 tsp olive oil
1 15oz can black beans, rinsed & drained (I like to use Bush's Black Beans)
handful chopped cilantro
squeeze lime
shredded cheddar
Whole Wheat Tortillas or Wraps (burrito size - I used Ezekiel Sprouted Grain Tortillas)
nonstick olive oil spray
Directions:
In a bowl, toss veggies in olive oil and season with spices. Place in large baking dish and roast in 425 degree oven for 20 minutes, tossing around halfway in between.
Let cool. Add to a bowl of rinsed black beans. Add cilantro and squirt of lime juice. Combine gently. At this point, mixture can be stored for later use.
Warm wraps in microwave according to directions on package. Add two heaping tablespoons of vegetable and bean mixture to center of wrap. Top with shredded cheese. Fold over, fold in sides and continue to roll. Place on baking dish, seam side down and spray with nonstick spray or brush with olive oil.
Bake in 375 degree oven for about 15 minutes or until golden brown. Baking this way will make tortilla wrap crisp. For a softer burrito, spray burrito with nonstick spray or brush with oil, then wrap in aluminum foil and bake for same amount of time.
Tip: Premake your burritos and wrap in aluminum foil. Keep in refrigerator for 3-4 days for a quick lunch or dinner!
More black bean recipes to try:
Taco Turkey and Black Bean Rice Bowls
Mexican Slaw Salad with Black Beans
Oven Baked Black Bean and Cheese Quesadillas
Pulled Pork with Black Bean Cornbread | Reluctant Enterainer
Southwestern Black Bean Pasta Salad | She Wears Many Hats
Black Bean Salsa Stuffed Sweet Potatoes | The Lemon Bowl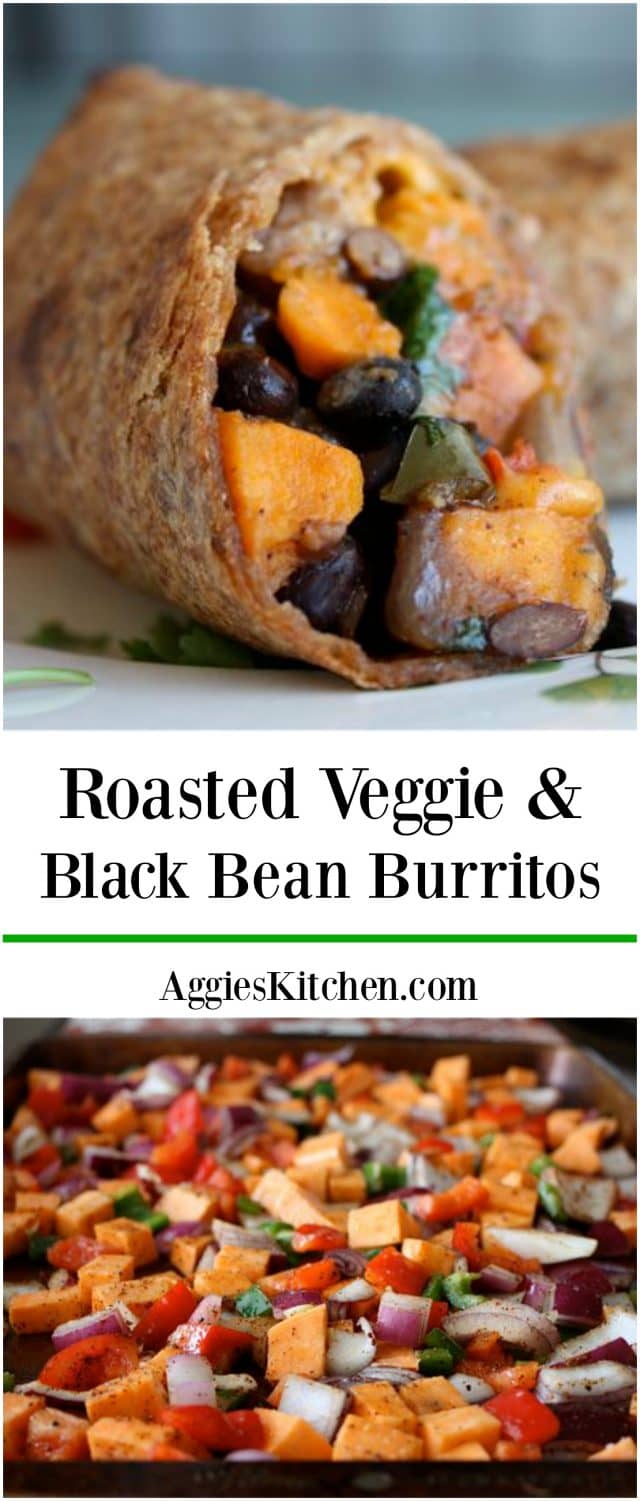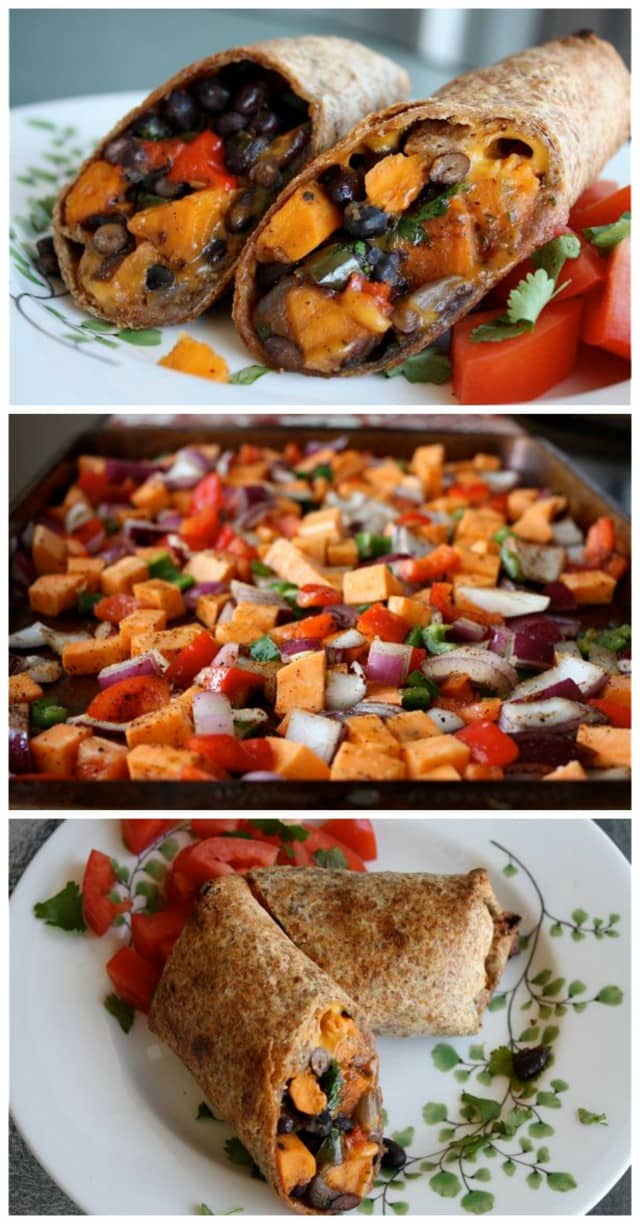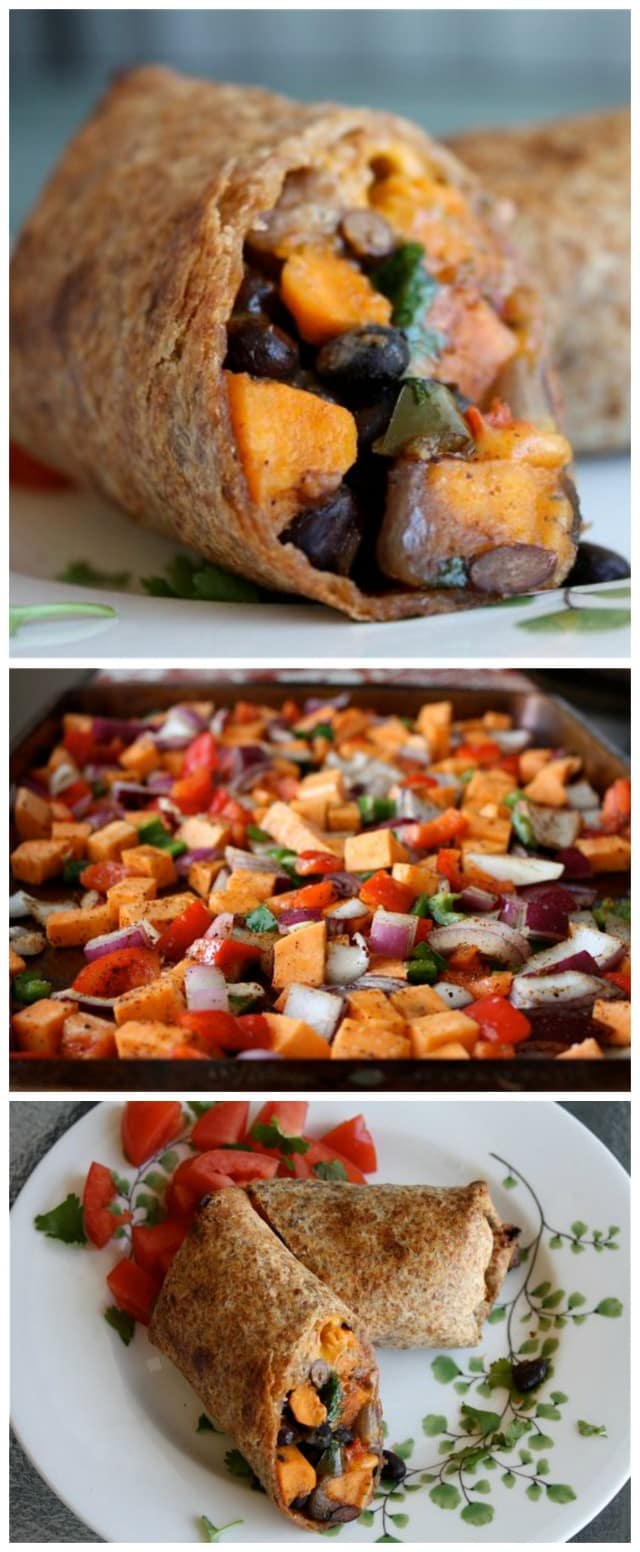 Are you following me on Instagram, Twitter, Facebook and Pinterest? If you'd like to subscribe to Aggie's Kitchen and have each post delivered straight to your e-mail box, then please add your email here. Happy cooking!
There are affiliate links in this post. I make small earnings through any purchases made through these links. Thank you for supporting Aggie's Kitchen!
98 Responses to "Roasted Veggie and Black Bean Burritos"
Trackbacks/Pingbacks

Leave a Comment