Caribbean Chicken Wings
I stumbled onto this wing recipe on A New York Foodie right before Super Bowl Sunday.  Wings were on the menu, but I hadn't decided how I wanted to cook them yet.  I loved the flavorful list of ingredients that went into the marinade.  Don't be intimidated by the length of the list…what's great about marinades is you do most of the work ahead of time, then the marinade does rest of the work while you go on with your day.  I let the wings sit in the marinade in the fridge for about 8 hours.  They baked up nicely and we enjoyed them alongside some crunchy veggies for dinner.
Caribbean Chicken Wings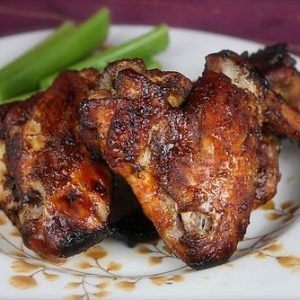 Ingredients:
1 habanero, seeded and chopped
1/4 cup soy sauce
1/4 cup honey
1/4 cup brown sugar
2 tablespoon sugar
2 teaspoons fennel seed
2 teaspoons cayenne pepper
2 teaspoons allspice
2 teaspoons dried thyme
1 teaspoon ground ginger
4 garlic cloves, chopped
4 green onions, chopped
1/4 cup apple cider vinegar
1/4 cup lime juice
1/4 cup orange juice
7 pounds chicken wings
Directions:
In a food processor, blend together all the ingredients but the chicken until smooth. Reserve 1 cup of marinade. Place chicken wings into a large resealable plastic bag and pour remaining marinade over them. Seal and marinate in the refrigerator 4 to 6 hours.
Preheat oven to 350 degrees F. Line 2 sheet trays with parchment. Remove chicken from bag and place on the baking sheets. Bake 20 minutes. Meanwhile, in a small saucepan bring reserved marinade to a boil. Reduce by 1/3 until it thickens slightly, about 10 minutes. After 20 minutes, remove chicken from oven. Brush chicken with the glaze. Raise the heat to 400 degrees F and cook chicken until cooked through, another 20 minutes.
Are you following me on Instagram, Twitter, Facebook and Pinterest? If you'd like to subscribe to Aggie's Kitchen and have each post delivered straight to your e-mail box, then please add your email here. Happy cooking!
There are affiliate links in this post. I make small earnings through any purchases made through these links. Thank you for supporting Aggie's Kitchen!