Garden Pizza
I wish I could tell you that the veggies on this pizza came from my garden…they didn't, but I am hoping that later this summer I can say they did. I will tell you though, the spring onions I used did come from my grandfather's garden, it was part of the inspiration for this pizza, so the name does work.
I have been buying a ton of zucchini and squash lately, it's been looking so good at the market that I haven't been able to resist. Sometimes I buy a little too much and and before it gets too sad looking I have to scramble to figure out something creative to cook with it. I created this pizza one night a couple of weeks ago playing the "use it up" game that I so often play, and we have made it 3 times since. And I wasn't the only one requesting it.
This pizza is stacked. And boy is it good. And for those of you who like meat on their pizza…no worries, it's in there, somewhere.
Print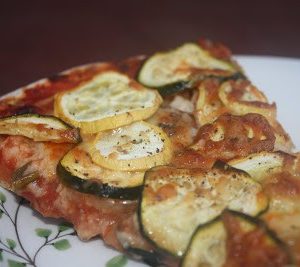 Garden Pizza
Author:
Category: Chicken
Method: Oven
---
Ingredients
1 pizza dough (homemade or store bought)
small can of tomato sauce
dried oregano
salt and pepper to taste
shredded mozzarella cheese
shredded mexican blend cheese
2–3 spring green onions, thinly sliced
2–3 links chicken andouille sausage, thinly sliced (I use Amylu chicken sausages I find at Costco)
1–2 zucchini, thinly sliced
1–2 squash, thinly sliced
---
Instructions
Preheat oven to 400 degrees.
Prepare pizza dough on stone. Pour tomato sauce onto dough and spread around. Sprinkle dried oregano, salt and pepper to taste over sauce. Add about a cup of shredded mozzarella over sauce. Then add in layers: sliced green onions, sliced chicken sausage, sliced zucchini and squash. Add salt and pepper to top veggie layer to taste. Sprinkle about a 1/4 – 1/2 cup shredded mexican cheese over zucchini and squash.
Bake for about 20-25 minutes until pizza crust is golden brown cooked through and veggies are browned.
(for a printable version of this recipe click here)

In case you haven't heard…

Congrats to the ORLANDO MAGIC for
becoming our 2009 Eastern Conference Champs!
We are so excited to see our team in the Finals!! Good luck to Dwight and the team!!

Are you following me on Instagram, Twitter, Facebook and Pinterest? If you'd like to subscribe to Aggie's Kitchen and have each post delivered straight to your e-mail box, then please add your email here. Happy cooking!
There are affiliate links in this post. I make small earnings through any purchases made through these links. Thank you for supporting Aggie's Kitchen!