Maple Roasted Fall Vegetables with Chicken-Apple Sausage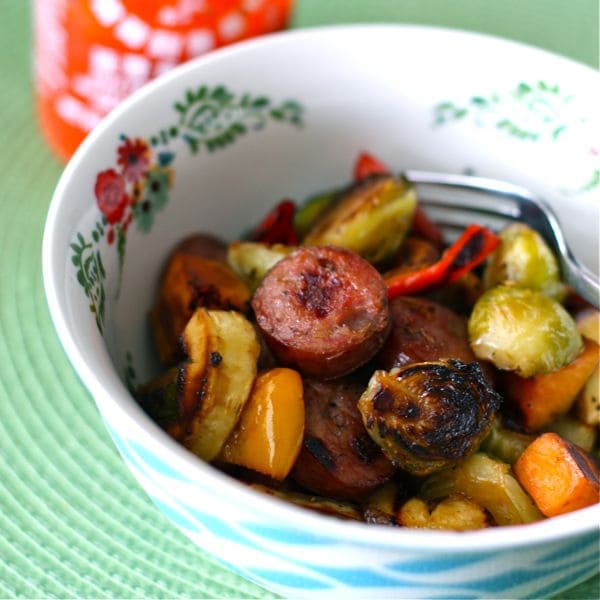 I had a major clean out the produce drawer cooking session yesterday. My lack of meal planning and shopping without a list the week before Thanksgiving left me with a few too many straggling veggies to be dealt with. No regrets though, because in result, this bowl of roasted veggie goodness happened.
A couple of months ago I stumbled onto this recipe for Maple Glazed "Medley" over on Skinny Mommy. This is honestly my favorite kind of recipe, one that I know that pretty much everyone in my family would eat with no complaints. I always have chicken and apple sausages in my freezer (I leave Costco with a huge pack every single time!) so it's a great stand-by recipe to make with whatever veggies you have on hand. The maple syrup really makes it extra special and if you like a little heat then a little drizzle of hot chili sauce will pair up perfectly to create that "sweet heat" so many of us crave.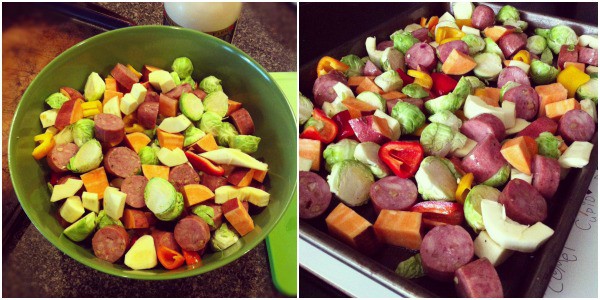 It doesn't take much to put this together. A little chop, a little toss and in the oven it goes.
I'm still new to cooking with parsnips and have been craving them recently. I read somewhere that some of the bigger ones can get "woody" on the inside and that it's a good idea to remove the core part of the larger pieces. I did that pretty easily and really enjoyed them in this recipe. I can't wait to keep experimenting with them.
What's your favorite way to eat parsnips? Here are a few recipes that I want to try:
Smashed Potato, Parsnips and Rutabaga
Nut Butter Crusted Parsnip Fries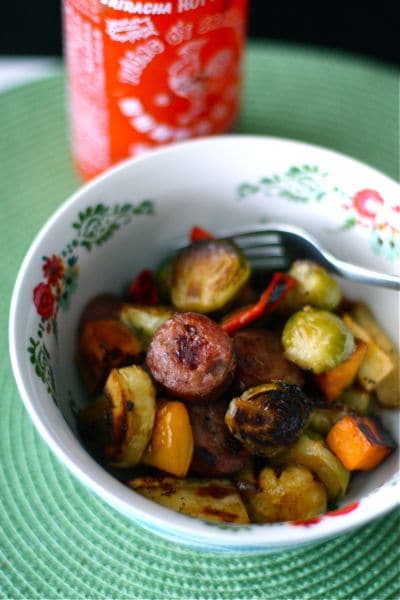 Maple Roasted Fall Vegetables with Chicken-Apple Sausage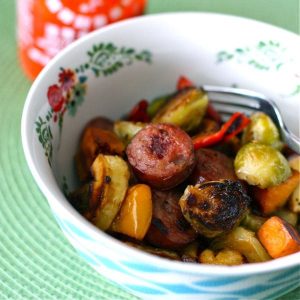 Ingredients:
1 package of chicken apple sausages, cut into small rounds
1 sweet potato, unpeeled and cut into 1" pieces
1 red or yellow bell pepper, cut into 1" pieces
1 lb parnips, peeled and cut into 1" pieces
a bunch of brussels sprouts, outer leaves removed and cut in half
1/4 cup real maple syrup
2 tablespoons olive oil
big pinch coarse salt and fresh ground pepper
Directions:
Preheat oven to 425 degrees.
Line a roasting pan (I used two to ensure there was enough room for everything to properly roast) with aluminum foil for easy clean up. Set aside.
In a large bowl, combine all vegetables and sausage pieces. Drizzle maple syrup and oil over vegetables and toss well until coated completely. Spread out onto roasting pans and sprinkle with salt and pepper.
Cook for 30 minutes, tossing vegetables about half way.
Be sure to cut all the vegetables and sausage same size to ensure that everything roasts up evenly. Use two baking sheets if needed.
Are you following me on Instagram, Twitter, Facebook and Pinterest? If you'd like to subscribe to Aggie's Kitchen and have each post delivered straight to your e-mail box, then please add your email here. Happy cooking!
There are affiliate links in this post. I make small earnings through any purchases made through these links. Thank you for supporting Aggie's Kitchen!