Pumpkin Butter Vinaigrette over Mixed Greens, Pepitas and Blue Cheese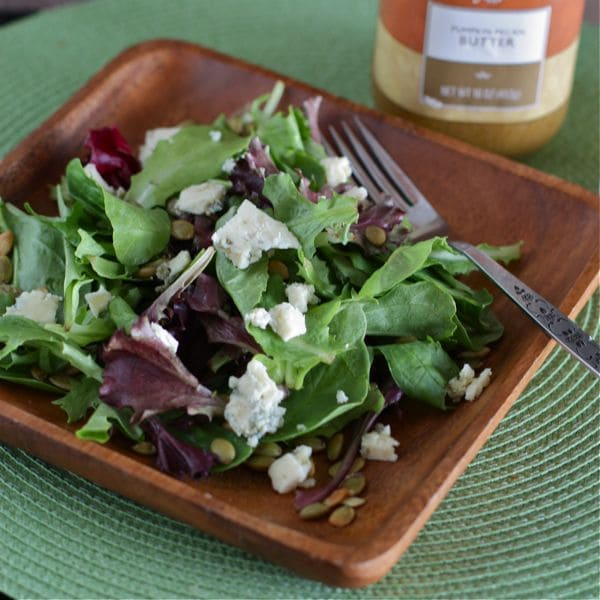 I definitely inherited the "no waste" mentality from my grandmother. She will find a way to use up every last drop of whatever you are about to throw away (for example…handwashing soap dispensers, I am constantly adding water to them and shaking them up to get those last few pumps before they get tossed – does anyone else do this?). She has always recycled everything – way before it was the "environmentally friendly" (and cool) thing to do…I don't think she realizes how forward thinking she really is.
There was even a time when a few pairs of shoulder pads from some of my shirts from way-back-in-the-day (ugh) appeared as sewn together pot holders in our kitchen. True story.
I draw the line there.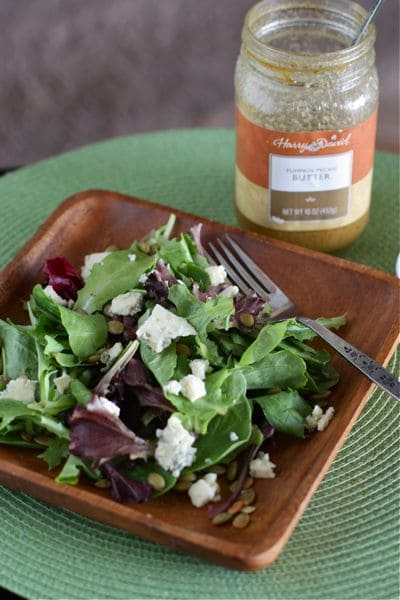 Food is obviously something that shouldn't be wasted, and I really try to stay mindful of that. I tend to make a lot of 'clean out the fridge' meals whether it be something like this roasted sausage and vegetable meal or soup. It makes me feel good to make meals like this, usually because they turn out to be extremely healthy but also because it lessens the guilt. Less guilt is always a good thing. 😉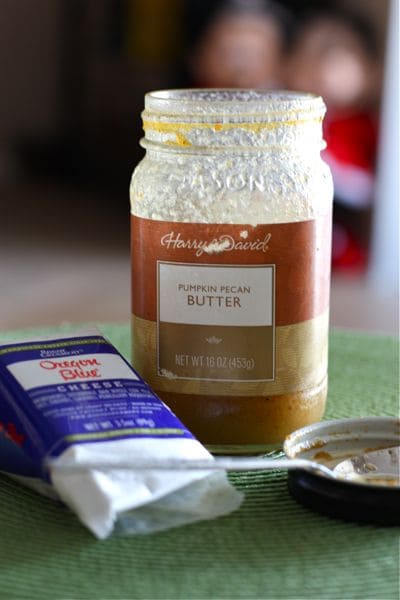 I used the remnants of a jar of Pumpkin Pecan Butter I brought home on my trip to Harry & David in October. This stuff is so good. With the help of some creative friends I got 3 good uses out of this one jar – I made Sandy's Warm Pear Pumpkin Pecan Cake as well as a 2-ingredient fruit dip (1 cup pumpkin butter and 1 cream cheese bar) idea I got from Sommer that we munched on with some apple slices and crackers during Thanksgiving weekend.
My grandma would be happy to know that not a drop in the jar was wasted.
Pumpkin Butter Vinaigrette over Mixed Greens, Pepitas and Blue Cheese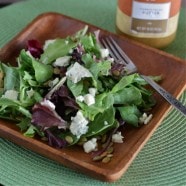 Ingredients:
For the vinaigrette:
leftover pumpkin butter (whatever is left in your jar, about a tablespoon or so)
1/4 apple cider vinegar
1/4 - 1/3 cup olive oil
1/2 - 1 teaspoon honey, agave or applesauce, optional (my pumpkin butter had applesauce in the ingredients, adjust to your preferred level of sweetness)
good pinch salt and pepper
For the salad:
mixed salad greens
crumbled blue cheese
toasted pumpkin seeds (pepitas)
Directions:
For the vinaigrette: Add all ingredients into almost empty pumpkin butter jar. Seal lid and shake vigorously until well combined. Taste for seasoning (add more honey or agave for sweetness).
Spoon over your favorite salad greens along with good crumbled blue cheese and toasted pumpkin seeds.
Store the remainder in the refrigerator for 3-4 days.
I normally like a 50/50 ratio when it comes to oil and vinegar in my dressings, but feel free to add a little extra oil to your liking.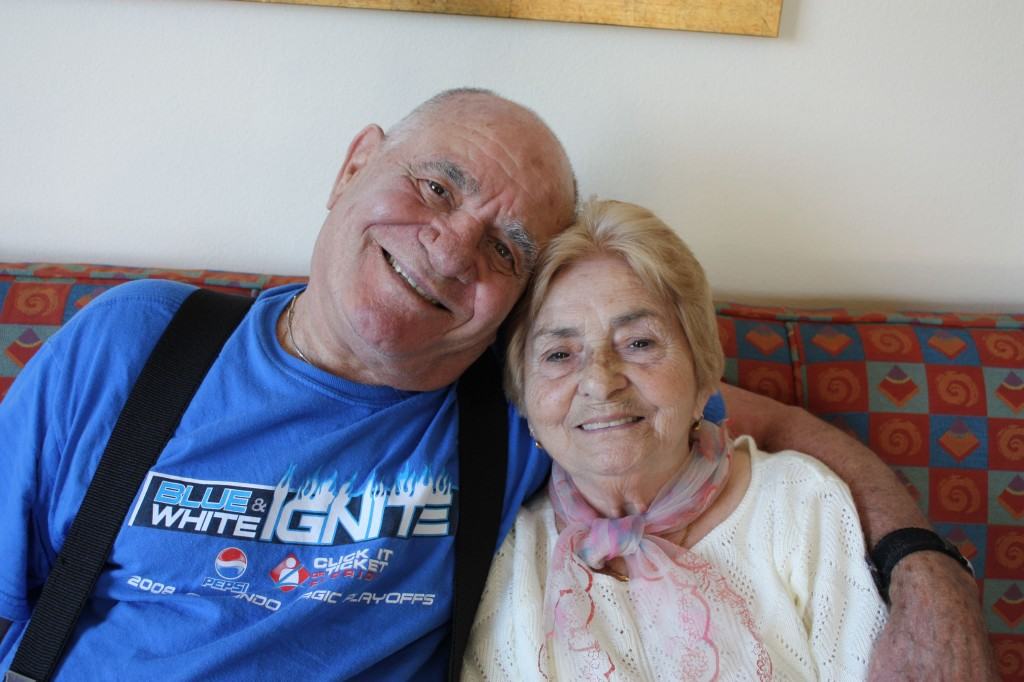 My cutie-patutie grandarents this past Thanksgiving. 🙂
Follow Aggie's Kitchen's board Homemade Salad Dressings on Pinterest.
Are you following me on Instagram, Twitter, Facebook and Pinterest? If you'd like to subscribe to Aggie's Kitchen and have each post delivered straight to your e-mail box, then please add your email here. Happy cooking!
There are affiliate links in this post. I make small earnings through any purchases made through these links. Thank you for supporting Aggie's Kitchen!
23 Responses to "Pumpkin Butter Vinaigrette over Mixed Greens, Pepitas and Blue Cheese"
Trackbacks/Pingbacks

Leave a Comment