Mango Salsa Shrimp Tacos with Avocado
These Mango Salsa Shrimp Tacos are perfect for light lunches and dinners this summer! So easy to make, and absolutely delicious!
Click here to pin this Mango Salsa Shrimp Tacos recipe.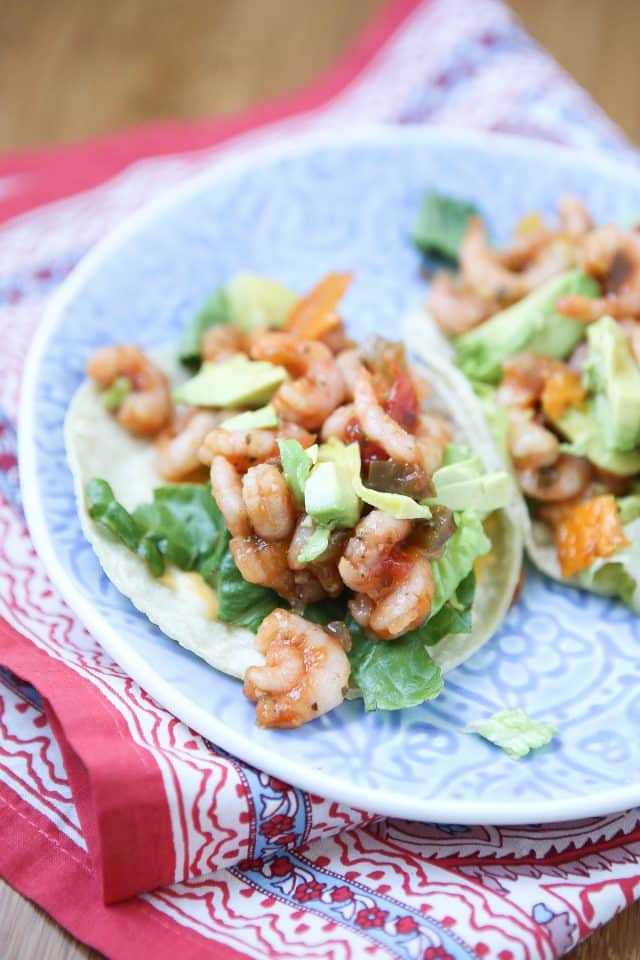 Every time I go to Costco, I come home with their big container of mango peach salsa. You know the one, right? It's so good. My friend Sandy uses it a lot in her recipes like this Smoked Turkey Mango Chili recipe and this Crock Pot Salsa Chicken on Brown Rice and always inspires me to use it more in my cooking. Salsa is a staple in my kitchen and I go through so much of it weekly between using it as dressing for my taco salad or when I make something like our favorite Salsa Chicken and Bean Tostadas.
If you don't shop at Costco, no worries, Newman's Own makes a mango salsa and a peach salsa, and I've seen some at Target as well.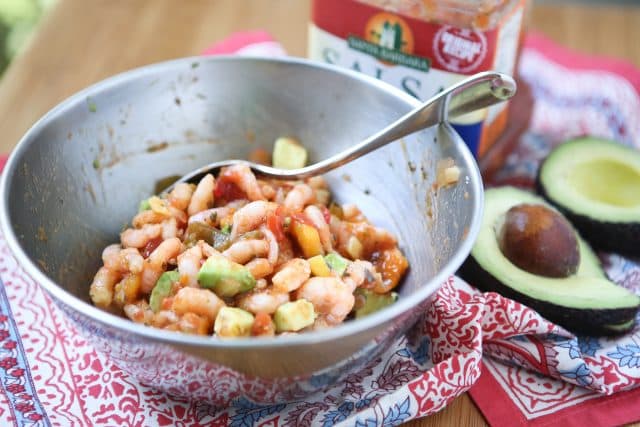 The filling for these Mango Salsa Shrimp Tacos can easily be eaten on it's own or on a bed of lettuce if you're trying to cut calories or not in the taco mood. It's too simple not make for light lunches and dinners during the summer months. You can use precooked shrimp or just cook some up yourself (I like to saute them or roast them usually) and have them chill in the fridge for a bit until you are ready to put it all together.
The filling would be also be a great shrimp salad dish to serve at a summer get together! Double (or even triple) the recipe and serve with tortilla chips.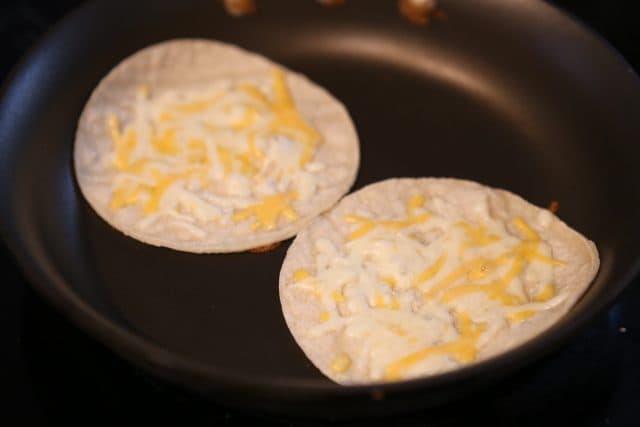 I like to melt a little cheese on the corn tortillas when I'm heating them up, but this is totally optional. Cheese or no cheese, these Mango Salsa Shrimp Tacos with Avocado are delicious.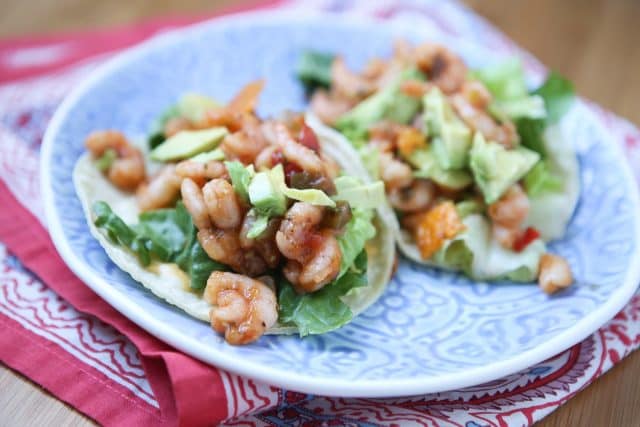 Salsa Shrimp Salad Tacos
Yield: 2 servings of 2 tacos each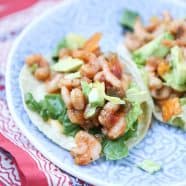 Ingredients:
6 oz chilled cooked shrimp
1/2 cup mango salsa (I use one from Costco, but Newman's Own has a good one too)
1 avocado, cut into small chunks
shredded romaine lettuce
1/2 cup shredded Mexican cheese (optional)
4 corn tortillas
lime wedges, for serving
Directions:
Combine shrimp, salsa and avocado together in a bowl.
In a dry skillet over low-medium heat, gently warm corn tortillas on both sides for just under a minute on each side. When heating second side, place a couple of tablespoons of shredded cheese on tortilla so it melts while in skillet (omit this step if not using cheese).
Fill your tortilla with romaine lettuce then top with mango salsa shrimp and avocado mixture. Squeeze lime over each taco.
Nutritional Information (from My Fitness Pal) - recipe with cheese:  425 calories / 19g fat / 45g carbohydrates / 11g dietary fiber / 21g protein
Nutritional Information (from My Fitness Pal) - recipe without cheese:  335 calories / 12g fat / 43g carbohydrates / 11g dietary fiber / 15g protein
If these Mango Salsa Shrimp Tacos have you craving shrimp, check out some of these light and summery recipes:
Skinnytaste Zoodles with Shrimp and Feta
Jamie's Shrimp Salad (a classic! My sister in law Jamie's recipe)
Pan Seared Citrus Shrimp | Foodiecrush
Primavera Pasta Salad with Shrimp | Cookin' Canuck
Chimichurri Shrimp | The View From Great Island
Are you following me on Instagram, Twitter, Facebook and Pinterest? If you'd like to subscribe to Aggie's Kitchen and have each post delivered straight to your e-mail box, then please add your email here. Happy cooking!
There are affiliate links in this post. I make small earnings through any purchases made through these links. Thank you for supporting Aggie's Kitchen!
7 Responses to "Mango Salsa Shrimp Tacos with Avocado"
Leave a Comment