Shrimp and Avocado Pasta
Roasted lemon pepper shrimp tossed with whole wheat pasta, plenty of creamy avocado, arugula, lemon and Parmesan – a heart-healthy dinner option perfect for any night of the week. This Shrimp and Avocado Pasta recipe was created in partnership with Hass Avocado Board via KitchenPLAY.
Click here to pin this Shrimp and Avocado Pasta recipe!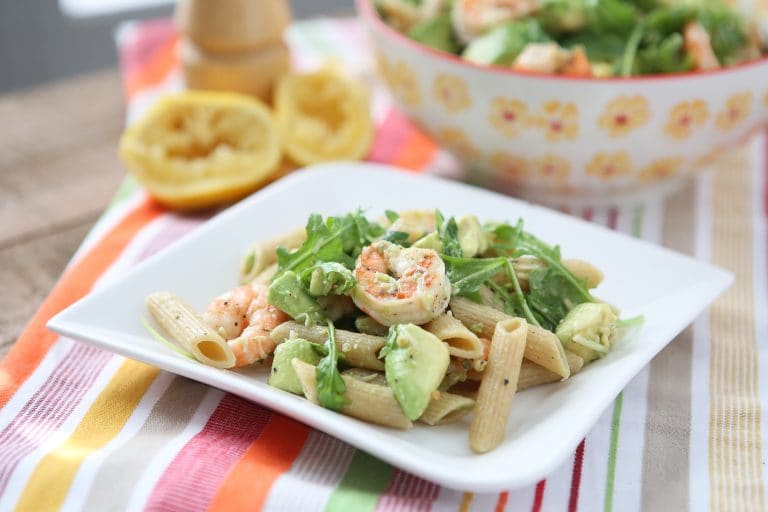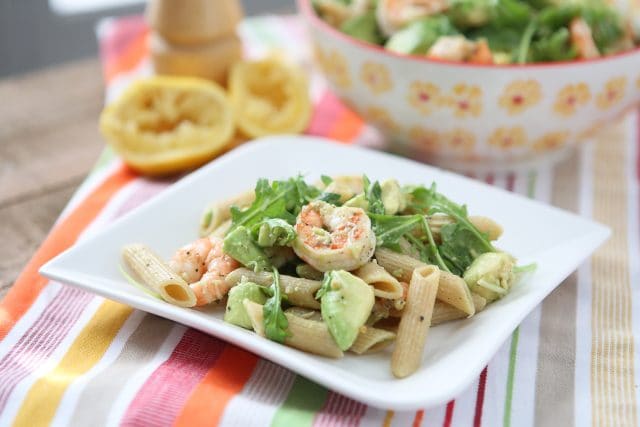 If you haven't noticed, I'm pretty obsessed with avocado. So much that I have a board on Pinterest solely dedicated to all things avocado. There are so many ways to enjoy avocado from the infamous avocado toast to using it as a substitute for mayonnaise in tuna salad or this chickpea salad. Of course, taco night would not be complete without avocado, but we already knew that.
My love affair with avocado continues and has evolved with this light and fresh, but hearty Shrimp and Avocado Pasta dish.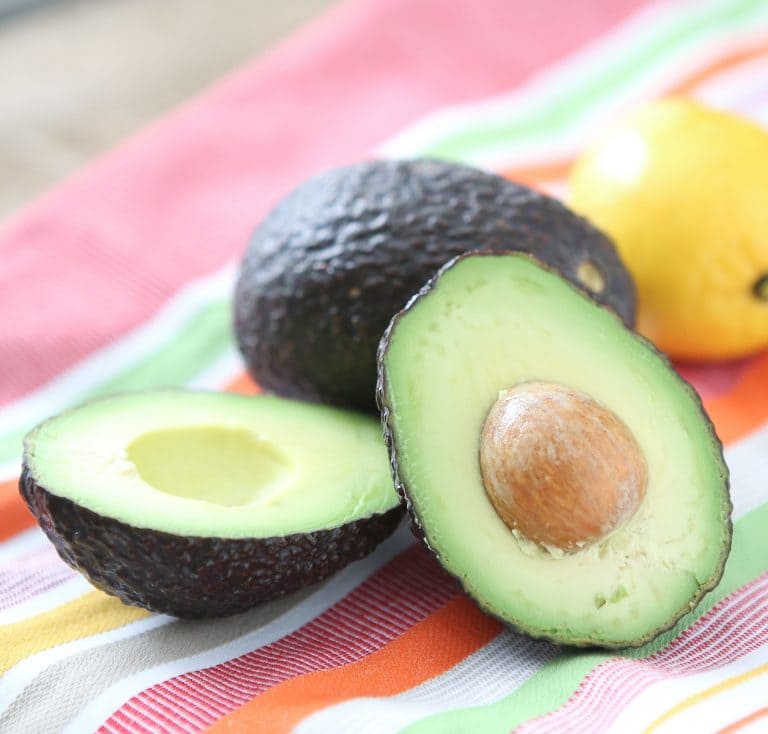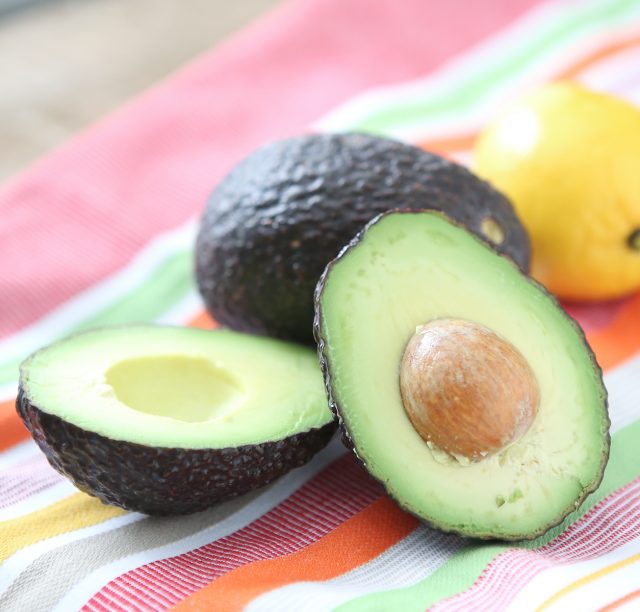 February is American Heart Month and with that I'm happy to share that the Hass Avocado Board and the American Heart Association (AHA) have joined efforts in encouraging Americans to eat the daily recommended amounts of fruits and vegetables to prevent and limit deaths from cardiovascular diseases, strokes and diabetes. Fresh avocados are a heart-healthy fruit (yes, they are a fruit!). They provide naturally good fats, are low in saturated fat, and are cholesterol- and sodium-free. Naturally good fats are an important part of a healthy diet.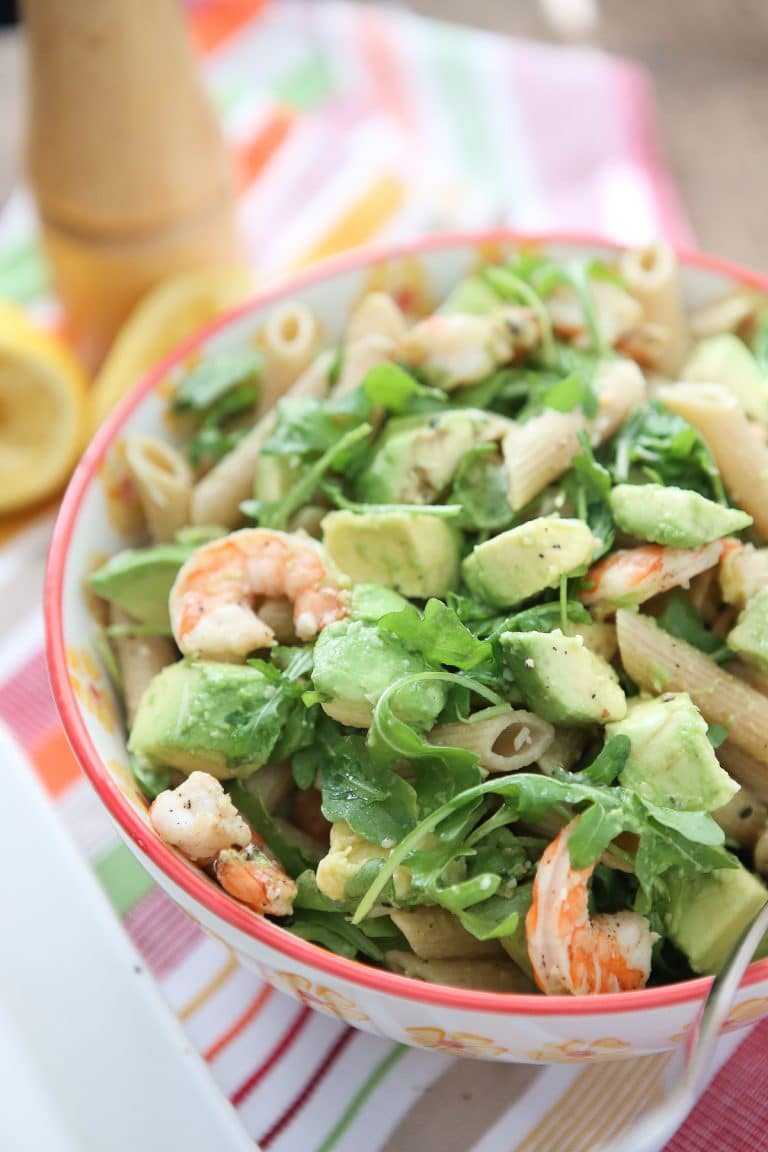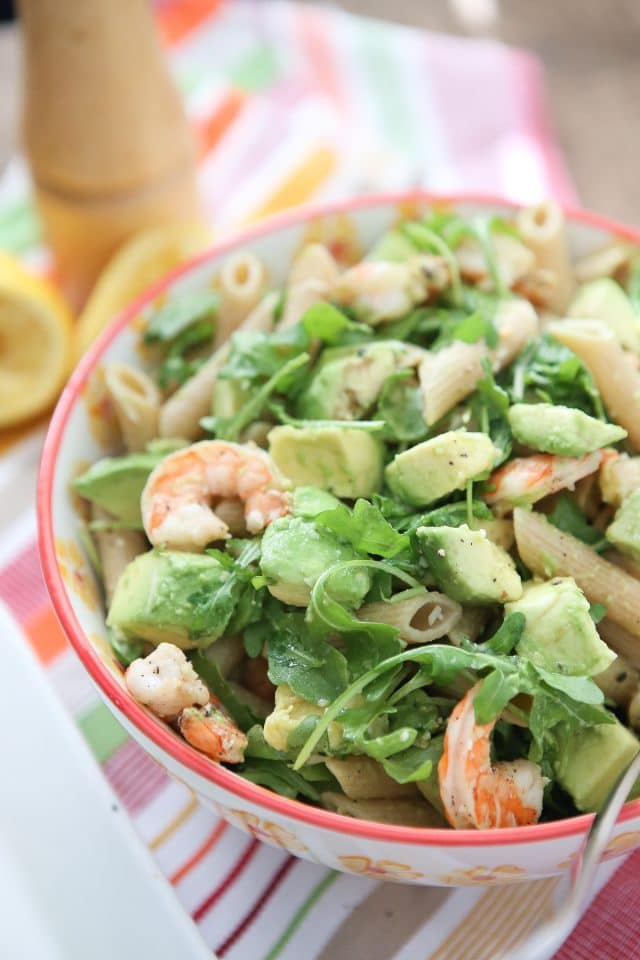 This pasta dish is filled with all good things for your heart health, and is low in calories yet still so filling from the combination of protein from the shrimp and whole wheat pasta along with the good fat from the avocado. Lemon, arugula and Parmesan add brightness and flavor, which in my opinion is essential when you are trying to incorporate healthier meals to your diet. My daughter, husband and I enjoyed this pasta so much for dinner – with chilled leftovers the next couple of days for lunch (I recommend adding a squeeze of lemon to leftovers).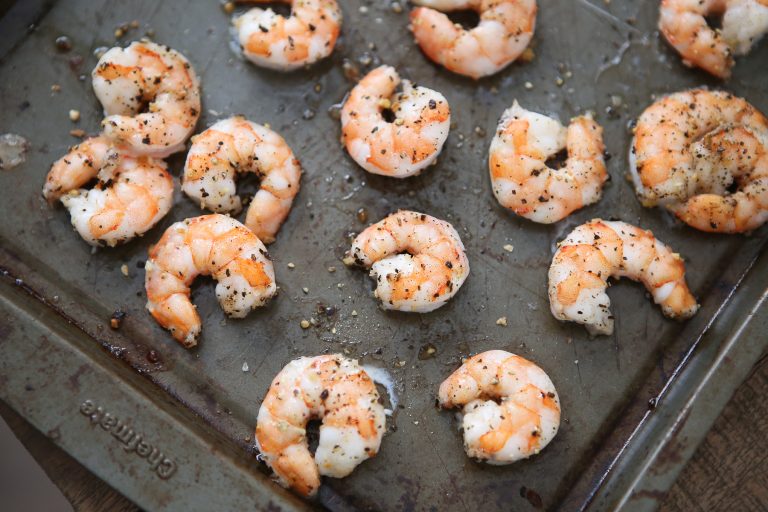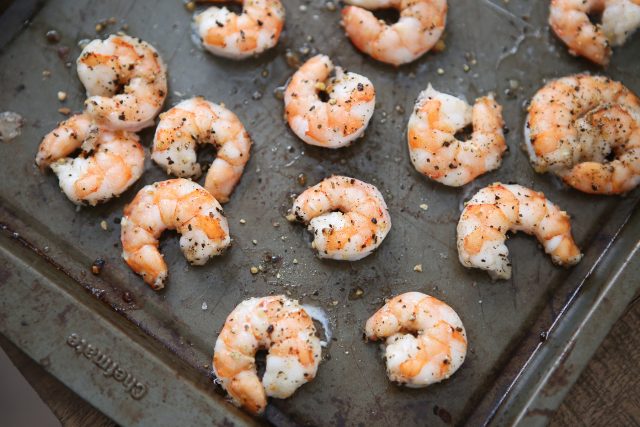 When preparing this Shrimp and Avocado Pasta dish, it's important to add the drained, warm pasta directly to the avocado and arugula. The heat from the pasta releases the natural oil from the avocado and wilts the arugula just enough. I know it's not officially spring yet, but the freshness in this dish is a welcome change to the winter foods we've been eating for the last few months, that's for sure!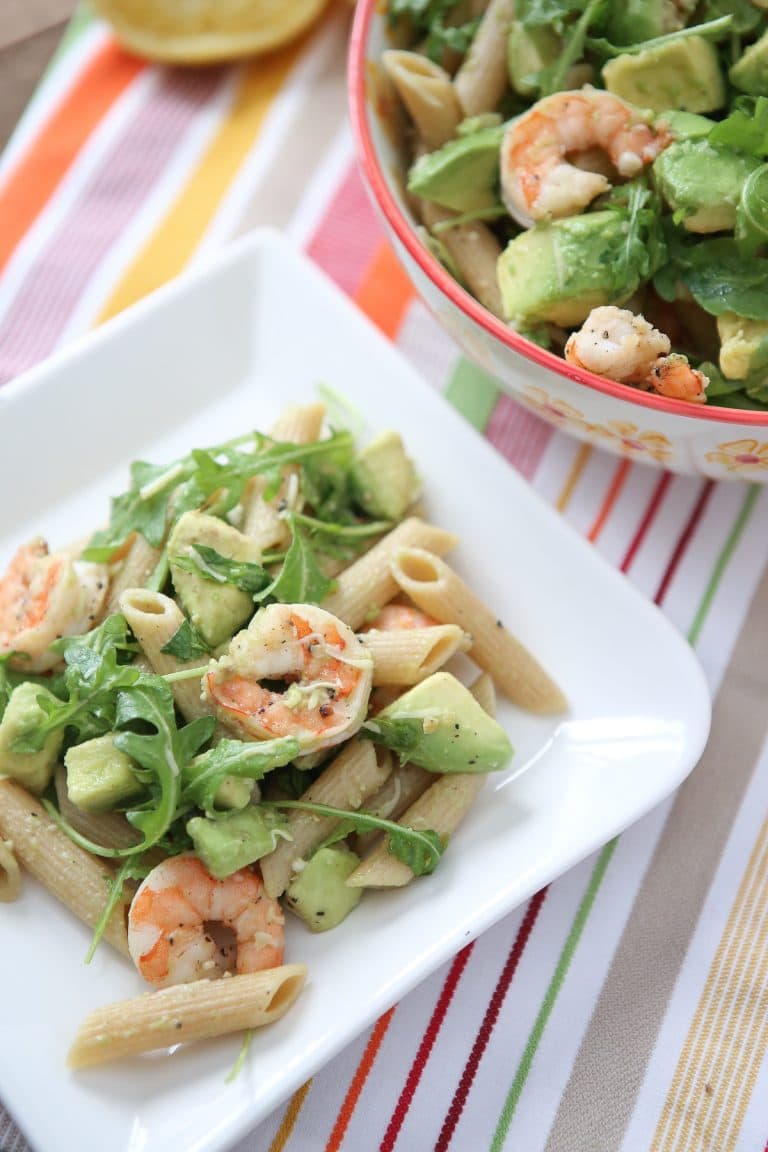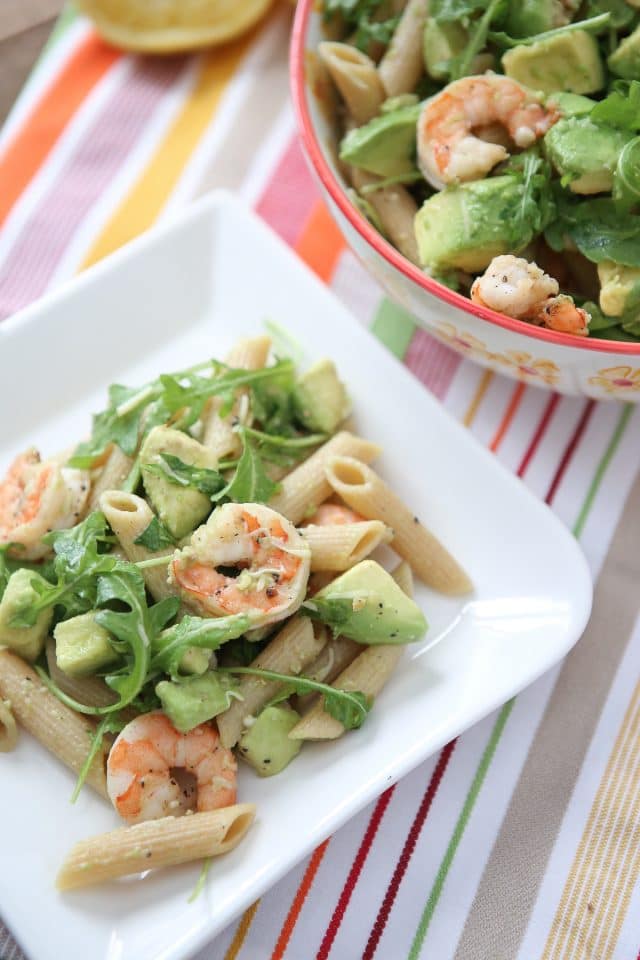 This February, HAB and AHA are teaming up to host a recipe contest called Take Avocado to Heart. Be sure to check out the contest and share your heart healthy recipes for a chance to win!
The contest will run February 9-27, 2017.
The official hashtag is #addavocado.
Consumers can enter recipes in the categories of appetizer, entrée and dessert.
Recipe entries much adhere to the AHA nutrition criteria.
Prizes: Grand Prize: $1,000; 2nd Place: $500; 3rd Place: $250
Print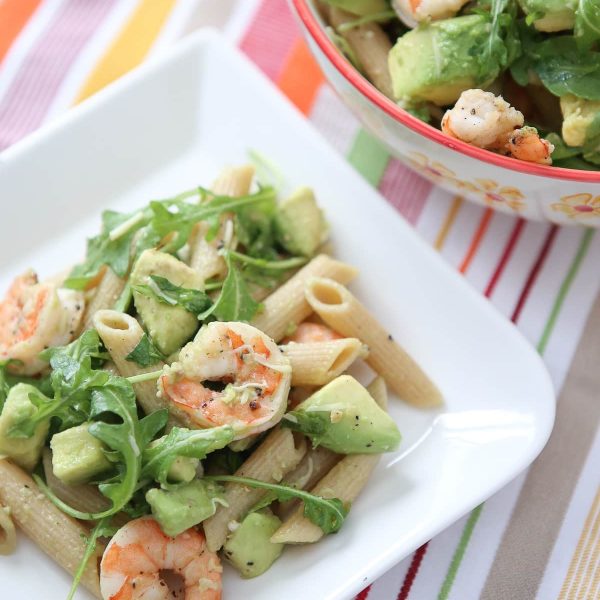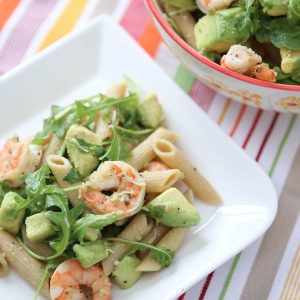 Shrimp and Avocado Pasta
Author:
Yield: Serving size: 1.5 cups, makes 6 servings
Category: Fish
Method: Oven
Roasted lemon pepper shrimp tossed with whole wheat pasta, plenty of creamy avocado, arugula, lemon and Parmesan – a heart-healthy dinner option perfect for any night of the week.
---
Ingredients
½ lb. uncooked whole wheat pasta
1 lb. large shrimp, peeled and deveined
2 Tbsp. olive oil, divided
1 tsp. lemon pepper seasoning
2 fresh Hass avocados*, halved, pitted, peeled and cubed
2 cups arugula
2 Tbsp. fresh lemon juice
3 Tbsp. shaved or shredded Parmesan cheese
1/3 tsp. fresh ground pepper
---
Instructions
Cook pasta according to directions. Once cooked, drain and place in a large mixing bowl over arugula and diced avocado.
While pasta is cooking, preheat oven to 400 degrees. Toss shrimp with 1 tablespoon olive oil and lemon pepper seasoning and spread in a thin layer on a sheet pan. Roast for 6-8 minutes until pink. Remove from oven and add to pasta, avocado and arugula and gently toss to combine.
Add lemon juice, Parmesan cheese, fresh ground pepper and 1 tablespoon olive oil to pasta mixture and gently toss to combine. Serve immediately.
---
Notes
Heart-Check Recipe Certification does not apply to serving suggestions unless expressly stated.
Nutrition Information Per Serving: Calories 350; Total Fat 17 g (Sat 3 g, Trans 0 g, Poly 2 g, Mono 11 g); Cholesterol 95 mg; Sodium 530 mg; Potassium 620 mg; Total Carbohydrate 35 g; Dietary Fiber 8 g; Sugars 2 g; Protein 18 g; Vitamin A 480 IU; Vitamin C 10 mg; Calcium 110 mg; Iron 2 mg; Vitamin D 0 IU; Folate 95 mcg.
% Daily Value: Vitamin A 10%; Vitamin C 15%; Calcium 10%; Iron 10%
Percent Daily Values are based on a 2,000 Calorie diet. Your Daily Values may be higher or lower depending on your calorie needs
*Note: Large avocados are recommended for this recipe. A large avocado averages about 8 ounces. If using smaller or larger size avocados, adjust the quantity accordingly.
This post is sponsored by the Hass Avocado Board via KitchenPLAY. All opinions are my own. Thank you for supporting the brands that support Aggie's Kitchen!
Are you following me on Instagram, Twitter, Facebook and Pinterest? If you'd like to subscribe to Aggie's Kitchen and have each post delivered straight to your e-mail box, then please add your email here. Happy cooking!
There are affiliate links in this post. I make small earnings through any purchases made through these links. Thank you for supporting Aggie's Kitchen!