Hydrating Dragon Fruit Smoothie and My Essential 7 For Happiness and Good Habits
Give your body a boost of nutrition and hydration with this gorgeous Dragon Fruit Smoothie.
Click here to pin this Dragon Fruit Smoothie recipe!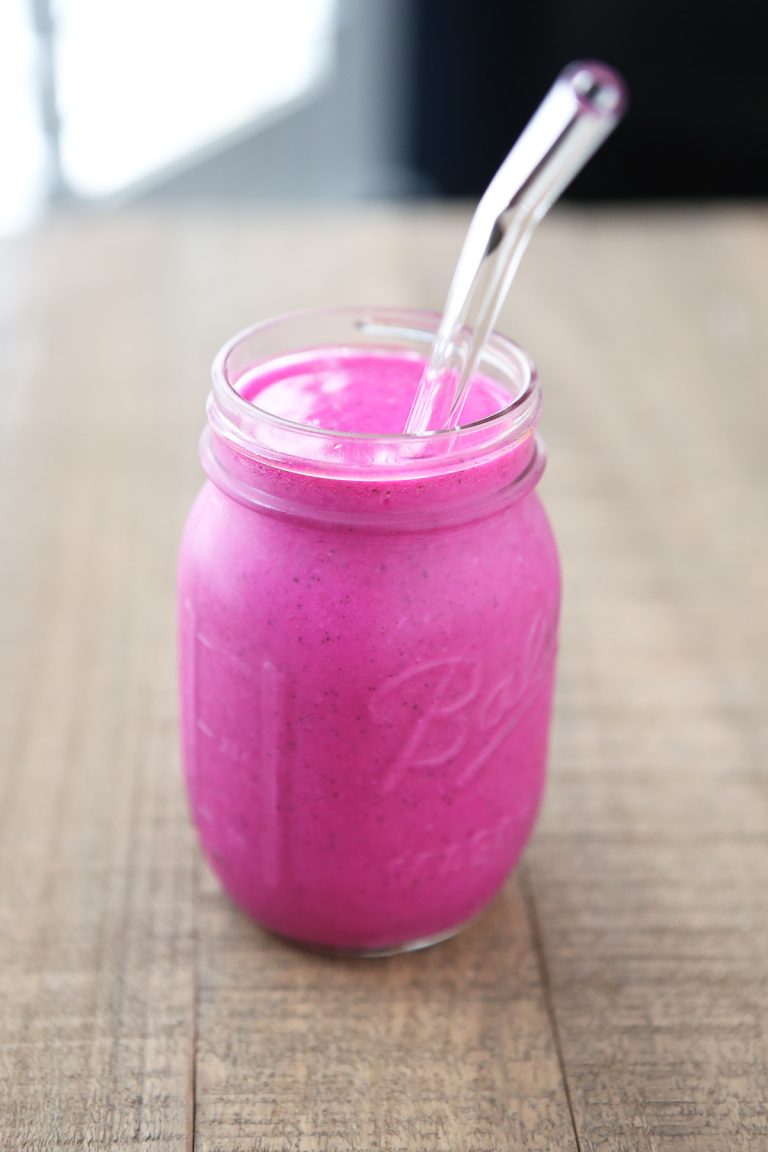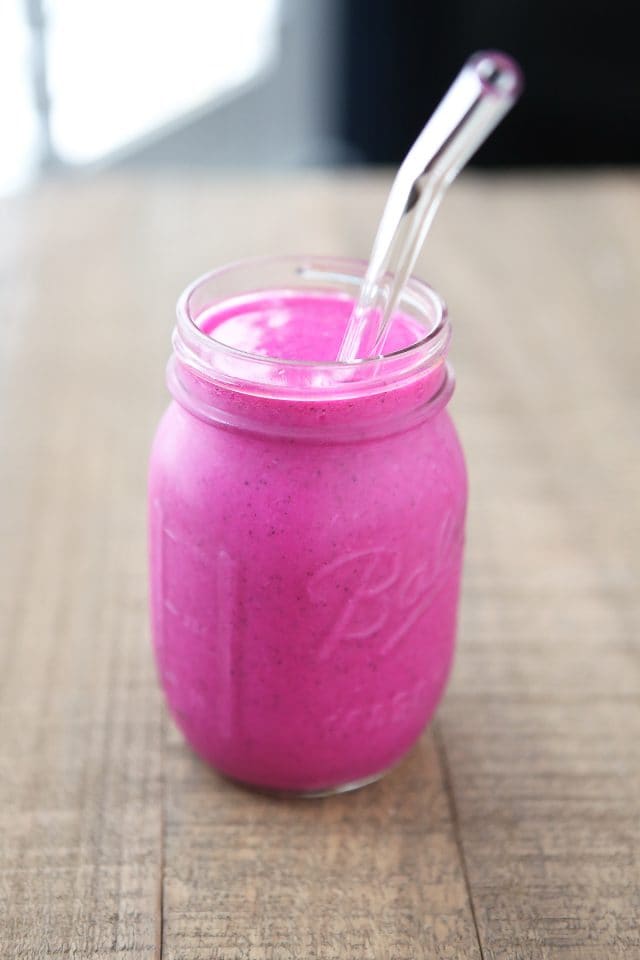 Earlier this month, I mentioned that I was working on rebuilding some positive habits to get my health, fitness and general well being back on track. One of those habits I mentioned was getting back into the gym regularly, specifically early morning workouts. One thing I love about working out early in the morning (other than the obvious feeling of getting it out of the way) is the peaceful drive I have to and from the gym. It's still dark, there are barely any cars on the road and it just feels quiet. I like to spend the ride to the gym listening to podcasts, specifically self improvement/motivational podcasts. This is my time to listen to something that will promote growth and knowledge whether it be relating to my business, health or spirituality. I go in phases with what I'm listening to. I was on a big Chalene Johnson kick last year, and lately I've been going through old episodes of the Happier podcast by Gretchen Rubin after a friend of mine mentioned it to me recently. I've listened to it before but not regularly so I'm really enjoying catching up on different episodes each day.
One episode that struck me was episode #90 where Gretchen and Liz discussed a very relatable topic – the Essential Seven, aka the 7 areas in which every desirable habit falls. The sisters went through the list and discussed what they each could do personally to make their lives happier, healthier, more productive or more creative and I just thought this was such a do-able exercise for anyone who is in the frame of mind where they want to improve aspects of their lives. I figured I would share with you my Essential Seven and ask that you share yours as well! (Just copy and paste the list into the comment section and add to it). I would love to hear from you!
1. Eat and drink more healthfully

2. Exercise regularly

3. Save, spend, and earn wisely

4. Rest, relax, and enjoy

5. Stop procrastinating, make consistent progress

6. Simplify, clear, and organize

7. Engage more deeply—with other people, with God, with yourself, with the world
One thing that I am personally trying to do that happens to fall under #1 is to drink more smoothies. I really loved smoothies for years but somehow got out of the habit of making them. A friend of mine (who is a marketing rep for food brand, no relationship with blogging) recently introduced me to these dragon fruit smoothie packs from one of his clients. He shared some samples with me and I have been obsessed with making this smoothie a few times a week, specifically after a workout or in between meals. Not only is the color absolutely gorgeous (I think that is why I fell in love), but it is so refreshing.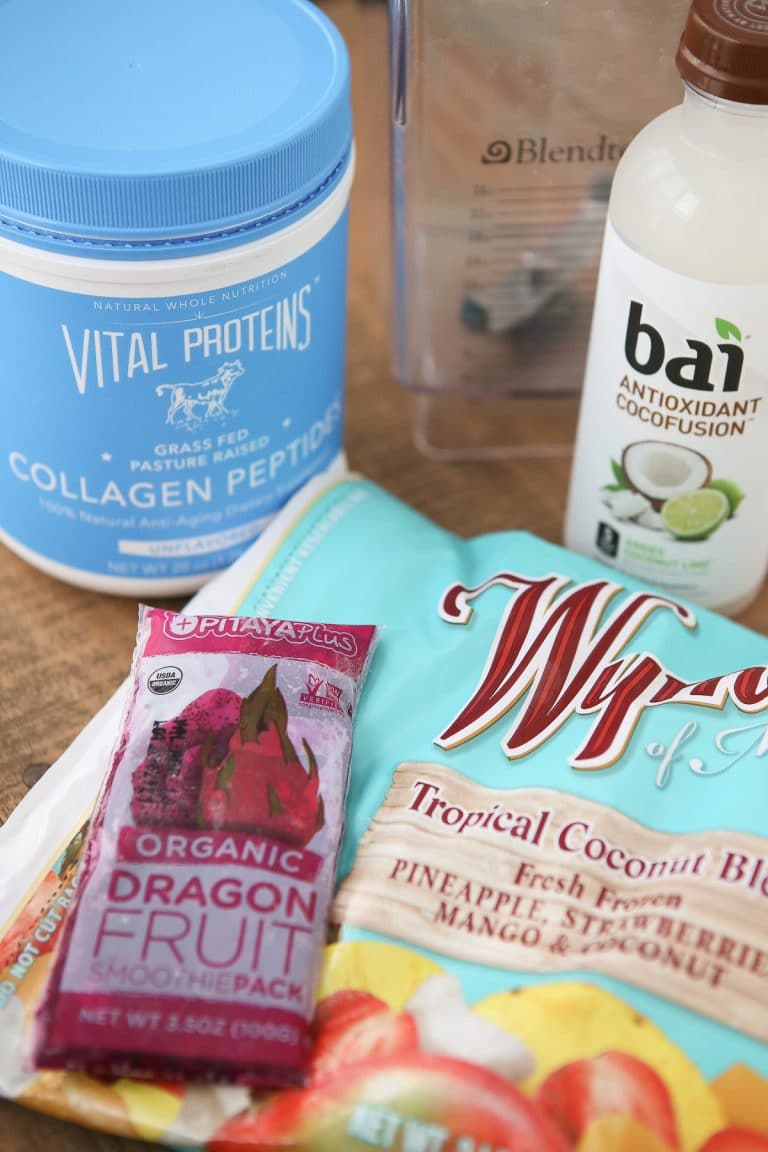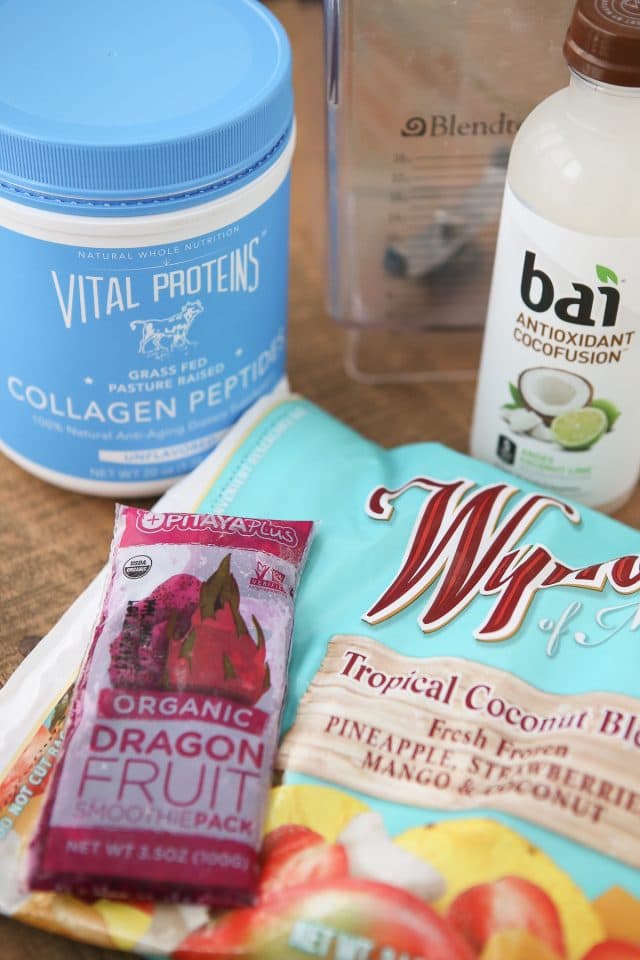 I realize some of the ingredients in this Dragon Fruit Smoothie are probably not ones you can easily find or typically have on hand (or maybe you do!?). I almost didn't share this with you, but I decided to anyway because trying something new got me out of my smoothie rut so it's more about that than just the recipe, if you know what I mean. You can easily replace the frozen dragon fruit smoothie pack with an acai one that might be easier to find – but keep your eyes peeled for this one in your health stores or grocery stores (you can see locations  listed here. PS…this brand did not sponsor this post or even know who I am, I just feel like sharing about it!).
Also, I was recently introduced to Vital Proteins by my friend Julie of Table For Two and have been adding a scoop to my smoothie (as well as coffee) every day. I take it for extra protein and other nutritional benefits for my skin, hair and joints.
I didn't know much about dragon fruit until I started making this smoothie but here's a little info on this interesting fruit along with a video I found helpful showing how to prepare and eat dragon fruit (this video is done by a younger person who I was so impressed by!). It's got a lot of nutritional power – and again, that COLOR!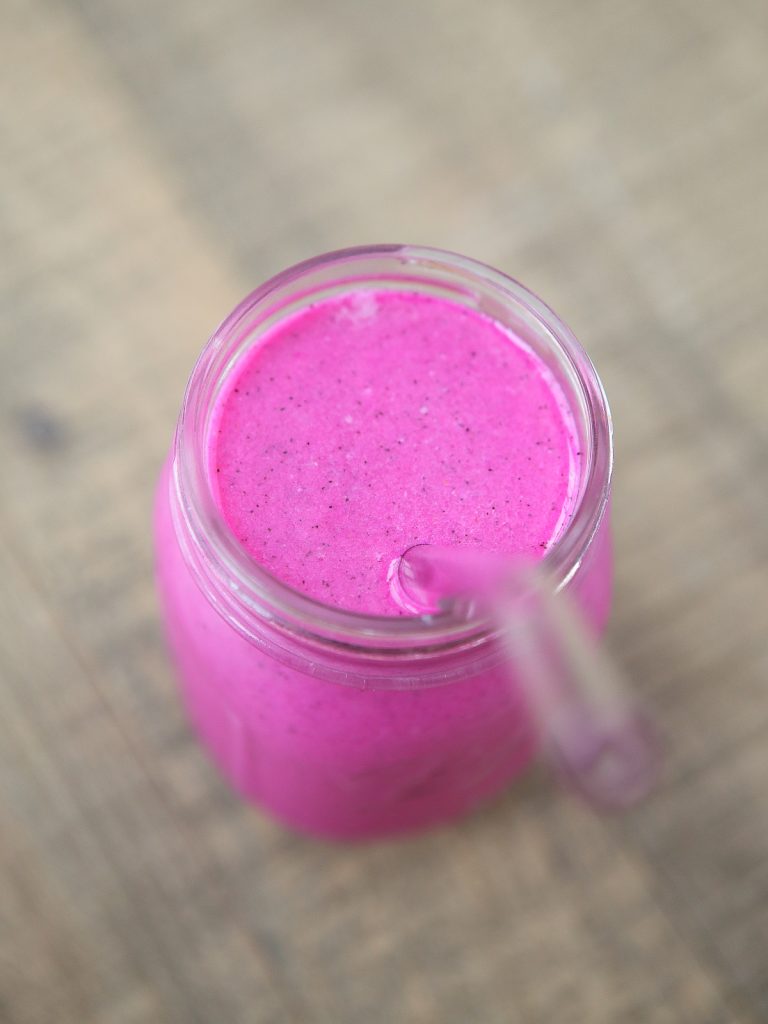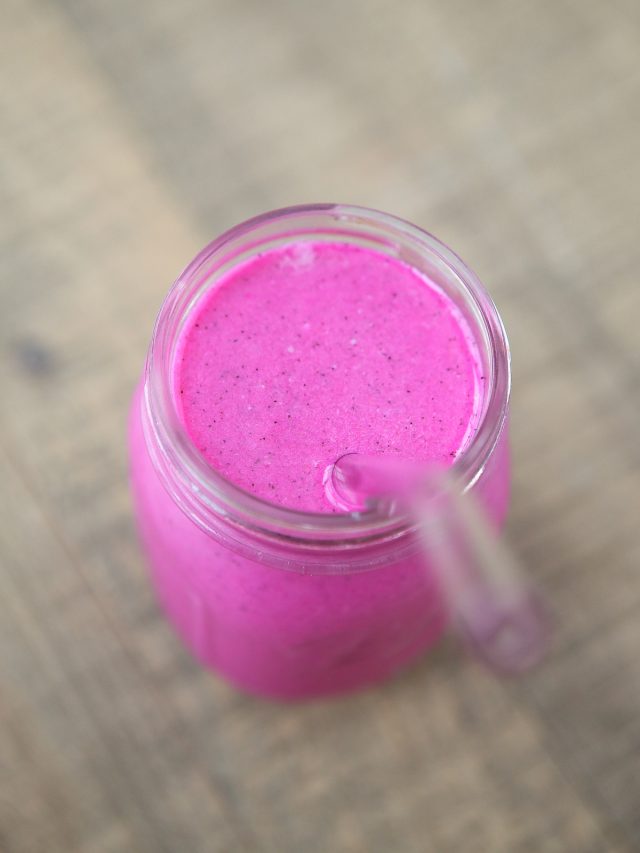 Okay, like I promised, I will leave you with my personal Essential Seven list:
1. Eat and drink more healthfully:  drink more smoothies! (I've got my eye on a couple smoothies to get me out of my smoothie rut like this Raspberry Pineapple Coconut Smoothie and this Sunshine Lemon Smoothie!)
2. Exercise regularly:  5 days a week of exercise including working with a personal trainer 2x week, bootcamp-type classes 3x week. Getting 10k steps in a day especially on the days I'm not at the gym.
3. Save, spend, and earn wisely:  as always, work smarter not harder in regards to earning potential. Meal plan so I reduce trips to the grocery store. Eating at home more on the weekends so eating out is more of a treat. 
4. Rest, relax, and enjoy:  read books more instead of social media (put away the phone), setting up "dates" with each of my kids and my husband. Getting 7 hours of sleep most nights of the week (meaning earlier bedtime)
5. Stop procrastinating, make consistent progress:  this is a really hard one for me. Writing in my planner/calendar regularly instead of keeping it in my head which results in unnecessary stress and anxiety. Write a work schedule and plan for each week so I'm prepared and productive on the days I am working.
6. Simplify, clear, and organize:  another one I really really need to work on. Get rid of stuff I don't use or need! Keep an ongoing donation basket set out.
7. Engage more deeply—with other people, with God, with yourself, with the world:  like #4 set up regular one-on-one dates with my kids and husband and friends (and stick with it), attend Mass at least 2 Sundays a month (with a goal of every Sunday), practice yoga as often as possible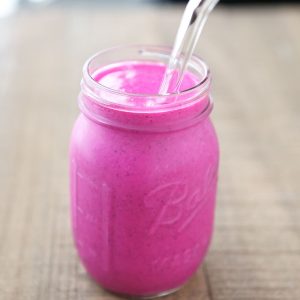 Ingredients:
Directions:
Place all ingredients into a blender. Let sit about 5 minutes to partially defrost. Blend until smooth and enjoy.
without collagen peptides:  Calories  164/ Carbs 31/ Fat 4/ Protein 2/ Sodium 31/ Sugar 22
with collagen peptides:  Calories 200/ Carbs 31/ Fat 4/ Protein 11/ Sodium 85/ Sugar 22
This is my favorite blender – I have been using it (a certified refurbished one!) for several years and it's worth every penny!
We love smoothies! Here are some more to try:
Strawberry, Grapefruit and Ginger Smoothie
Healthy Coffee Banana Smoothie | Cookin' Canuck
Acai Pomegranate and Raspberry Smoothie | FoodieCrush
Are you following me on Instagram, Twitter, Facebook and Pinterest? If you'd like to subscribe to Aggie's Kitchen and have each post delivered straight to your e-mail box, then please add your email here. Happy cooking!
There are affiliate links in this post. I make small earnings through any purchases made through these links. Thank you for supporting Aggie's Kitchen!