Lemony Chickpea and Avocado Sandwich with Feta and Arugula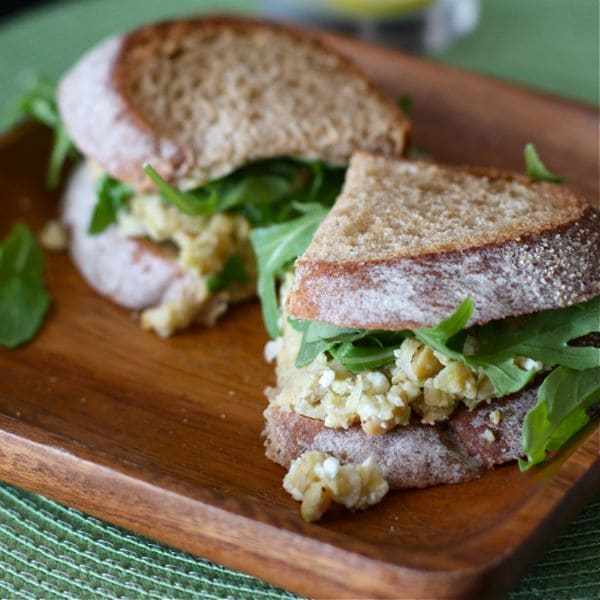 I've heard my friend Maria mention her favorite go-to lunch being her Smashed Chickpea & Avocado Salad Sandwich more than a few times. Every time she mentions this avocado sandwich I immediately begin to crave it, but for whatever reason, I have never actually gotten around to making it for myself. Don't you hate when that happens?
The other day Dara asked the question "what are some of your favorite go-to lunch ideas?" on her Facebook page and after seeing Maria's comment about what hers was, I figured it was finally time to make it for myself – especially since I had nothing planned for lunch but happen to have an avocado and a can a chickpeas in the pantry (like I pretty much always do).
I didn't have everything I needed to make it exactly how Maria does, but I improvised and used what I had in my kitchen. The fresh whole wheat bread from the bakery and the zippy arugula along with the lemony smashed chickpea and avocado mixture made this sandwich one of my favorite lunches I've had in a long time. As a matter of fact, I'm having it for lunch again this week.
I don't recommend waiting as long as I did to try it. 😉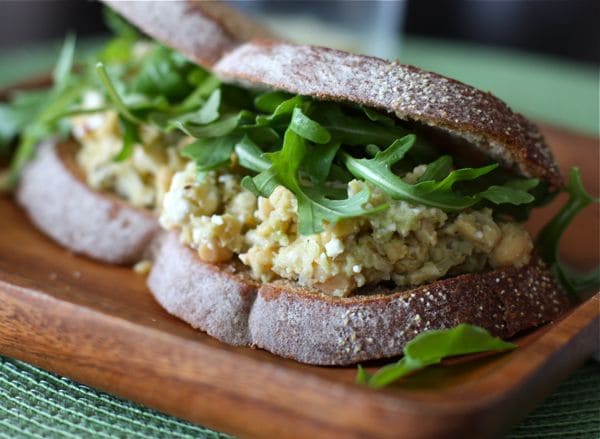 Lemony Chickpea and Avocado Sandwich with Feta and Arugula
Yield: makes 3-4 sandwiches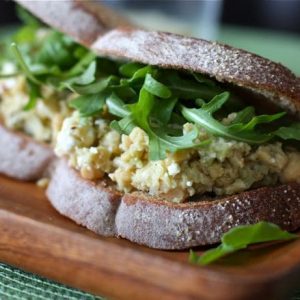 Ingredients:
1 can Bush's Garbanzo Beans (Chickpeas), rinsed and drained well
1 avocado
juice from 1/2 lemon
1 teaspoon coarse lemon pepper seasoning
pinch salt and pepper, optional (omit if lemon pepper seasoning already has salt - the one I've been using is No Salt Added)
1/3 cup crumbled feta
handful arugula
sliced whole grain bread
Directions:
In a large bowl combine combine beans, avocado and lemon juice. Mash well with a large fork until well combined. (I used a serving fork, but if you have a potato masher feel free to use it. This part takes some muscle)
Stir in lemon pepper seasoning, crumbled feta, salt and pepper (if using).
Build your sandwich with 2 slices whole grain bread, a handful of arugula and chickpea & avocado mixture.
Tip: I've stored this in the fridge for a couple of days for quick lunches. The lemon should keep the avocado from browning.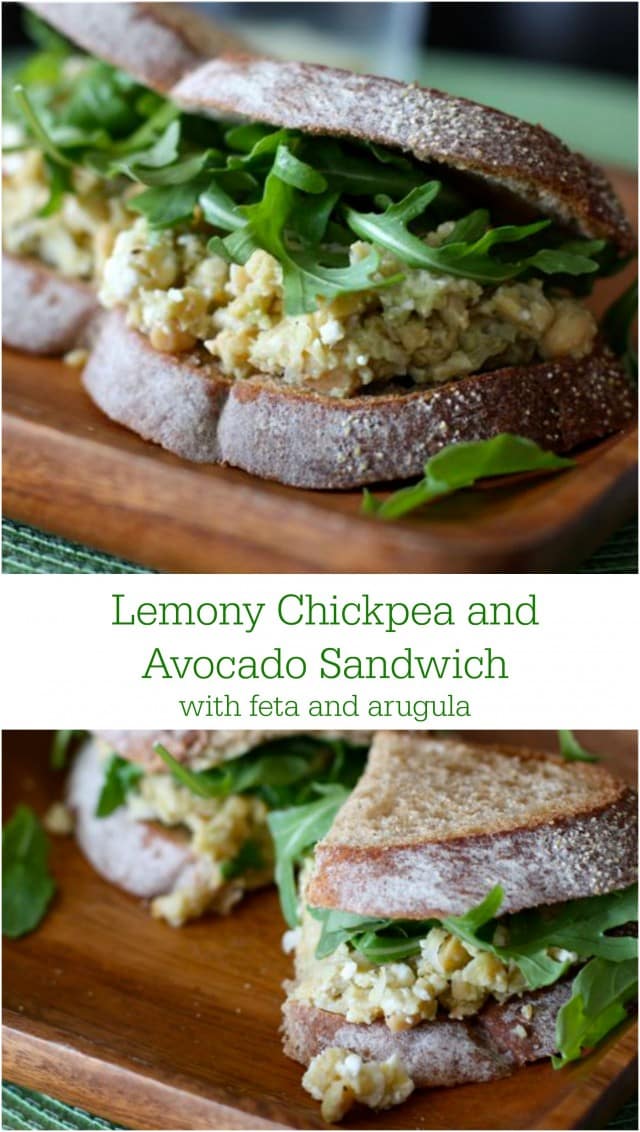 Follow Aggie's Kitchen's board Sandwiches on Pinterest.
Are you following me on Instagram, Twitter, Facebook and Pinterest? If you'd like to subscribe to Aggie's Kitchen and have each post delivered straight to your e-mail box, then please add your email here. Happy cooking!
There are affiliate links in this post. I make small earnings through any purchases made through these links. Thank you for supporting Aggie's Kitchen!