Italian Stuffing Recipe for Thanksgiving
My family's Italian Stuffing made with sausage, pasta and spinach … a recipe my grandmother made for our family for as long as I can remember – it's my favorite part of Thanksgiving!
Click here to pin this Italian Stuffing recipe!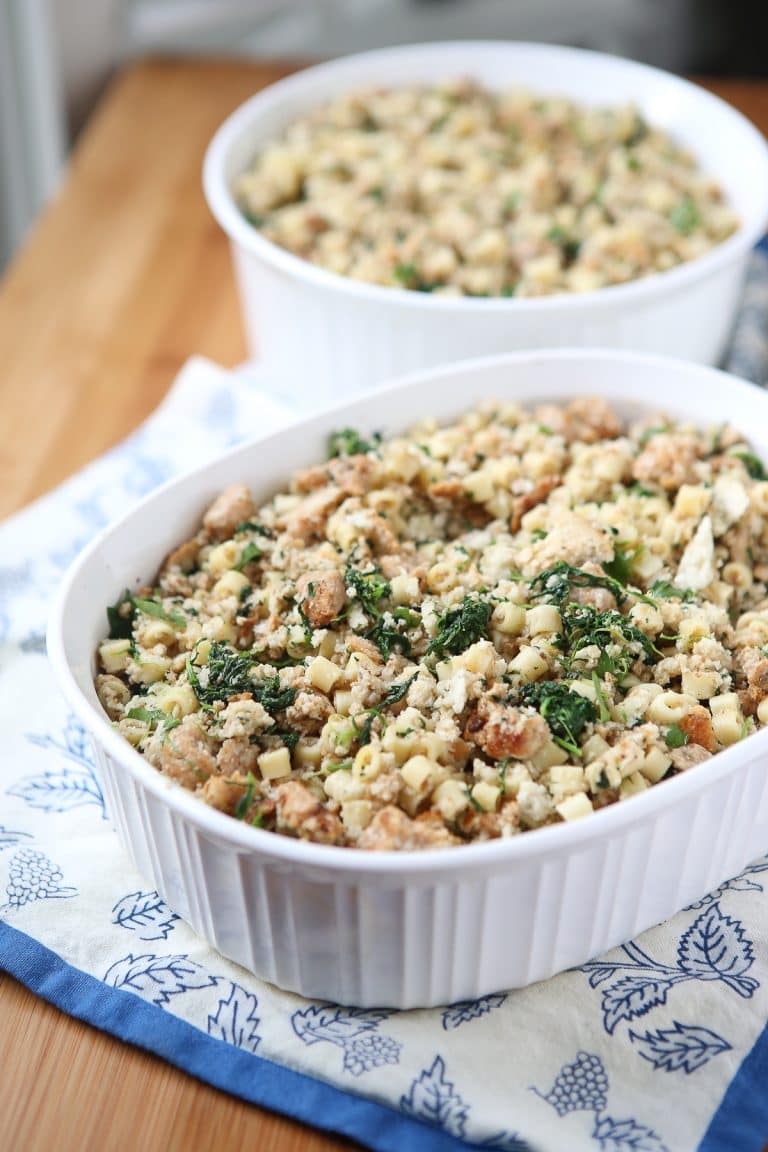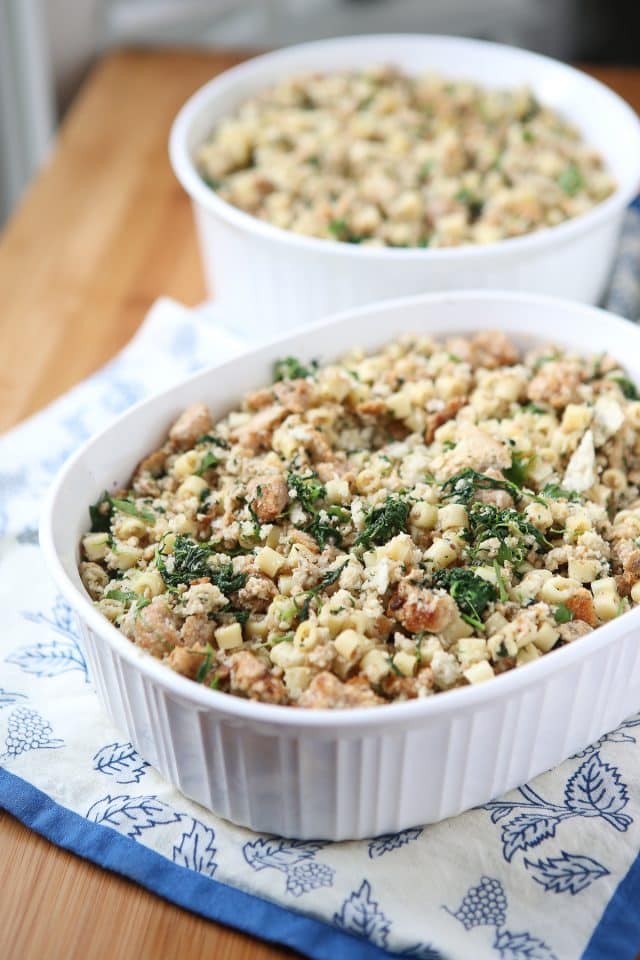 I'm reposting this special Thanksgiving recipe today in honor of my grandmother who we lost in August of this year. If you've been reading my blog a long time you know her and my grandfather were a big part of my life and now they are both together in Heaven smiling down on us. This was the stuffing she always made for us and we look forward to it every Thanksgiving.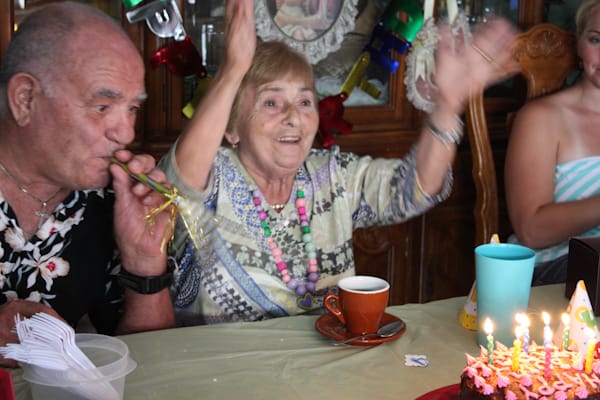 Originally published November 7, 2016
I seriously can't even believe we are just a few weeks away from Thanksgiving already. I also can't believe I'm posting a recipe for Thanksgiving before Thanksgiving. I've never really been good about keeping up with holidays ahead of time here on the blog, but this recipe for my family's Italian Thanksgiving Stuffing has been around for quite a few years and last year I finally remembered to take photos of it so I can share it again with you in time for the holidays this year.
Obviously, this is not your typical holiday stuffing, but this is the only stuffing I know. With my family being from Sicily, Thanksgiving wasn't really a big holiday for us when I was young. We celebrated it, yes, but I wouldn't say it was as traditional of a holiday as most other families I knew. We had the turkey, but up until probably high school, we would eat manicotti or a big plate of ziti before the turkey even hit the table. I never knew what green bean casserole was until I was in college. Sweet potato casserole? I think I first had sweet potato casserole (or candied yams) the year I was engaged to my husband. This stuffing is not very traditional, but I love it and look forward to it every year.
My kids do too and that honestly always warms my heart. Tradition makes me truly happy.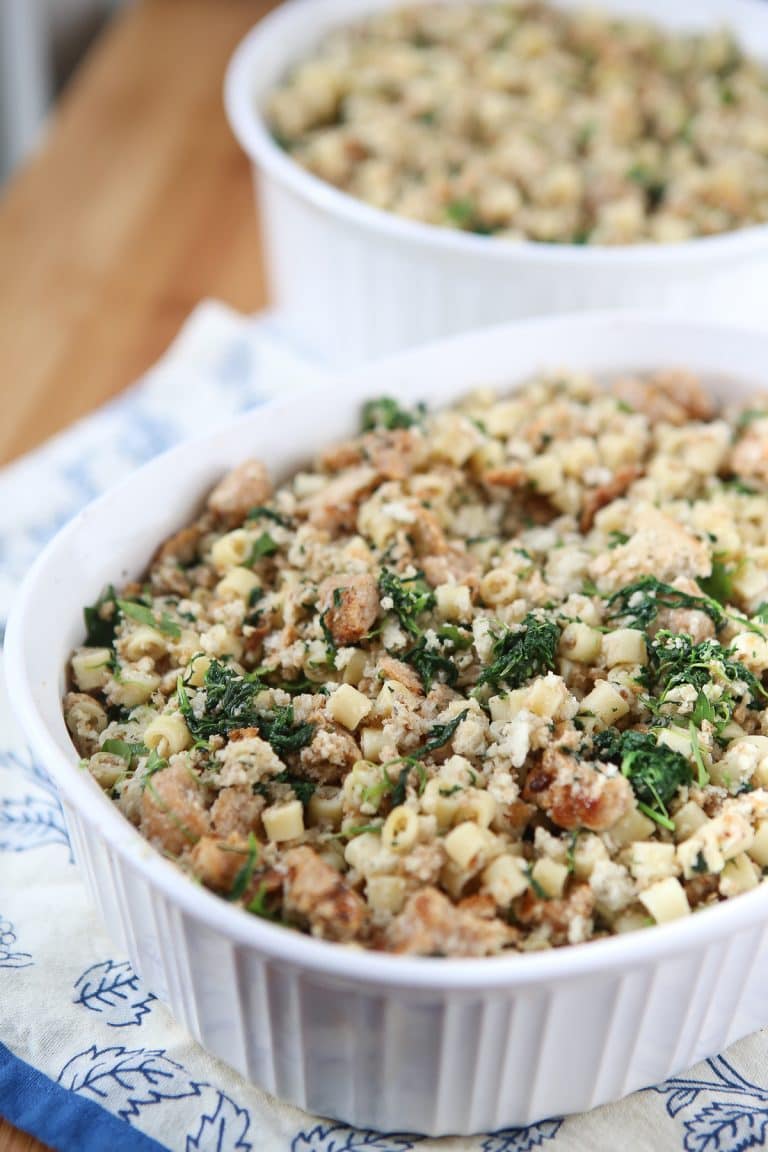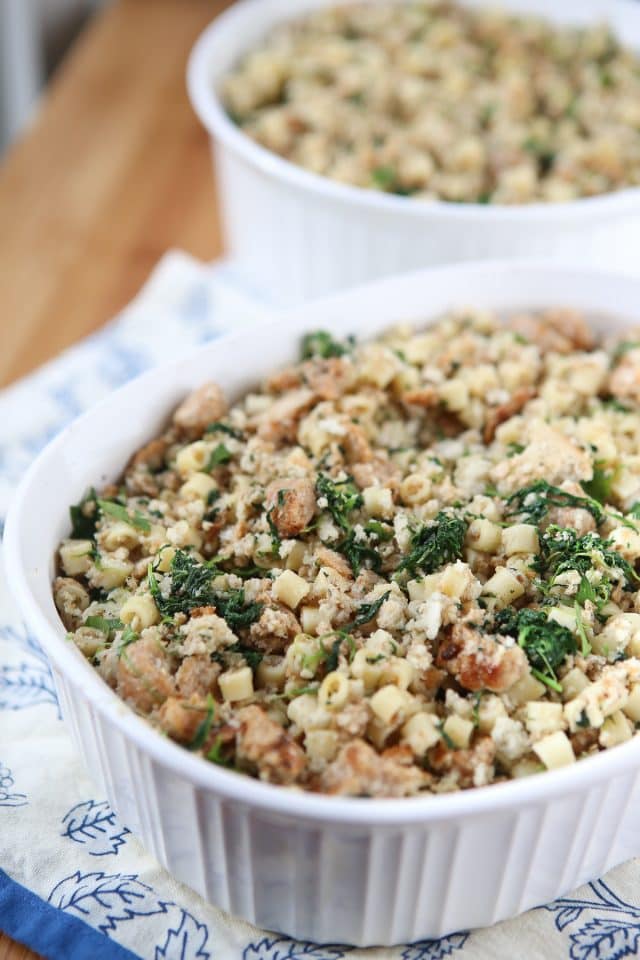 My Nonna made the stuffing for as long as I can remember, but over the years my mom, sister and I have taken on most of the cooking for the big holidays, you know how it goes. I kind of took over making this recipe for our Thanksgiving a few years ago and have made it my own, as close to the original "recipe" as possible (my family doesn't really have exact recipes).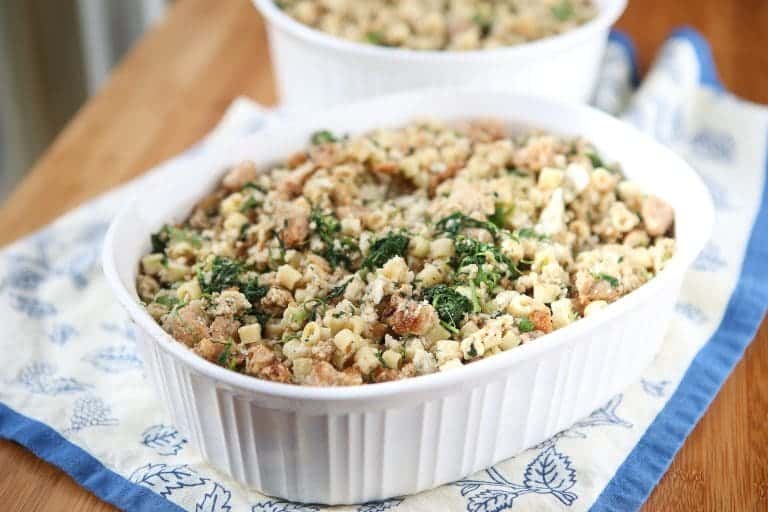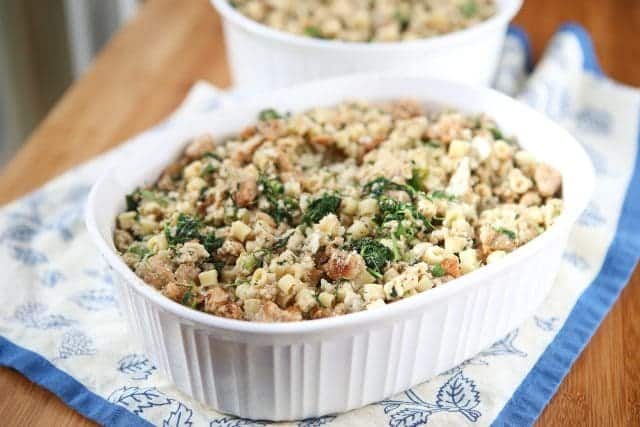 I love to use corningware to cook the stuffing in because of the size and the glass covers. (best wedding shower gift from my mom ever!)
To round out the turkey and stuffing some of the recipes I love to make for my family every year are Apple-Orange Cranberry Sauce, Roasted Green Beans with Shallots and Almonds, and these Whipped Sweet Potatoes with Pecan Topping (they like marshmallows on top too).
So now you know one of my family's oldest Thanksgiving recipes, let me know about yours. Leave a comment below!
Print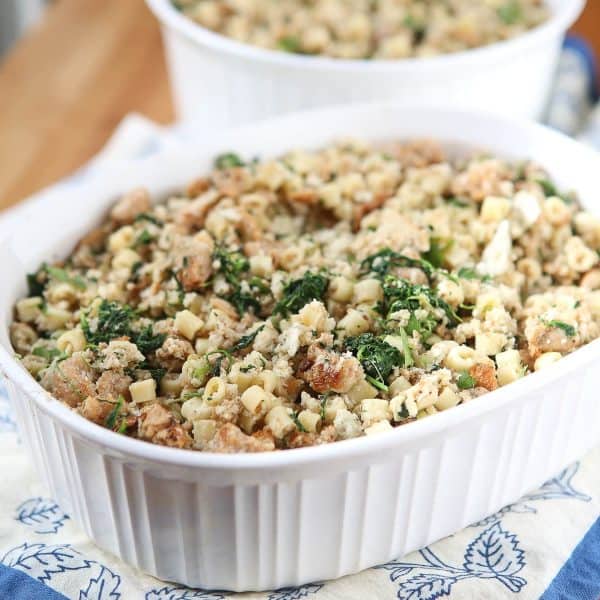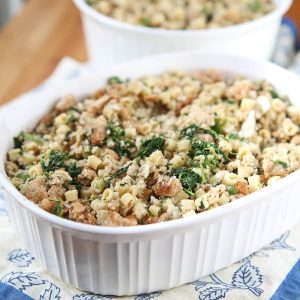 Italian Stuffing
Author:
Cook Time: 60 minutes
Total Time: 1 hour
Yield: 12 servings 1x
My family's Italian Stuffing made with sausage, pasta and spinach … a recipe my grandmother made for our family for as long as I can remember – it's my favorite part of Thanksgiving!
---
Ingredients
2.5–3 lbs ground Italian pork, turkey or chicken sausage, removed from casing (I prefer turkey sausage)
1 lb box of Ditalini pasta (short tubes), cooked
2 10 oz boxes of frozen chopped spinach, defrosted and squeezed/drained well
5 –6 eggs, beaten
1 14 oz bag of herbed stuffing (I use Pepperidge Farms, blue bag)
2–3 cups of low sodium chicken broth
salt and pepper to taste
---
Instructions
Cook 1 lb Ditalini pasta as directed. When cooked, drain and set aside to cool.
While pasta is cooking, crumble and brown Italian pork, chicken or turkey sausage in large saute pan. Season with salt and pepper.
Combine pasta and sausage in a large mixing bowl. Add chopped spinach to bowl and stir to combine. Add herbed stuffing and continue to stir. Taste and season with salt and pepper, then add beaten eggs to mixture and mix well.
Pour stuffing mixture into lightly greased baking dishes (I usually use corningware). Pour chicken stock evenly over stuffing. Cover the casseroles and place into 350 degree oven for about 30 – 35 minutes until cooked through and starting to brown. At this point, take cover off casseroles and let cook for another 5-10 minutes so top gets golden brown and crunchy.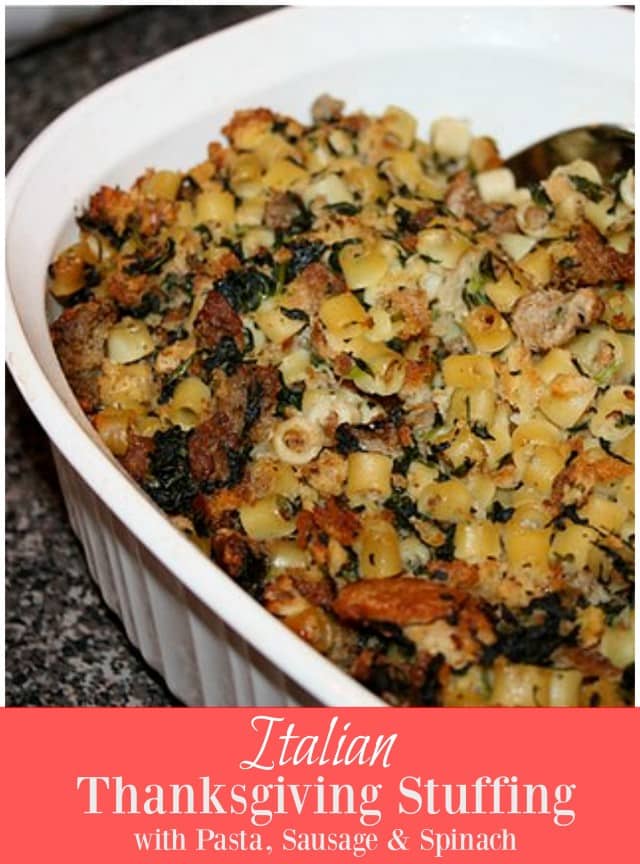 Follow Aggie's Kitchen's Thanksgiving board on Pinterest.

Are you following me on Instagram, Twitter, Facebook and Pinterest? If you'd like to subscribe to Aggie's Kitchen and have each post delivered straight to your e-mail box, then please add your email here. Happy cooking!
There are affiliate links in this post. I make small earnings through any purchases made through these links. Thank you for supporting Aggie's Kitchen!