Two Awesome Veggie Sides…and a Blogger Tip!
I have a couple of new favorite veggie dishes to share…
One of them, the Roasted Carrots, I've made many times.  There's not much to this recipe, it can be found in The Barefoot Contessa Cookbook and if you've roasted vegetables before then you really don't need to follow anything in writing to cook these up.  If you haven't noticed, I am a huge fan of roasted vegetables.  Cooking them this way really brings out some natural flavors and sweetness and you gotta love the slightly crisp texture you get when you roast them just right.
Roasted Carrots
Recipe adapted from Ina Garten, The Barefoot Contessa Cookbook and Food Network
12 carrots
3 tablespoons good olive oil
1 1/4 teaspoons kosher salt
1/2 teaspoons freshly ground black pepper
2 tablespoons minced fresh parsley
Preheat the oven to 425 degrees F.
Slice carrots diagonally in 1 1/2-inch-thick slices. (The carrots will shrink while cooking so make the slices big.) Toss them in a bowl with the olive oil, salt, and pepper. Transfer to a sheet pan in 1 layer and roast in the oven for 15-18 minutes, until browned and tender.
Toss the carrots with minced parsley, season to taste, and serve.
Now my newest favorite veggie dish is Bobby Flay's Roasted Green Beans with Shallots and Almonds…his original recipe calls for hazelnuts instead of almonds, but I had some trouble finding hazelnuts so decided sliced almonds would work just fine.  What I loved about these green beans is not only were they super easy and roasted, but the lemon zest that is added with the almonds as a topping.  The lemon really added a burst of flavor for me that I almost wasn't expecting.  The shallots cooked along with the green beans and added a subtle sweet onion flavor to the slightly crisp beans.  This was so easy and such a nice way to change up your everyday green beans.  Try it…you'll like it!
Roasted Green Beans with Shallots and Almonds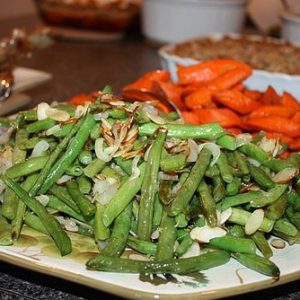 Ingredients:
1 pound green beans, trimmed
3 tablespoons olive oil
4 shallots, thinly sliced
Salt and freshly ground black pepper
1/4 cup sliced almonds, toasted
1 tablespoon finely chopped lemon zest
2 tablespoons chopped fresh parsley leaves
Directions:
Preheat oven to 425 degrees F.
Toss the green beans in a large baking dish with the oil and shallots and season with salt and pepper. Roast until just cooked through and golden brown, about 15 to 18 minutes. Combine the hazelnuts, zest, and parsley in a small bowl. Transfer green beans to a platter and sprinkle with the almond mixture.
Blogger Tip…
Now a few people have asked me how I set up my Printable Recipe links…I'll tell ya, it's taken me some time to finally figure this one out myself, and I will have to credit my husband on this one.  He introduced me to Google Docs, which according to Wikipedia is:
Google Docs is a free, Web-based word processor, spreadsheet, presentation, and form application offered by Google. It allows users to create and edit documents online while collaborating in real-time with other users.
Fancy huh?
What you would do to get started is first get yourself a Google account if you don't already have one.  Once you have access to Google docs it's pretty easy to go from there.  You should be able to easily get to it from any Google page, you should see the word Documents at the top left corner on the page or listed under the "more" category.  Here are the steps I take to get my Printable Recipes links on my blog:
1.  Create New (drop down) Document
2. Copy and paste your recipe into the document.  Edit as you like.
3. Save
4. Share (drop down) – Publish as web page
5. Share (drop down) – Get the link to share
6. Copy/Paste that link into your blog post as your "Printable Recipe"
There you have it!  I'm amazed at how much there is to learn in regards to blogging and website upkeep…it kinda hurts my brain sometimes.  🙂
Hope this helps some of you!

Are you following me on Instagram, Twitter, Facebook and Pinterest? If you'd like to subscribe to Aggie's Kitchen and have each post delivered straight to your e-mail box, then please add your email here. Happy cooking!
There are affiliate links in this post. I make small earnings through any purchases made through these links. Thank you for supporting Aggie's Kitchen!