Cranberry Orange Quickbread
I know I've mentioned my addiction to Facebook on this blog several times.  I almost think I can dedicate a whole category to "Facebook Inspired" recipes and creations…this one being one of them.
I saw this recipe posted on Facebook last week on Food Network's fan page and I immediately bookmarked it.  I thought a festive sweet bread like this would make a nice addition to our Thanksgiving meal, and I was right.  The flavor combination of orange and cranberry is just perfect…and it couldn't have been easier to bake up at almost the last minute – which is why I'm a huge fan of quickbreads.
When I first saw the recipe I didn't realize that I would need a food processor to make this bread.  It wasn't until after I got all my ingredients in order that I hit a road block.  I don't have a food processor!  Actually, I have a mini one (that I purchased a couple of years ago when I was really into making purees)…but the mini one just doesn't do the job for most recipes that call for a food processor.  So it's official.  I am asking Santa for a food processor this year.  What kind should I get?  Help!
So how did I get past the "crap, I don't have a food processor moment"?  Well, I improvised by using my hands.  Isn't that what they probably did back in the day?  I basically used my fingers to cut up the cold butter and blend it with the flour.  Ann Burrell mentions in the recipe that the mixture should resemble "grated cheese"…and that's the result I got as I was mixing with my hands so I went with it.  And it worked!
But I still want my food processor.
Cranberry Orange Quickbread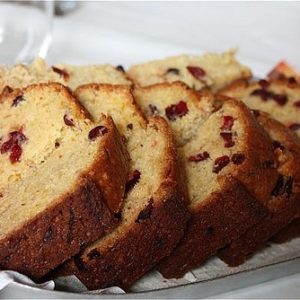 Ingredients:
2 cups all-purpose flour, plus extra for loaf pan
3/4 cup sugar
1/2 cup brown sugar
1/2 teaspoon salt
1/2 teaspoon baking soda
1 stick cold butter, cut into pea size pieces, plus extra for loaf pan
1 orange, zested
3/4 cup fresh orange juice
1 orange, peeled, sections removed and diced
1 egg
1 cup dried cranberries
Directions:
Preheat the oven to 350 degrees F.
In a food processor combine the flour, sugars, salt, baking soda and butter. Pulse, pulse, pulse until the mixture resembles finely grated cheese. Add the orange zest, juice and the egg. Pulse, pulse, pulse until the mixture is just combined. Remove to a bowl and stir in the diced orange and cranberries.
Grease and flour the loaf pan and add the batter. Bake in the preheated oven for 1 hour and 15 minutes. Rotate the pan halfway through the cooking time to insure even cooking.
When done let cool for about 20 minutes and remove from loaf pan. Let cool completely before cutting.
Are you following me on Instagram, Twitter, Facebook and Pinterest? If you'd like to subscribe to Aggie's Kitchen and have each post delivered straight to your e-mail box, then please add your email here. Happy cooking!
There are affiliate links in this post. I make small earnings through any purchases made through these links. Thank you for supporting Aggie's Kitchen!