Chicken Pear and Avocado Salad
This Chicken Pear and Avocado Salad is full of protein and flavor making it perfect for lunch or dinner.
Pin this Chicken Pear and Avocado Salad recipe for later!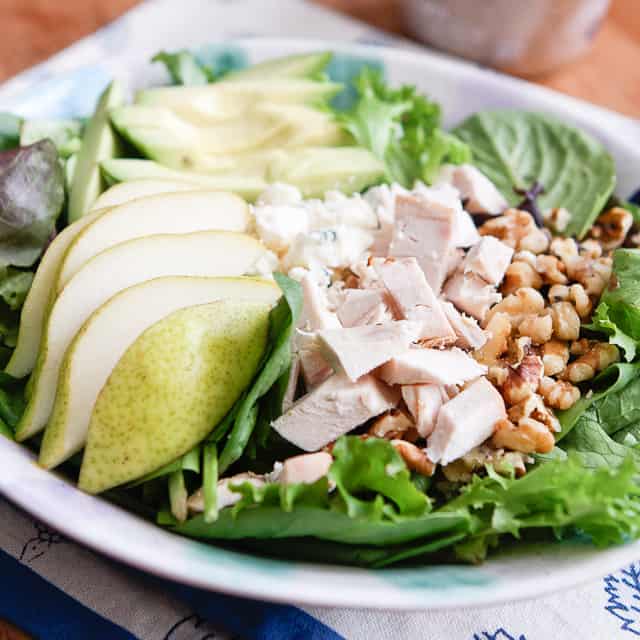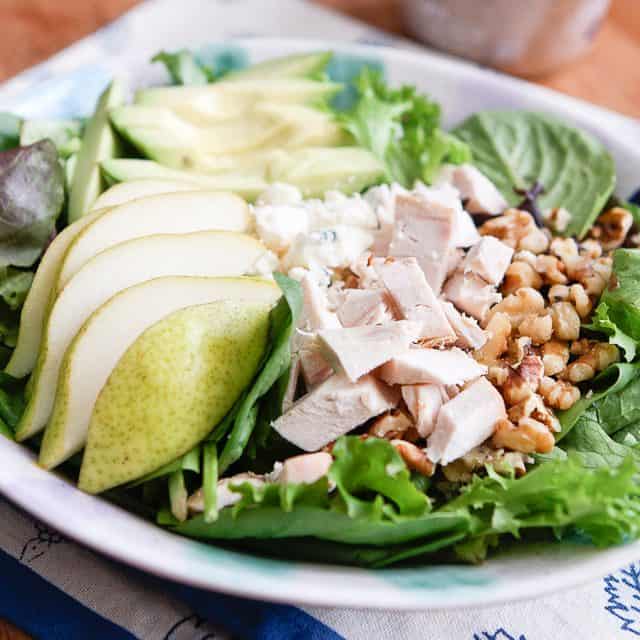 Originally published October 27, 2014
Since summer, my husband and I have been really working hard at eating well and losing weight (using a Fitbit and tracking in My Fitness Pal). I can't tell you how much easier and more motivating it is to accomplish this when you have a partner. Especially when your partner lives in your house and is your husband.
It's one thing for me to make healthy choices just for myself…but when I know that my cooking and meal prep also helps my husband achieve his healthy living goals, well for some reason that pushes me a little more. I know he appreciates it too.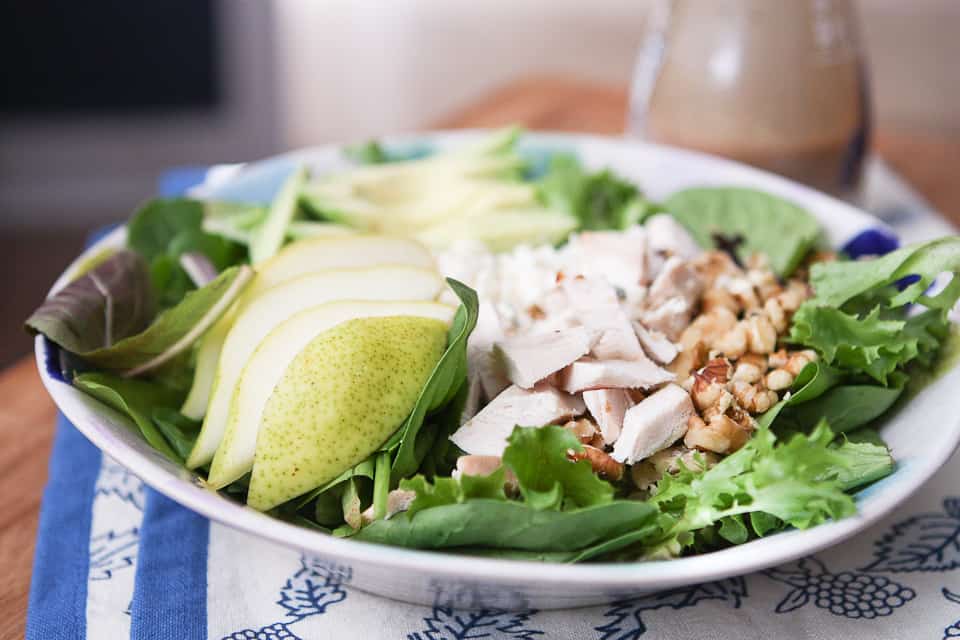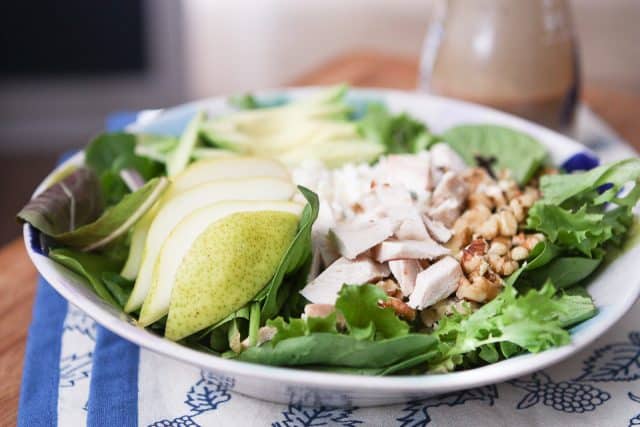 This salad. This chicken and pear salad with avocado and walnuts is a product of our healthy living partnership.
I have been in a major salad rut lately. It happens. Two trips to the EPCOT Food & Wine Festival, my baby's first birthday celebration (will be sharing about it in my next post!), and a few too many pizza nights have happened lately too. Both my husband and I can say we have been feeling the effects of all those good times on our bodies. Just not feeling our best – a little sluggish and few extra pounds on the scale. I knew I had to get my salad makin' self back to makin' salads. For both of us!
We had this Chicken Pear and Avocado Salad for dinner the other night. If I am going to present my husband with a salad for dinner then it better be a good one, I've learned. It better have meat in it, for one, and it better taste so good he doesn't realize he just ate a salad for dinner. You know what I mean?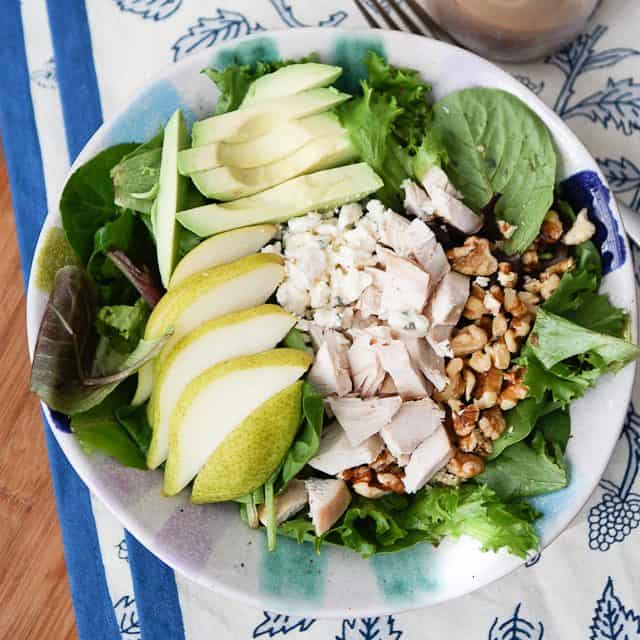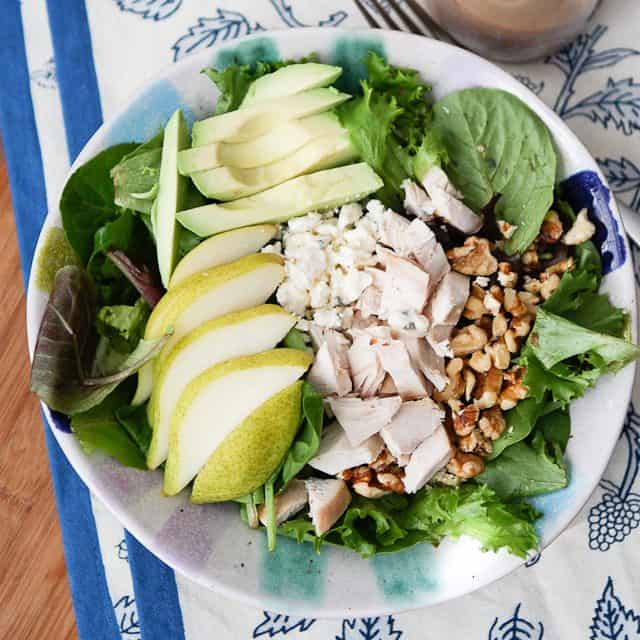 How to make chicken and pear salad
A couple of shortcuts like rotisserie chicken and store bought salad dressing (I'm picky about my dressing, so it had to be a good one – I used this one that I have been liking a lot lately) made this mixed green salad with chicken, pears and walnuts a great weeknight dinner salad.
If you have time to make your own, try my Honey Balsamic Vinaigrette – it's perfect for a pear salad like this.
If you don't want to use rotisserie then here's a great post on how to cook shredded chicken that I think you'll find helpful.
I'm pretty much addicted to this salad and with pears in season, I think it's safe to assume I will be making it often.
What are the best pears for salad?
It depends. There are quite a few to choose from this time of year. When I'm looking for a pear to snack on or add to salad or another dish like this Greek yogurt parfait, I like to pick up one that is still firm but ripe. It's a delicate balance in choosing a perfectly ripe pear – you'll know when it gives to gentle pressure around the stem.
My favorite pears for salads are anjou pears. They come in green or red and slice up easily for salads or snacking. I love bartlett pears too but they ripen very quickly so you have to eat just at the right time.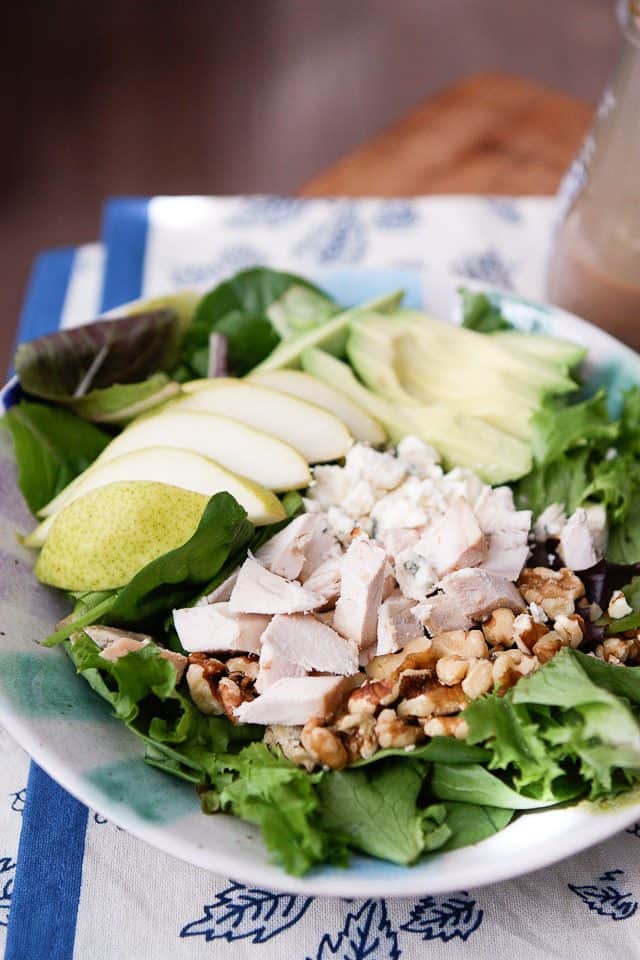 This chicken and pear salad restarted our healthy eating for the week and got us back on track. My daughter was a huge fan of this salad too, and my non-salad loving boys enjoyed it in a little more deconstructed form on their plates.
Print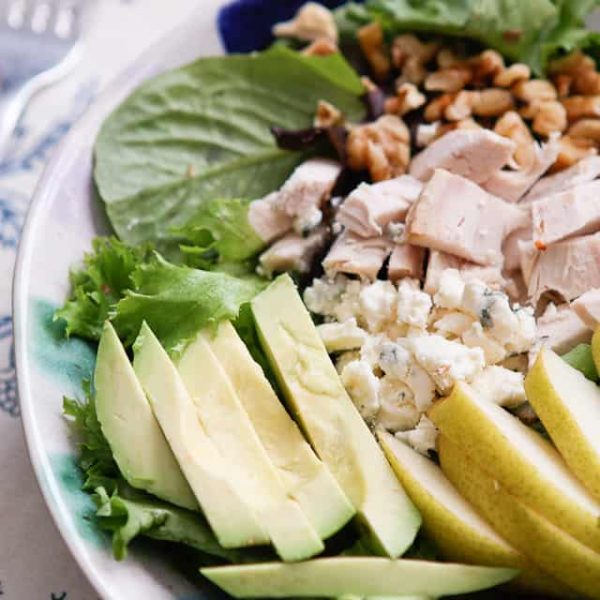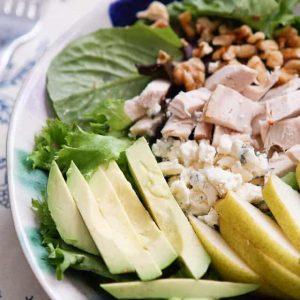 Chicken Pear and Avocado Salad
Author:
Prep Time: 10 minutes
Total Time: 10 minutes
Category: Salad
---
Ingredients
Mixed Greens
Rotisserie Chicken, sliced or chopped
Avocado, sliced
Pear, sliced
Crumbled Gorgonzola cheese
Walnuts, chopped
Your favorite balsamic vinaigrette
---
Instructions
Assemble salad ingredients in a plate or bowl and drizzle with your favorite balsamic vinaigrette.
---
Keywords: chicken, avocado, pear, walnuts
Follow Aggie's Kitchen's board Salads on Pinterest.
More salads to get you out of a salad rut:
Mediterranean Chopped Tuna Salad
Shaved Fennel and Arugula Salad
Autumn Spinach Salad with Pecan Vinaigrette
Balsamic Chicken Dinner Salad | Foodie With Family
Southwest Chicken Salad with Homemade Southwest Dressing | Noble Pig
Are you following me on Instagram, Twitter, Facebook and Pinterest? If you'd like to subscribe to Aggie's Kitchen and have each post delivered straight to your e-mail box, then please add your email here. Happy cooking!
There are affiliate links in this post. I make small earnings through any purchases made through these links. Thank you for supporting Aggie's Kitchen!