Angela's Stuffed Delicata Squash
Angela's Stuffed Delicata Squash is flavorful and healthy vegetarian dish that can be served as a meal, or side dish.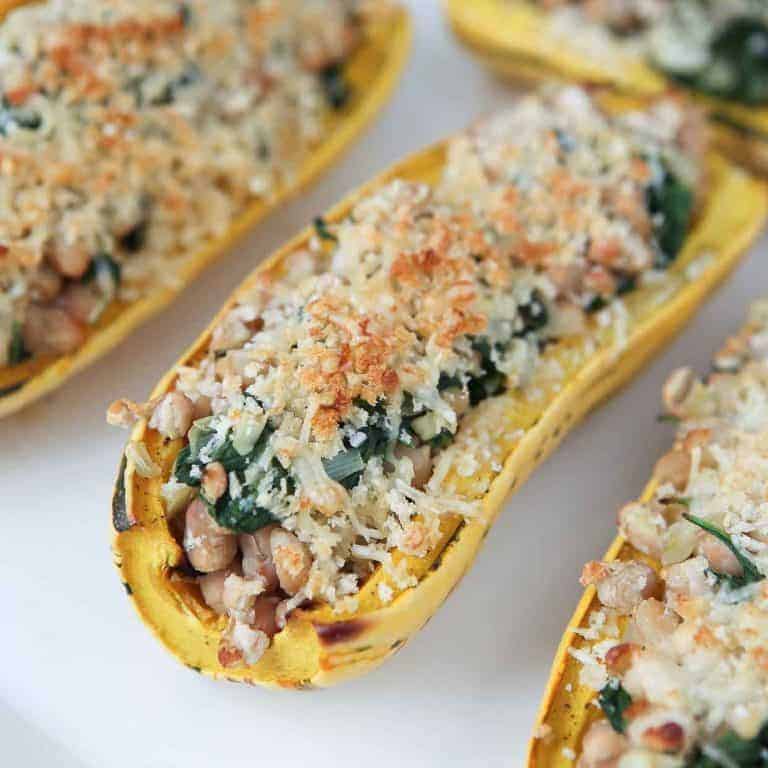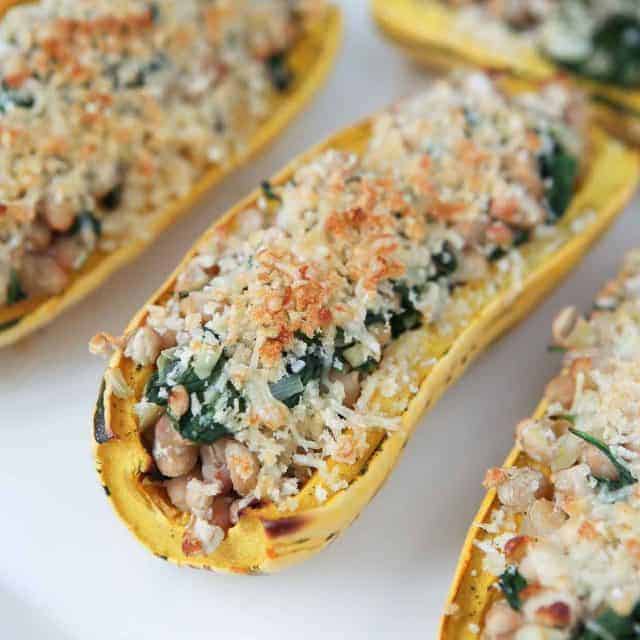 I was introduced to delicata squash by my mom 7 years ago when she brought some to my house after receiving it in her weekly CSA basket from one of her local farms. At the time, both of us didn't eat a lot of meat and she was excited to share this vegetarian stuffed delicata squash recipe she pulled together with me. My mom has always been good at pulling together meals with whatever she has on hand – I like to think I got those skills from her.
This Stuffed Delicata Squash recipe was originally posted in January of 2011 (see below). Ironically, my mom was here "saving the day" again a couple of weeks ago, just as I picked up a few delicata squash at Trader Joe's. I love how Trader Joe's can make an ingredient so popular, especially when it's a fruit or vegetable. If you don't have a Trader Joe's near you, no worries, you can find delicata squash mixed in with the selection of hard squashes (spaghetti squash, acorn squash, butternut squash) at most grocery stores.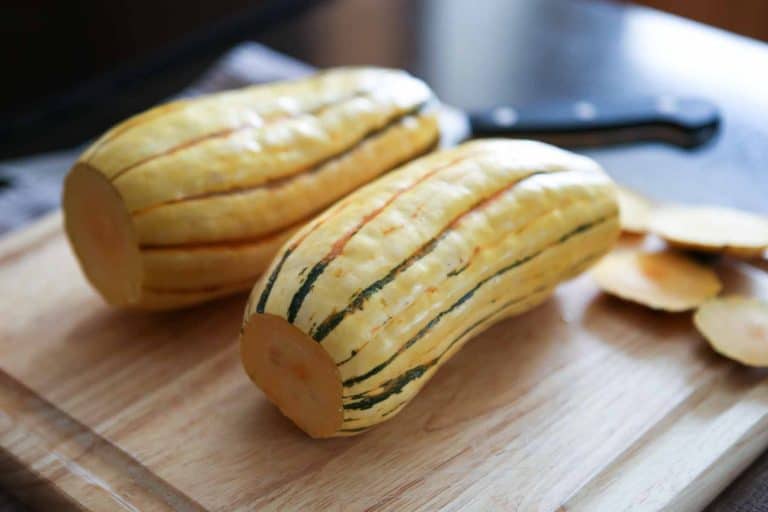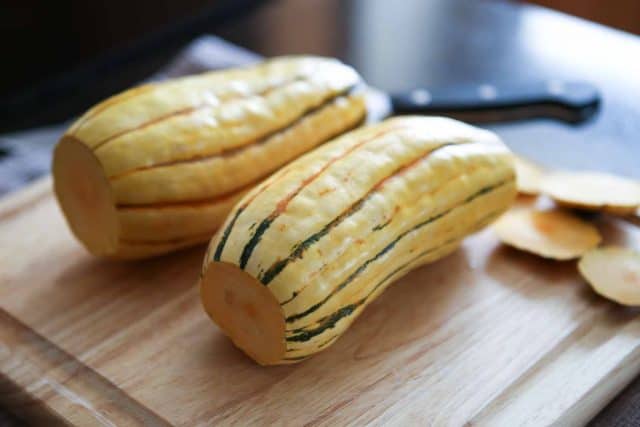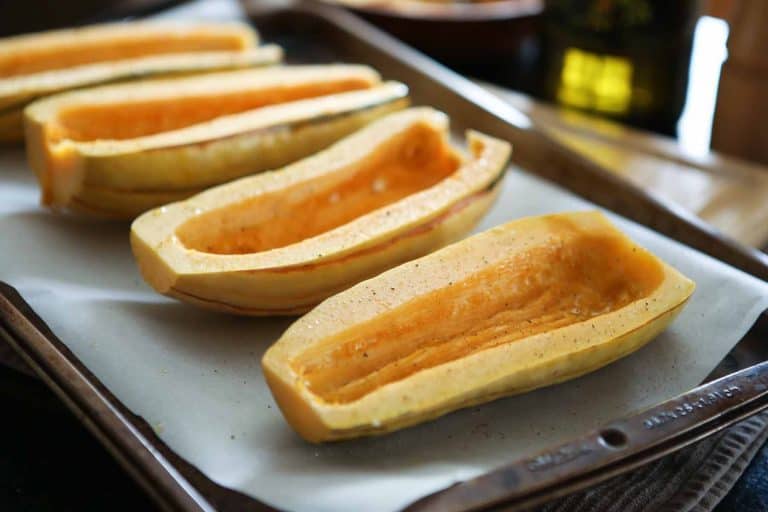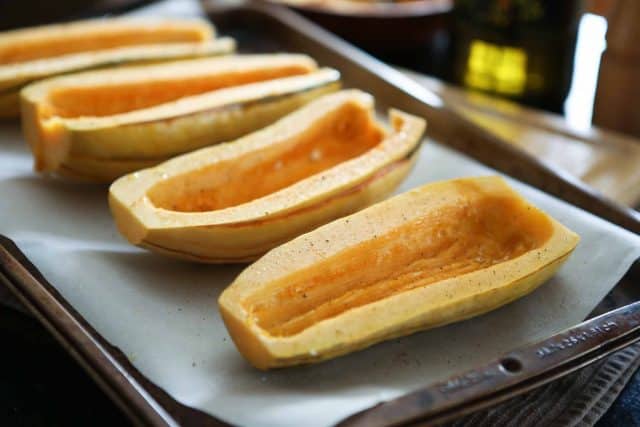 The filling in this recipe is made with garlic, onion, spinach and white beans. If you prefer to include meat, swap out the beans for cooked crumbled Italian sausage.
You can serve this as a main meal, or cut each half in half and serve it as a side dish for a larger meal. I loved it sprinkled with red pepper flakes and a little extra Parmesan cheese when I was ready to dig in.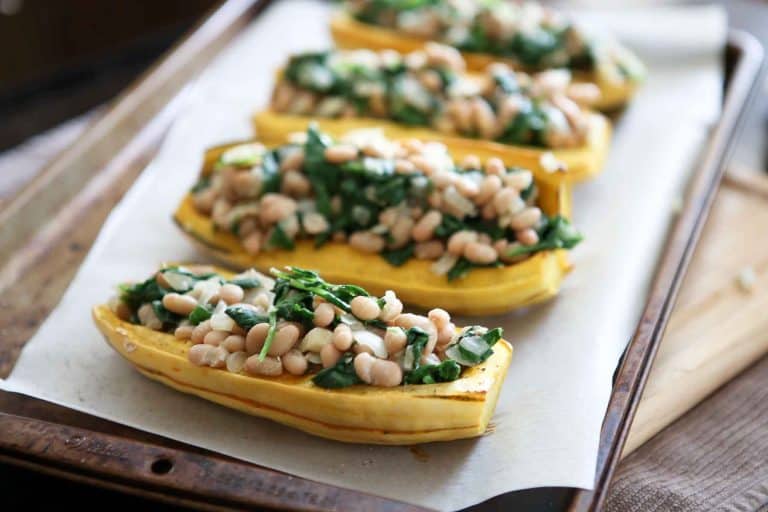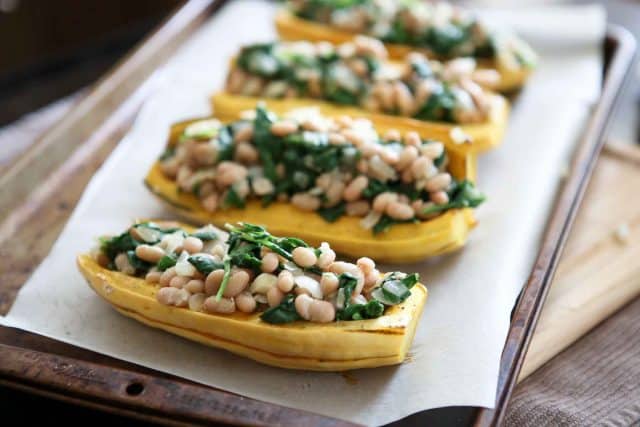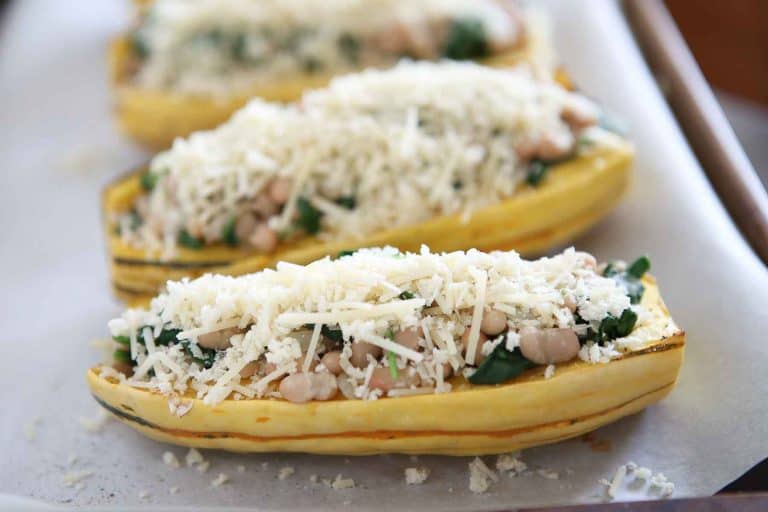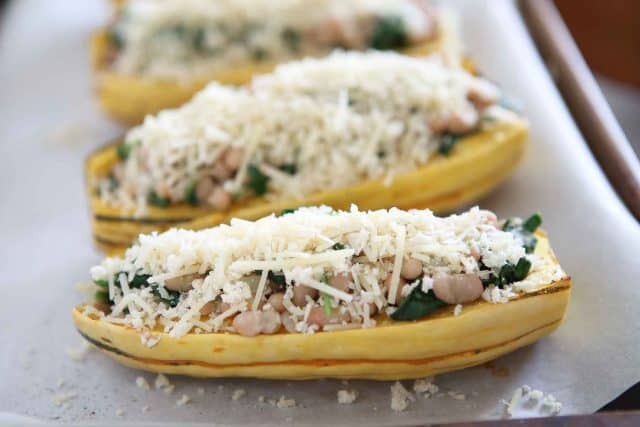 If you were unaware, the skin of delicata squash is completely edible! Once cooked, it's soft enough to cut with a fork. I absolutely love the texture and subtle flavor of this squash.
Originally published January 20, 2011
My mom is so good to me.  She has a way of "saving the day" in my little world way too often it seems.  That's what mom's are for right?
My mom was over for an overnighter this week and brought with her a nice basketful of fruits and veggies that she had from her weekly CSA Flagler Organics.  Both my mom and sister buy their produce from them and it always looks so good.  She had a couple of delicata squash that she wanted to use up and since it would be my first time eating them I couldn't wait to try them.
She makes them roasted and stuffed with simple, clean ingredients.  They turned out so delicious and I can't wait to make them again.  Roast your squash early on in the day or the day before to save yourself some prep time.
So what's good about delicata squash?  Well…it tastes good, that's for sure.  It has a very mild sweet flavor, similar to a sweet potato.  It's full of good for you stuff too…it's a great source for vitamins A & C and fiber, all while being very low in calories and fat.
With a little added protein to the stuffing, it can be turned into a nice light meal.  And the skin of the squash is so "delicate" that once baked or roasted is completely edible, and will give you a little extra something something in the nutrient department.  Bonus!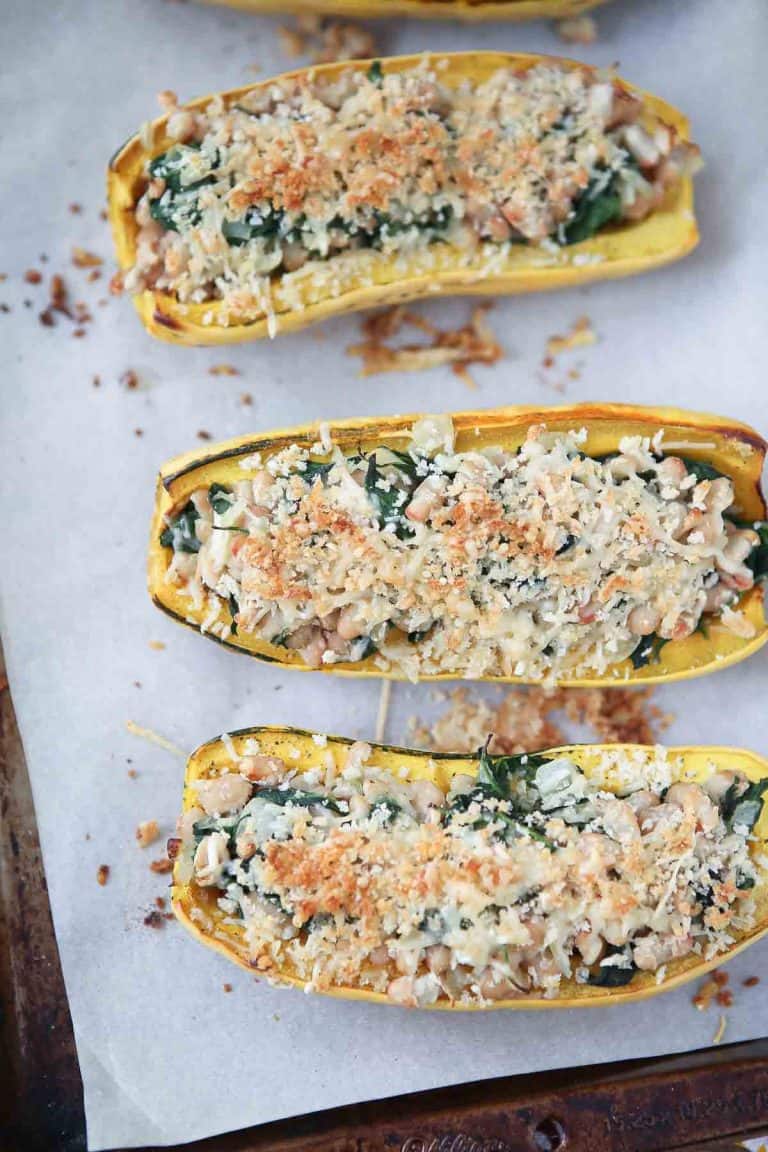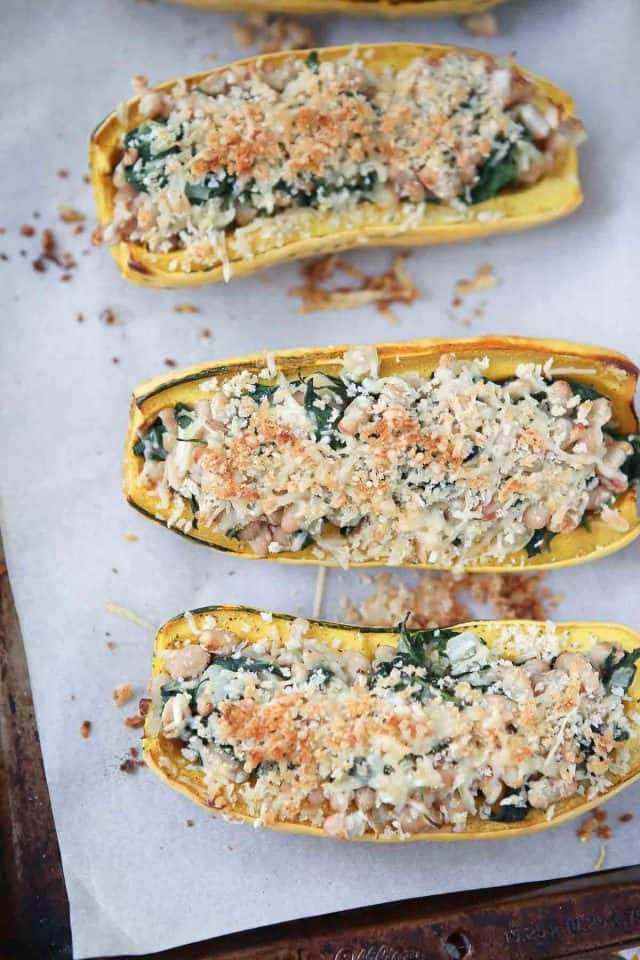 Print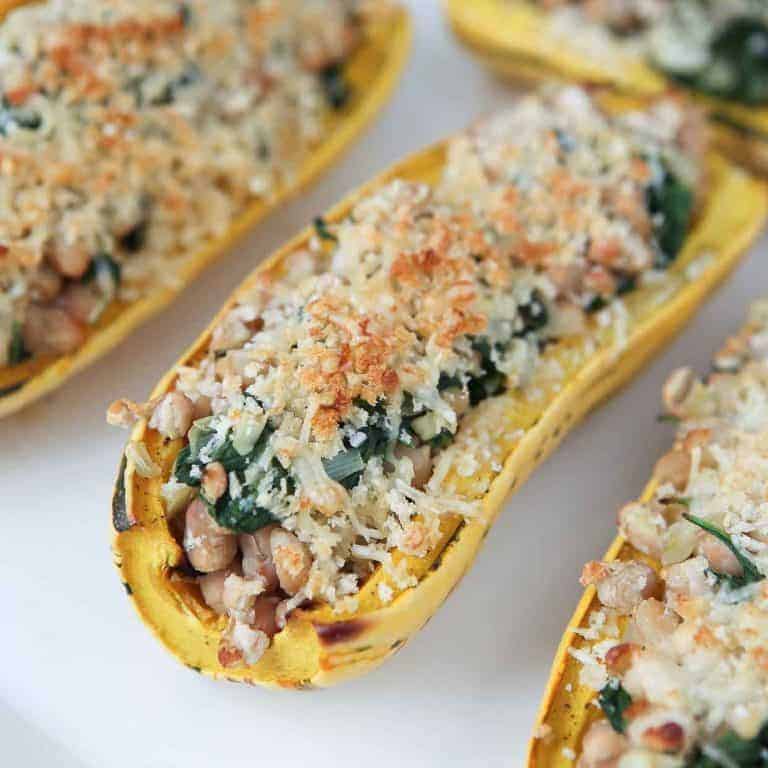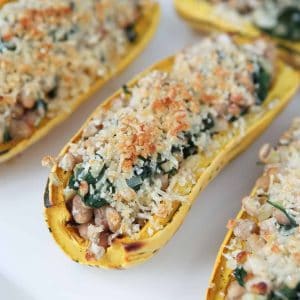 Angela's Stuffed Roasted Delicata Squash
Author:
Total Time: 45 minutes
Yield: 4 servings 1x
Category: Dinner
Cuisine: Vegetarian
Enjoy this seasonal squash roasted and stuffed with spinach, beans and cheesy topping.
---
Ingredients
2 Delicata squash, cut lengthwise
2 teaspoon olive oil, divided
salt and pepper
2 garlic cloves, minced
1 small onion, chopped finely
1 15 oz can cannellini or white beans, rinsed and drained
3 handfuls fresh spinach, torn into small pieces
1/4 cup panko or bread crumbs
1/4 cup Parmesan cheese
red pepper flakes, for serving
---
Instructions
Preheat oven to 400 degrees. Scoop seeds out of each half of squash. Place on baking sheet and sprinkle salt, pepper and 1 teaspoon olive oil. Cook for 20-25 minutes. Squash will be soft to the touch.
While squash is baking, make stuffing for squash:
Heat 1 teaspoons of olive oil in a non stick skillet over medium heat. Add minced garlic and chopped onion to pan and cook for about 2-3 minutes. Add spinach to pan and cook until wilted. Add rinsed beans to pan and stir, cook until warmed through.
Spoon stuffing into each squash half.
In a small bowl, combine panko and Parmesan. Sprinkle evenly over each squash. Place into oven for about 15 minutes until heated through and breadcrumbs and cheese are golden brown.
Serve immediately with red pepper flakes and extra Parmesan cheese, if desired.
---
Keywords: delicata squash, squash, spinach, roasted squash
More seasonal fall squash recipes:
Roasted Acorn Squash with Smoked Paprika
Slow Cooker Curried Butternut Squash Soup
Honey Garlic Butternut Squash | iFOODReal
Roasted Winter Squash with Sausage and Herbs | Kalyn's Kitchen
Are you following me on Instagram, Twitter, Facebook and Pinterest? If you'd like to subscribe to Aggie's Kitchen and have each post delivered straight to your e-mail box, then please add your email here. Happy cooking!
There are affiliate links in this post. I make small earnings through any purchases made through these links. Thank you for supporting Aggie's Kitchen!