Turkey and Spinach Oven Baked Tostadas
These simple Turkey and Spinach Baked Tostadas are a perfect family meal for busy weeknights. They come together quickly with just a few ingredients!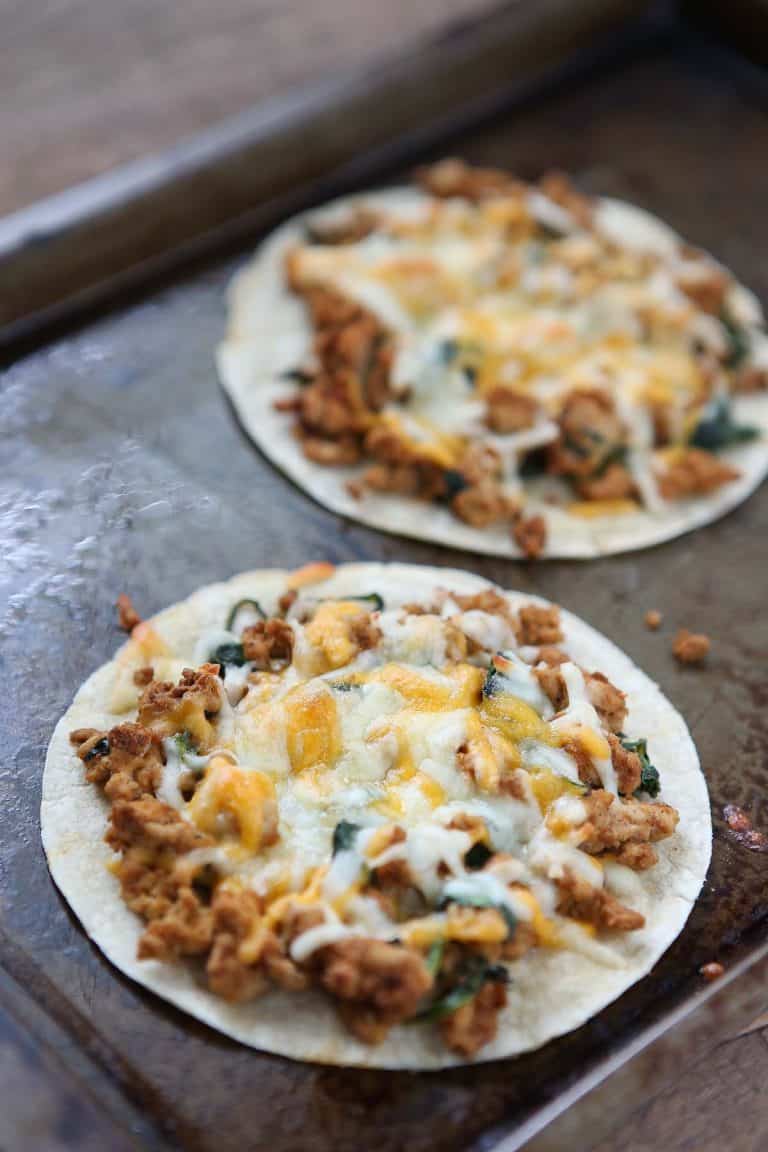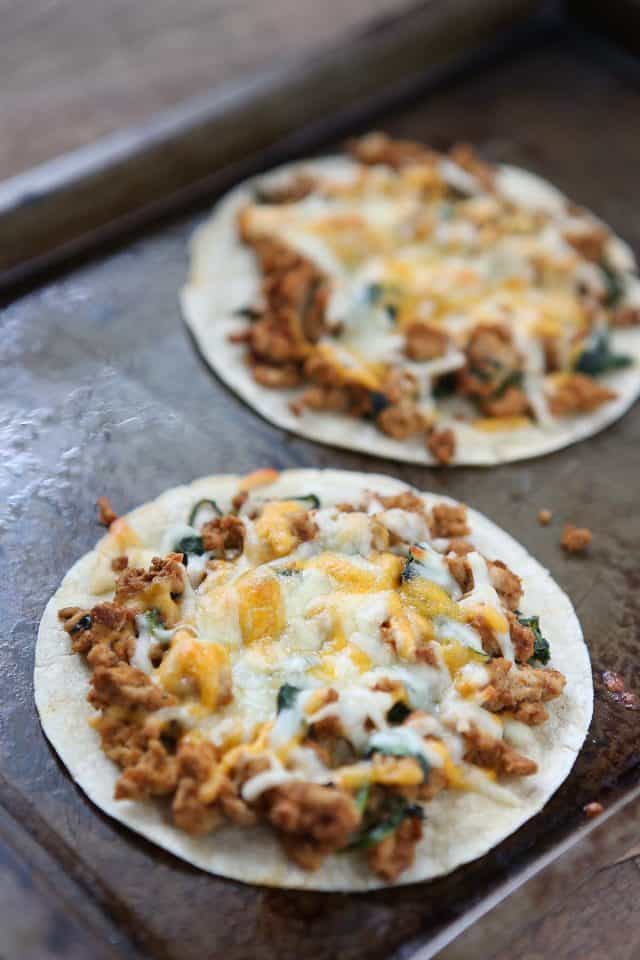 This post was originally published August 15, 2014. Since then, I can't tell you how many times I've made these Turkey and Spinach Baked Tostadas for dinner. This method of baking tostadas has inspired other baked tostadas recipes as well, like these Salsa Chicken and Bean Tostadas and these Slow Cooker Salsa Verde Pork Tostadas.
From August, 2014:
My goal these days is to make one dinner that everyone in my family will eat. It is not easy! As my kids have gotten older, there are foods that they used to like that they no longer like and of course there are foods that one likes and the other does not like. It's hard to keep track of at times that's for sure.
For the most part, I don't tend to make any "special" meals, meaning I won't make myself crazy by making individual meals driven by pickiness. I do expect my kids to try everything once (or twice, or more…I never give up), but there are some food battles that are just not worth fighting at times. I will, however, try to make our meals where I can leave out certain ingredients or parts of the meal off the plate (more for others). For example…this bean salad I recently made – my son wanted no part of it (that's fine, he'll get carrot sticks) and my daughter loves beans but not so much the onions and peppers (no problem, more veggies for me and my husband). I can work with that. Especially when the other part of the meal is something like this recipe for Turkey and Spinach Baked Tostadas that EVERYONE loved (phew!).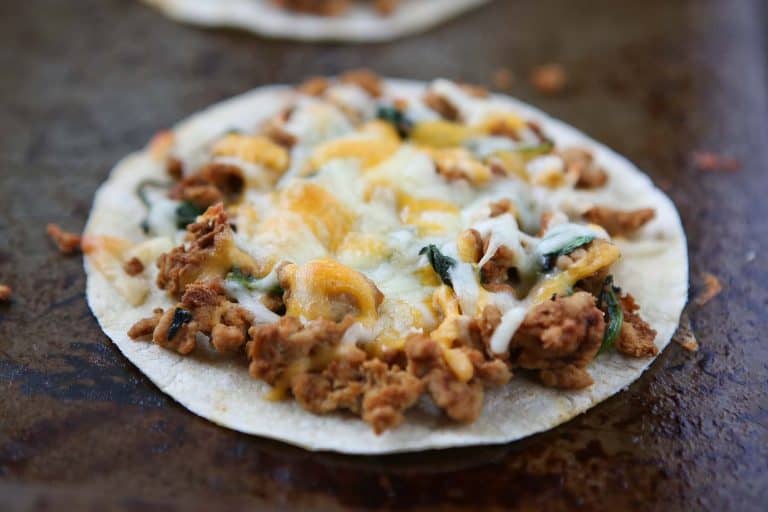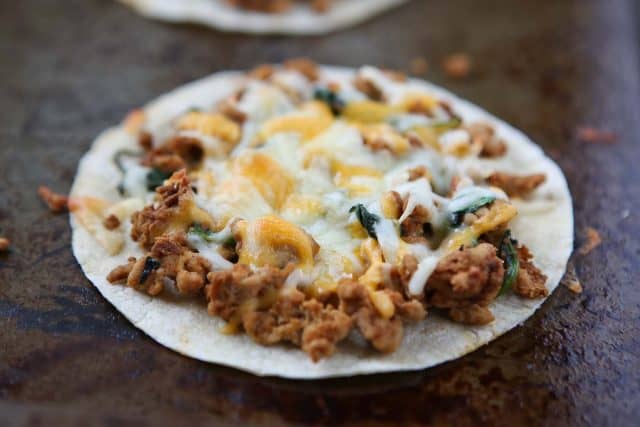 This is the kind of recipe I normally don't think of posting here on the blog. But the more I think about it, the more I realize that most of us are probably in the same situation – busy and trying to feed a family healthy and nutritious meals most of the time. I always feel extra good on the days I accomplish that task so when I make something that works for my family and fits that criteria I will share it here – even if it seems a bit basic. (After 6 years of blogging I have learned that the most basic recipes I've shared here on the blog have been the most popular!)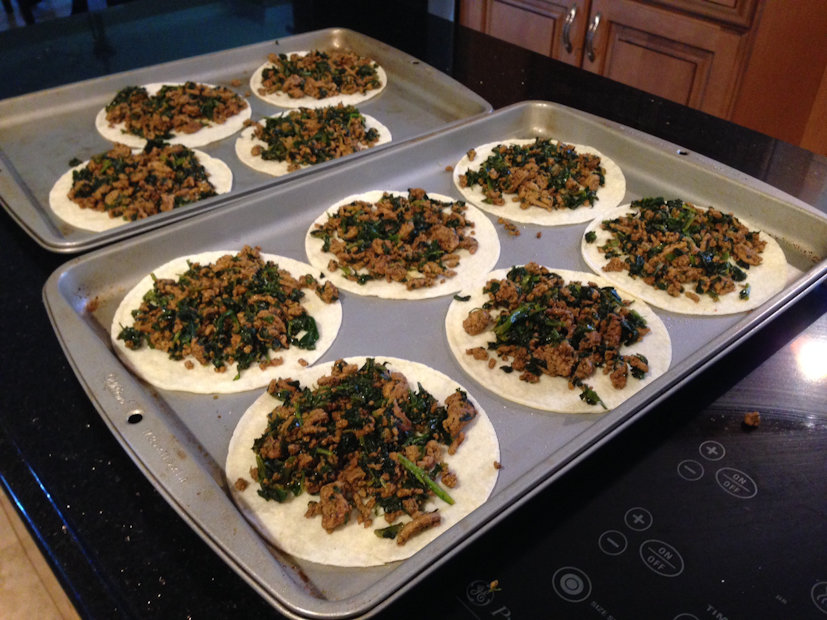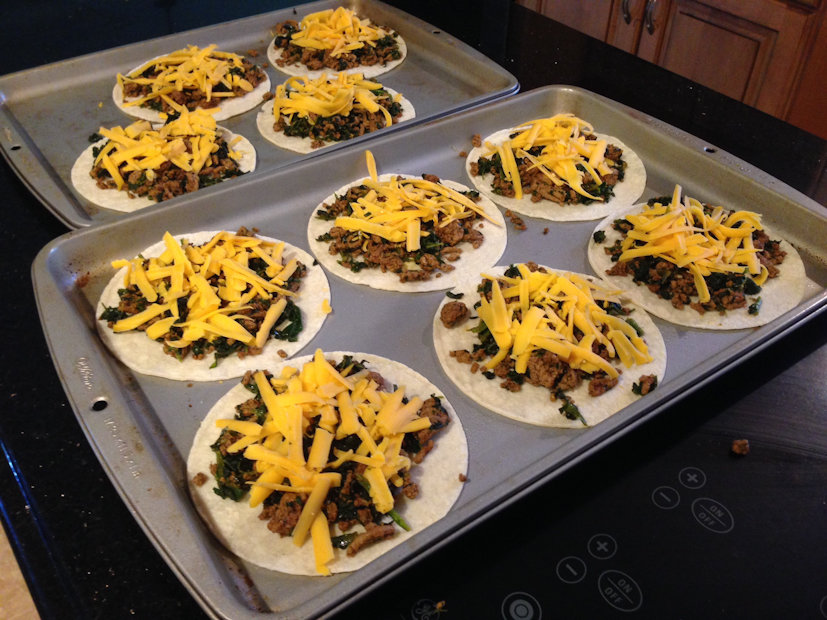 These baked tostadas come together very quickly. I actually cooked up the turkey and spinach mixture earlier in the day which made it even easier to pull together at dinnertime. If you cook your turkey and spinach mixture at dinnertime, make sure it cools down a bit before topping the tortillas to prevent the tortillas from getting soggy.
Make sure you drain your defrosted frozen spinach well before adding it to your pan, if you don't things might get a little watery but it will eventually cook off. I used my favorite homemade taco seasoning blend from my friend Julie.
Hope your family enjoys these as much as mine did! 🙂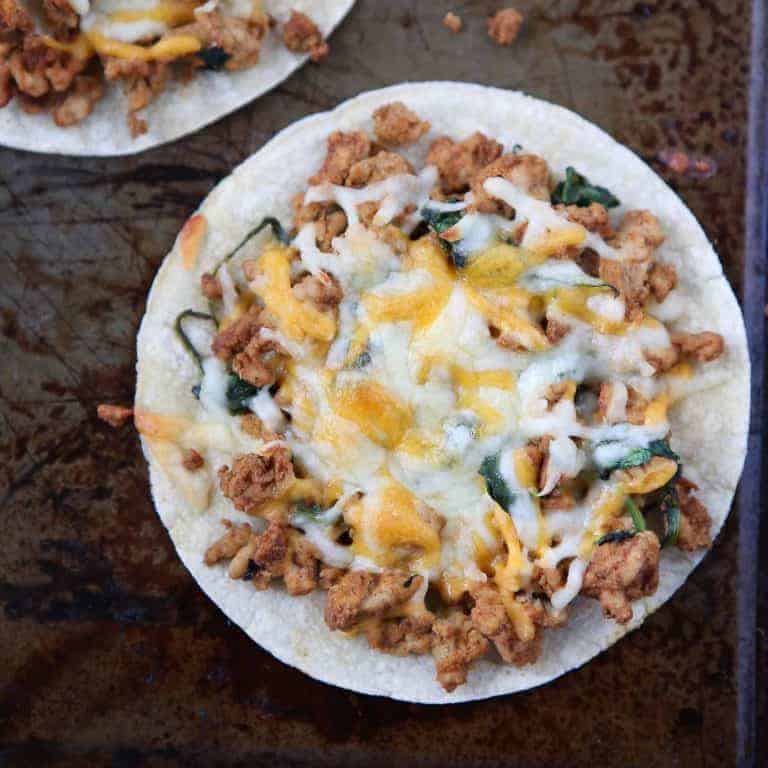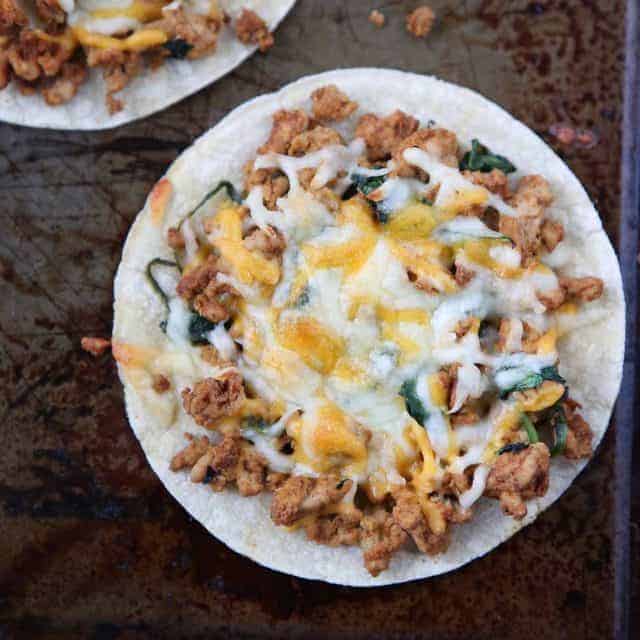 Print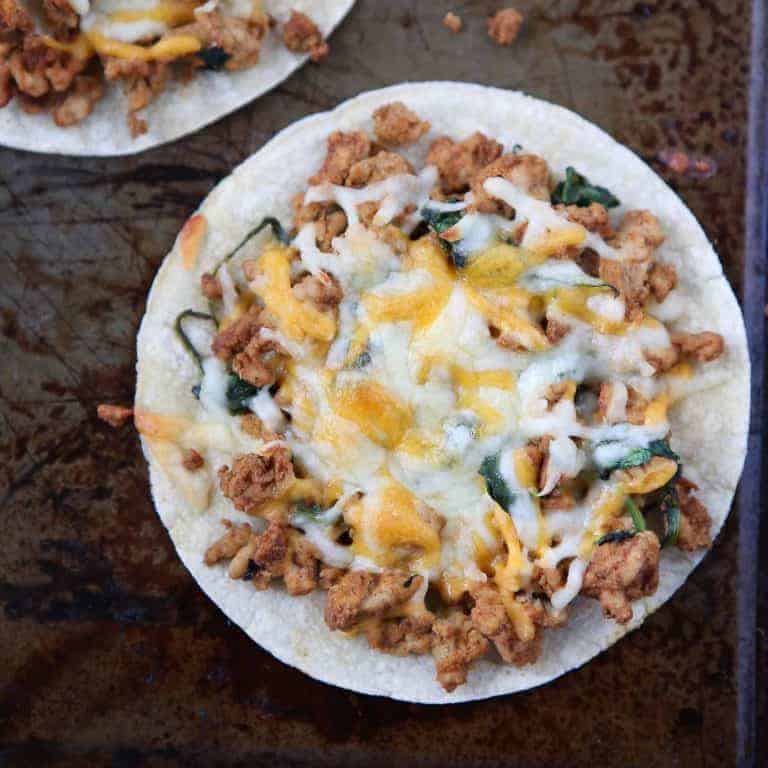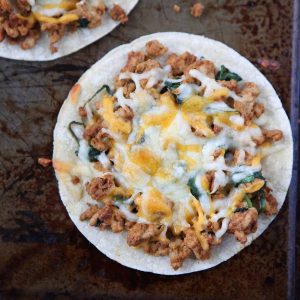 Turkey and Spinach Oven Baked Tostadas
These simple Turkey and Spinach Baked Tostadas are a perfect family meal for busy weeknights. They come together quickly with just a few ingredients!
---
Ingredients
1 lb lean ground turkey
8 oz frozen chopped spinach, defrosted and drained well 0r about 2 cups chopped fresh spinach
1 1/2 tablespoons taco seasoning (I love this one from The Little Kitchen!)
10 corn tortillas
2 cups shredded cheddar cheese
---
Instructions
Preheat oven to 375 degrees. Spread corn tortillas on baking sheets and set aside.
In a large nonstick skillet, brown ground turkey. Add taco seasoning and stir while cooking.
Once turkey is cooked through, add chopped spinach, combine until warmed through (or wilted if using fresh) and taste for seasoning (depending on your taco seasoning you may need to add salt once you've added the spinach). Set aside and let cool for a few minutes before topping the tortillas.
Top each tortilla with approximately 2 tablespoons of turkey and spinach mixture. Top with desired amount of cheese. Bake in 375 degree oven for 12-14 minutes until tortillas are crisp and cheese is melted.
Are you following me on Instagram, Twitter, Facebook and Pinterest? If you'd like to subscribe to Aggie's Kitchen and have each post delivered straight to your e-mail box, then please add your email here. Happy cooking!
There are affiliate links in this post. I make small earnings through any purchases made through these links. Thank you for supporting Aggie's Kitchen!