Hard Cider Pork Chops with Apples and Onions
These autumn inspired Hard Cider Pork Chops with Apples and Onions make a great dinner your whole family will love.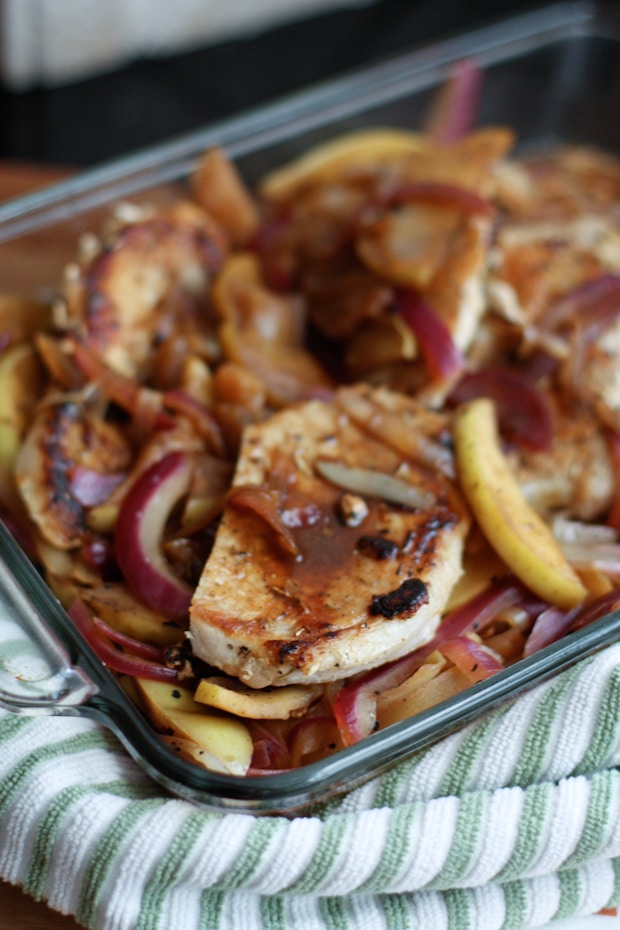 When Fall (and football season) hit I pretty much crave two specific (adult) beverages – pumpkin beer and hard apple cider. It's a happy day when the pumpkin beer display appears at the grocery store. Hard apple cider, I've noticed, seems to be available all year round which is a treat because sometimes a cold, refreshing, slightly sweet apple bevvy really hits the spot on a warm evening on the patio.
I don't cook pork chops very often at home. No reason why really, it just doesn't seem to be something I remember to include when I am planning our meals. I really should start adding them into regular rotation because I've noticed when I do make them, everyone devours them – including the kids (the whole family loves these Parmesan Baked Pork Chops!). This is the second time I make pork chops this way with apples and onions, but the first time adding hard apple cider to them to make a sauce. Don't worry, the alcohol cooks off in the pan making them kid friendly. (You can always use regular apple juice or apple cider instead.)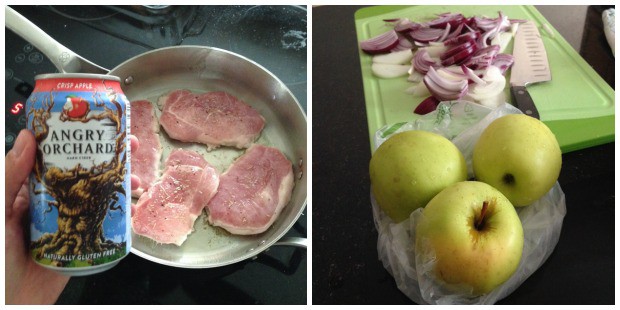 Since the pork chops are boneless and thin, this Hard Cider Pork Chops with Apples and Onions recipe cooks up fairly quickly making it a good option for a weeknight dinner. We ate them alongside these Cheddar Dill Roasted Red Potatoes but mashed potatoes or wild rice would be another great side as well.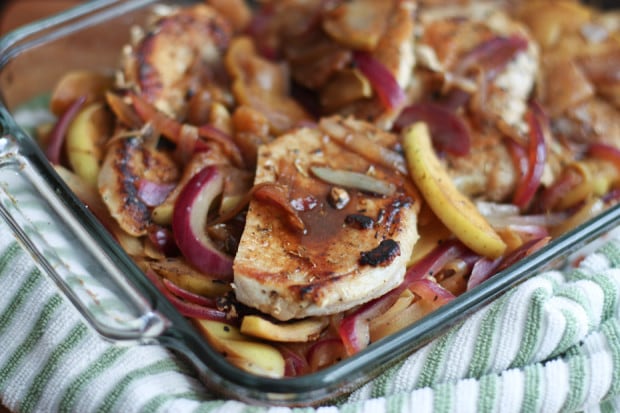 PS…I'm curious, what's your favorite hard cider or pumpkin beer?
Hard Cider Pork Chops with Apples and Onions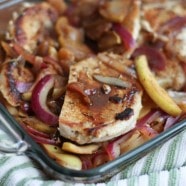 Ingredients:
8 thin, boneless pork loin chops (about 2 1/4 lb)
1 teaspoon coarse salt
1 teaspoon fresh ground pepper
1 1/2 teaspoons dried rosemary
1 teaspoon garlic powder
2 Golden Delicious apples, sliced
1 red onion, sliced
1 sweet yellow onions, sliced
1 cup hard apple cider (try Angry Orchard or Redds, you can substitute apple juice or cider too)
Directions:
In a small bowl mix together salt, pepper, rosemary and garlic powder. Season both sides of pork chops liberally.
In a large heavy skillet, heat oil over medium heat. Place 4 of the pork chops into pan. Cook on one side for 4 minutes until chops are golden brown and releases from pan easily. Cook other side for additional 4 minutes.
Take pork chops out and place in baking dish. Repeat with remaining pork chops and set aside when done.
Place sliced onions and apples into skillet. Season with pinch salt and pepper. Pour in part of hard apple cider (about 1/4 cup) and deglaze pan while tossing apples and onions. Add rest of hard apple cider and let simmer for 5 minutes uncovered or until liquid reduces a bit. Add pork chops back into skillet and cover. Turn off heat and let sit for 1-2 minutes. Using tongs, take out pork chops and place in dish. Pour apple and onion mixture over pork chops and serve.
More recipes using pork chops:
Pork Chops with Glazed Apricots
Mediterranean Boneless Pork Chops

Follow Aggie's Kitchen's board Aggie's Kitchen Recipes on Pinterest.
Are you following me on Instagram, Twitter, Facebook and Pinterest? If you'd like to subscribe to Aggie's Kitchen and have each post delivered straight to your e-mail box, then please add your email here. Happy cooking!
There are affiliate links in this post. I make small earnings through any purchases made through these links. Thank you for supporting Aggie's Kitchen!
42 Responses to "Hard Cider Pork Chops with Apples and Onions"
Trackbacks/Pingbacks

Pingback: Savory Apple Recipes

Leave a Comment