Slow Cooker Salsa Verde Pork Tostadas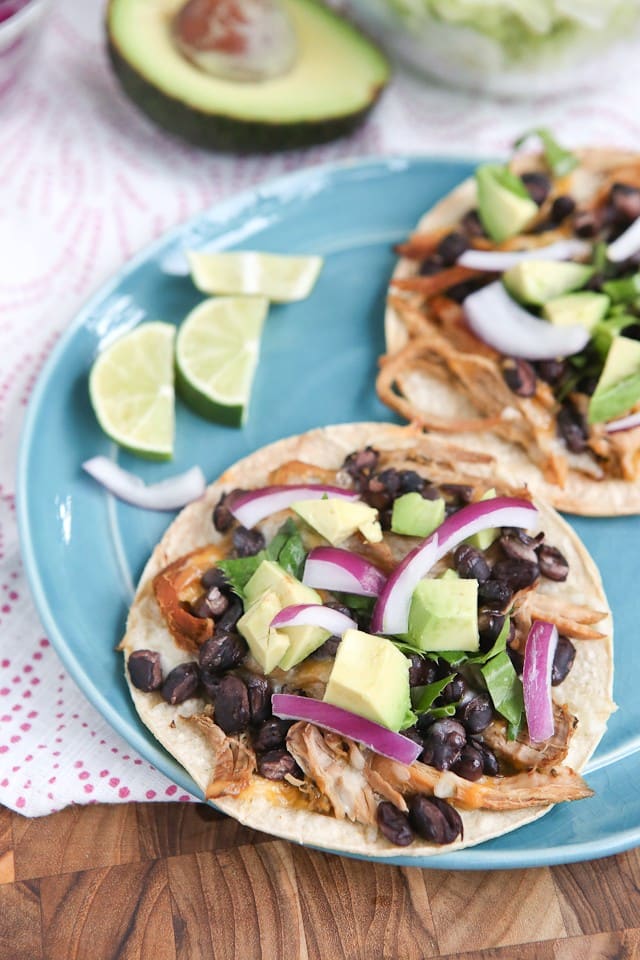 My kids went back to school this week. Although I truly enjoy the laid back, non-structured days of summer, by August I find myself feeling a little bit of a mess and craving some routine. Every start of the school year always makes me feel a bit more refreshed and energized and ready to take on a new season. Can anyone else relate??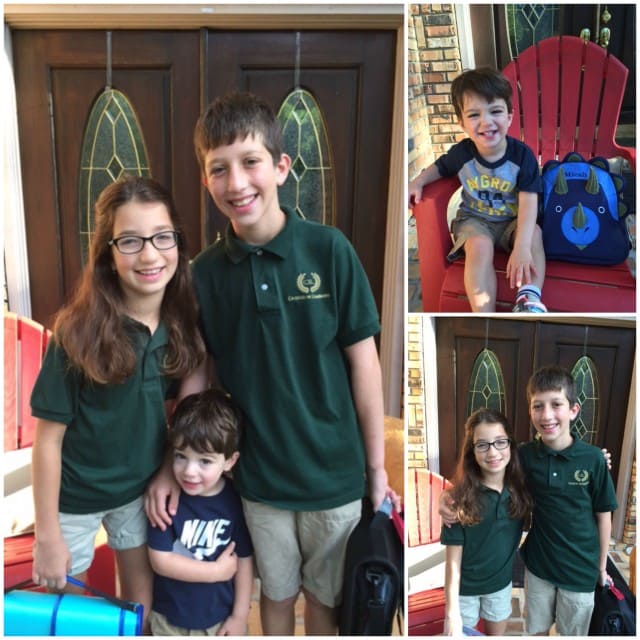 (Welcome to 3rd and 5th grade! The little guy started preschool a couple mornings a week too. 🙂 )
One thing that I slack on big time over the summer is meal planning. I find myself winging it most days and nights and our dinners are a bit spontaneous and pieced together. Once school starts though, things change and I am a little more on the ball (ha!) with having a dinner plan, especially when after school and evening activities start up. I've learned I really have to be or we would be eating sandwiches or scrambled eggs every night for dinner (which isn't a such terrible thing really, just a bit boring). Needless to say, I do look forward to the more structured idea of "dinner time" during the school year. These Slow Cooker Salsa Verde Pork Tostadas made it to the first week of dinner menu!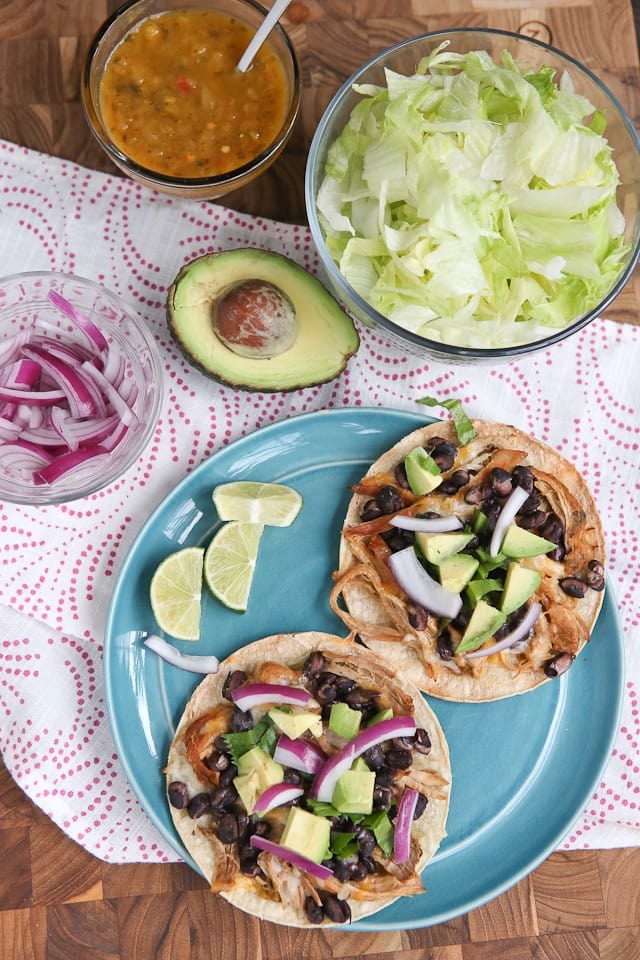 This is my first month posting along with The Recipe Redux group and our theme for August was "Back to the Dinner Table". A perfectly appropriate challenge for all of us, especially this time of year, don't you think? Getting us back into the groove of eating dinner together is always a good thing. If you are unfamiliar with The Recipe Redux, they are the first recipe challenge group created by Registered Dietitians with a focus on taking delicious recipes and making them better for you. When I first started blogging (over 7 years ago) I was a part of a couple of recipe challenge groups (a Barefoot Contessa group and Ellie Krieger group) and I had a lot of fun with them. It always kept me inspired to try something new so joining up with these awesome bloggers in The Recipe Redux group was a no brainer for me.  
One of my family's favorite and most requested dinners is these Turkey and Spinach Tostadas. I can't tell you how many times I've made them in the last year. I wanted to change them up and do something a little different this week, so I got some help from my crock pot and made these super simple Slow Cooker Salsa Verde Pork Tostadas. You can use any green salsa you like, I took a shortcut and used this store bought salsa but if you are up for it make your own salsa from scratch (like my Roasted Tomatillo Salsa). The technique of baking up the tostadas is the same as the turkey and spinach ones, but this time I used the shredded salsa verde pork and added black beans (corn would be a great substitute for any family members that don't care for beans).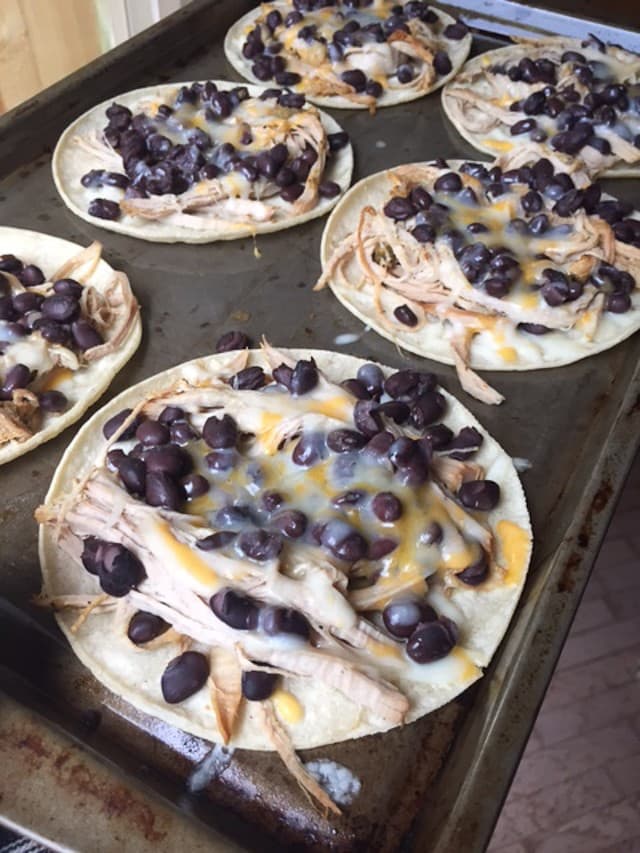 (about halfway through cooking time)
The best part of this recipe is that the tostadas only use up 1 of the slow cooked pork tenderloins, leaving a whole cooked tenderloin for you to enjoy in a completely different meal or to freeze to make these tostadas again. (To freeze, let pork tenderloin cool completely and shred. Place shredded meat in a labeled freezer-safe ziplock bag and store in freezer for a future meal.) We enjoyed these tostadas one night, then enjoyed the shredded pork over brown rice and beans and sauteed vegetables later in the week. Delicious!
The best part of these tostadas is the toppings! I like to pile mine on – shredded lettuce, avocado, red onion, cilantro and more salsa plus a squeeze of lime. It's messy and soooo good!
Slow Cooker Salsa Verde Pork Tostadas
Yield: 2 tostadas per serving, 6 servings (using 1 tenderloin)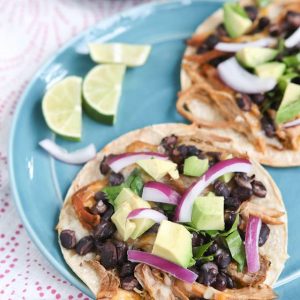 Ingredients:
For the salsa verde pork:
2.5 lb pork tenderloin
pinch coarse salt and fresh ground pepper
1/2 teaspoon ground cumin
1 teaspoon oregano
1 cup salsa verde
juice of 1 lime
For tostadas:
12 corn tortillas
1 1/2 - 2 cups shredded Mexican blend cheese
1 15 oz can black beans, rinsed and drained (I use Bush's Black Beans)
For serving:
shredded lettuce
cilantro
diced avocado
extra salsa verde
Greek yogurt or sour cream
Directions:
Place pork tenderloin in slow cooker. Season well with salt and pepper, cumin, and oregano. Pour salsa and lime juice evenly over pork. Cook for 4-5 hours on high or 6-8 hours on low.
Take out one pork tenderloin (along with some of the juices) and place on a plate or large cutting board. Using two forks, shred pork.
Preheat oven to 375 degrees. Line 2 large baking sheets (greased with nonstick spray) with corn tortillas (I fit 6 on each baking sheet). Top each tortilla evenly with shredded pork, black beans and shredded cheese. Bake for 14-16 minutes until tortillas are crisp and cheese is melted.
Serve tostadas with all or some:  cilantro, shredded lettuce, avocado, Greek yogurt and additional salsa verde.
To make these tostadas you only need 1 of the tenderloins cooked in the slow cooker. Save the meat from the other cooked tenderloin for another meal during the week or shred it and freeze it for a quick future tostada night.
Follow Aggie's Kitchen's board Slow Cooker Goodness on Pinterest.
Are you following me on Instagram, Twitter, Facebook and Pinterest? If you'd like to subscribe to Aggie's Kitchen and have each post delivered straight to your e-mail box, then please add your email here. Happy cooking!
There are affiliate links in this post. I make small earnings through any purchases made through these links. Thank you for supporting Aggie's Kitchen!