Epcot Food and Wine Festival 2018
One of our favorite times of the year at Walt Disney World is Epcot International Food and Wine Festival.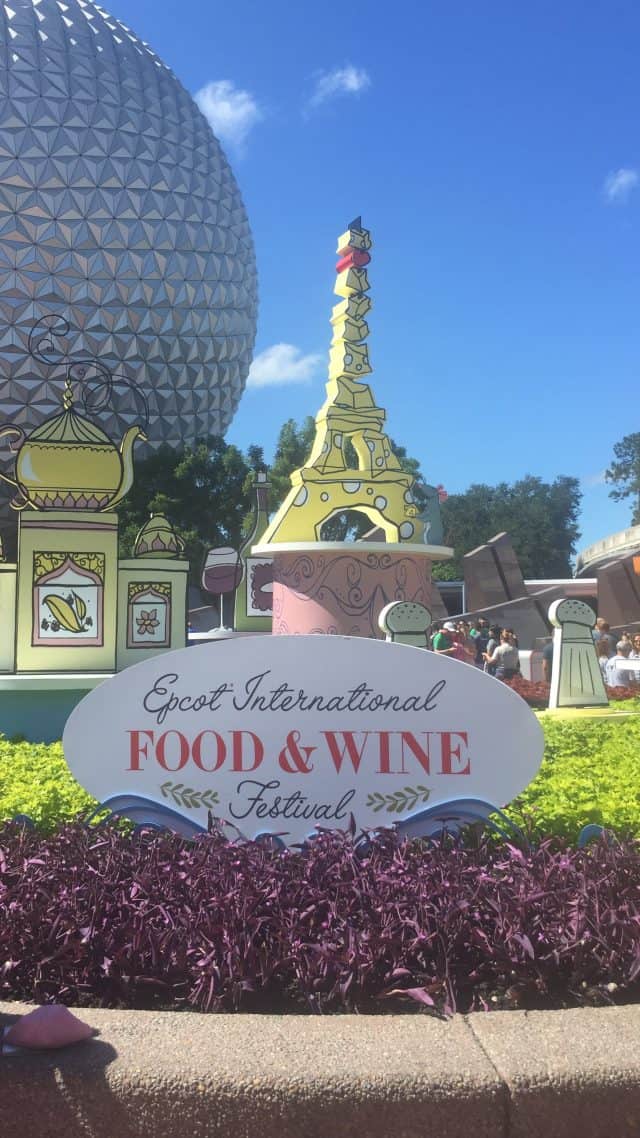 We never miss it and the last couple of years we've tried to go several times because there is just so much to taste it's impossible to do it in one day. One of the major perks of having annual passes is definitely to be able to visit often. We've been to this year's festival twice so far – once with my family and my daughter's friend and once with my just my husband to celebrate our 16th anniversary.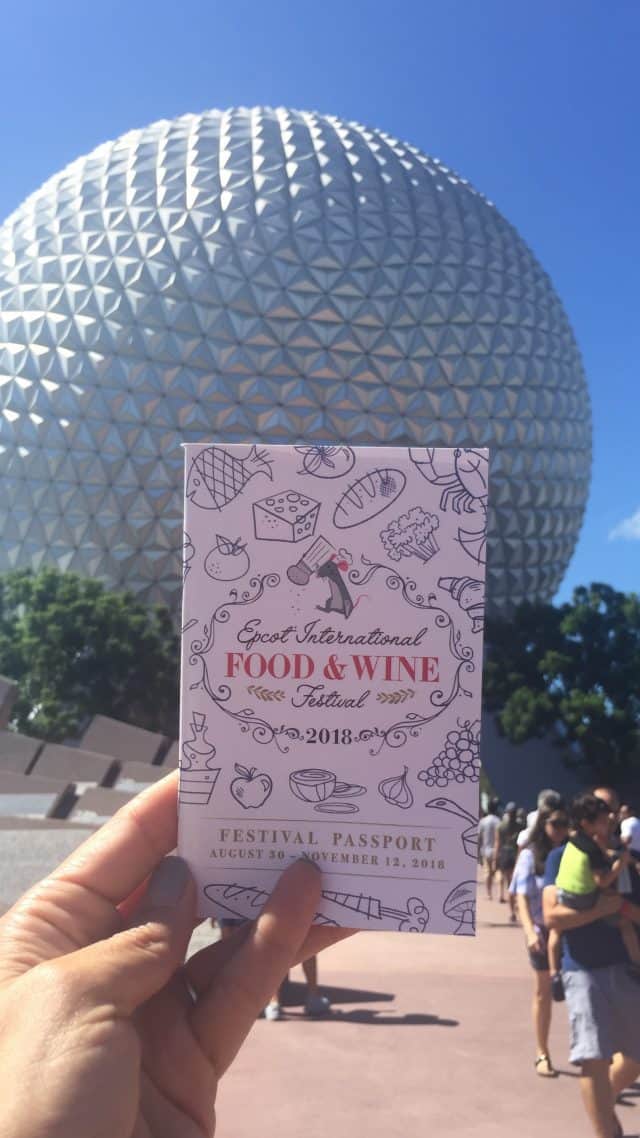 My husband surprised me with Disney annual passes 4 years ago and it was honestly the BEST GIFT EVER.
Every year we try to get there early in the festival to start eating our way around all the booths. We were able to go twice this festival so far, and hope to get in one more visit to see Boys II Men when they perform during the Eat To The Beat concert series.
The Food and Wine Festival runs from August 30 – November 12, 2018…plenty of time to get a few visits in. Passholders have incentive to visit several times, you receive a special gift on your 4th visit. This year's special gift is a festival cutting board. (hasn't happened yet, #goals)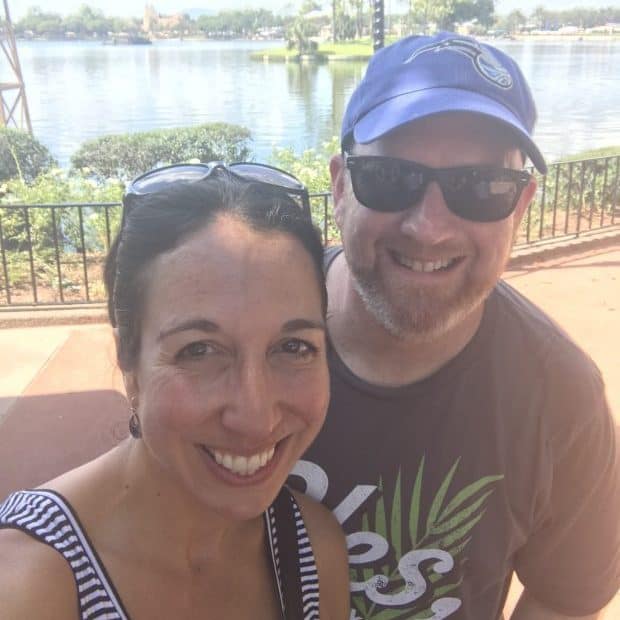 I wanted to highlight some of our very favorites we tasted and sipped so far this year!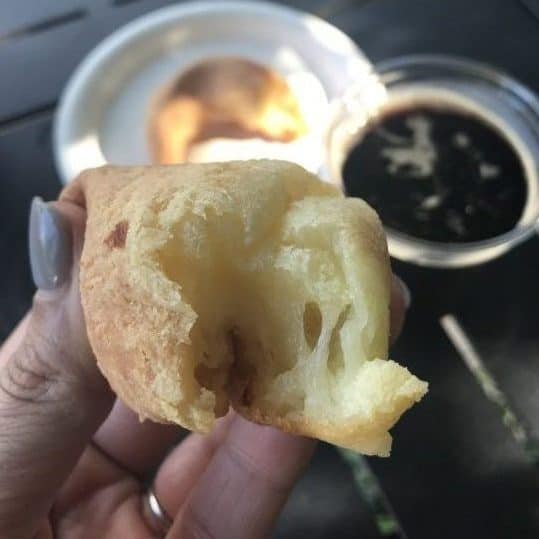 Brazil:
Brazilian Cheese Bread (shown above)
This one is a popular one, we heard about it in passing a few times on our visit and had to try it. It's delicious! (it's cheesy bread, how can it not be delicious!?)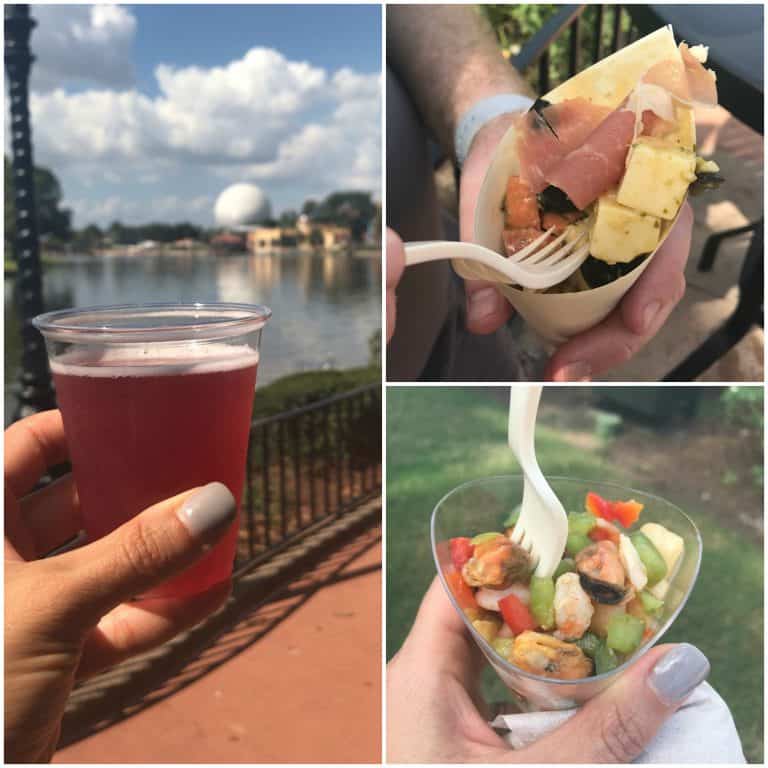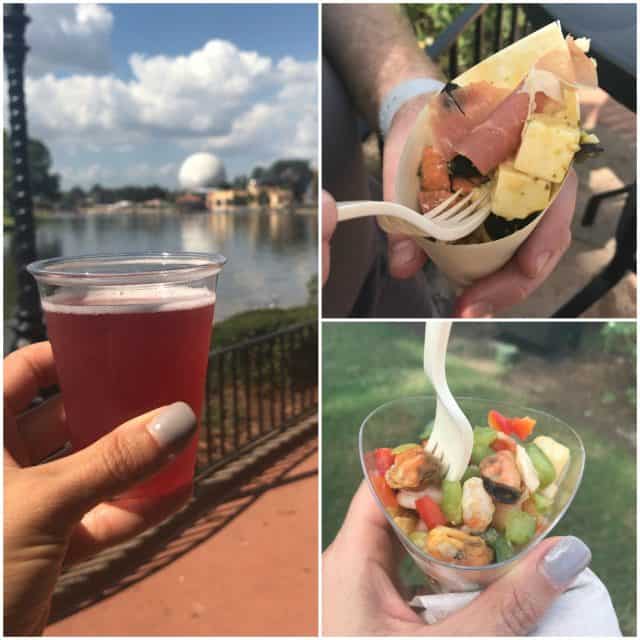 Brewer's Collection: 
Schofferhofer Hefeweizen Pomegranate Beer (left)
Spain:
Charcuterie in a Cone with imported Spanish Meats, Cheeses and Olives with an Herb Vinaigrette (top right)
Seafood Salad with Shrimp, Bay Scallops, Mussels, Extra Virgin Olive Oil, White Balsamic Vinegar and Smoked Paprika (bottom right)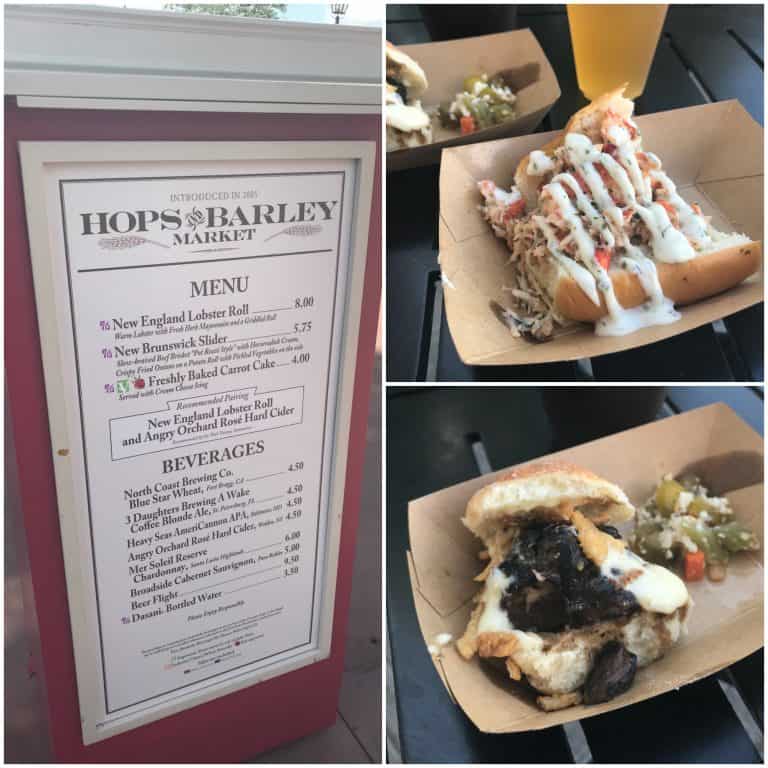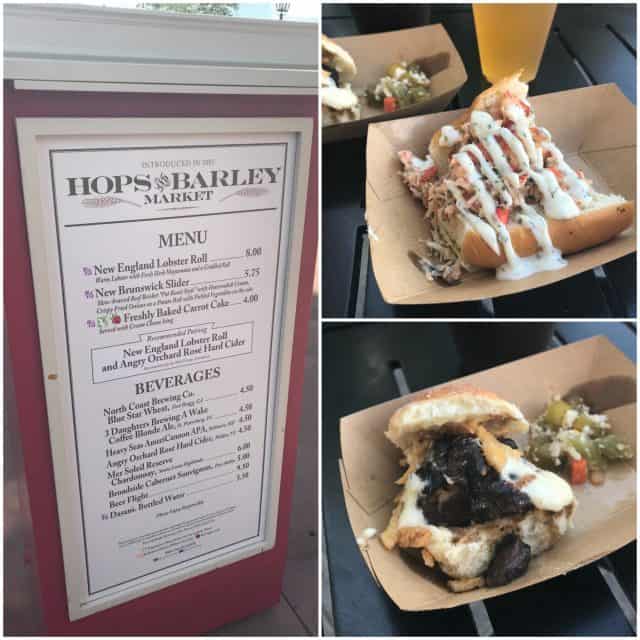 Hops & Barley (at the America pavillion):
New England Lobster Roll: Warm Lobster with Fresh Herb Mayonnaise (pictured above, top right)
New Brunswick Slider: Slow-braised Beef Brisket "Pot Roast Style" with Horseradish Cream and Crispy Fried Onions on a Potato Roll with Pickled Vegetables on the side (pictured above, bottom right)
This is one of our absolute favorite booths – the pickled veggies that come with the slider are spicy and so delicious!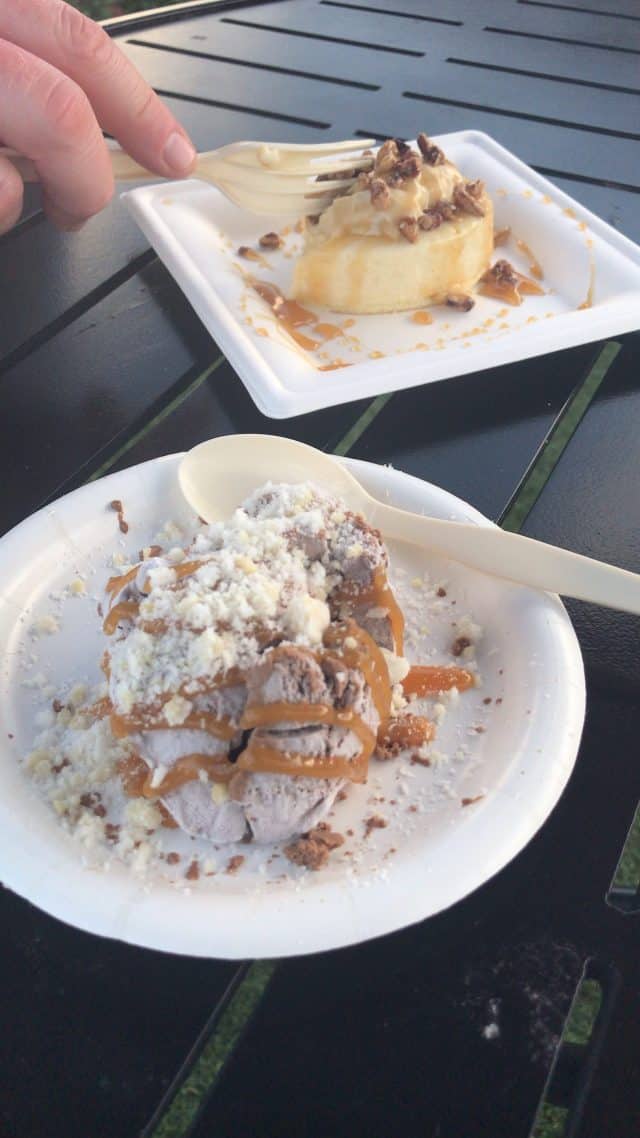 The Cheese Studio: 
Maple Bourbon Boursin Cheesecake with Maple Bourbon Cream, Caramel and Pecan Crunch (pictured above, back)
The Chocolate Studio:
Liquid Nitro Chocolate-Almond Truffle with Warm Whiskey-Caramel (pictured above, forward)
We've never stopped in this section of the Festival in the past. I am so glad we did. Both of these desserts are at the top of my list.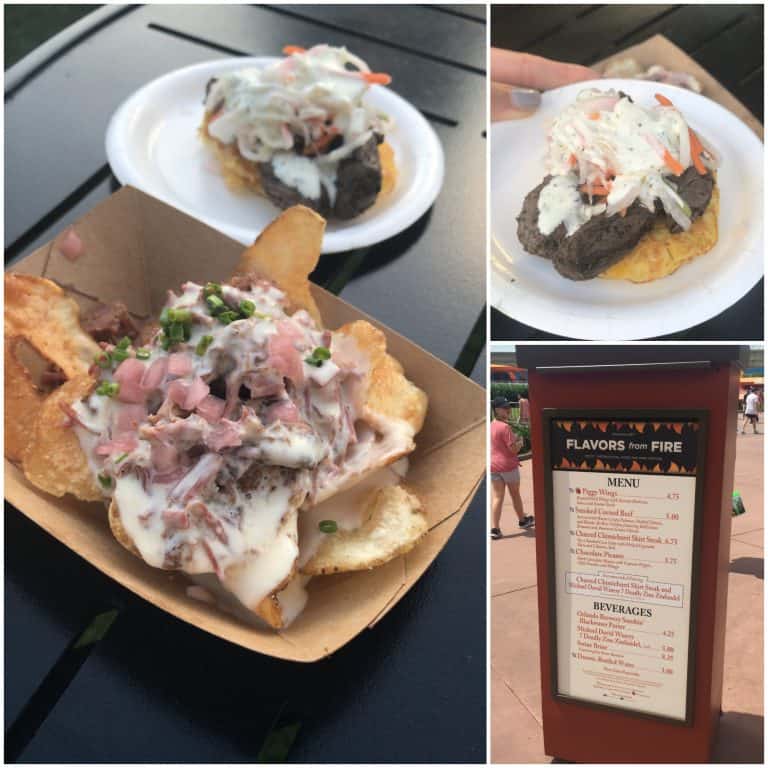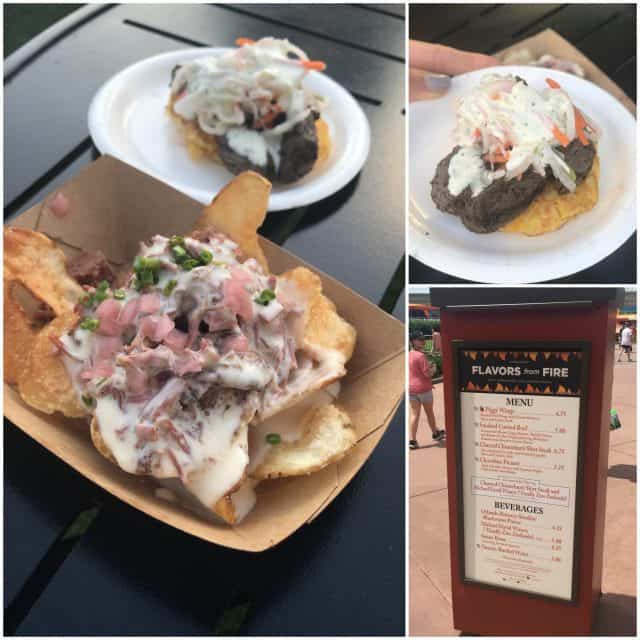 Flavors from Fire: 
Piggy Wings (Roasted Pork Wings with Korean BBQ sauce and sesame seeds) (not pictured)
Smoked Corned Beef with Warm Crispy Potatoes, Pickled Onions and Blonde Ale Beer Fondue (pictured above, left) – LOVED this!!
Charred Chimichurri Skirt Steak on a Smoked Corn Cake with Pickled Vegetable Slaw and Cilantro Aïoli (pictured above, top right)
You can't miss this booth, the smells are incredible. One of our favorites for sure.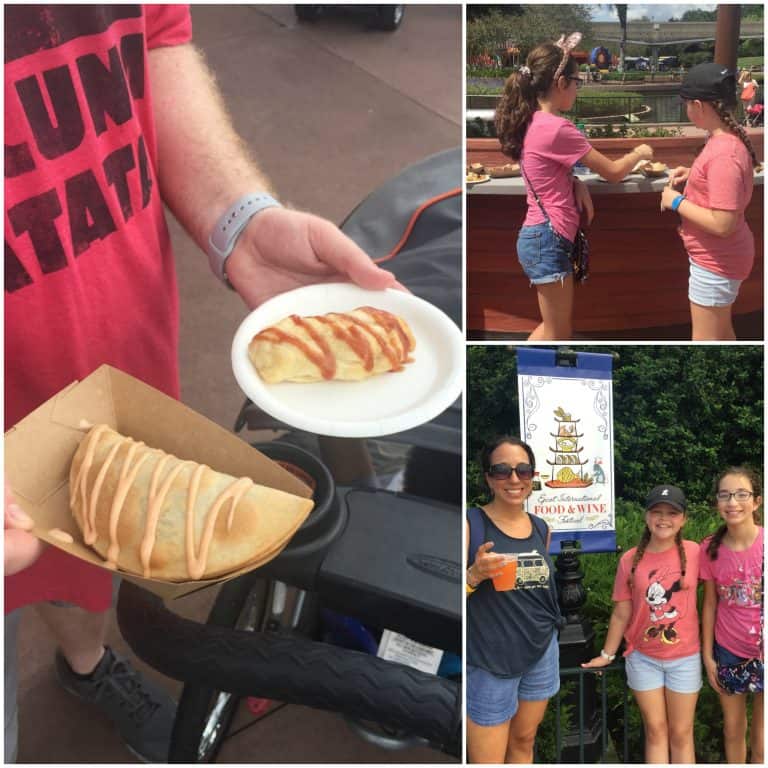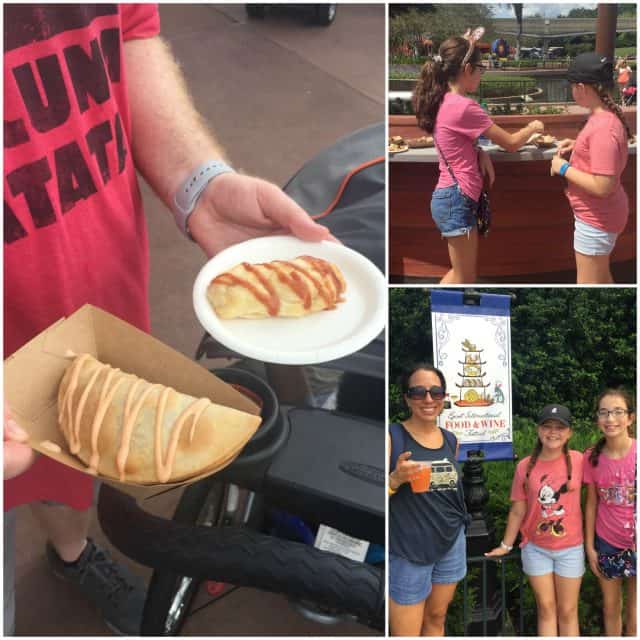 Islands of the Caribbean:
Ropa Vieja Empanada with Tomato Aïoli (pictured above left, forward)
Quesito: Puff Pastry with Sweetened Cream Cheese and Guava Sauce (pictured above left, back)
My daughter and her friend were so fun to sample foods with! We shared everything – they are cute foodies, aren't they?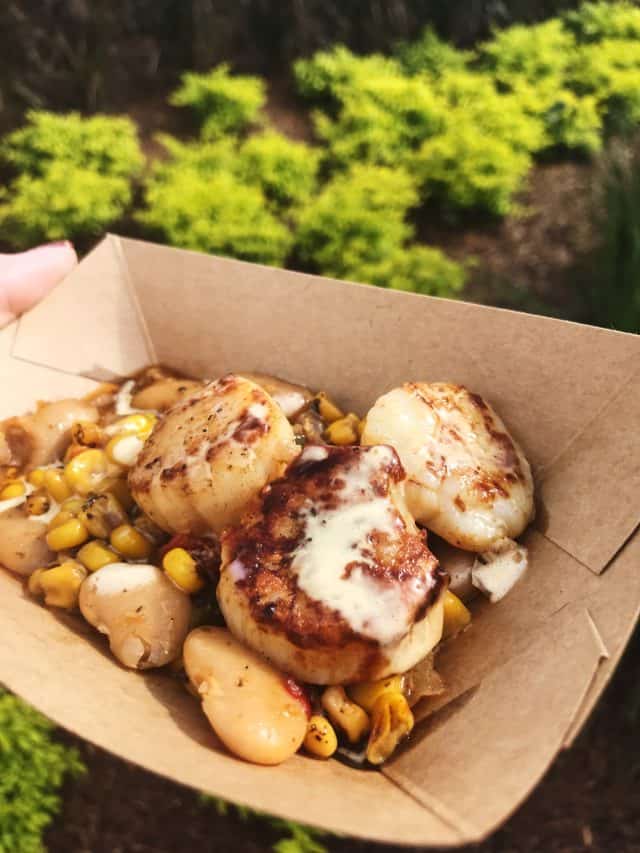 Photo Credit: Kristen Doyle, Dine & Dish
Coastal Eats:
Lump Crab Cake with Napa Cabbage Slaw and Avocado-lemongrass Cream
Seared Scallops with Roasted Corn, Butterbean Succotash and Chili-chipotle Butter Sauce (pictured above)
We are big fans of both of these seafood dishes!!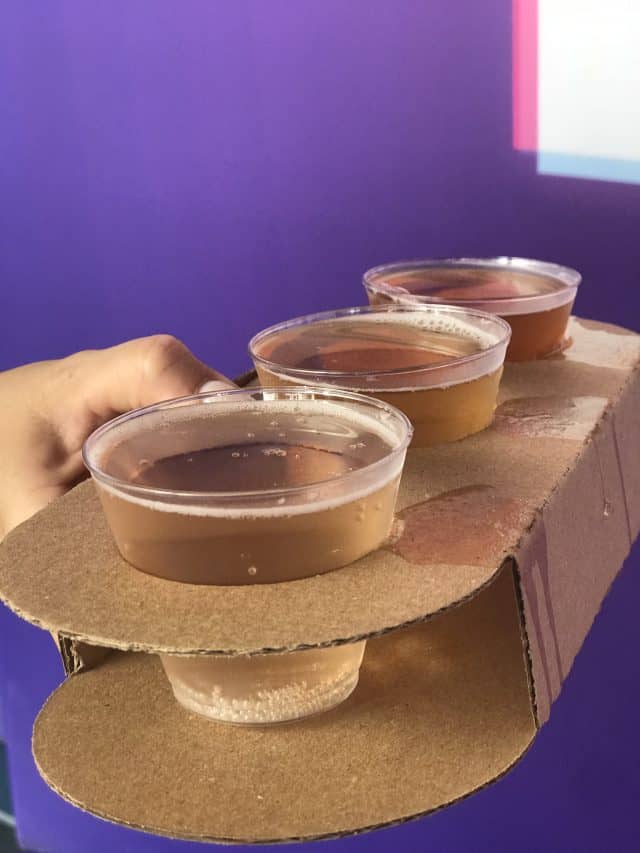 Photo Credit: Kristen Doyle, Dine & Dish
Light Lab:
Original Sin Dry Rosé Hard Cider, New York, NY (Cider Flight)
3 Daughters Brewing Blueberry Peppercorn Hard Cider, St. Petersburg, FL (Cider Flight) —
Ciderboys Zen Berry Hard Cider, Stevens Point, WI (Cider Flight)
More food we loved without photos:
Active Eats:
Loaded Mac 'n' Cheese with Pepper Bacon, Cheddar Cheese, Peppers and Green Onions – my daughter loves this dish!!
Australia:
Grilled Lamb Chop with Mint Pesto and Potato Crunchies – my husband ordered this and loved it.
Japan:
Teriyaki Chicken Bun: Steamed bun filled with Chicken, Vegetables and a Sweet Teriyaki Sauce
Mexico:
Short Rib Tostada: Corn Tortilla topped with Short Ribs, Black Beans, Salsa Verde and Spring Onion
Smoky Margarita with Gracias A Dios Mezcal, Lime Juice and Ancho Reyes Chile Liqueur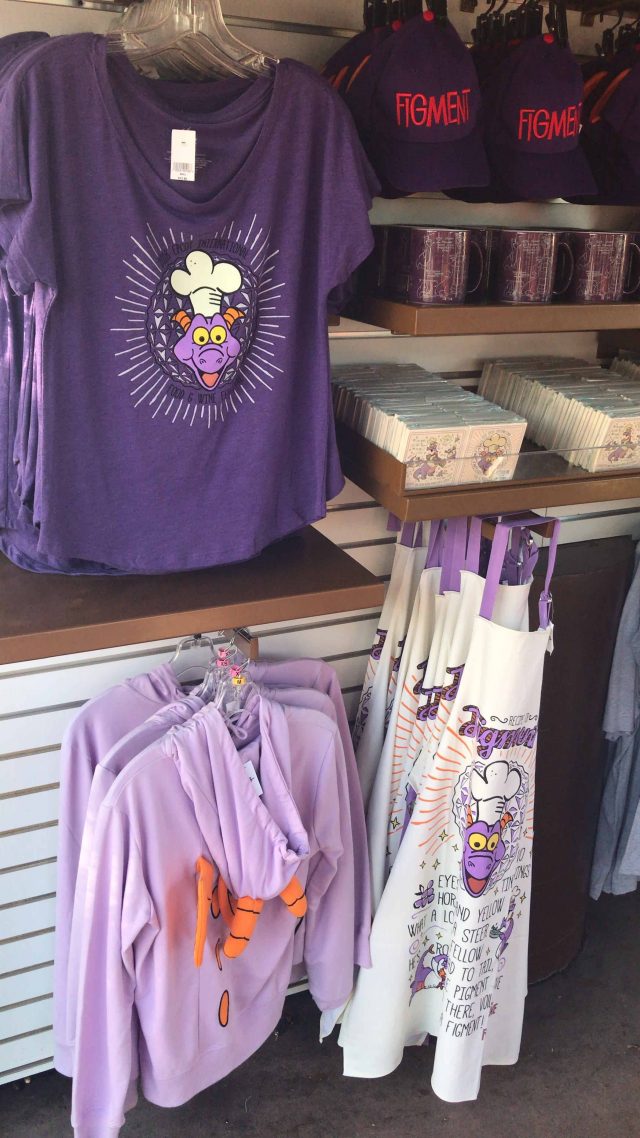 Gotta love Figment and all the cute Food & Wine gear!
and of course…Chef Mickey!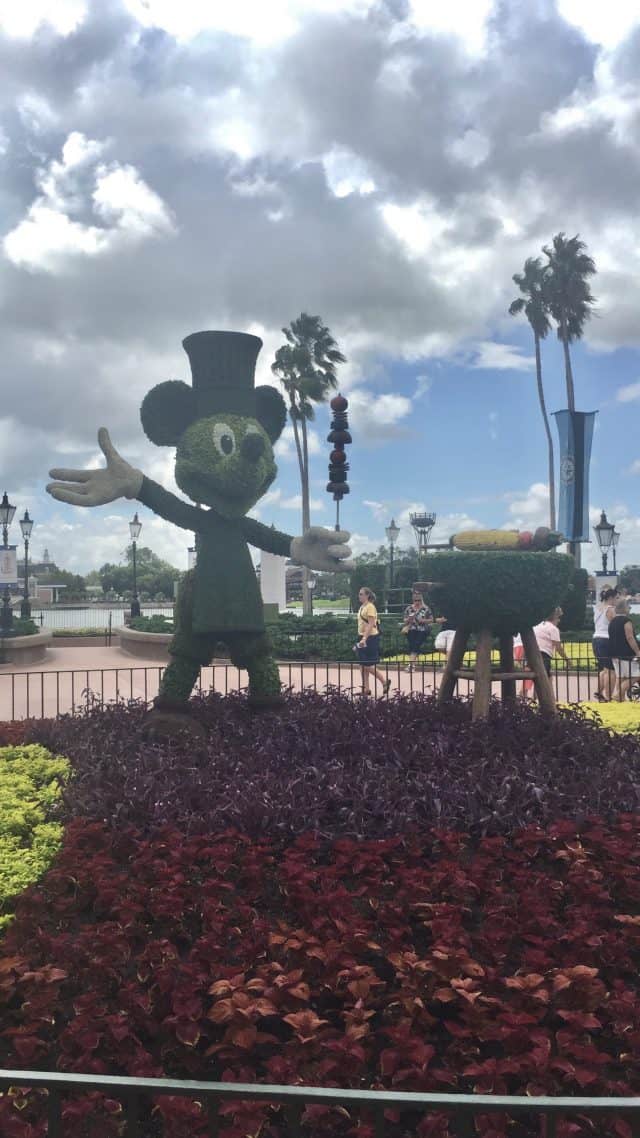 Until next year…
More Disney Fun To Read About:
Epcot International Festival of the Arts
5 Ways To Maximize Your Time At Disney World Parks
Best Restaurants In Disney World
Are you following me on Instagram, Twitter, Facebook and Pinterest? If you'd like to subscribe to Aggie's Kitchen and have each post delivered straight to your e-mail box, then please add your email here. Happy cooking!
There are affiliate links in this post. I make small earnings through any purchases made through these links. Thank you for supporting Aggie's Kitchen!