Skillet Zucchini and Feta Tortilla Pizza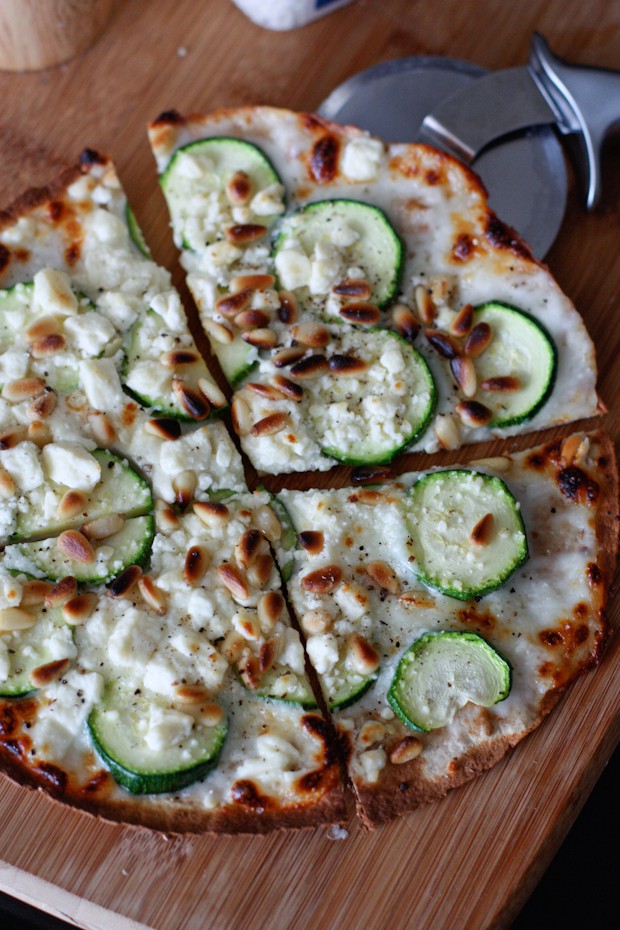 Let me introduce you to a few of my favorite things – feta cheese, pine nuts and anything that resembles a pizza.
Yea, that pretty much sums up all this goodness right here…meet my favorite skillet tortilla pizza.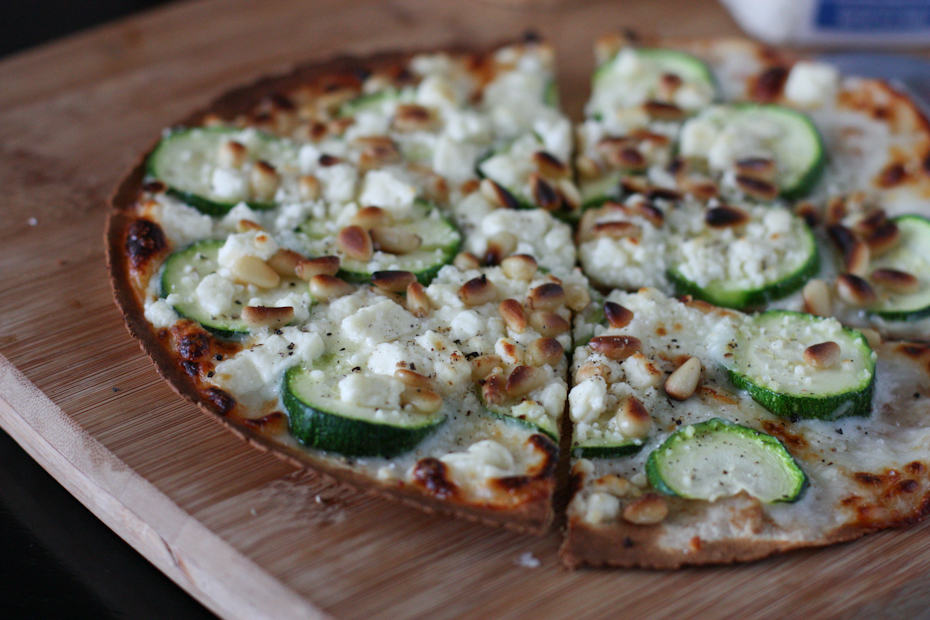 If you haven't noticed, my last few posts – including this one – have been super easy, whipped up concoctions that I've been making myself at lunchtime. My life has entered a whole new level of crazy busy recently (upcoming baby, yes, but also there's more…will fill you in soon) and with it being my last few weeks of pregnancy, I can't guarantee much energy leftover for cooking up anything too fussy. For the most part our family dinners have been some sort of crockpot, pasta, sandwich or breakfast for dinner type meal – or if I'm lucky it's something my husband puts together off the grill. We have been resorting to take-out a little more frequently too, which is something I am trying to avoid.
This little skillet tortilla pizza recipe happened the other day when I thought I wanted a quesadilla. As I was getting my ingredients together, something clicked and I decided I wanted to cook it open faced as a "pizza" instead. I instantly fell in love with this creation.
In fact, I just came home with more zucchini so that I am prepared to make it again for lunch (and possibly dinner) this week. Cooking it up in the skillet gave the bottom side of the tortilla the crispness it needed as well as the ease of getting it in and out of the oven to finish cooking. Honestly, this was the first time I have ever "built" a pizza in a skillet like this, and it worked. Recipes like this make such a great standby for quick and easy lunches and dinners, and the variations are truly endless.
Side note: Disregard the extra "well done" pine nuts shown in the photos. I learned my lesson and decided it's best to add them to the pizza literally a minute or two before you are ready to pull it out – those babies don't stand much of a chance under the broiler so you have to be watching them every second!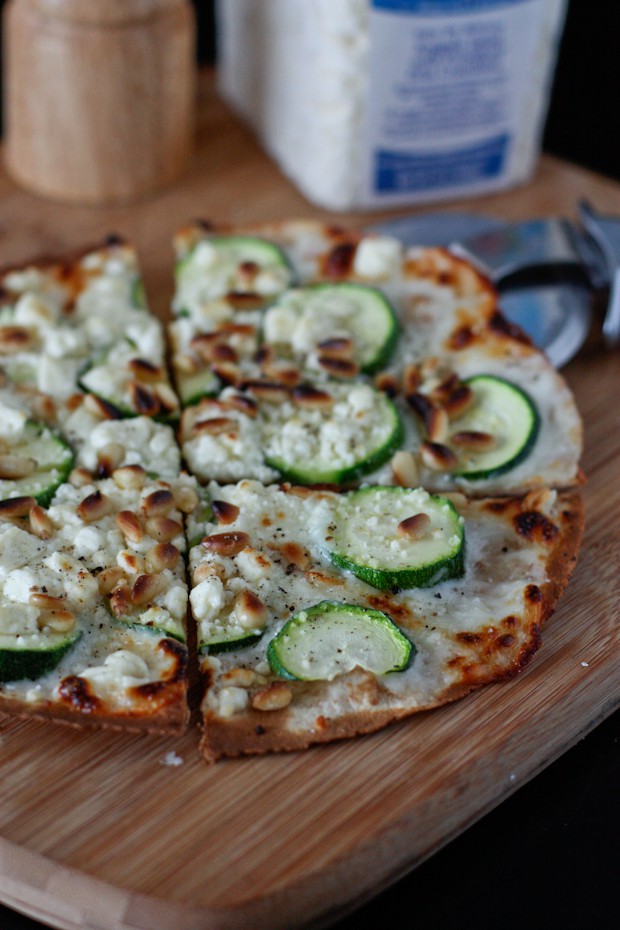 Skillet Zucchini and Feta Tortilla Pizza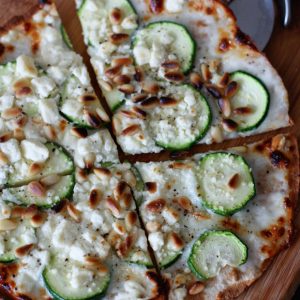 Ingredients:
For one:
1 whole grain tortilla (I like these from La Tortilla Factory)
shredded mozzarella cheese (I used a small amount to cover tortilla lightly)
1/2 zucchini, sliced thin
crumbled feta (use as much or as little as you like)
1 -2 tablespoons pine nuts
salt and pepper
Directions:
Place tortilla in a nonstick skillet over medium heat. Heat both sides of tortilla for about a minute each. With tortilla still in skillet, layer mozzarella (just enough to lightly cover tortilla), sliced zucchini and crumbled feta.
Place skillet with tortilla under broiler. Let cook for 1-2 minutes until cheese starts to melt. Add pine nuts on top of cheese and let broil for just a minute longer until lightly browned.
More zucchini recipes to try:
Zucchini, Red Onion and Black Bean Quesadillas
Are you following me on Instagram, Twitter, Facebook and Pinterest? If you'd like to subscribe to Aggie's Kitchen and have each post delivered straight to your e-mail box, then please add your email here. Happy cooking!
There are affiliate links in this post. I make small earnings through any purchases made through these links. Thank you for supporting Aggie's Kitchen!