Baked Parmesan Zucchini Sticks
These Oven Baked Parmesan Zucchini Sticks are just as good as the fried version… if not better. Less oil, less greasy mess. Great snack or appetizer, my family loves them!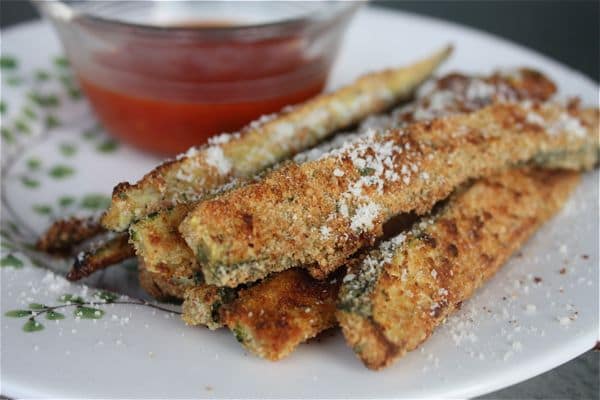 I got kinda hooked on these baked zucchini sticks this summer.  I've always loved the zucchini sticks my parents served at their pizzeria and used to eat them often when I worked there.  But let's be real, though they are a "vegetable"… the deep fried part kinda trumps the veggie part don't ya think?
With zucchini being plentiful this time of year (so many awesome zucchini harvest pics floating around Instagram), this would be a great way to use up any extra zucchini you might have on hand. I've always loved cutting them into the shape of sticks, but coins might be nice to try as well.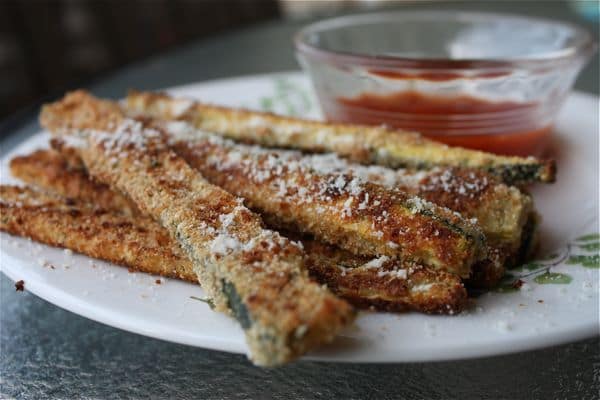 I started making these at home this summer…not sure why it's taken me so long to put this zucchini recipe together.  I love zucchini, but get kind of bored of the usual ways I cook it and am always on the lookout for new recipes for zucchini. These are so easy to make, just slice them into sticks, bread and bake. I now love making zucchini like this and eating it on the side of whatever else I'm having…for example, the crispy sticks were awesome over a bowl of simple spaghetti with tomato sauce.  Or just put out a plate of them pre-dinner and have them as a snack. These baked zucchini sticks would be a great way to get your kids eating a few more veggies at dinner time!
However you serve them … enjoy.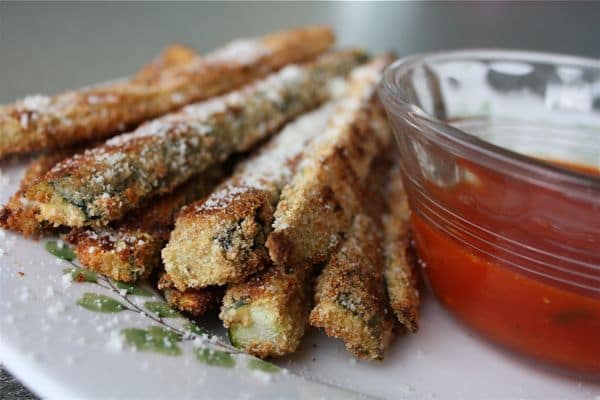 Baked Parmesan Zucchini Sticks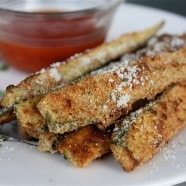 Ingredients:
3 large zucchini, sliced longways, halved and cut into sticks
2 eggs
1/2 cup plain bread crumbs
1/4 cup Parmesan cheese, grated
1 tsp dried oregano
1/2 tsp dried garlic powder
Olive oil spray
Directions:
Preheat oven to 425 degrees. Spray olive oil spray on large baking sheet. Set aside.
Slice zucchini into long planks. Cut planks in half then slice long into sticks.
In large shallow bowl, whisk together 2 eggs, set aside. In large shallow dish, combine breadcrumbs, Parmesan cheese, oregano and garlic powder.
Working with 3-4 zucchini sticks at a time, start breading process by dunking and completely covering zucchini with egg mixture. Take zucchini sticks out of egg mixture, allowing an extra egg to drip off, and place into breadcrumb mixture. Gently coat the zucchini stick completely with breadcrumb mixture. Place breaded zucchini stick onto baking sheet.
Continue this process until all zucchini sticks are breaded and on baking sheet. Spray each zucchini stick with olive oil spray and place into 425 degree oven. Bake for approximately 10 minutes or until bottoms are golden brown. Using a spatula, flip each zucchini stick and bake for an additional 10 minutes or until crisp and golden brown.
More zucchini recipes to try:
Skillet Zucchini and Feta Tortilla Pizza
Zucchini, Red Onion and Black Bean Quesadillas
Salt and Vinegar Zucchini Chips | Sugar-Free Mom
Greek Frittata with Zucchini, Tomato, Feta and Herbs | Kalyn's Kitchen
Zucchini and Feta Fritters | All Day I Dream About Food
Are you following me on Instagram, Twitter, Facebook and Pinterest? If you'd like to subscribe to Aggie's Kitchen and have each post delivered straight to your e-mail box, then please add your email here. Happy cooking!
There are affiliate links in this post. I make small earnings through any purchases made through these links. Thank you for supporting Aggie's Kitchen!
82 Responses to "Baked Parmesan Zucchini Sticks"
Trackbacks/Pingbacks

Leave a Comment