Creamy Butternut Squash and Shrimp Pasta Bake
You're going to want to make this.  If anything, just to get out of your comfort zone a bit.  That's what I did.  I don't have a ton of experience with butternut squash, working with it has always intimidated me a bit.  But come fall every year (well, that last few years)…I become slightly obsessed with it.  I want to make it.  I want to taste it.  I want to try every recipe I see with it.
But I never do.
So…my point?  I totally took a shortcut with this recipe and feel like I may have hit the jackpot in a way.  I got to make an awesome butternut squash sauce, without even touching that intimidating looking vegetable!  That excites me just a bit.
Here's what I did… I doctored up some Pacific Natural Foods Creamy Butternut Squash soup, and created a wonderfully delicious pasta bake as my entry into the Everyday Chef Challenge No. 2.  The ingredients chosen for this challenge were Spinach and your choice of Pacific Natural Foods Creamy Soups.  You can be part of this challenge too…become a challenger and enter your own recipe, enter as many as you like, just make sure you use the secret ingredient plus a Pacific Natural Foods pantry staple in each recipe (you can get yourself a coupon too in the process).  For more specifics, see their challenge details page.  There are two winners in the end…one of the Featured Food Bloggers and one of the challengers (you!).  How fun would it be to hang out in Culinary Bootcamp in Napa together???
So here's where I humbly ask for your vote.  If you think this recipe is worthy, hop on over to my entry page, scroll down and click vote!  You can vote once every 24 hours, up until next Wednesday.  I'm up against some amazing bloggers that crank out great recipes…so any help from you is beyond appreciated.
Enjoy!!
Creamy Butternut Squash and Shrimp Pasta Bake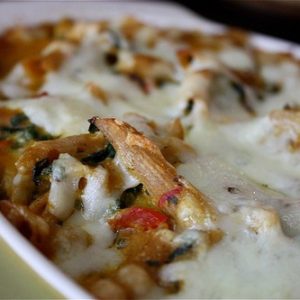 Ingredients:
1 lb large shrimp, peeled and deveined
2 TB olive oil
3-4 large shallots, chopped
3 garlic cloves, minced
1 large red bell pepper, chopped small
1 32 oz carton Pacific Natural Foods Organic Creamy Butternut Squash Soup
1/2 teaspoon fresh ground nutmeg
1/2 teaspoon dried oregano
1/2 teaspoon dried thyme
2 teaspoons tomato paste
1/4 cup whole milk ricotta
1/4 cup fresh grated Parmesan cheese
1/2 teaspoon fresh ground nutmeg
1/4 teaspoon coarse salt (kosher or sea salt)
fresh ground pepper
1 10 oz carton frozen chopped spinach, defrosted and drained well
1/3 cup fontina cheese, shredded (if you can't find fontina, mozzarella is fine)
1/2 lb whole wheat penne pasta
water
salt
Directions:
Bring salted water to a boil. Add pasta. Cook until al dente 10-12 minutes.
While pasta is cooking, heat 2 tablespoons olive oil in a non-stick skillet. Add peeled and deveined shrimp and cook until pink, about 2-3 minutes on each side. Set aside.
In same skillet, add shallots, garlic and chopped red pepper. Add pinch of salt and pepper, oregano and thyme. Cook for 8-10 minutes over medium heat until softened. Add two teaspoons tomato paste to cooked vegetables and cook for about a minute longer. Add Pacific Natural Organic Creamy Butternut Squash Soup and nutmeg and bring to a slow simmer. Simmer sauce for about 5 minutes until slightly thicker and flavors have combined. Taste for salt and pepper.
In a large bowl, combine cooked and slightly cooled pasta, shrimp, ricotta, Parmesan cheese, spinach, nutmeg, salt and pepper. Gently stir until slightly combined. Add sauce to pasta mixture and continue to combine. Add 3/4 of the amount of sauce.
Pour pasta mixture into a glass casserole dish sprayed with non stick spray. Spread pasta mixture evenly throughout dish and add the remaining amount of sauce to the top of pasta. Sprinkle shredded cheese over top of pasta and place in oven preheated to 375 for 20-25 minutes or until bubbly.
(Disclosure: I am working Pacific Natural Foods as a participant in this promotion and have received a stipend.)
Are you following me on Instagram, Twitter, Facebook and Pinterest? If you'd like to subscribe to Aggie's Kitchen and have each post delivered straight to your e-mail box, then please add your email here. Happy cooking!
There are affiliate links in this post. I make small earnings through any purchases made through these links. Thank you for supporting Aggie's Kitchen!