Grilled "Stinger" Naan Pizzas
A couple of weeks ago, my friend Holly blogged about some Naan Pizzas she made.  Naan bread is pretty new to me…had my first experience with it at our local Indian restaurant not long ago and also saw Aarti make pizzas out of it on her final episode of Food Network Star.  These breads make the perfect crust for quick pizzas!  I found these breads in the deli section of my grocery store, near the pitas and other flat breads.
I was inspired by my produce drawer to make these little pizzas into "Stingers"…the name comes from one of my favorite pizzas my dad serves at his restaurant.  Strips of green peppers, onions and garlic…baked first in the oven and then added as toppings in addition to traditional sauce and cheese.  While I was cutting my veggies I actually had a deja vu moment that took me back to the days where my mom would pick me up after school and bring me back to their pizza shop to hang out.  She would keep me busy sometimes by giving me something to do in the kitchen…cutting up peppers and onions seemed to be a job that always needed to be done.  It was so long ago (I must have been in middle school!) and the memory made me smile.
Before I share the recipe for these delicious pizzas I want to thank everyone for all of their votes for my recipes entered into the Pacific Natural Foods Everyday Chef Challenge.  It was a fun experience creating the recipes out of secret ingredients and though I didn't win, both recipes turned out delicious and the positive feedback from you all who made them is so much appreciated!  The contest is now in the Finals…Elana's Pantry's Thai Vegetable Soup is up against Herbivoracious's Tortillas and Spinach in Black Bean Sauce.  This is a tough competition, both dishes look and sound awesome!  You can vote for either of these two recipes every 24 hours up until Wednesday October 13.  And while you are there, vote for one of the Everyday Challengers that are up for the Culinary Bootcamp Grand Prize as well.   My friends Holly, Merry and Lori along with some other great cooks are all in the Finals and need votes!  Good luck to everyone in the Finals!!
Grilled "Stinger" Naan Pizzas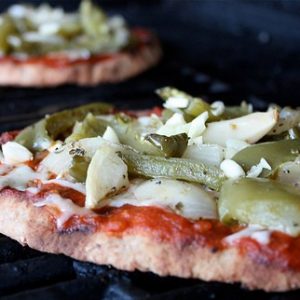 Ingredients:
1-2 green bell peppers, sliced
1 yellow onion sliced
2 cloves garlic, chopped
1 TB olive oil
pinch of salt and pepper
pinch of dried oregano
2 pieces of regular or whole grain Naan bread (I used whole grain)
pizza sauce
shredded mozzarella cheese
non stick or olive oil spray
Directions:
Preheat oven to 400 degrees
In a glass baking dish, combine peppers, onions and garlic. Toss with olive oil, salt, pepper and oregano. Bake for about 20-25 minutes or until vegetables are cooked through and softened.
Preheat grill or grill pan to low heat. Spray or brush both sides of Naan with olive oil and place on grill over indirect heat (or in grill pan). Cook Naan until slightly browned and grill marks show (about 4-5 minutes, keep an eye on it). Take Na'an off grill and start to prepare pizzas by adding toppings onto grilled side. Spread sauce, then cheese, then vegetable mixture onto the Naan and carefully place back on grill. Close grill lid and cook for 5-8 minutes until crust is browned and crisp and cheese is melted.
Are you following me on Instagram, Twitter, Facebook and Pinterest? If you'd like to subscribe to Aggie's Kitchen and have each post delivered straight to your e-mail box, then please add your email here. Happy cooking!
There are affiliate links in this post. I make small earnings through any purchases made through these links. Thank you for supporting Aggie's Kitchen!