Garlic Feta Cheese Dip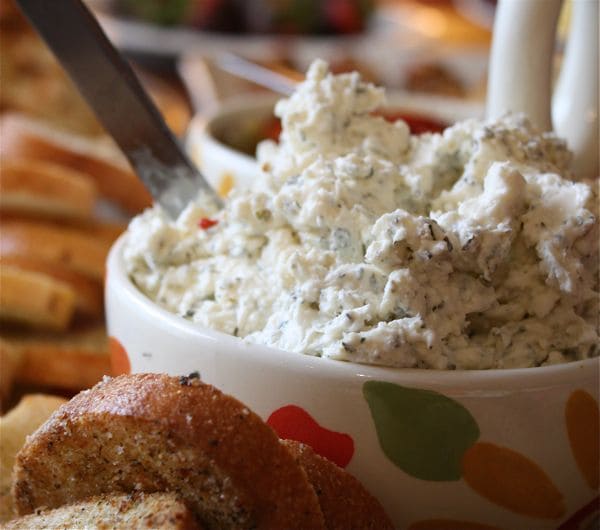 Have you ever fallen in love with food?  I fell in love with this dip a few years ago when my foodie sister in law Paula prepared it for us at for my son's birthday party.  I couldn't get enough of it.  We served it with pretzel crisps and it was a match made in heaven.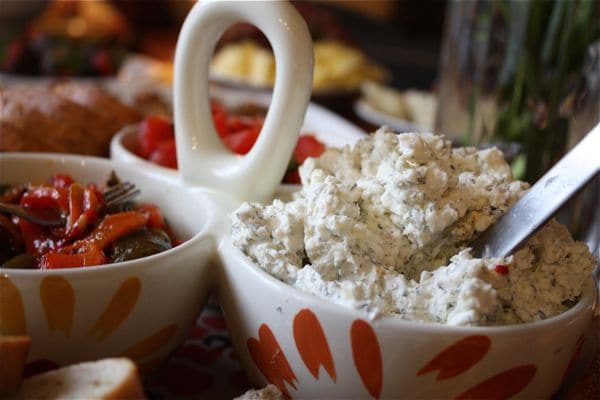 For whatever reason, it has been quite a bit of time since I last made this!  I thought of it the other day when I was trying to put together a third dish to serve on a bruschetta bar that I was bringing to my friend Betsy's get together at her house.  I used light cream cheese and light mayo for the base, but made sure to use good feta.  Instead of pretzel crisps, this time it was served shmeared on parmesan bread crisps (scored at the Publix bakery – saved me some work!) alone or topped with tomato and basil or roasted peppers.  It was a perfect trio of yummies!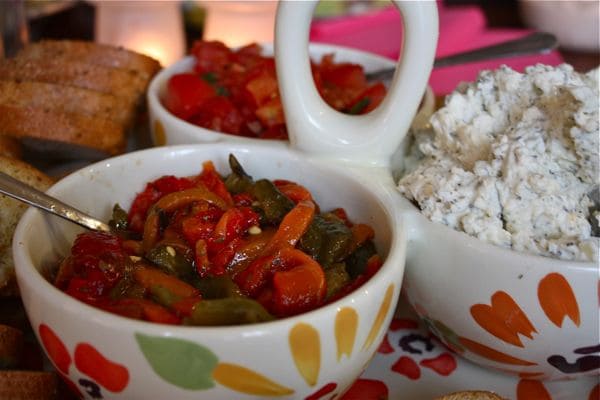 Additional recipes:  Tomato and Basil Brushetta, Roasted Peppers
Garlic Feta Cheese Dip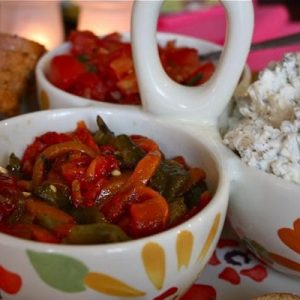 Ingredients:
4 oz crumbled feta (I used block feta and crumbled it myself)
4 oz cream cheese
1/3 cup mayo
1 garlic clove, minced
1/4 tsp dried basil
1/4 tsp dried oregano
1/8 tsp dill weed
1/8 tsp dried thyme
Directions:
Combine all ingredients in a bow and mix well until blended together. Cover and refrigerate until ready to serve.
Serve with pretzel crisps, assorted crisp breads or veggies.
Note: Recipe was doubled for pictures shown.
This dip has always been a hit at parties. I love serving it with pretzel crisps or crunchy veggies. Recipe found on Recipezaar.com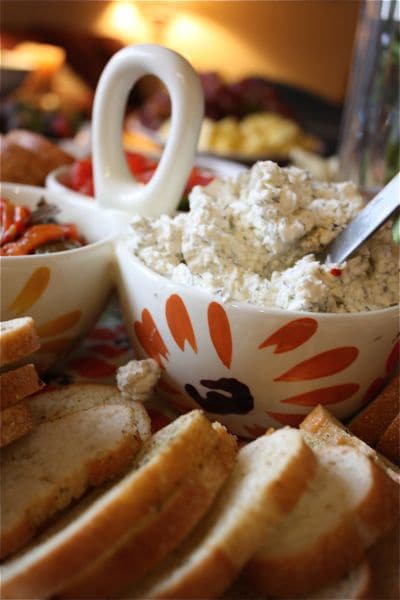 Are you following me on Instagram, Twitter, Facebook and Pinterest? If you'd like to subscribe to Aggie's Kitchen and have each post delivered straight to your e-mail box, then please add your email here. Happy cooking!
There are affiliate links in this post. I make small earnings through any purchases made through these links. Thank you for supporting Aggie's Kitchen!