Easy Pinto Bean Burritos Recipe
Try this recipe for Pinto Bean Burritos for a quick and easy vegetarian lunch or dinner. Simple to make and even better for when you need something to grab for on-the-go!
Click here to Pin the recipe for these Pinto Bean Burritos!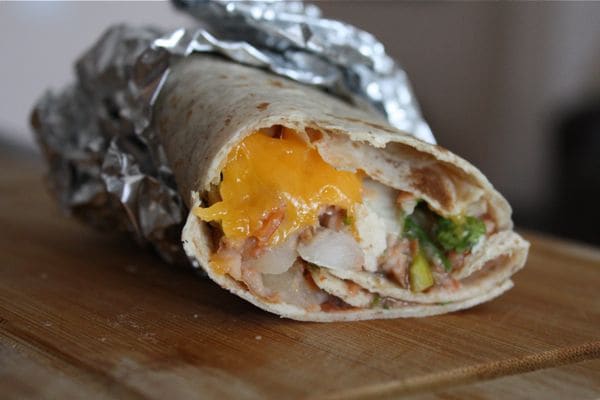 So remember how I was saying the other day how I've been in serious need of easy but tasty meals? Well I found one.
I felt like celebrating after making this Pinto Bean Burrito recipe at lunch the other day. Super simple, and you can make them ahead of time to keep in the fridge for lunch or dinner. And hey, can I mention that they are actually pretty good for you? I mean, really, what more can you ask for.
The best part of these is that they are totally portable too. So if its one of those days that you are running out the door and there's no time for a real sit down lunch (you know we all have these), heat up one of these babies and enjoy it in the comfort of your car seat. Or if you and the fam are playing poolside in the evening and you don't really feel like fussing over setting a table for a meal, these are your answer. I even think they'd warm up nicely on the grill to be honest…or even…a camp fire?
Yep…nice and easy like just like that.
How to make pinto bean burritos
First things first, make the filling. I used a can of rinsed pinto beans, a nice bunch of torn cilantro, half an onion chopped, a couple of splashes of red wine vinegar or a squeeze of lime, and a chopped up anaheim pepper (use whatever pepper you have on hand or like, jalapenos would be great in this). Mash your filling together in a bowl with a fork until everything is just combined.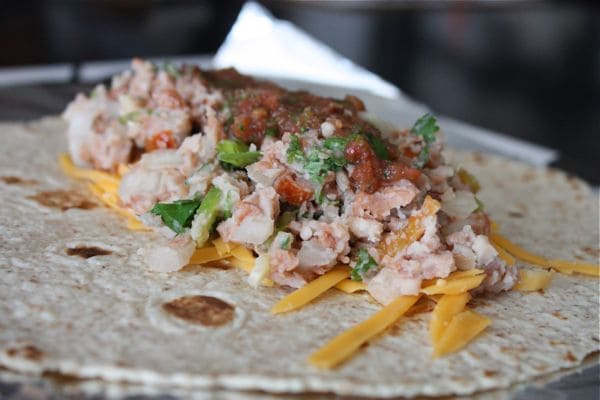 Add your filling to the center of a tortilla (I love the whole wheat ones from La Tortilla Factory). Top with a bit of your favorite salsa and some shredded cheddar cheese. Tuck in the sides of your tortilla, fold over one side, and roll up tight.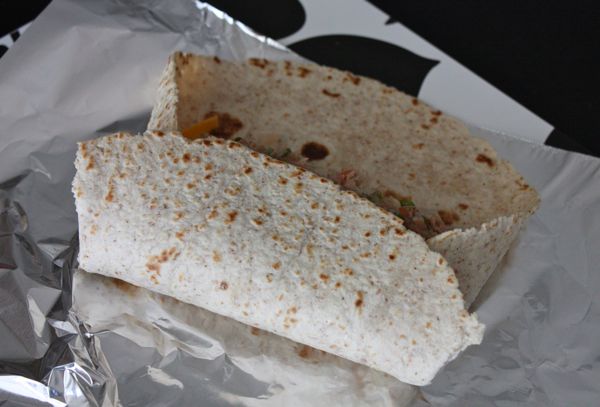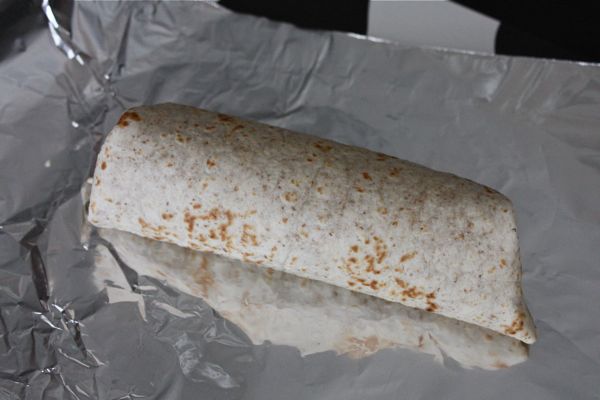 Cover up in foil and decide if you are going to eat now…or later. Easy peasy right?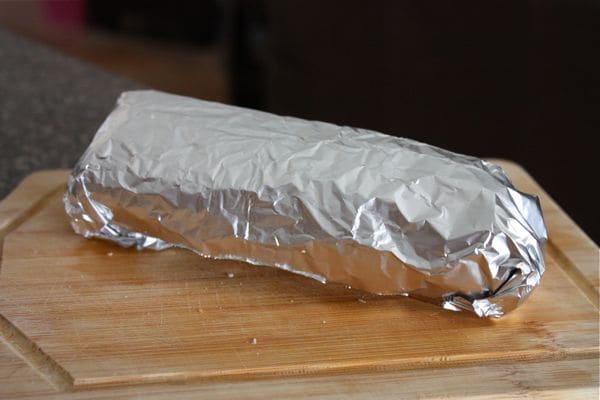 Now I know this isn't a super original recipe or anything, but think of it more like an idea. Fill your burritos up with leftover shredded chicken, ground beef, black beans, rice…anything that suits your liking. With these hanging out in the fridge waiting on you, your mealtime will be a breeze. Oh happy day.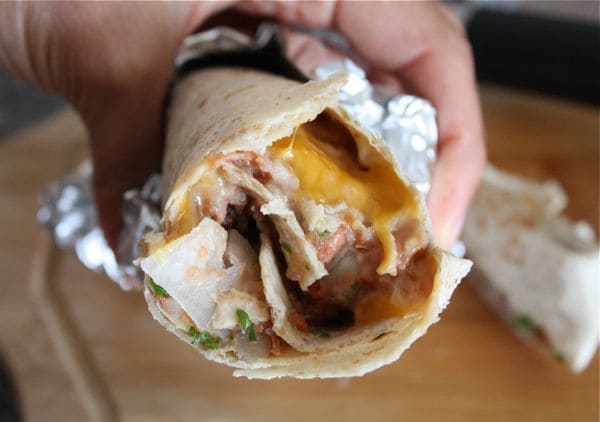 Print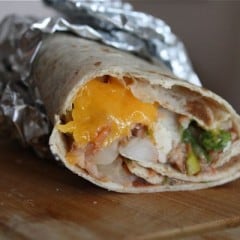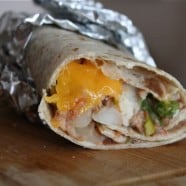 Pinto Bean Burritos
---
Ingredients
1 can pinto beans, rinsed and drained
1/2 sweet onion, chopped
2 peppers (anaheim, cubanelle, poblano or jalapeno) of your choice
squeeze of fresh lime juice or a couple splashes of red wine vinegar
salt and pepper to taste
handful of cilantro, torn
whole wheat tortillas
shredded cheddar
salsa (here's my favorite homemade salsa)
---
Instructions
In a medium bowl, combine beans, onion, pepper, lime or vinegar, salt, pepper and cilantro.
Using a fork, gently mash all the ingredients until they just start to come together.
Spoon your filling into the center of your tortilla, topping the filling with shredded cheese and a tablespoon or two of salsa.
Tuck in the sides of your tortilla and tightly roll up your burrito.
Wrap in aluminum foil and bake in 400 degree oven for 15 minutes.
More Mexican recipes my family loves:
Turkey and Black Bean Burritos
Oven Baked Black Bean and Cheese Quesadillas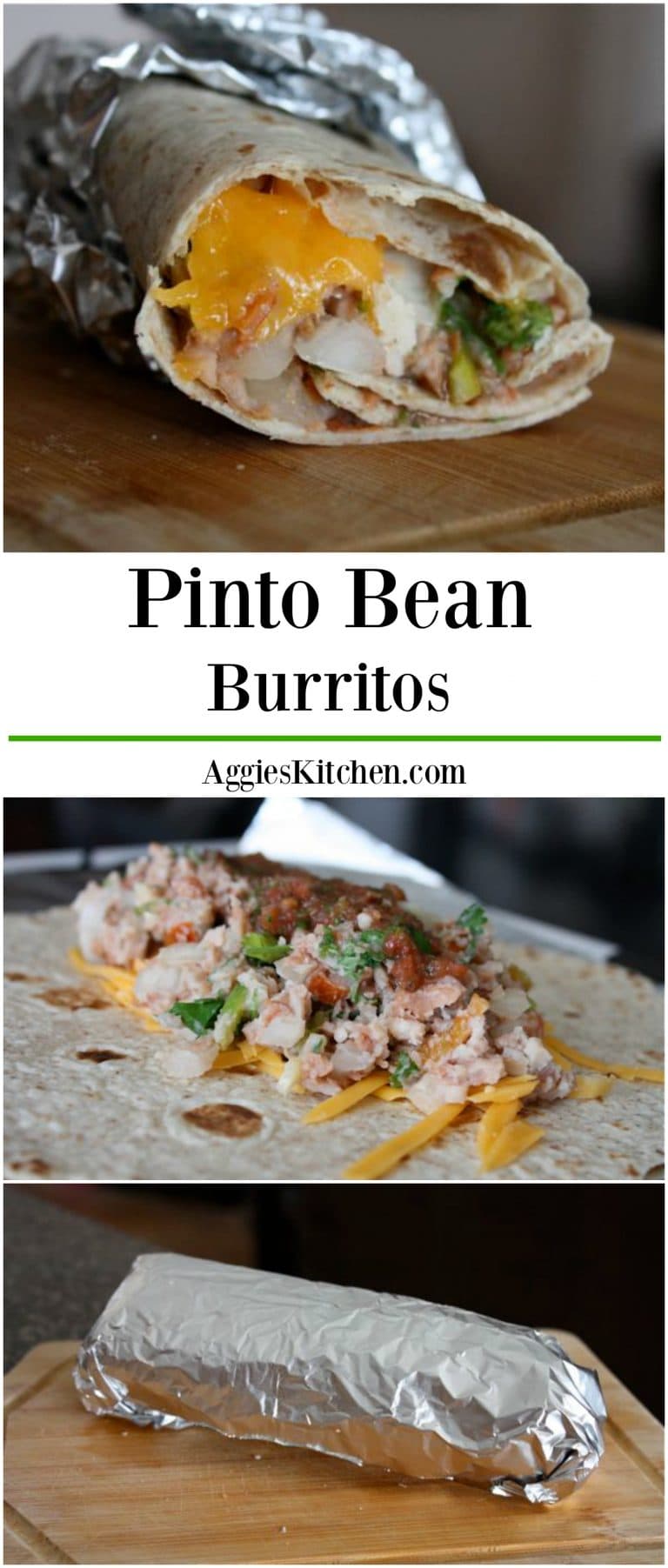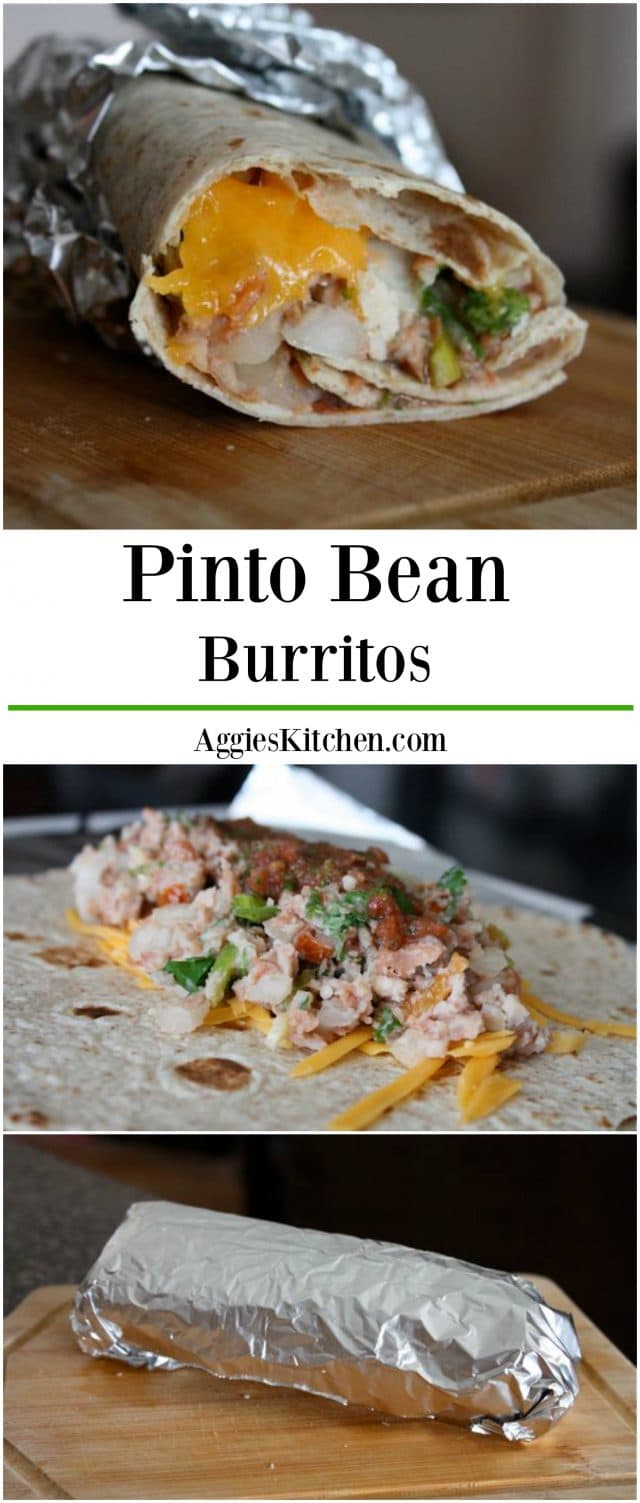 Are you following me on Instagram, Twitter, Facebook and Pinterest? If you'd like to subscribe to Aggie's Kitchen and have each post delivered straight to your e-mail box, then please add your email here. Happy cooking!
There are affiliate links in this post. I make small earnings through any purchases made through these links. Thank you for supporting Aggie's Kitchen!