Daddy {and his recipe for Spinach Pizza}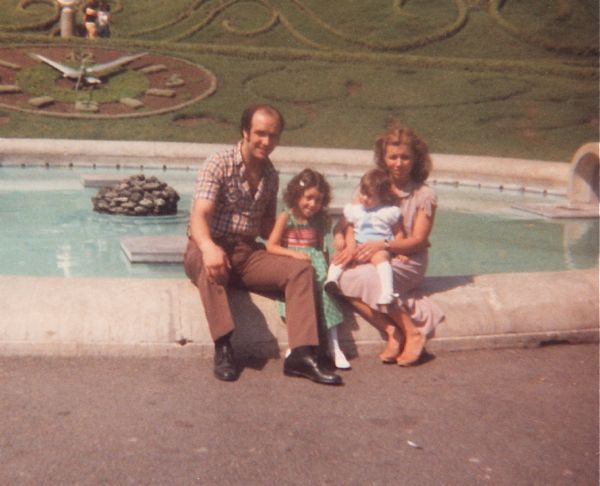 (picture taken in Sicily when I was 4 years old…my dad, me, my sis & my mom)
 Since it's Father's Day I wanted to share with you a few things about my own dad.
I still call him Daddy. (so what if I'm 35 years old)
He grew up in a small town in Sicily (Castiglione).
He moved to the States to marry my mom in the 1970s when he was about 23 years old.
He was a baker.
He would take me with him to a bakery in the Bronx every Sunday where I would sit on a stool in the middle of a huge kitchen, eating a cookie, while listening to him catch up with his friends (in Italian of course) and watching lots of fancy cakes get made. We'd come home with a big white box tied with red & white string full of Italian pastries and cookies for Sunday lunch. One of my favorite memories of my daddy still to this day.
He has a huge heart, which I like to think was passed down to me.
He makes a mean pizza and calzone and has since I was 4 years old.
He's been in the pizza/restaurant business for 31+ years…and still going strong.
He's always taken very good care of his family.
He's the hardest working person I know, and I'm proud of that.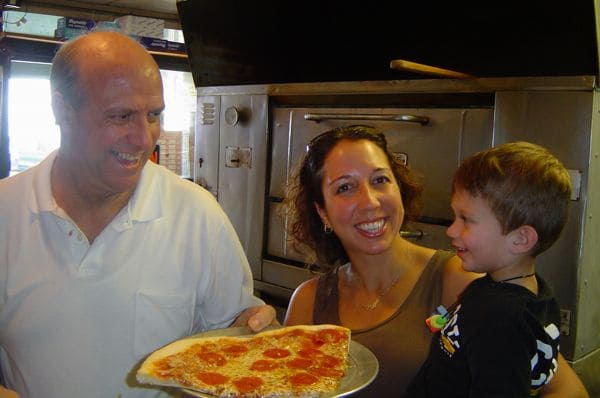 So in honor of my dad and everything he has taught me, directly and indirectly, about life…I want to share with you one of his best pizzas – his spinach pizza; one that I recreated at a pizza party I hosted in my home a couple of years ago. I tweaked it just a bit (he doesn't use nutmeg in his sauce) and I'm sure you'll love it just as much as we do.
Happy Father's Day to all the awesome dads out there…including mine, as well as my husband, my grandfather, my father-in-law, my brothers-in-law, my nephew, my cousins, and my friends.
Enjoy!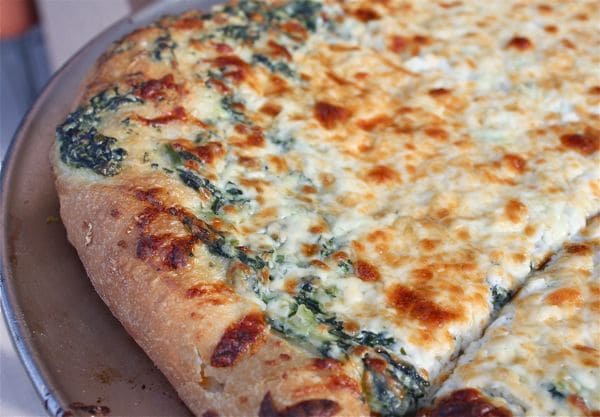 Rocky's Spinach Pizza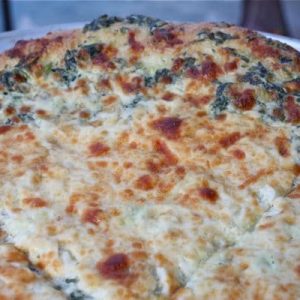 Ingredients:
2 -3 tablepoons unsalted butter
2 tablespoons all purpose flour
2 cups half and half
pinch of salt, fresh ground pepper and fresh nutmeg
8 oz frozen chopped spinach, thawed
Parmesan Cheese, grated
Mozzarella Cheese, shredded
Pizza dough
Directions:
To make Spinach White Cream Sauce:
Melt 2-3 tb butter in saucepan over medium heat.
Stir in 2 tb of flour into butter, cook for 1-2 minutes.
Add 2 cups half and half to butter mixture.
Add dash of salt, pepper, and fresh ground nutmeg to cream.
Bring to a simmer, continually stirring to avoid bottom of pan burning. Simmer for few minutes until sauce starts to thicken.
Take sauce off heat and bring to room temperature.
Add 8oz thawed chopped frozen spinach to sauce.
To prepare Pizza:
Spread spinach cream sauce over pizza dough to edges. Top with cheeses and bake in a 425 degree oven (I bake my pizza on a preheated pizza stone) until crust is browned and cheese is bubbly.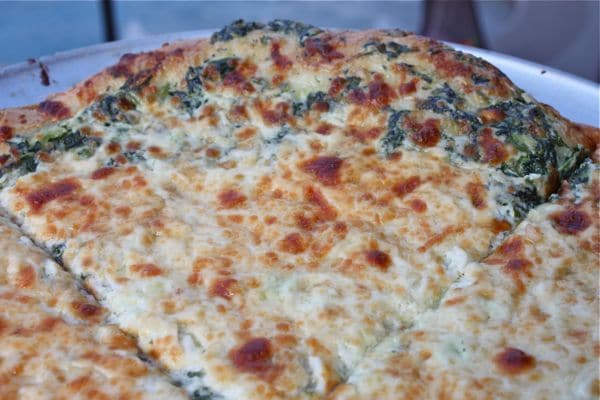 Check out my Pinterest board for more pizza recipes.
Follow Aggie's Kitchen's board Pizza & Flatbread on Pinterest.
Are you following me on Instagram, Twitter, Facebook and Pinterest? If you'd like to subscribe to Aggie's Kitchen and have each post delivered straight to your e-mail box, then please add your email here. Happy cooking!
There are affiliate links in this post. I make small earnings through any purchases made through these links. Thank you for supporting Aggie's Kitchen!