Mexican Pasta Toss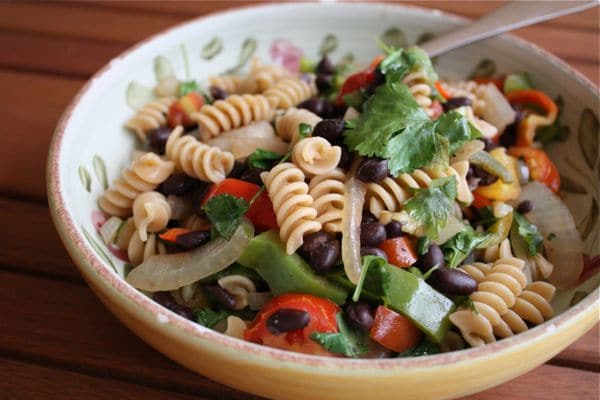 Summer vacation is in full swing here in my house.
No one wants to get dressed in the mornings (me included). Toys are sprawled throughout the house. Bathing suits and towels are hanging on the chairs in the porch. Happy playing noises can be heard from the kids, as well as annoyed and get away from me noises. Typical afternoon Florida thunderstorms are starting to brew…and the heat and humidity is definitely kicking. And almost every night, someone has fallen asleep on the couch, way past "bedtime".
What I'm struggling with, though enjoying, is our lack of schedule and routine, especially when it comes to mealtimes. It's a bit of an adjustment. I am finding myself at 6 o'clock in the evening watching the kids in the pool and wondering what in the world am I going to make for dinner. I have never been a big meal planner, as much as I've tried. So I'm really depending on quick and easy, but still something I (and the family) want to eat (healthy and tastes really good).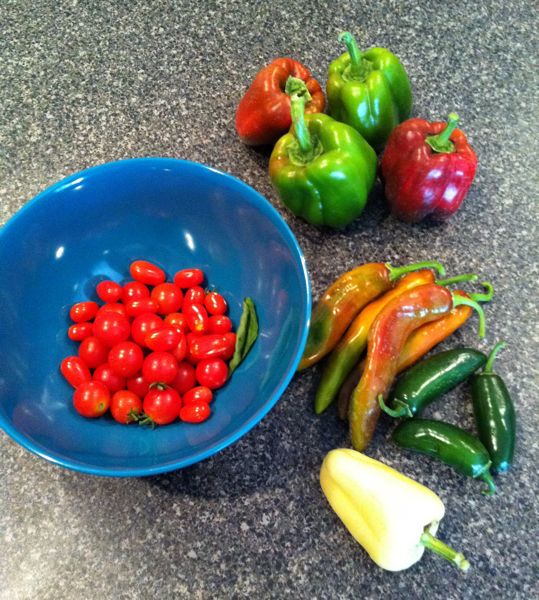 This pasta was created in one of those "clean out the produce drawer" moments. I had pulled a bunch of tomatoes and peppers out of the garden and they really needed to be used up. Nothing is quicker than pasta in my opinion so putting this together didn't take too much effort other than the actual cutting of the vegetables.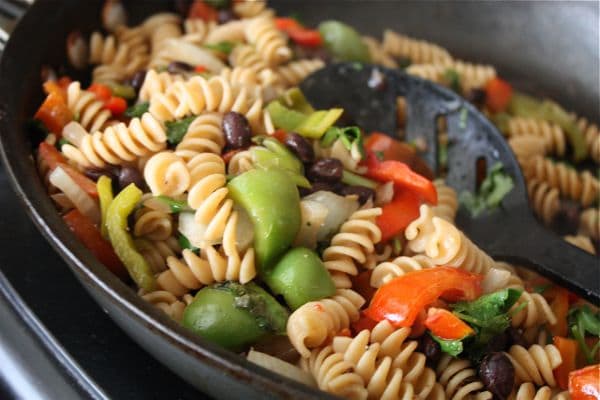 I did a quick saute of all the veggies in a large non stick skillet with a little olive oil, garlic, salt and pepper. I cooked them just enough because I wanted them to still be a little crisp. I added the beans just before I added the pasta, just enough to warm up everything together.
The kids ate their pasta with a little olive oil, garlic powder, salt and pepper with a side of tomatoes and my husband and I enjoyed ours just like this. I ate mine warm as it came out of the skillet, and he had his plate of pasta at room temperature later on when he got home from work. Everyone was happy. (and if you need to make someone even more happy with some meat, add some grilled chili rubbed chicken, shrimp, chicken sausage to the pasta!)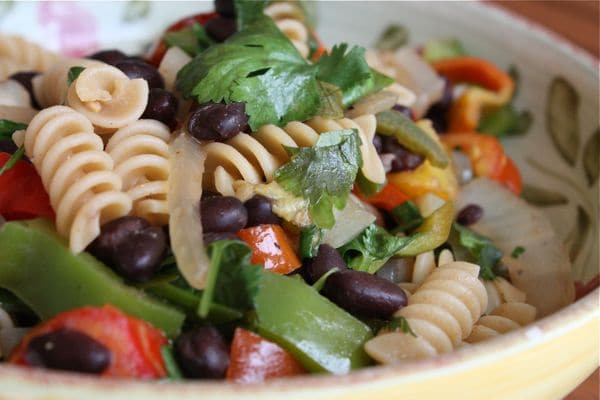 Mexican Pasta Toss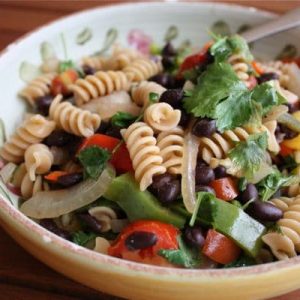 Ingredients:
1/2 box whole wheat pasta
2 tablespoons olive oil
2 cloves of garlic, chopped
1 sweet onion, chopped
2-3 peppers of any kind, chopped (I used a combo of bell, anaheim and jalapeno)
1 pinch of ground cumin
1 cup chopped tomatoes
salt and pepper to taste
1 15 oz can black beans, rinsed (I prefer Bush's Beans Black Beans)
Bunch of fresh cilantro, roughly chopped or torn
extra drizzle of olive oil
Lime, optional
Directions:
Cook pasta according to directions.
While pasta is cooking, heat olive oil in a large non stick skillet and add garlic and onion. Cook for about 1 minute.
Add peppers to skillet, season with cumin and cook for about 4-5 minutes until softened but still crisp.
Add tomatoes and black beans and cook for an additional minute. Season vegetables with salt and pepper.
When pasta is just done, transfer it to skillet using a slotted spoon. Some of the pasta water will go along with the pasta and that is a good thing.
Add cilantro to pasta, gently toss pasta with the vegetables, taste for salt and pepper, and add an additional drizzle or two of olive oil.
Serve warm, room temperature, or chilled with a squeeze of lime.
************************************************************************************************
If you like wine…don't forget to enter my Eversave Wine.com giveaway! Ends today at midnight (EST) and for some extra chances head over to The Little Kitchen for the same giveaway!
Are you following me on Instagram, Twitter, Facebook and Pinterest? If you'd like to subscribe to Aggie's Kitchen and have each post delivered straight to your e-mail box, then please add your email here. Happy cooking!
There are affiliate links in this post. I make small earnings through any purchases made through these links. Thank you for supporting Aggie's Kitchen!