5-Ingredient Sugar Snap Pea Salad
This Sugar Snap Pea Salad is unique and full of fresh flavor. Just 5 ingredients and only takes minutes to prepare. Makes a great side dish!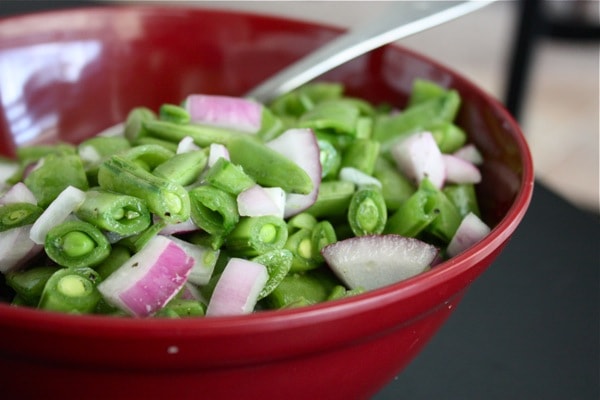 I used to listen to the Everyday Food radio show in my car a couple of years ago almost everyday (I say used to because although I do have satellite radio, I don't pay the extra for that channel anymore 🙁 ). I would listen to Betsy and Sandy talk about food while I sat in a short car line waiting to pick up my son from pre-school. I sometimes would get to school a little early just so I had some extra time to listen (I literally live 5 minutes from the school so my drive was super short). I looked forward to and really enjoyed listening to these ladies talk about food.
I enjoyed the show so much that I actually called in a few times…I called in while in car line hoping that the kids didn't start lining up as I was in the middle of my quick chat with MARTHA STEWART EVERYDAY FOOD. I used to feel super giddy after I hung up.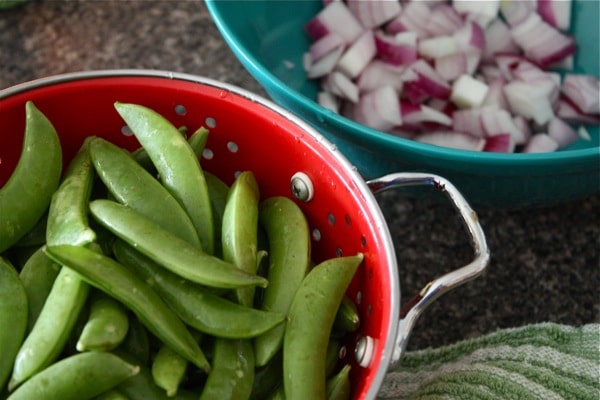 Now…those days are long gone…but for some reason a certain salad that was mentioned on the show stuck with me. It stuck with me for 2 years and I have up until today, never made it. I'm actually almost embarrassed to admit that I've thought about this salad for that long and as simple as it is, never actually made it. Does this ever happen to you?
It's super simple and unbelievably good. It's crunchy, lemony, cold and totally hits the spot alongside my lunchtime veggie burger. I actually find it easier to eat with a spoon too. And I'm afraid I'm going to actually eat the whole bowl…
There are worse things.
Did I mention this Sugar Snap Pea Salad has only 5 ingredients? (I never count salt and pepper as an ingredient by the way…)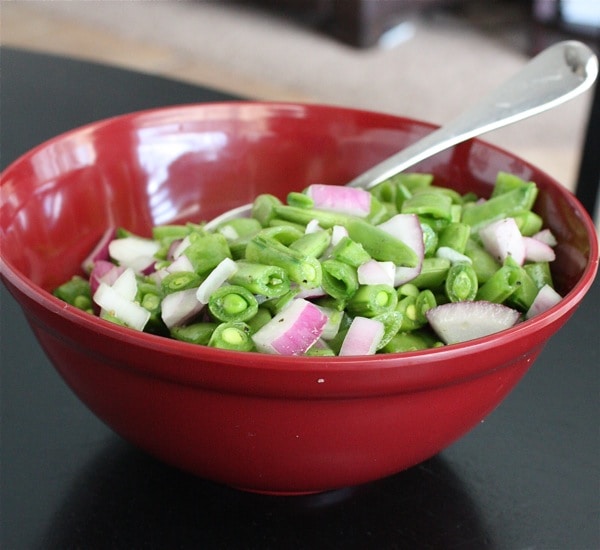 Sugar Snap Pea Salad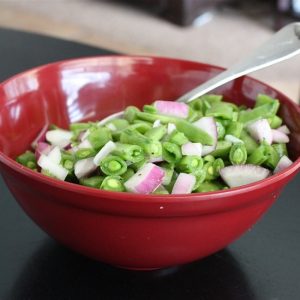 Ingredients:
3-4 handfuls sugar snap peas, chopped large* (see note)
1 red onion, chopped large* (see note)
1 lemon, juiced
few splashes white wine vinegar
2 tablespoons olive oil
salt and pepper to taste
Directions:
Combine chopped vegetables in a bowl. Pour lemon juice, vinegar and olive oil over vegetables and gently toss together. Season well with salt and pepper.
Enjoy chilled.
* Note: I am texture driven so I like to chop my onion and sugar snap peas about the same size.
Recipe slightly adapted from Everyday Food
More 5 ingredient side dishes:
5 Ingredient Vegetable Fried Rice
5-Ingredient Zoodles with Capers and Tomatoes | A Spicy Perspective
5-Ingredient Zucchini Recipe with Curry Sauce | Cookin' Canuck
Follow Aggie's Kitchen's board Salads on Pinterest.
Are you following me on Instagram, Twitter, Facebook and Pinterest? If you'd like to subscribe to Aggie's Kitchen and have each post delivered straight to your e-mail box, then please add your email here. Happy cooking!
There are affiliate links in this post. I make small earnings through any purchases made through these links. Thank you for supporting Aggie's Kitchen!