House Greek Salad Dressing (Greek Lemon Vinaigrette)
One of my most favorite and go-to salad dressings is this Greek Lemon Vinaigrette aka Greek Salad Dressing. It's not only great as dressing for Greek salad but also for pasta salads and marinade for chicken.
Click Here to Pin this Greek Salad Dressing recipe.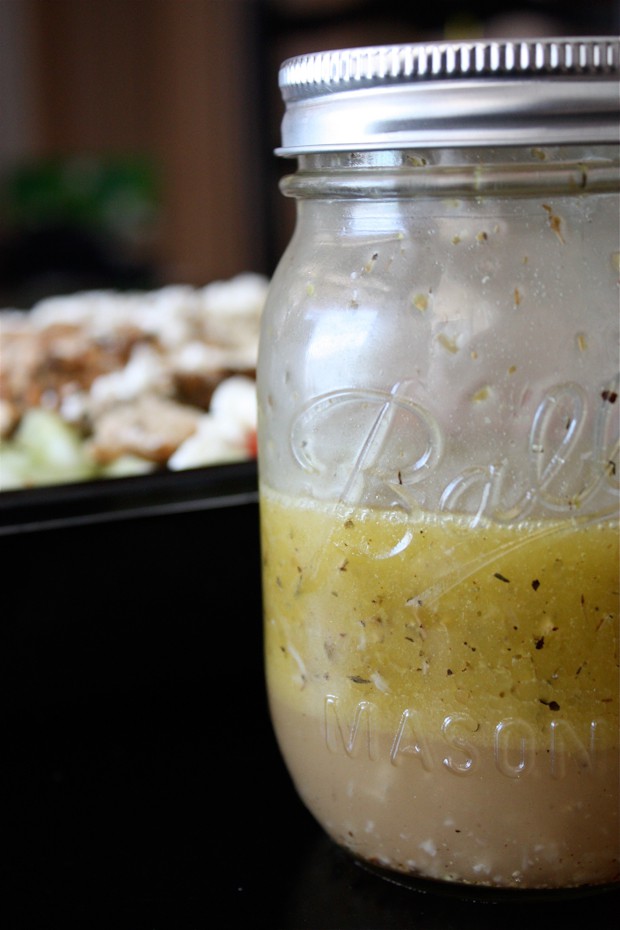 Hi all, I can't believe it's been a few months since I posted here, but apparently it has (ironically I started writing this post a month ago and am just now getting around to finishing it). Our spring was filled with sports and school and life and I haven't had much time or energy to blog to be honest. My friend Kristen just mentioned this the other day and it summed up everything I've been feeling this year – I thought having young kids kept me busy but the ages we are in right now (13, 11 and 4) come with so many more activities, school work and life stuff that keeps us going.
I love it but the days and weekends where I used to cook a meal leisurely are far and few between. Most evenings are spent driving back and forth with half of us coming or going. With two kids in travel sports, our weekends are filled with tournaments. It's a fun, crazy ride we are on right now. I wouldn't trade it for the world.
Here we are 2 weeks into summer break, and I am trying to catch my breath. Although we are still keeping quite busy with sports, we are definitely adding in plenty of fun summer stuff.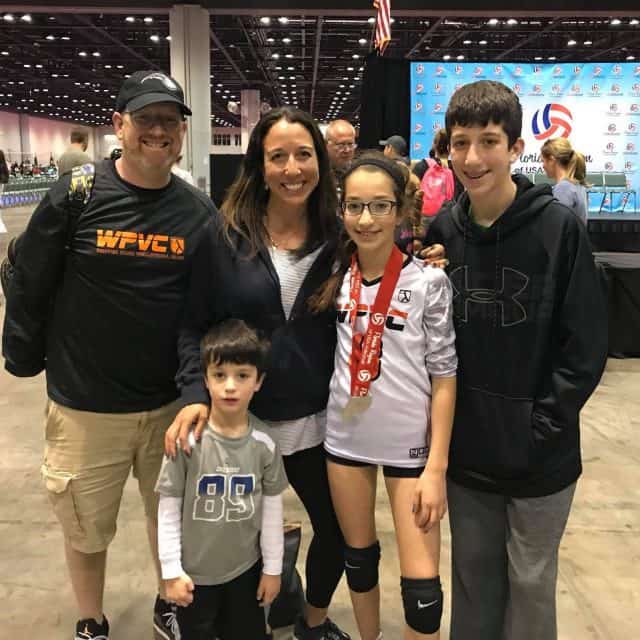 (the day my daughter's team qualified for USAV Junior National Championships!)
In case you are wondering how we keep our littlest one entertained during long game days…lots of legos, magna tiles, coloring, cars, puzzles, lollipops and snacks. We basically carry a backpack full of fun with us wherever we go. Having a buddy to play with helps too. 🙂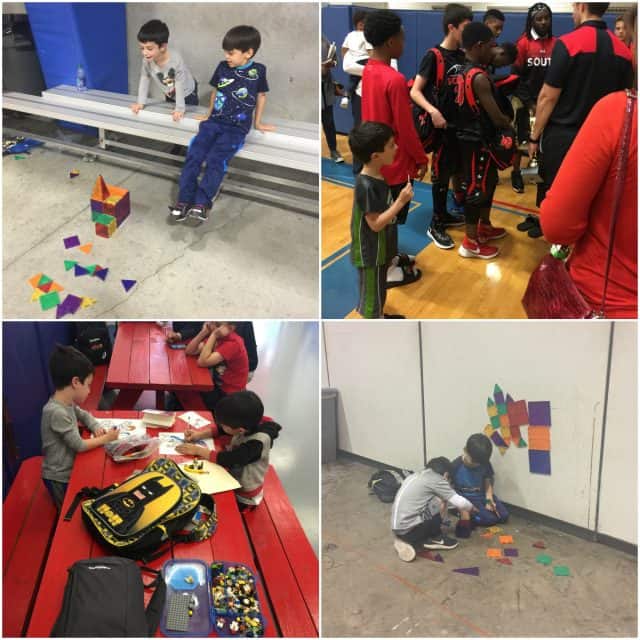 I wanted to share a salad dressing recipe with you today that I love. It's perfect for summer as a dressing for salad or pasta salad but also as a marinade for chicken you want to grill.
I have been making this Greek Lemon Vinaigrette for as long as I can remember making salads for myself. My mom has made it her go-to as well (such a compliment since I learned all my vinaigrette making skills from her) and I like to refer to it as my House Greek Salad Dressing.
Greek salad is hands down one of my favorite salads. I never get tired of it! Every time I go to Costco I stock up on their big container of feta and kalamata olives and I know Greek salad will be on the menu often. Last month, for a baby shower, I incorporated all my favorite Greek salad ingredients into a pasta salad like this one and used this vinaigrette as the dressing, it turned out absolutely delicious.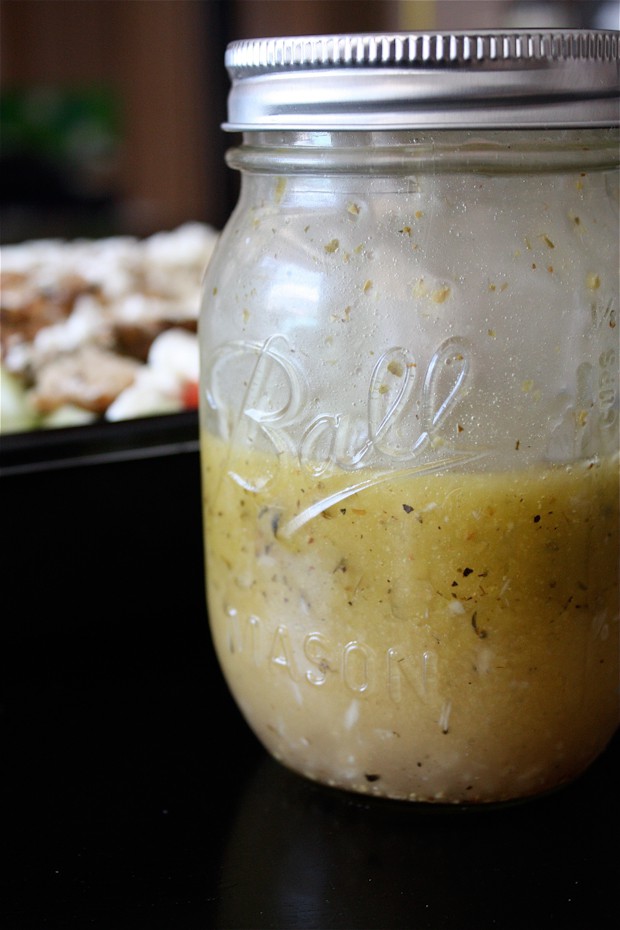 This Greek salad dressing is one to definitely keep on hand in the fridge this summer!
House Greek Dressing (Greek Lemon Vinaigrette)
Yield: 1 3/4 cup dressing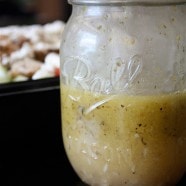 Ingredients:
1/2 cup fresh squeezed lemon juice
1/4 cup red wine vinegar
1 cup olive oil
2-3 cloves pressed or minced garlic
1 1/2 tsp dried oregano
pinch of dried thyme
big pinch of salt and fresh ground pepper
Directions:
Combine lemon juice, vinegar, oregano, thyme and salt and pepper in bowl.
Using a whisk, slowly stream in olive oil and whisk into vinegar mixture. You will see it thicken up a bit (emulsifying) while combining.
Store in a jar with a tight lid in the refrigerator after using. Always give the dressing jar a couple of shakes before serving. In my opinion, best at room temperature, so take it out a few minutes before using.
I tend to like more vinegar/acid in my salad dressings, so feel free to add more oil to your taste.
If you are into Greek flavors like I am, check out these favorite recipes:
Greek Pepper and Onion Frittata with Feta
Greek Salad and Hummus Pita Pizza
Are you following me on Instagram, Twitter, Facebook and Pinterest? If you'd like to subscribe to Aggie's Kitchen and have each post delivered straight to your e-mail box, then please add your email here. Happy cooking!
There are affiliate links in this post. I make small earnings through any purchases made through these links. Thank you for supporting Aggie's Kitchen!
6 Responses to "House Greek Salad Dressing (Greek Lemon Vinaigrette)"
Leave a Comment