Greek Grilled Chicken Salad
This Greek Grilled Chicken Salad is one of my all time favorite salads. It's easy to make and is a crowd pleaser, always!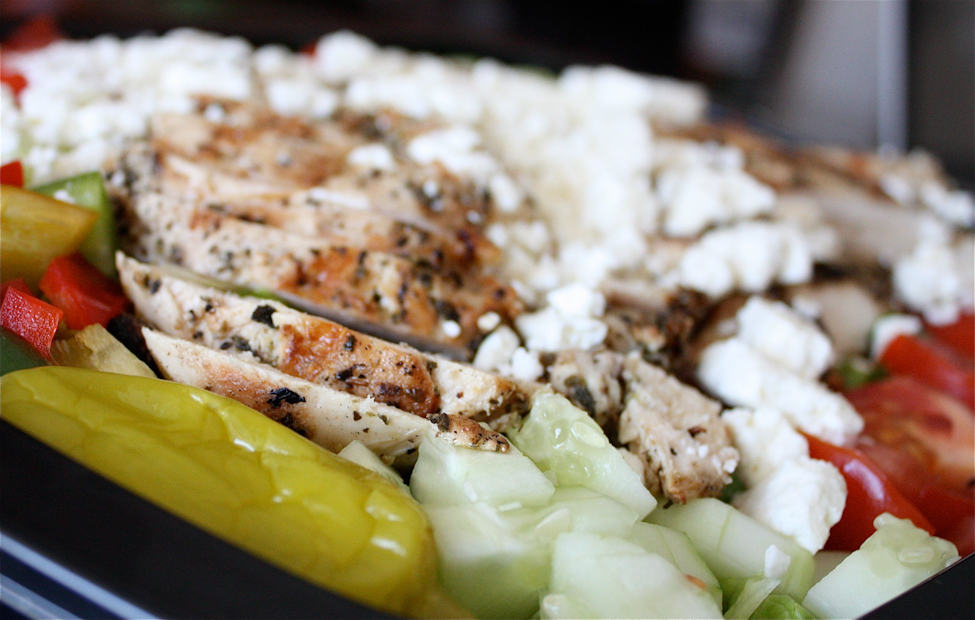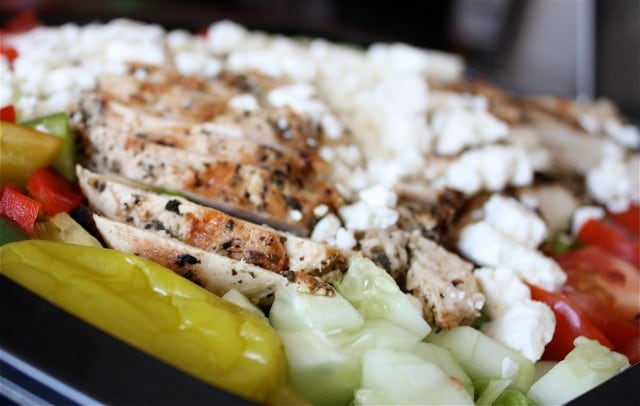 For some reason I find myself constantly ordering Greek salads when I go out to eat. I think it started during our Friday night family outings to the local pizza place for a "night out" right after my little girl was born (this tradition, though less frequent, still exists by the way…same place, same night, same waitress, same food ordered…it's "comfort"). The family would order a nice greasy pepperoni pizza while I tried to be "good" and order a Greek salad with grilled chicken, dressing on the side. My salad came out as my meal and I just tried to ignore the ooey gooey cheesy pizza on the table. I did treat myself with my son's pizza crust each time as a reward though. And not that I didn't enjoy every minute of eating my yummy salad full of almost-every-single-thing-that-I-love-in-the-world-foodwise (garlic, tomatoes, peppers, onions, olives, feta cheese…)…I mean really, what's not to love about Greek salad?
I made this Greek Grilled Chicken Salad the other night for a sweet friend of mine who gave birth to a precious baby boy a little over a week ago. I wanted to bring her a nice dinner salad, one that could be easily eaten at any time and one that filled you up. Greek salad with grilled chicken immediately came to my mind…and now after writing this I am almost wondering if there was a subconscious connection to the whole "new baby thing" … hmmm.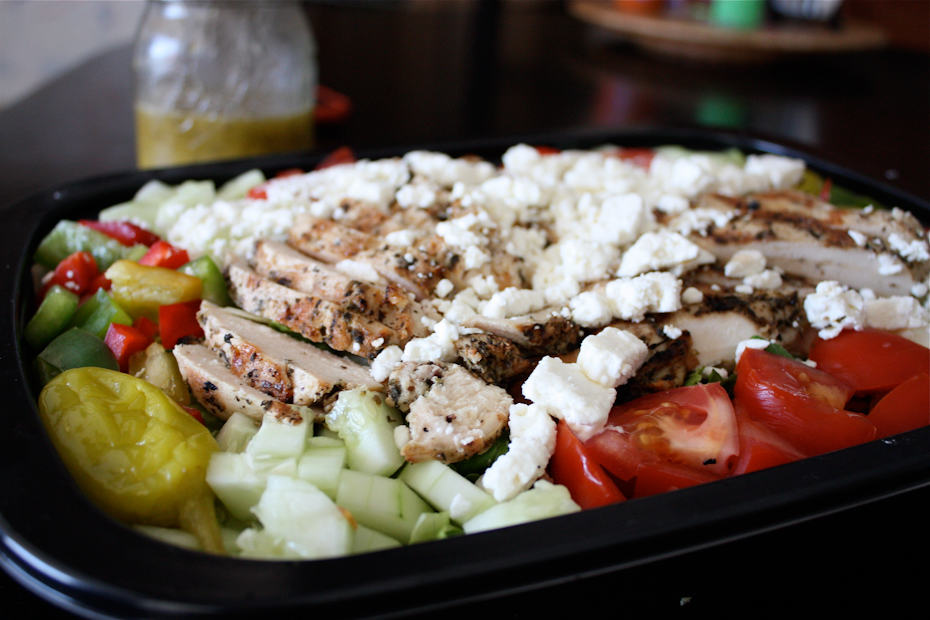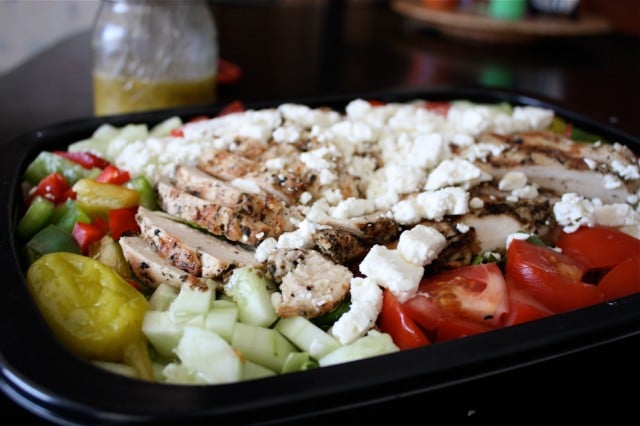 Whatever the reason, I made one for my friend and I made one for us. I started by making a good size batch of my homemade version of Greek dressing. I marinated some of the chicken breast in that same dressing before cooking on the grill.
Lots of therapeutic chopping later…dinner.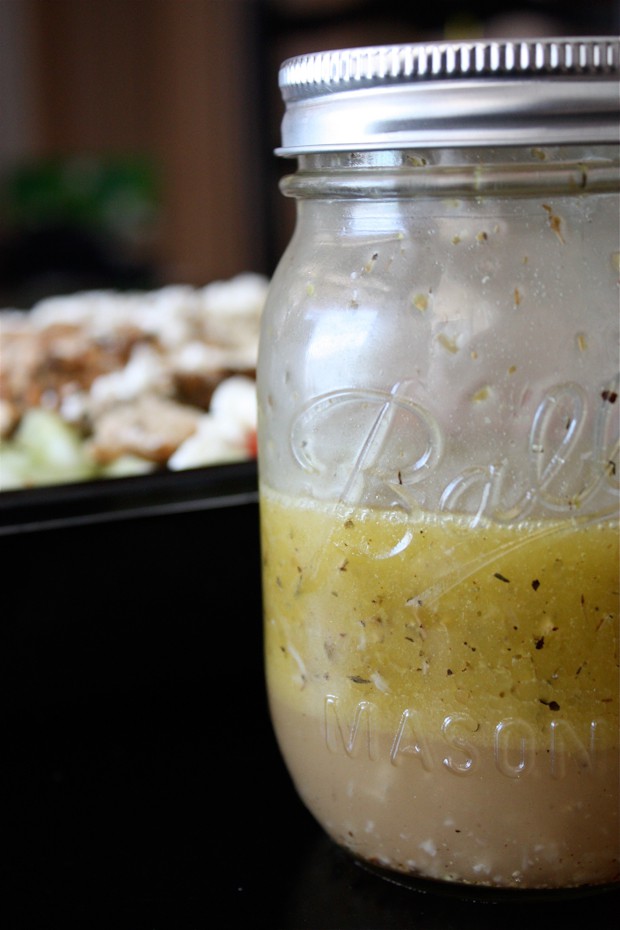 (don't forget to shake shake shake…)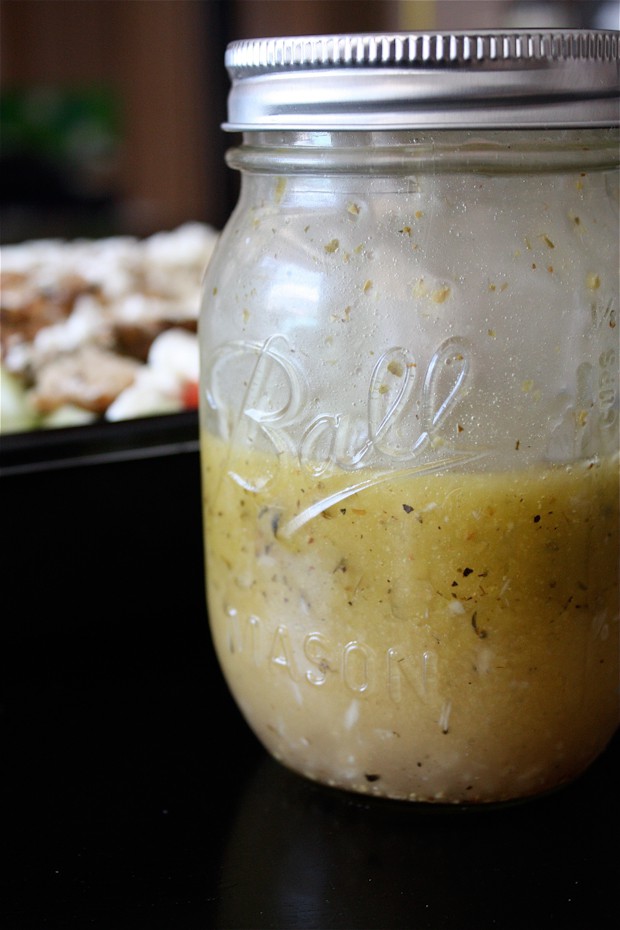 This Greek salad is so great or entertaining as well. It's a type of salad that works well on a large platter versus a bowl. The ingredients look so pretty all lined up over the base of romaine. This is definitely an "eat with your eyes" kind of salad and always a crowd pleaser!
More crowd pleaser salads:
Spinach Salad with Peaches, Gorgonzola and Almonds
Print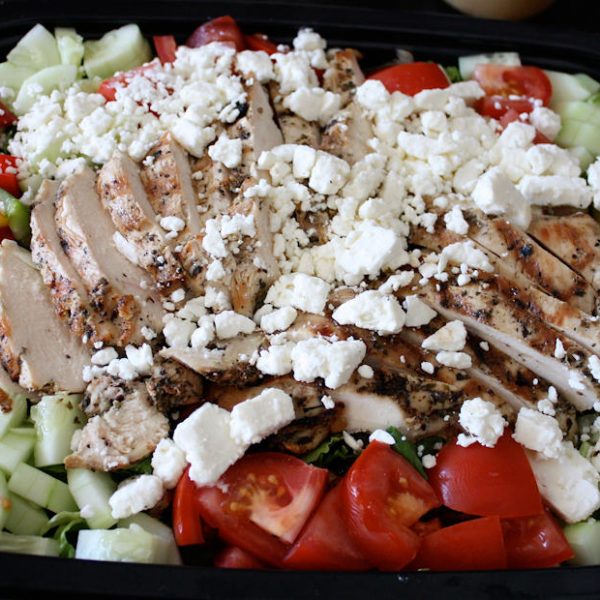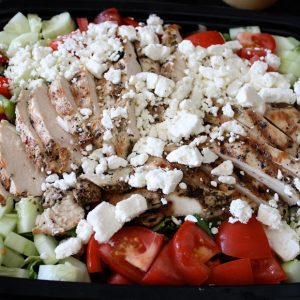 Greek Grilled Chicken Salad
Author:
Category: Chicken
Method: Grill
Cuisine: Greek
This Greek Grilled Chicken Salad is one of my all time favorite salads. It's easy to make and is a crowd pleaser, always!
---
Ingredients
For the dressing:
1/2 cup fresh squeezed lemon juice
1/4 cup red wine vinegar
1 cup olive oil
2–3 cloves pressed or minced garlic
1 1/2 tsp dried oregano
pinch of dried thyme
big pinch of salt and fresh ground pepper
For the salad, any, some, or all of the following:
chopped romaine lettuce
chopped green and red peppers
chopped cucumbers
chopped tomatoes
sliced red onion
feta cheese, cubed or crumbled
peperoncini
kalamata olives
cooked and sliced grilled chicken (or shrimp), marinated in Greek Salad Dressing
---
Instructions
For the dressing:
Combine lemon juice, vinegar, oregano, thyme and salt and pepper in bowl.
Using a whisk, slowly stream in olive oil and whisk into vinegar mixture. You will see it thicken up a bit (emulsifying) while combining.
Store in a jar with a tight lid in the refrigerator after using. Always give the dressing jar a couple of shakes before serving. In my opinion, best at room temperature, so take it out a few minutes before using.
For the salad:
Make it look as pretty or messy as you want to be. Layer it nicely on a plate for presentation or toss it all in a bowl and mix it up if that's what you are in the mood for.
PS…I'm also over at Reluctant Entertainer today featuring my super easy and fun Grilled Banana Boats! Go check it out!
Follow Aggie's Kitchen's board Salads on Pinterest.
Are you following me on Instagram, Twitter, Facebook and Pinterest? If you'd like to subscribe to Aggie's Kitchen and have each post delivered straight to your e-mail box, then please add your email here. Happy cooking!
There are affiliate links in this post. I make small earnings through any purchases made through these links. Thank you for supporting Aggie's Kitchen!