Broccoli Raisin Salad with Walnuts
Need a simple side dish for summer entertaining? I've got you covered with this classic Broccoli Raisin Salad with Walnuts. This recipe was created in partnership with Fisher Nuts.
Click Here to Pin this Broccoli Salad recipe.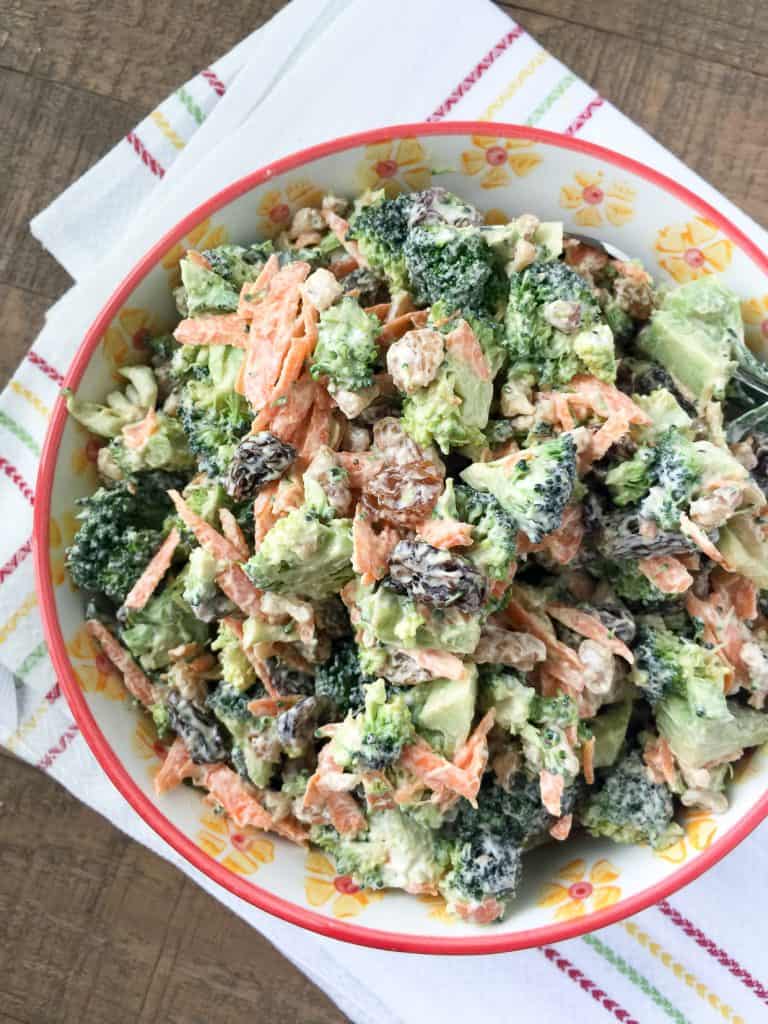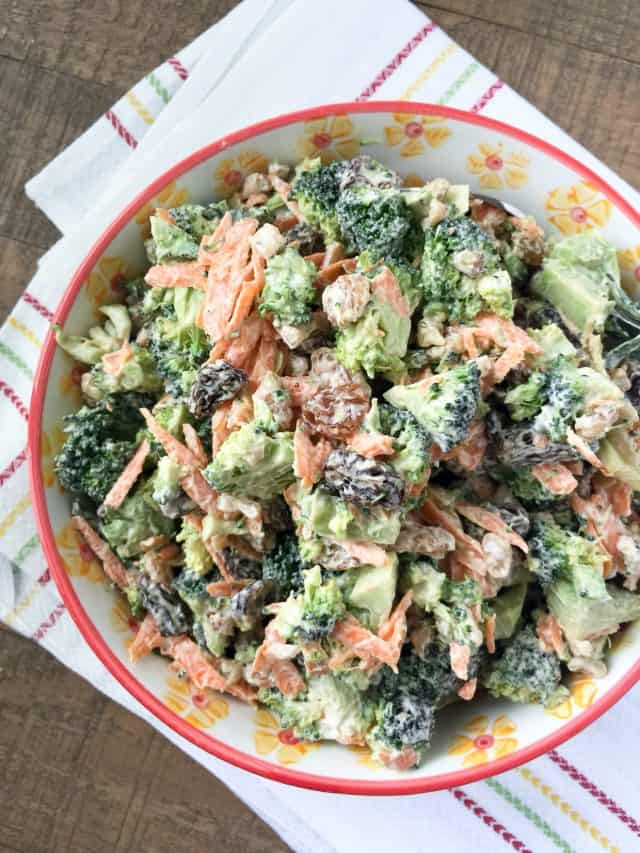 Whenever we get together at my parent's house with my family for a barbecue during the summer, you can usually count on my mom making this broccoli raisin salad. It's one of our favorites. My mom's friend Trish first brought it over years ago and since then my mom has made it several times for our family.
What I love about this dish is it's simplicity. It's filled with just a handful of wholesome ingredients and can be made ahead, which makes it great for summer picnics, barbecues or pool days. It's the perfect combination of flavors from sweet carrots and raisins (have you tried the Jumbo Raisin Medley from Trader Joe's? Game changer.) to crunchy walnuts – and of course, plenty of broccoli.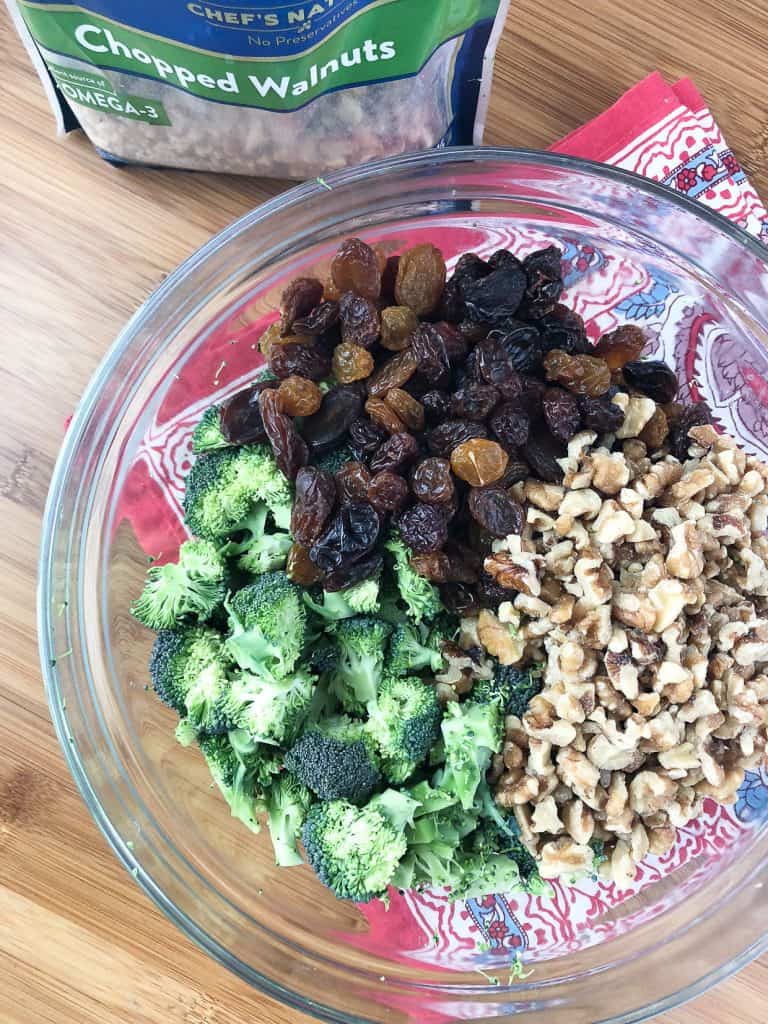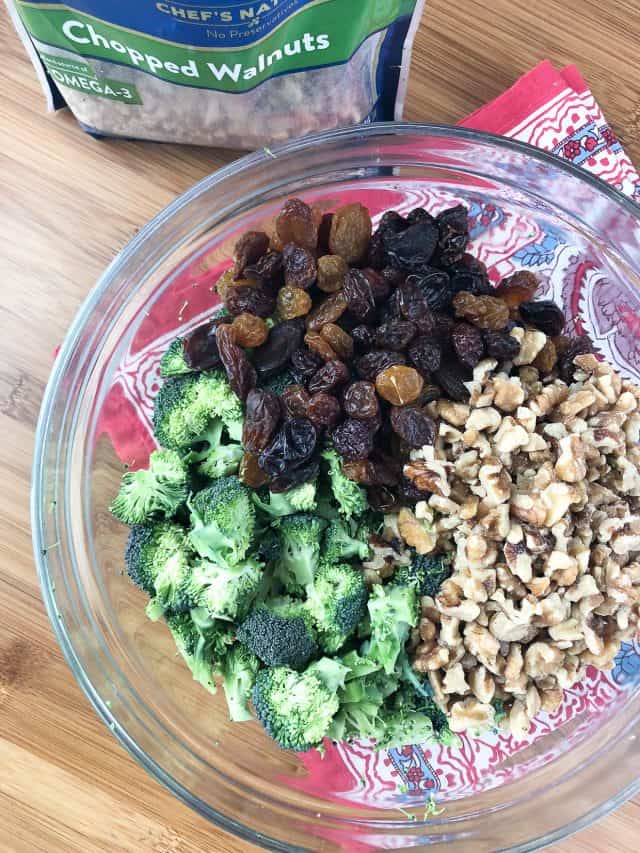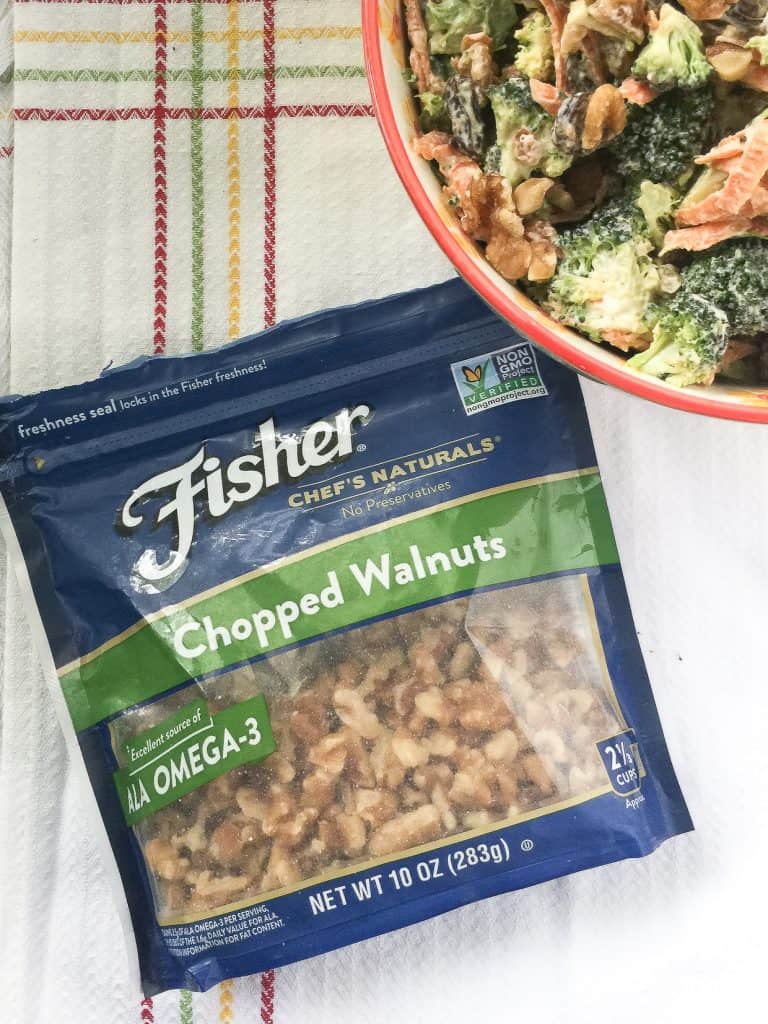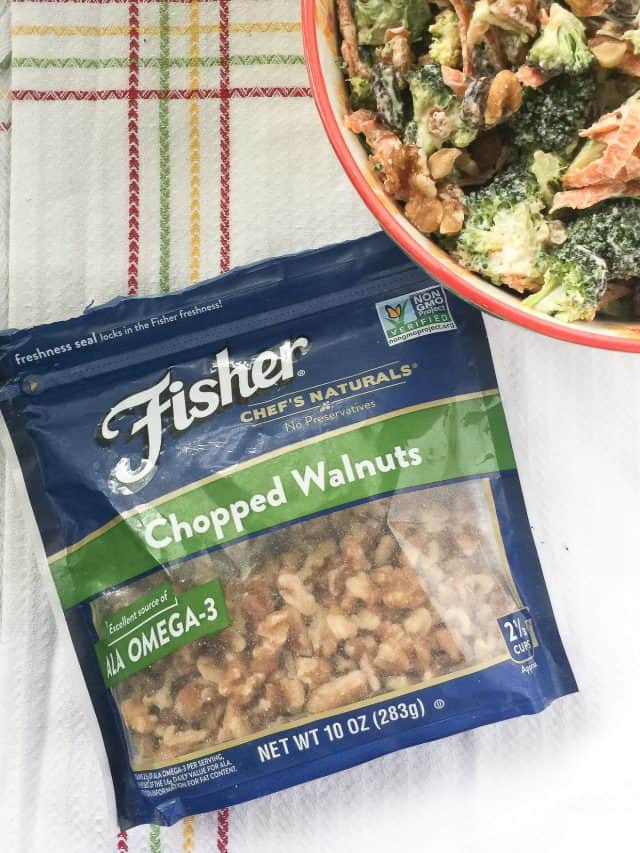 Anytime I recreate a recipe that calls for mayo, I like to cut the amount of mayo in half and add plain Greek yogurt. I have been doing this for as long as I can remember eating Greek yogurt and I love knowing that I've added a little extra goodness with the yogurt. It doesn't necessarily lighten it up but Greek yogurt always trumps mayo in my opinion so it is a better option as far as I'm concerned. You can always use the full amount of mayo in place of the Greek yogurt if that's your preference.
The original recipe for this broccoli salad includes chickpeas, but I chose to leave them out this time. Feel free to add them in – the chickpeas make it a heartier vegetarian dish with a nice boost of protein.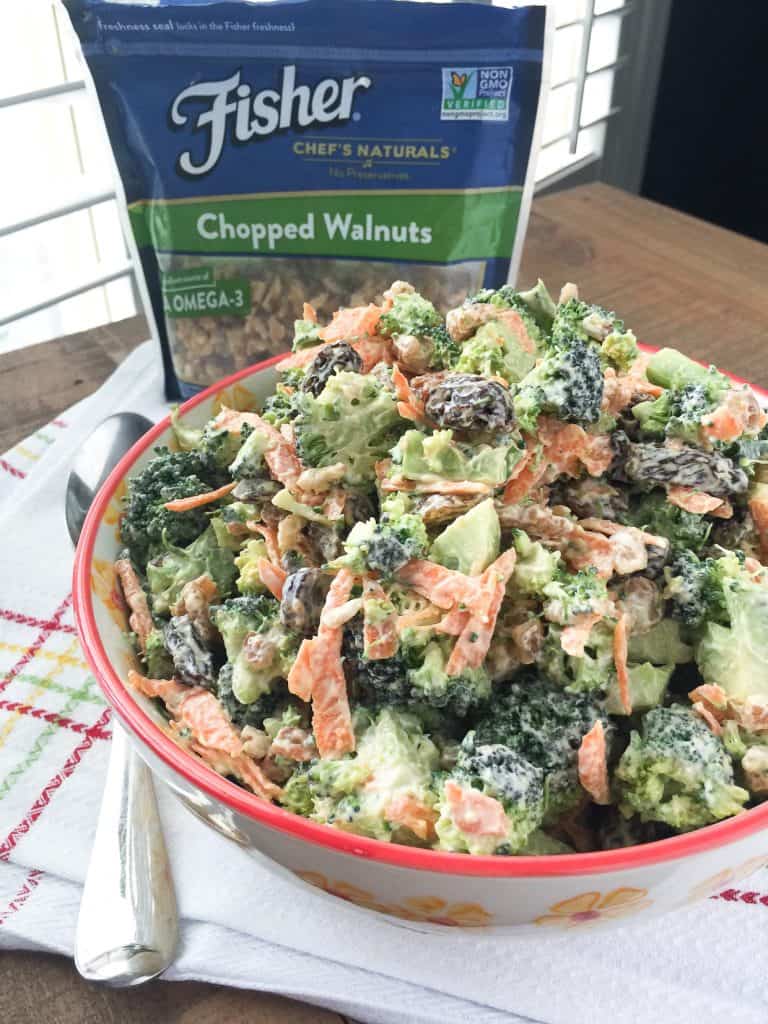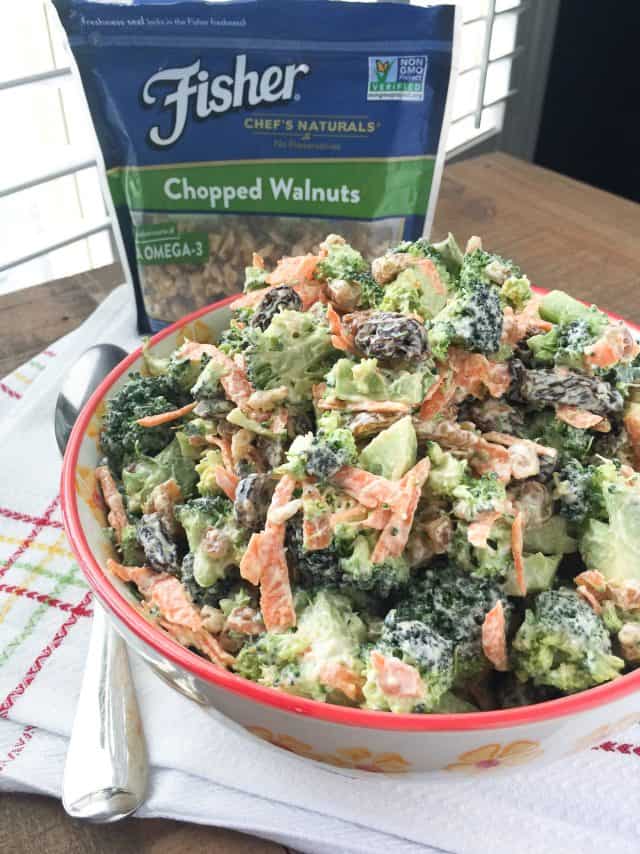 This is my 5th year working with Fisher Nuts and I am always including their nuts in my recipes. I love the fresh flavor of Fisher Nuts and their resealable bags are super convenient for storage – I keep mine in my fridge and add them to salads and yogurt daily. I typically see them in the baking aisle in my local grocery store, but if you are having trouble finding them they are now available for purchase on Amazon.
Broccoli Raisin Salad with Walnuts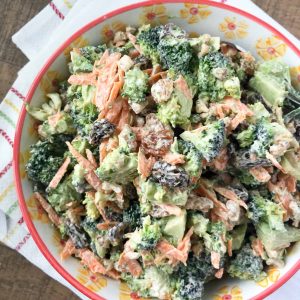 Ingredients:
1 head broccoli, cut into small pieces
1 cup chopped walnuts
1 cup raisins (golden and regular)
1 cup shredded carrot
1 15oz can chickpeas, rinsed and drained (optional)
For the dressing:
1/2 cup mayo
1/2 cup plain Greek yogurt
2 tablespoons honey
4 tablespoons apple cider vinegar
Directions:
Combine broccoli, walnuts, raisins and carrots in a bowl.
In a small bowl, mix mayo, Greek yogurt, honey and apple cider vinegar until smooth. Pour over broccoli salad and mix until combined. Season with salt and pepper to taste.
This is a sponsored conversation written by me on behalf of Fisher. The opinions and text are all mine.
More summer entertaining recipes:
Lemony Green Bean Pasta Salad with Walnuts
Are you following me on Instagram, Twitter, Facebook and Pinterest? If you'd like to subscribe to Aggie's Kitchen and have each post delivered straight to your e-mail box, then please add your email here. Happy cooking!
There are affiliate links in this post. I make small earnings through any purchases made through these links. Thank you for supporting Aggie's Kitchen!