Grilled Barbecue Bison Burger
Try a lean Grilled Barbecue Bison Burger for a healthier alternative to your traditional hamburger – they are juicy and flavorful with less guilt!
Click here to pin this Bison Burger recipe!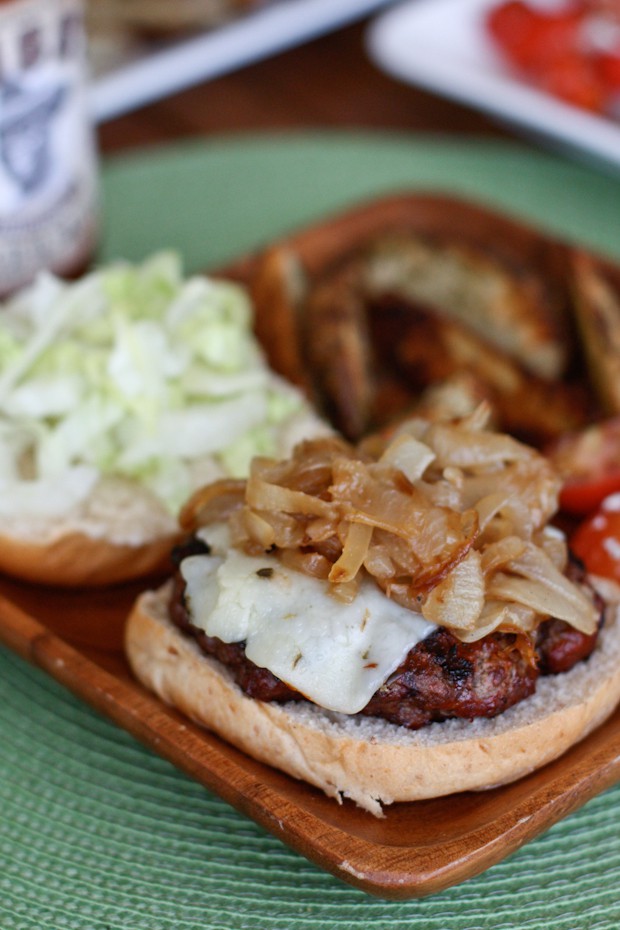 My husband has been on a health kick lately. I love it. He's really making an effort to cut back on calories, make better food choices and squeezing in exercise throughout the day. He's taking walks around his building during restroom breaks, and trying to get a two mile walk around the neighborhood in the evenings as well as getting to the gym to hit the elliptical or play basketball with our son on the weekends. It all adds up!
A lot of this extra activity has been motivated by his new Fitbit that I got him for Father's Day. My friend Denise recently introduced me to this high-tech pedometer and I'm so glad she did – I even picked up an extra one for me (though I'm a slacker and haven't used it yet). My husband has been setting a goal of how many steps he wants to reach each day and he's almost always getting there – even my kids are getting excited about it and keeping up with his progress throughout the day. Now, they both want their own Fitbits, but I'm thinking of picking them up something inexpensive and basic for them to have fun with.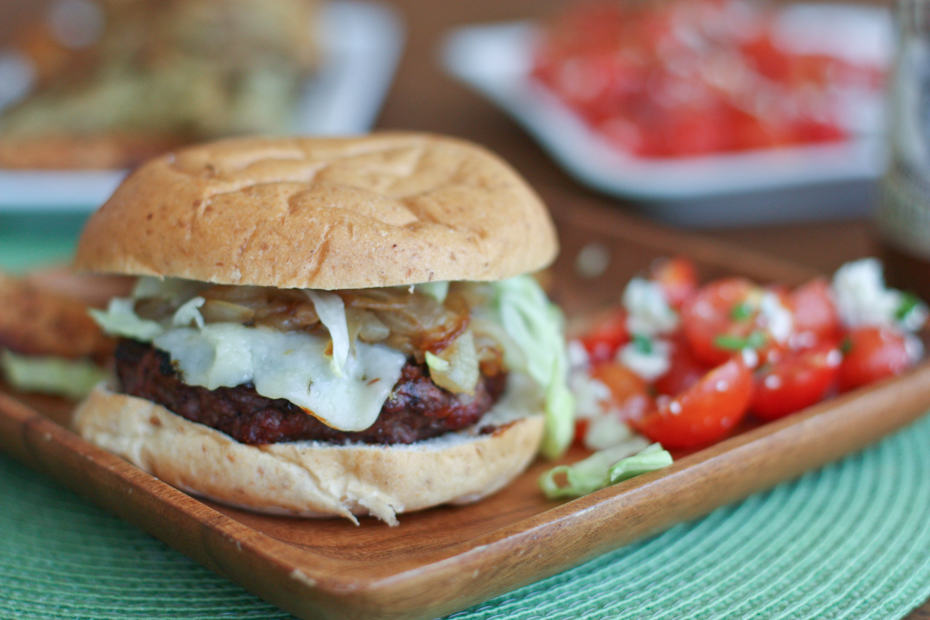 Along with the extra exercise, packed lunches and a little extra involvement with meal planning and creating recipes are part of this health kick too. That's where this burger comes in. I know ground buffalo (bison) has been around for a while, but it's not something I've ever cooked with at home. My husband has enjoyed a bison burger at a local restaurant a few times and asked if we could grill some up at home. Buffalo is a leaner type of ground beef and a great alternative when looking to indulge in a hamburger.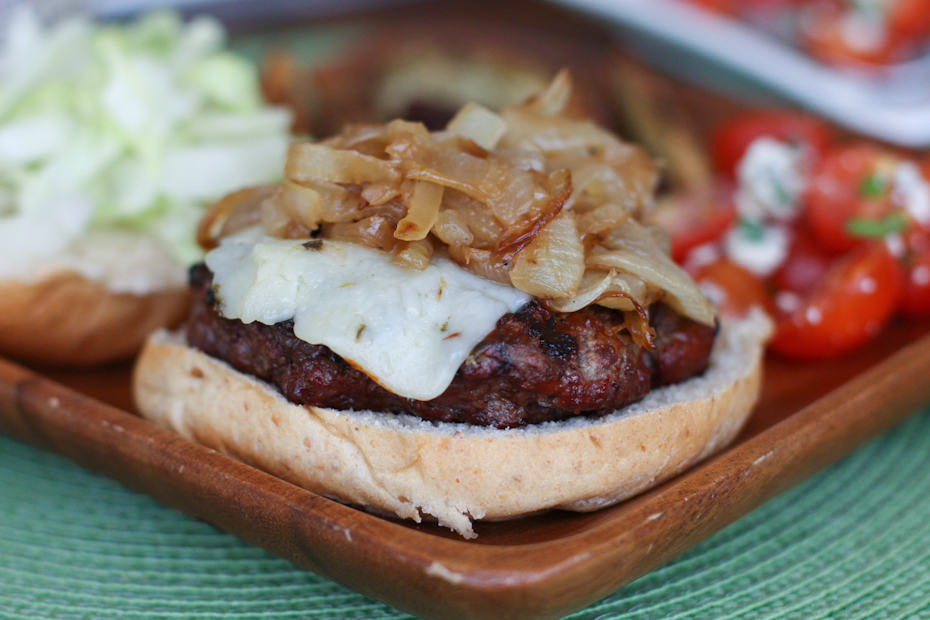 I have cut back on red meat tremendously over the years, but I couldn't resist this burger. It was lean and juicy and as always the fixin's (um…hello caramelized onions) were my favorite part. I wish it was a little less expensive (maybe because I live in Florida, it's really not an economical purchase for us), but it's definitely a nice treat when we are craving a good burger on the grill – and without a ton of guilt!
Hope you enjoy the recipe!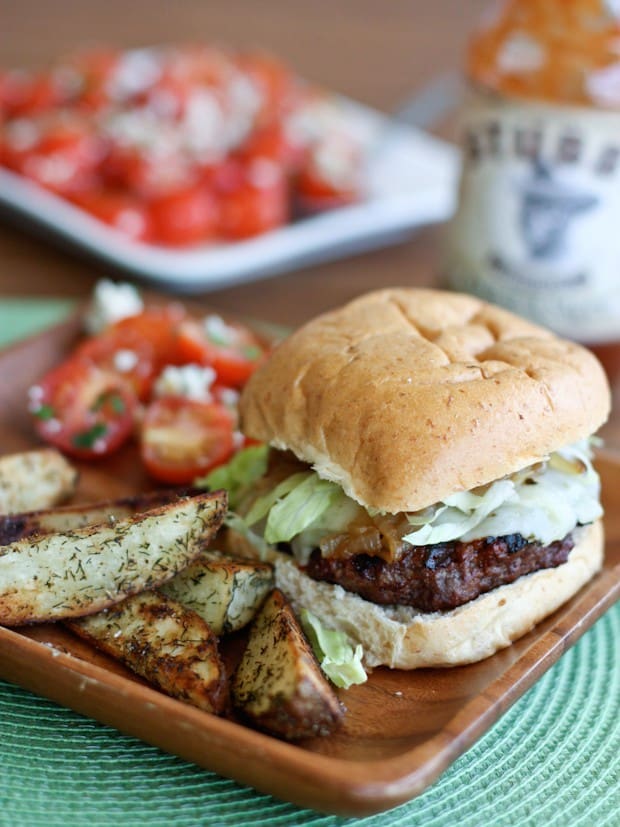 Grilled Barbecue Bison Burger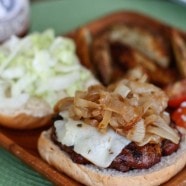 Ingredients:
1.5 lb ground bison (or buffalo) meat
1/2 teaspoon onion powder
1/2 teaspoon garlic powder
good pinch coarse salt and freshly ground pepper
your favorite barbecue sauce, for basting
For serving:
5 slices of pepper jack cheese
hamburger buns
shredded lettuce
caramelized onions (see this post for instructions on how to caramelize onions)
barbecue sauce
Directions:
In a large mixing bowl, gently combine ground bison with onion powder, garlic powder, salt and pepper. Divide meat mixture into 5 even sections and form into patties. When forming, gently press down your thumb in center to help keep it's shape and avoid turning into a meatball on the grill.
Pre-heat your grill to medium high heat. Place burgers on grill. Cook for 6-7 minutes on each side (for medium well - well done burgers). After first flip, brush cooked side liberally with your favorite barbecue sauce. Once burger is cooked through, quickly flip and brush other side before taking off the grill. Transfer to top rack of grill (or plate) and place a slice of pepper jack cheese on each burger.
For serving: Place each burger with cheese on your hamburger bun. Top with extra barbecue sauce (if desired), caramelized onions and shredded lettuce. Dig in.
Follow Aggie's Kitchen's board Sandwiches on Pinterest.
More burger love:
Smoky BBQ Turkey Burger Sliders
Love cooking with bison like I do? Try these recipes:
Sweet Potato Bison Shepherd's Pie
Bison and Brown Rice Stuffed Peppers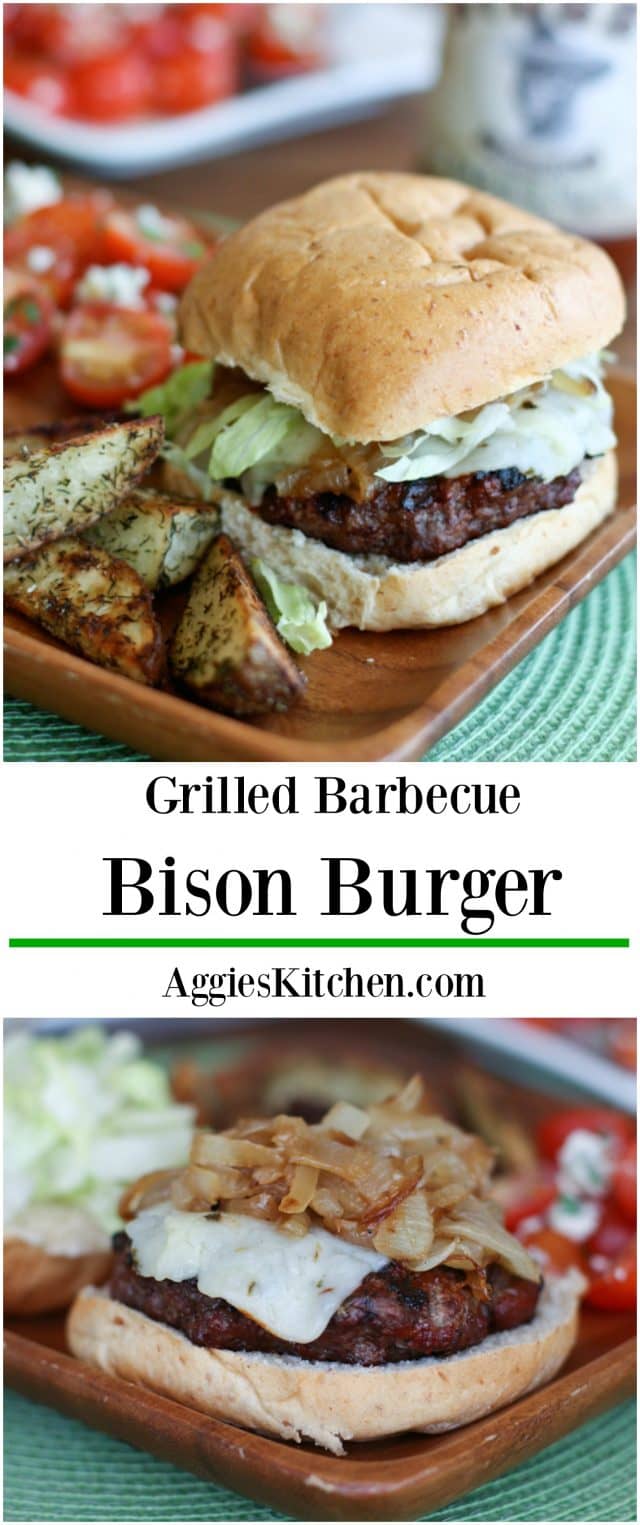 Are you following me on Instagram, Twitter, Facebook and Pinterest? If you'd like to subscribe to Aggie's Kitchen and have each post delivered straight to your e-mail box, then please add your email here. Happy cooking!
There are affiliate links in this post. I make small earnings through any purchases made through these links. Thank you for supporting Aggie's Kitchen!
51 Responses to "Grilled Barbecue Bison Burger"
Trackbacks/Pingbacks

Leave a Comment