Stuffed Turkey Burgers
I'm not excited about the pictures I took of these burgers. These little guys were just not very photogenic. I guess that happens sometimes. But, good pictures or not, these burgers were awesome.
Stuffed Turkey Burgers
were this week's pick for
Craving Ellie in My Belly
. Thank you to Peggy at
Pantry Revisited
for choosing this recipe, my husband raved about them!
I love the method used in this recipe, you make two smaller patties first, put the "stuffing" in the center of one of them, then top it with the other patty and seal the edges. It's honestly so easy and you can really turn these babies into any kind of burger you want! Ellie's recipe calls for stuffing with roasted red peppers. Being the unorganized cook that I proudly am, I had used up all of my roasted red peppers for other meals early in the week, leaving none for this recipe. Oh well…time to improvise. I had some sun dried tomatoes and fresh spinach in the fridge so that's what I went with, along with the shredded mozzarella. As I was reaching for the salt and pepper, I picked up Greek seasoning instead. And a new recipe was born.
To keep things really healthy, I served the burgers on Arnold's Whole Wheat Sandwich Thins, my new favorite sandwich bread. Since all the toppings were stuffed inside, all I needed was a little ketchup and I was happy!
So sure…I might have over grilled the burgers a bit, I get paranoid with ground turkey…but I promise you…they were good! Enjoy!
Stuffed Turkey Burgers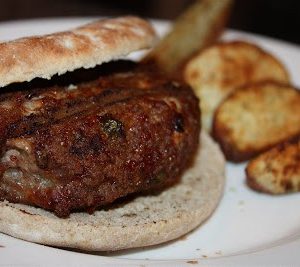 Ingredients:
1 1/4 pounds lean ground turkey
1/4 cup chopped sun dried tomatoes
1/4 cup chopped fresh spinach
1/2 cup shredded part-skim mozzarella cheese
Greek seasoning
Directions:
Divide turkey into 4 equal sized rounds. Make 2 equal sized patties out of each round so you have 8 patties total. Season both patties with Greek seasoning. Sprinkle 4 of the patties with sun dried tomatoes, spinach and cheese, top with remaining patties, working the turkey around the edges to seal burgers closed. Grill or broil until cooked through, about 5 minutes per side.
Edited: I wanted to mention a trick I learned years ago...when dealing with turkey burgers, its good to refrigerate the patties for about an hour before grilling, it helps keep them from falling apart when handling them on the grill.

Are you following me on Instagram, Twitter, Facebook and Pinterest? If you'd like to subscribe to Aggie's Kitchen and have each post delivered straight to your e-mail box, then please add your email here. Happy cooking!
There are affiliate links in this post. I make small earnings through any purchases made through these links. Thank you for supporting Aggie's Kitchen!