Firecracker Shrimp Stirfry …and a peek inside Julia's Kitchen
I spotted a
shrimp recipe on Pioneer Woman's amazing site
recently and couldn't wait to make it. I love shrimp, and love anything spicy even more so this was exactly something I knew I had to make. Last night, I was ready to fire up the grill to cook up the shrimp when something like a monsoon came over us. Lightning, rain, thunder, wind…all of it, and very typical of summer in Florida…so needless to say, I wasn't overly excited about standing in the porch watching delicate shrimp cook up on the grill. It was time to improvise…
I had a ton of veggies to use up in the fridge…and a brand new wok that I got for a steal at IKEA. So stir fry it will be.
In a bowl I mixed together some hot chili sauce, a little oil, soy sauce, rice vinegar and a couple splashes of fish sauce. Oh and I pressed about 4 or 5 cloves of garlic in there too. I chopped a ton of veggies…squash, zucchini, onion, red pepper and more garlic. Forget the grill…this stir fry was awesome!
Firecracker Shrimp Stirfry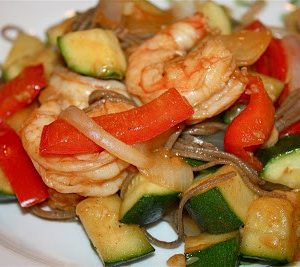 Ingredients:
1 lb shrimp, peeled and deveined
2 TB hot chili sauce (I use Sriracha - adjust amount to your taste)
1 TB soy sauce
1 TB rice vinegar
1 TB oil
couple of splashes fish sauce
4-5 garlic cloves, pressed or minced
small pinch of salt, big pinch of pepper
1-2 zucchinis, chopped in quarters
1-2 yellow squash, chopped in quarters
1 onion, thinly sliced
1 red pepper, sliced in thin strips
2-3 garlic cloves, minced
Directions:
Combine chili sauce, soy sauce, rice vinegar, oil, fish sauce, garlic, salt and pepper in a bowl to make a sauce. Toss shrimp in sauce and coat completely.
Heat wok over medium-high heat. Add a couple tsp canola oil into wok and sear the shrimp. Once shrimp are just cooked, take out and set aside. Add chopped vegetables and garlic into wok. Cook over medium-high heat for about 5-8 minutes until veggies start to soften. Once veggies are slightly cooked, add back in shrimp and toss to combine, cook for 2-3 minutes more. Serve with cooked soba noodles. Season with more soy sauce, fish sauce or chili sauce to taste.
While I was in D.C. last weekend I visited the Julia Child exhibit at the Smithsonian Museum of American History. Now, I'm almost embarrassed to admit this, but I really don't know much about Ms. Julia Child. I know of her…but have never watched her shows. With "Julie & Julia" out in the theaters today, the book and then finally after visiting this exhibit, I must say, I am intrigued. I may have to dig up some old shows of hers and settle in on the couch one afternoon and just watch…she seemed like such a lovely spirit. Enjoy a peek in her kitchen…apparently it's all her stuff, donated by her and set up exactly how she wanted it.
PS…Want to join in on the Cooking Light Virtual Supper Club fun? Check out Cooking Light's Test Kitchen Blog featuring Aggie's Kitchen and other great bloggers!

Are you following me on Instagram, Twitter, Facebook and Pinterest? If you'd like to subscribe to Aggie's Kitchen and have each post delivered straight to your e-mail box, then please add your email here. Happy cooking!
There are affiliate links in this post. I make small earnings through any purchases made through these links. Thank you for supporting Aggie's Kitchen!