Stuffed Cabbage Casserole
Low carb recipe for stuffed cabbage casserole – all the goodness of stuffed cabbage rolls without all the work!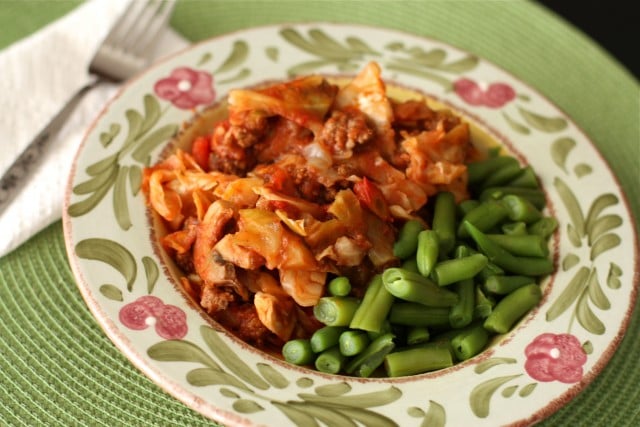 Are you all familiar with Instagram? I know some of you are (since I follow a few of you who follow this blog). Instagram, for those of you who don't know, is a fun little photo-inspired social media hang out. It's a happy place, a community of some sort, where you can keep up with others (and vice versa) through the eyes of the camera on your phone. And if you aren't into the whole sharing thing, it's all good because there's also a private option which enables you to use all the creative filters Instagram offers without having to make those photos public. Fun stuff.
So what does Instagram have to do with this Stuffed Cabbage Casserole? Well, I've met some pretty cool people through Instagram, not sure how honestly, but I can tell you if you post any picture that happens to do with food, healthy living, the beach or flowers then I pretty much get sucked in. I follow a gal named Powercakes on Instagram and have spent some time exploring her blog lately. It's full of fitness inspiration as well as really great clean recipes, one of which inspired this version of Stuffed Cabbage Casserole.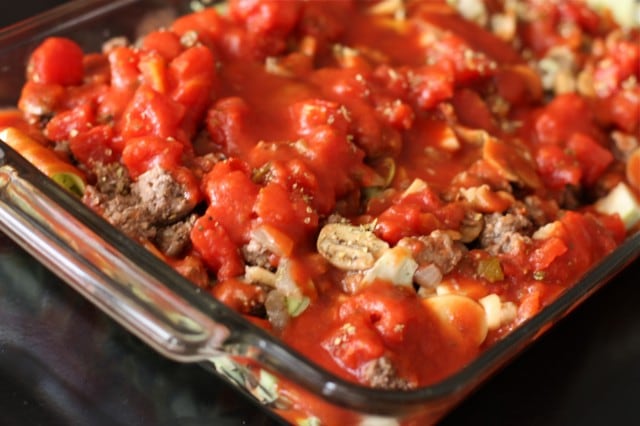 Cabbage is one of those foods I want to love. I always pick it up with intentions to make something delicious with it, like this slaw, but I have to be honest – it sometimes goes to waste. One cabbage dish I have always LOVED is stuffed cabbage rolls. My grandfather makes them all the time and I've made them a few times myself (remember these Asian Stuffed Cabbage Rolls?). But let's be real, we don't always have the time for the whole rolling step do we? That's why when I saw this recipe over on Powercakes, I got excited. Not sure why I never thought of this myself, but let me tell you it was absolutely DELICIOUS. Total comfort food, especially on a night where you are really in the mood for something saucy and baked. I made this casserole with lean ground beef because I've been really craving it lately, but it could easy be made with ground turkey as well.
I served it alongside simple green beans, but next time I am going to try it out over some Cauliflower Mash!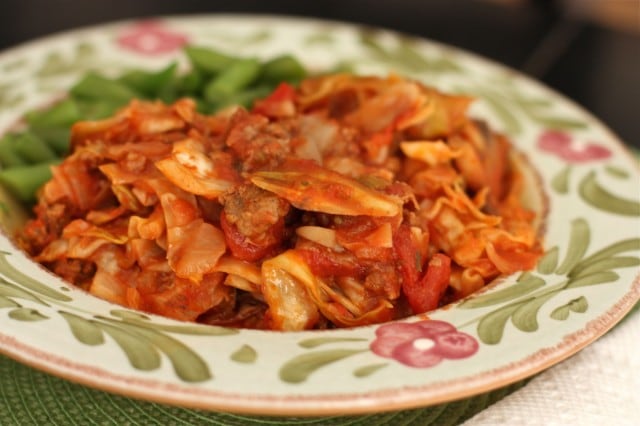 Note: give yourself enough time to bake this up, it took about an hour and due to poor planning on my part, I got a little HANGRY waiting around for dinner. I prepped the entire casserole earlier on the day that I was going to serve it for dinner, covered it in saran wrap and threw it in the fridge till dinner time. Leftovers for lunches ROCK.
Print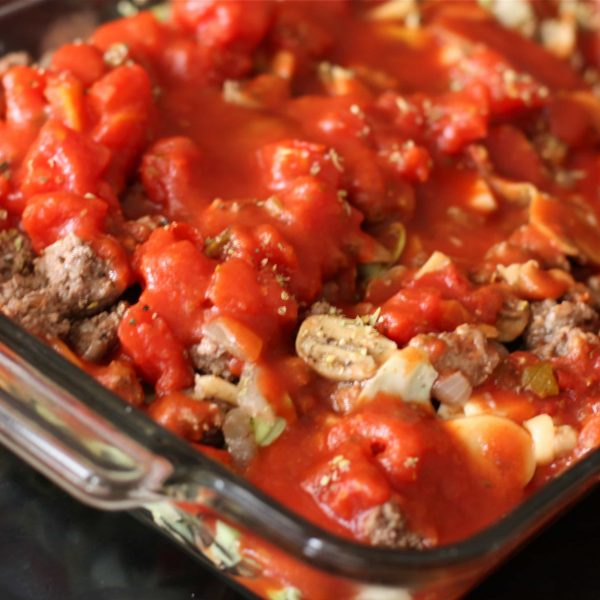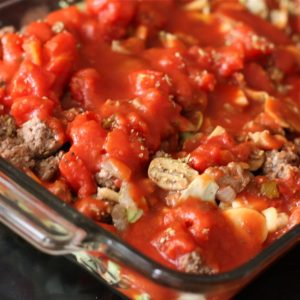 Stuffed Cabbage Casserole
Author:
Yield: about 6 servings 1x
Category: Ground Turkey
Method: Oven
---
Ingredients
1 sweet onion, chopped
3 cloves garlic, minced
1 lb lean ground beef (or ground turkey)
8 oz containers sliced mushrooms
1 medium head of cabbage, shredded
2 15 oz cans tomato sauce
1 15 oz can diced tomatoes (I used the green pepper and onion variety)
2 teaspoons dried oregano
a good pinch of salt and pepper
---
Instructions
Preheat oven to 375 degrees.
In a nonstick skillet over medium, cook onion and garlic for 2-3 minutes until soft and fragrant. Add your ground beef and continue to cook until browned. Add fresh mushrooms to meat mixture and continue to cook until mushrooms are cooked through.
While beef is browning, shred your cabbage by cutting in half, removing the core, then cutting in quarters. Slice each quarter into thin pieces. Set into a large 9 x 13 casserole dish.
Top shredded cabbage with browned beef, mushrooms, diced tomatoes and sauce. Add about a 1/4 – 1/3 cup water to sauce cans to "clean" them out and add the saucy water to the cabbage mixture. Sprinkle everything with dried oregano, salt and pepper.
Bake for about 60 minutes in 375 degree oven until sauce is bubbly and cabbage is cooked through.
Are you following me on Instagram, Twitter, Facebook and Pinterest? If you'd like to subscribe to Aggie's Kitchen and have each post delivered straight to your e-mail box, then please add your email here. Happy cooking!
There are affiliate links in this post. I make small earnings through any purchases made through these links. Thank you for supporting Aggie's Kitchen!