Chipotle Black Bean and Garden Vegetable Enchiladas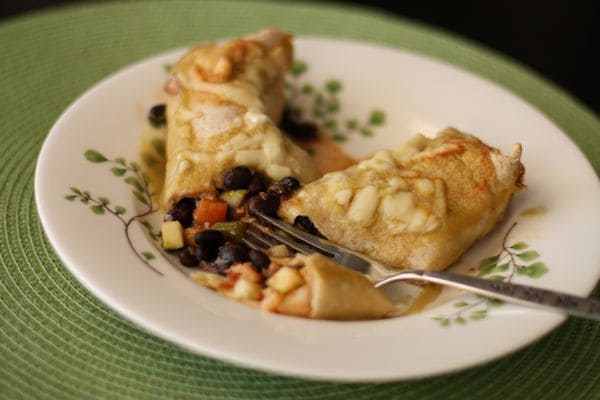 We've talked about how much zucchini is coming into this house these days. I understand that's not happening to everyone just yet, but soon right? So please bear with me as I share, yet another, recipe featuring zucchini…and here's a spoiler, there's another zucchini favorite recipe to come later this week too. 😉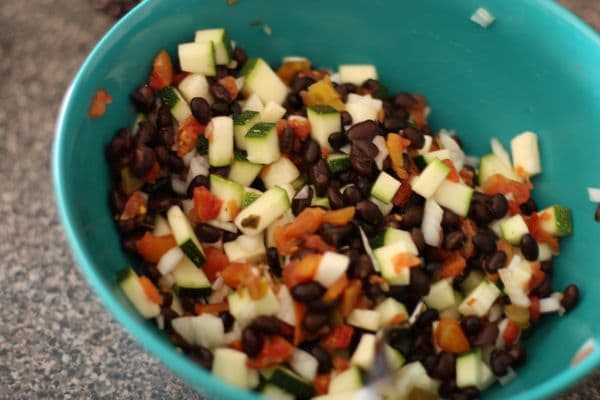 Since Spring hit our neck of the woods, my mood for light, fresh food has kicked into full gear. I made these enchiladas a couple of weeks ago during one of those days I was trying to unload the produce drawer in my fridge. I have been making veggie and bean enchiladas like these for a long time, but changed it up a little this time around by kicking it up with some pureed chipotle I had in the freezer.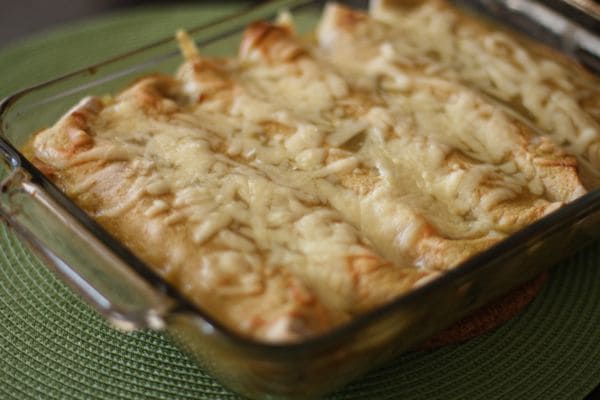 These enchiladas are meatless, so if you are trying to incorporate a couple of meatless meals into your week this is a great start, and perfect for this time of year if you are craving something lighter. My husband enjoys them every time I make them and he is far from craving anything meatless if you know what I mean. If you are concerned about not having enough protein in a meal like this, there are plenty of whole wheat flour tortillas that have a good amount of protein in them, in addition to what you are getting from the black beans and other vegetables (and cheese!). Or of course you can add shredded chicken, ground turkey or lean beef, or even another can of beans if you like.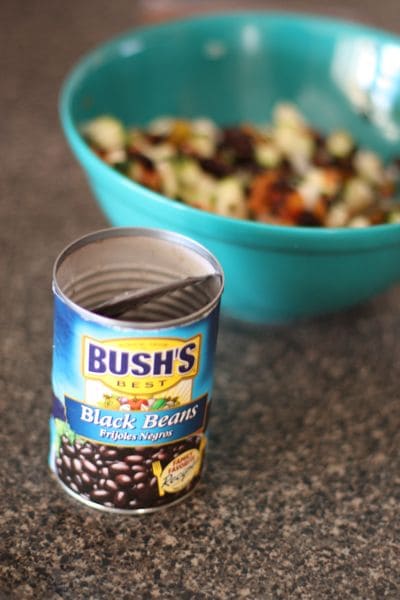 What I love about making enchiladas is that they are so easy to prepare, especially if you are working ahead. I usually prepare them early in the day so that they are ready to pop into the oven at dinner time. To do this, I recommend putting together your filling and rolling your tortillas first, and saving the sauce and cheese topping for when you are ready to cook.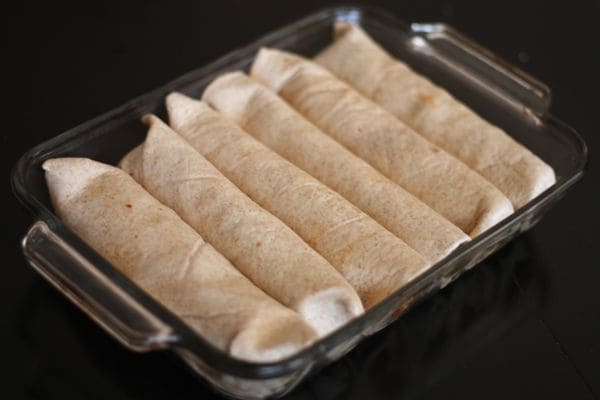 Chipotle Black Bean and Garden Vegetable Enchiladas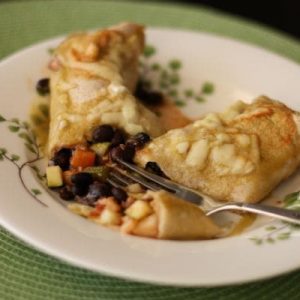 Ingredients:
1 1/2 cups chopped zucchini (about 2 medium-sized zucchini)
1/2 sweet onion, chopped
1 can RO*TEL diced tomatoes, drained
1 can Bush's Best Black Beans, rinsed and drained
2 tablespoons pureed chipotle in adobo
small handful of fresh cilantro, chopped
salt and pepper
2 cups shredded monterey jack cheese, divided
6-8 tortillas
1 14 oz can enchilada verde sauce (or about 1 1/2 cups homemade enchilada verde sauce like this one)
Directions:
Preheat oven to 400 degrees.
In a large bowl combine chopped zucchini, onion, tomatoes, Bush's Best Black Beans, chipotle, cilantro, salt and pepper. Stir in 1 1/2 cup of shredded cheese.
Lightly grease a glass baking dish. Lay tortilla flat and spoon 2 tablespoons black bean and vegetable mixture onto center. Roll gently and tightly. Do the same with each tortilla. Pour enchilada sauce over rolled and filled tortillas. Top with remaining shredded cheese and put in oven to bake for 25-30 minutes or until sauce is bubbly and cheese is melted.
Enjoy!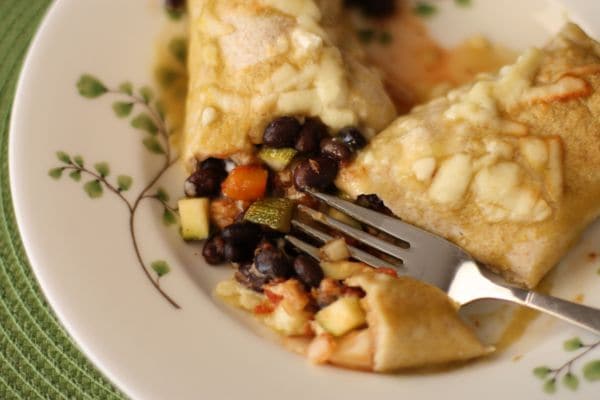 Hope you all had a wonderful weekend! I'm happy to announce the winner of The Gardener & The Grill Cookbook giveaway….Karen! Congrats and enjoy the beautiful cookbook…it's on it's way to you!
And you may or may not have noticed a few things are different around here. I've been working with my friend Cory of Zesty Blog Consulting on freshening up the blog a bit, making it more clean and functional. I've updated my About page, added lots of new blogs to the Blogs I Love page, as well as continuing to update my Recipe Index. It's all still a work in progress, as always. If there is anything specific you'd like to see on Aggie's Kitchen, please let me know! My main priority with this blog has always been sharing recipes and food that I love, as well as more of my hobbies such as gardening, reading and traveling.
Have a great week!
(Disclosure: I have a working relationship with Bush's Best Beans and created this recipe using their beans. I have received compensation and product from them, but as always the opinions on this blog are always my own. I am happy to work with companies that I respect and admire, and of course has great products that I am happy to share with my readers!)
Are you following me on Instagram, Twitter, Facebook and Pinterest? If you'd like to subscribe to Aggie's Kitchen and have each post delivered straight to your e-mail box, then please add your email here. Happy cooking!
There are affiliate links in this post. I make small earnings through any purchases made through these links. Thank you for supporting Aggie's Kitchen!