Spinach and Egg Breakfast Toast
Get a serving of spinach in the first meal of your day with this Spinach and Egg Breakfast Toast! It's packed with protein and good carbs so it will keep you full all morning.
Click Here to Pin this Spinach and Egg Breakfast Toast recipe.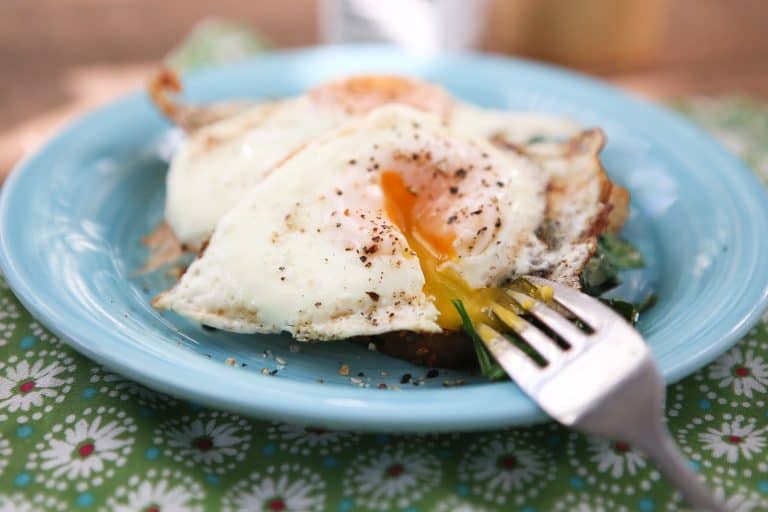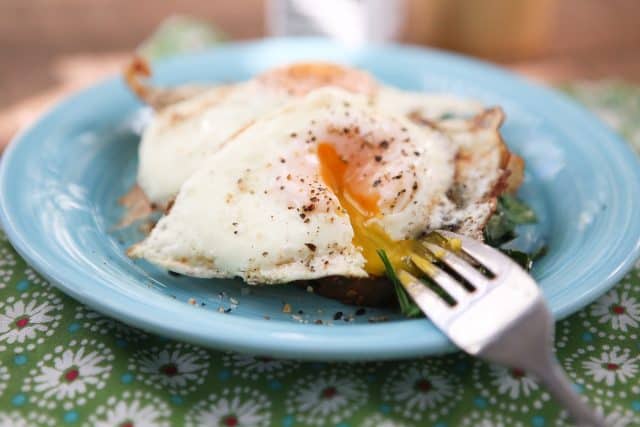 Well, say hello to my current favorite breakfast. If you read my last newsletter, you know that one of my goals lately is to get more veggies into my day (if you don't receive my monthly newsletter and want to, sign up here!). It's not that I love veggies any less than I did before, I've just been a little lazy about eating them.
Salads are always my go-to way to up the veggie intake but lately I've been challenging myself to get some veggies in at breakfast time. Since I eat eggs most mornings, scrambles are usually how I add veggies in at breakfast but I wanted to change things up.  I've been eating this Spinach and Egg Breakfast Toast all week and feeling pretty proud of myself for getting in a serving of spinach bright and early in the day. The spinach cooks up in the tiniest amount of time and once it starts to wilt I just push it to the side in the skillet and add my eggs. While my eggs are cooking I take my spinach out and top my toast with it.
Literally so quick and so easy.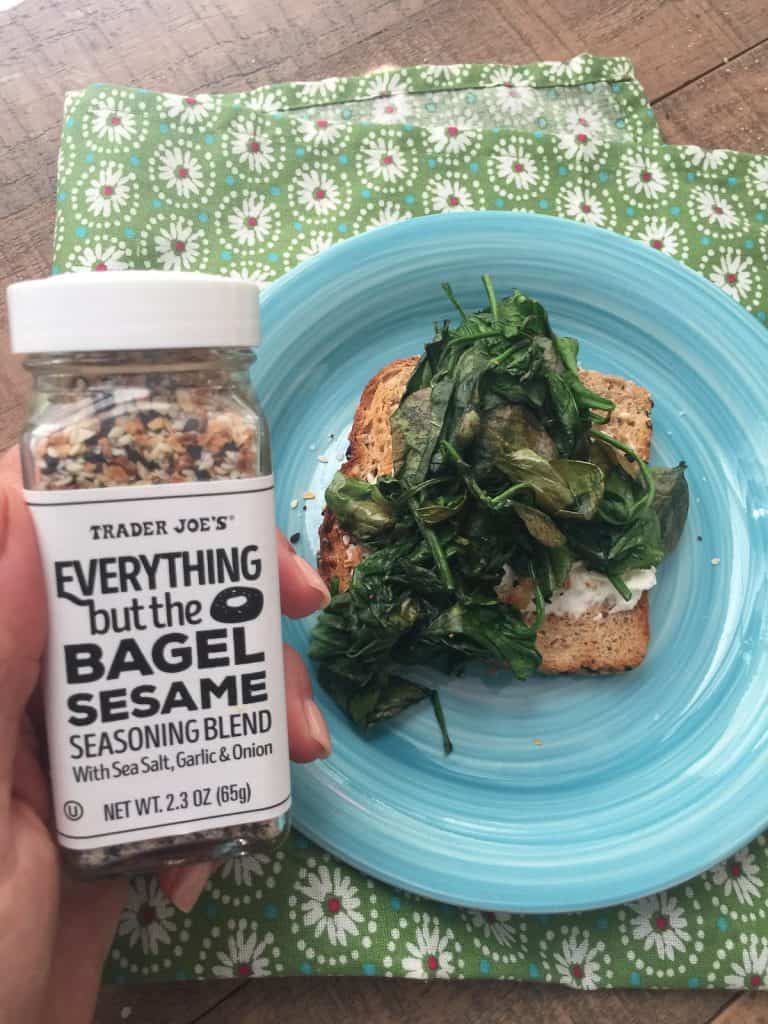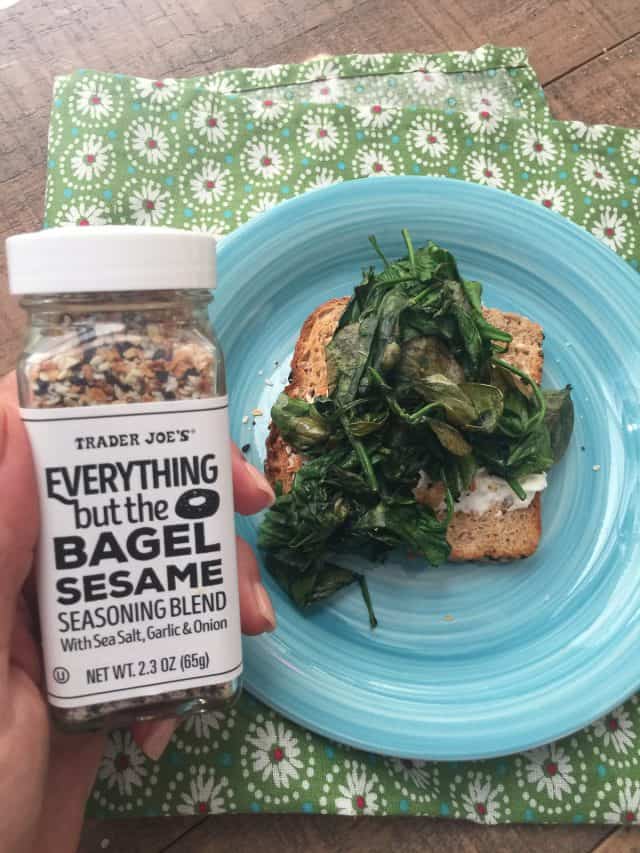 I love adding this Everything But The Bagel seasoning from Trader Joe's to my toast – I just shmear a tablespoon of cream cheese to my whole grain toast and sprinkle some of it on top. So good. If you don't have it, it's okay obviously – just use salt and pepper as you normally do.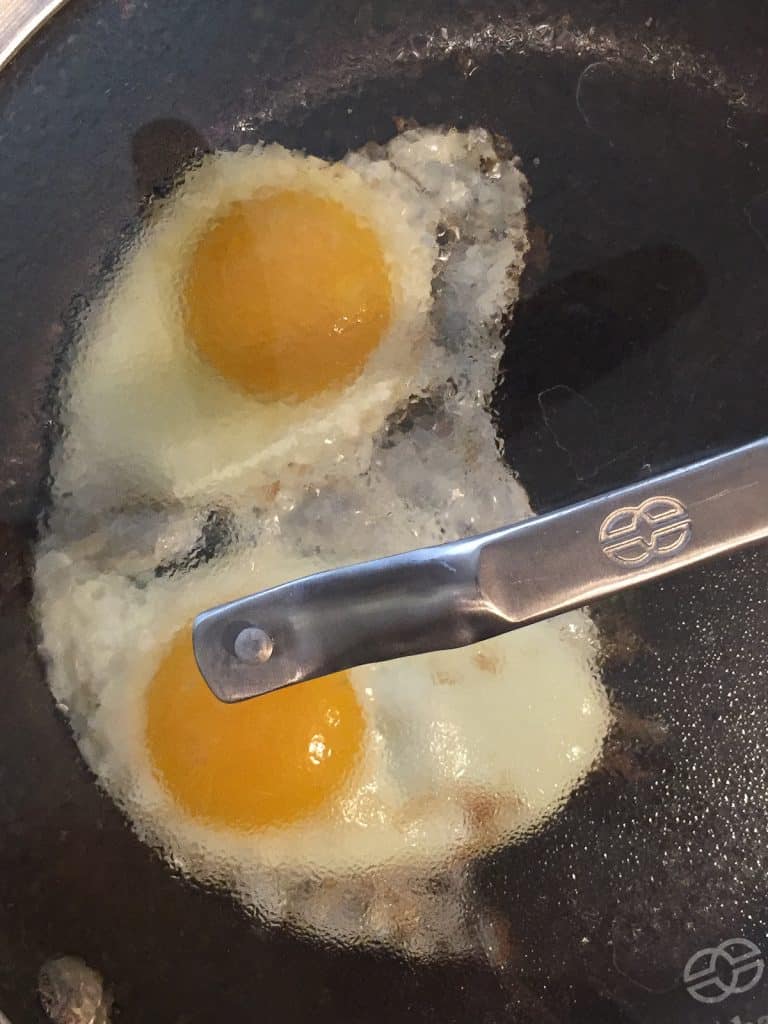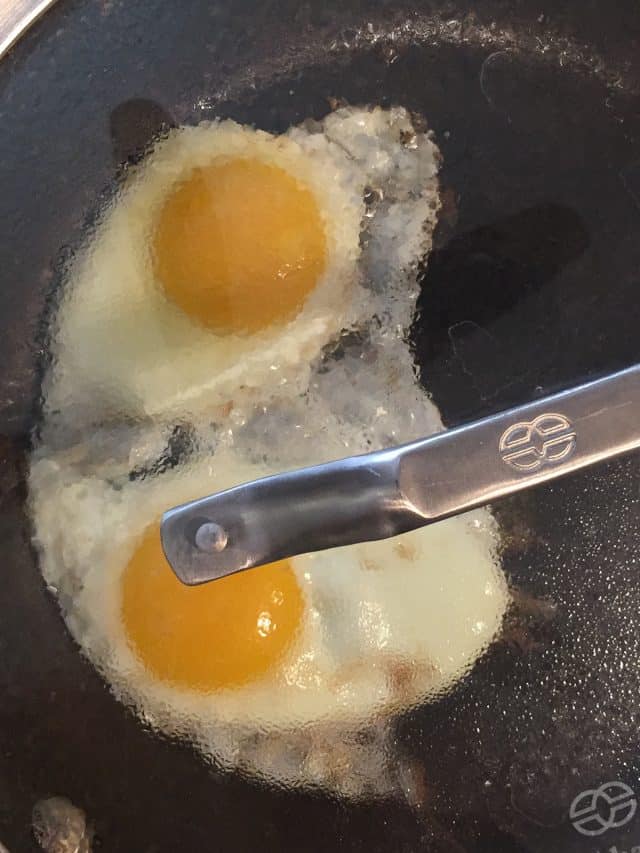 I typically like my eggs over medium but lately I've been covering my eggs in the skillet for the last couple of minutes to cook the tops of the eggs. It cooks them just enough and I love them this way – crispy on the bottom, cooked on the top and soft yolk in the middle. Perfection.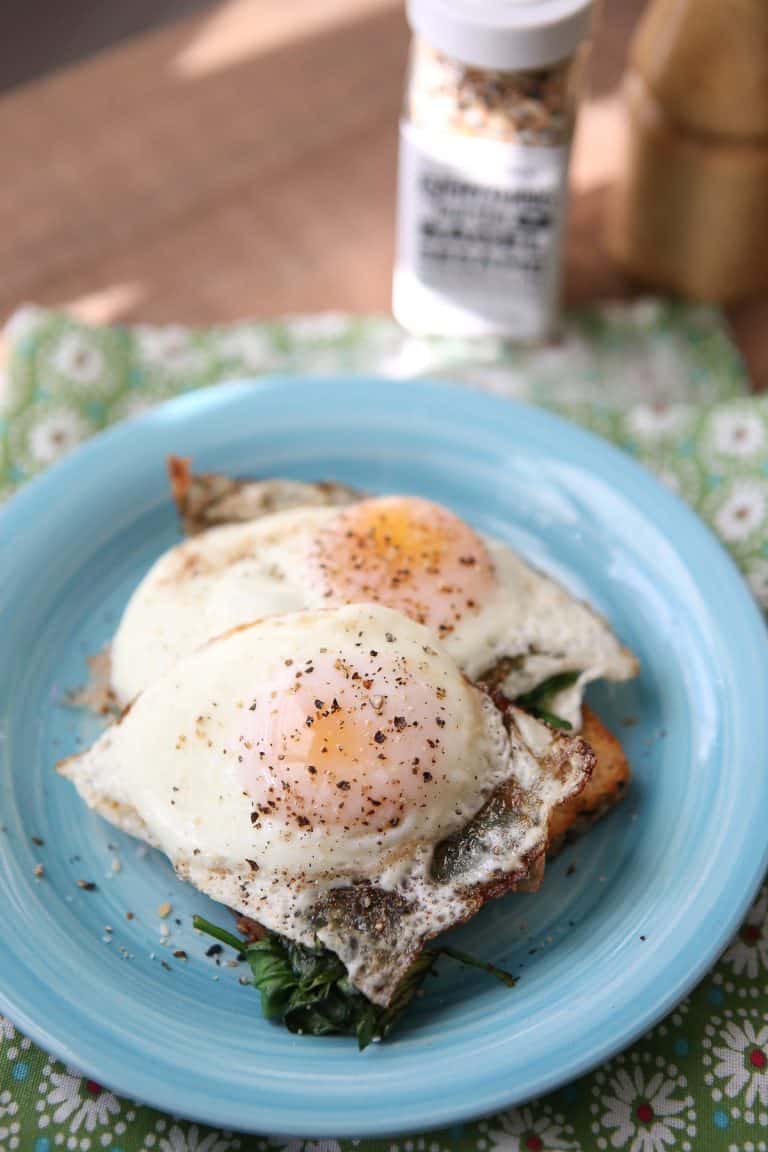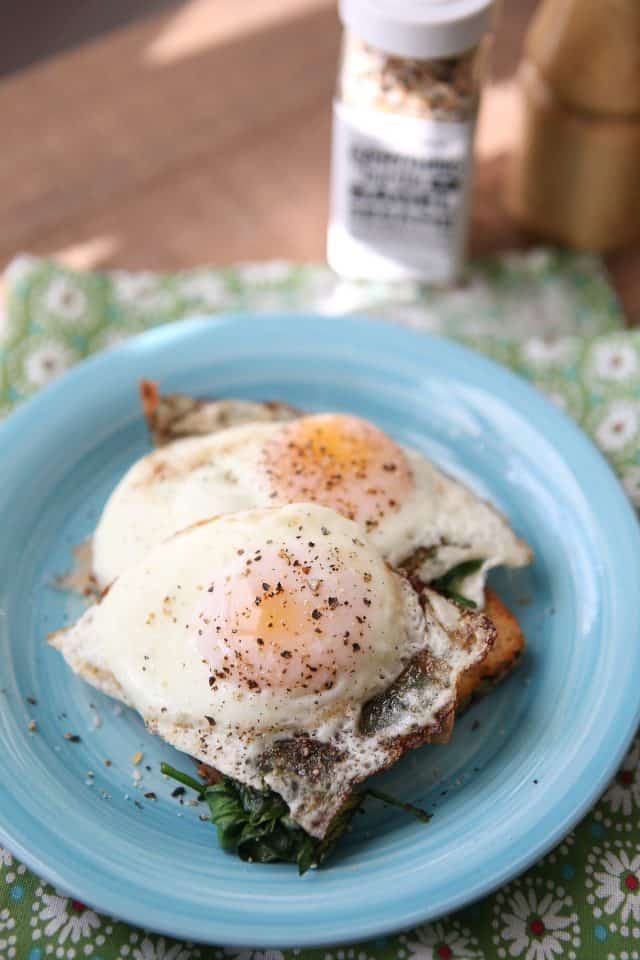 It always feels funny typing out instructions for a "recipe" like this. It's more of a breakfast idea than a recipe but you get it. I hope it inspires you to get some veg into your morning routine. Let me know what you think!
If you are on My Fitness Pal, I saved this as a meal and the nutrition came out to 277 calories, 19 grams of protein, 16 grams of carbs and 14 grams of fat. I use Eureka Organic Bread (this is not sponsored by them, I just like this bread a lot) so if you are inputting into whatever tracker you use make sure to select the bread you are using since it may change the numbers up a bit. Or don't. 🙂
Spinach and Egg Breakfast Toast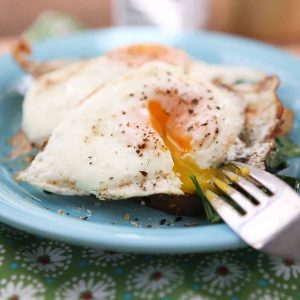 Ingredients:
1 slice whole grain toast (I love Eureka toast)
1 tablespoon low fat cream cheese
2 cups baby spinach
1/2 teaspoon butter
2 eggs
Directions:
Place slice whole grain bread in toaster.
In a skillet over medium heat, add 2 cups (handfuls) baby spinach. It will start to wilt in just a couple minutes so keep an eye on it. Once wilted push to side of skillet.
Add 1/2 teaspoon of butter to your skillet to cook eggs. Crack eggs into skillet.
Spread 1 tablespoon low fat cream cheese over toast. Top cooked spinach. Season to taste.
Once bottoms of eggs are firm, cover skillet with a lid. Let cook to desired level of doneness. I like my eggs with firm whites and runny yolk. Place eggs over spinach toast and season to taste.
Nutritional Information (via My Fitness Pal): 277 calories /19g protein, 16g carbs / 14 g fat
This is using 1 slice Eureka Organic Bread - adjust accordingly.
More ways to get veggies in at breakfast:
Kale, Red Pepper and Goat Cheese Frittata
Broccoli and Cheese Frittata Muffins with Quinoa
Veggie Scramble | The Pioneer Woman
Make Ahead Veggie Breakfast Casserole | Primavera Kitchen
Are you following me on Instagram, Twitter, Facebook and Pinterest? If you'd like to subscribe to Aggie's Kitchen and have each post delivered straight to your e-mail box, then please add your email here. Happy cooking!
There are affiliate links in this post. I make small earnings through any purchases made through these links. Thank you for supporting Aggie's Kitchen!