Spaghetti Squash with Sausage and Mushroom Bolognese
This Spaghetti Squash with Sausage and Mushroom Bolognese is a hearty low carb meal full of flavor! One of my favorites.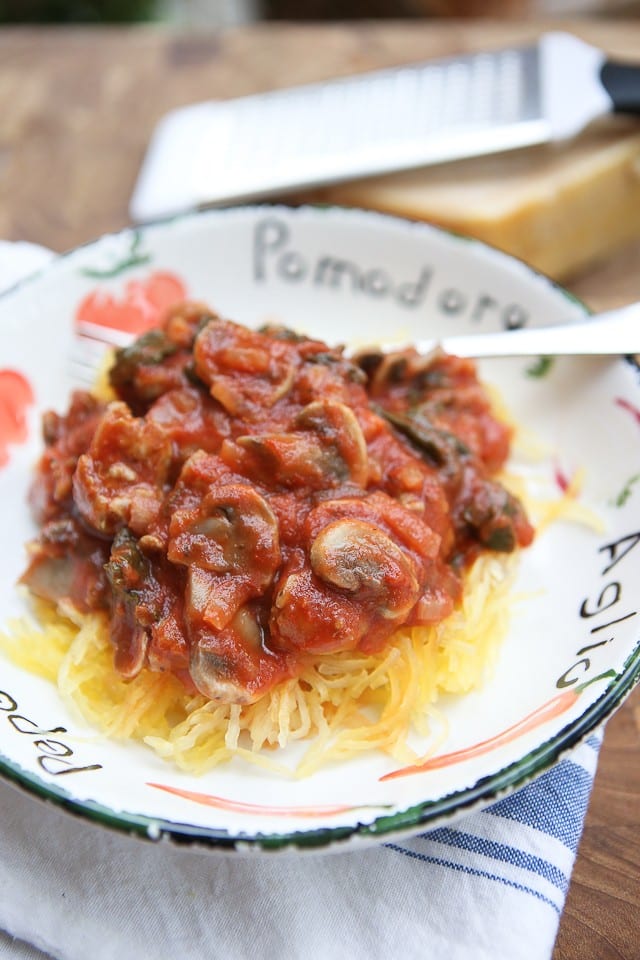 Spaghetti squash is back in my life thanks to my friend Katie's recent post on Facebook. Why have I never thought to roast it whole in the oven like that? It makes it so much easier than struggling to try and cut it and fit it into a dish in the microwave. Yes, it takes about an hour (give or take) but once it's in the oven that's it. After it cooks and softens all you have to do is slice it longways, scoop out the seeds and fork out the strands – easy!
(Or – slice it into rings like my friend Beth recently posted about. Rings = longer strands that actually look like spaghetti. Genius! I'm trying this next time. But roasting it whole first.)
If you don't have time to roast it in the oven and have an instant pot, here is how to cook spaghetti squash in the Instant Pot!
My favorite way to eat spaghetti squash is with a hearty tomato based sauce (like this one). I'll never tell you that spaghetti squash will take the place of pasta, but if you are trying to cut back on calories, carbs or whatever – then this Spaghetti Squash with Sausage and Mushroom Bolognese is for you. To me, it's the next best thing to sitting down to a plate of pasta (and feeling really good about it).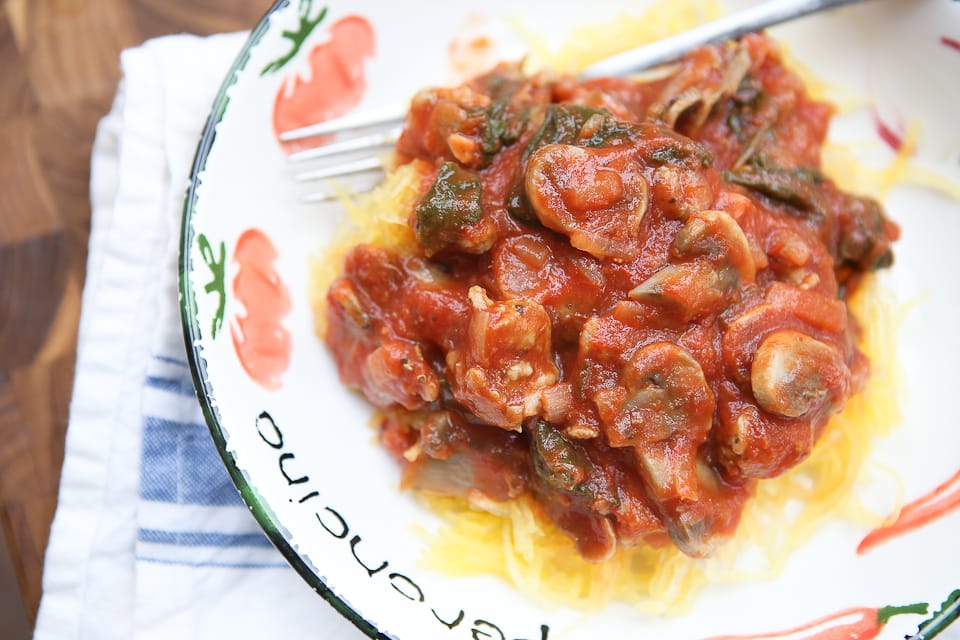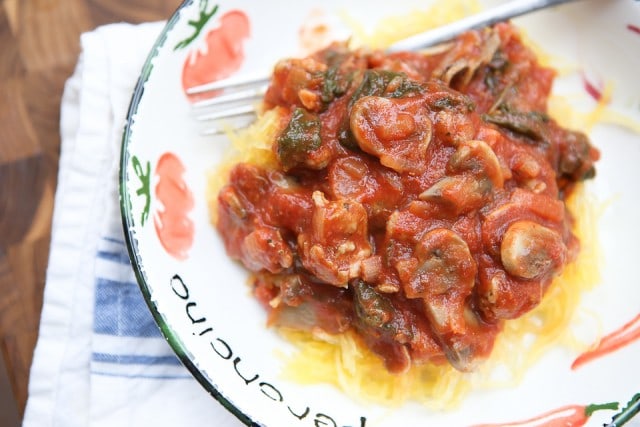 I'm in my second 30 days of my gym's 60 day challenge and it's been meals like this that have helped me along. I'm already down 7 or 8 lbs and at my lowest weight since I've had my 3rd child. I'm feeling good, people and hope to get another 7 – 8 off. My game plan has been simple and it's really been just about being prepared. For example, I cooked up this spaghetti squash on a Sunday and stored it in a tupperware in the fridge.
Once I made the sauce, I served it over regular pasta for the rest of my family but over spaghetti squash for me. I used the spaghetti squash throughout the week with leftover sauce for quick lunches and mixed with whatever other leftovers I had.
It would be absolutely delicious with this half meatless marinara sauce or turkey and kale bolognese. I love it with pesto too – I have been wanting to try it with this Slow Cooker Pesto Chicken I love to make.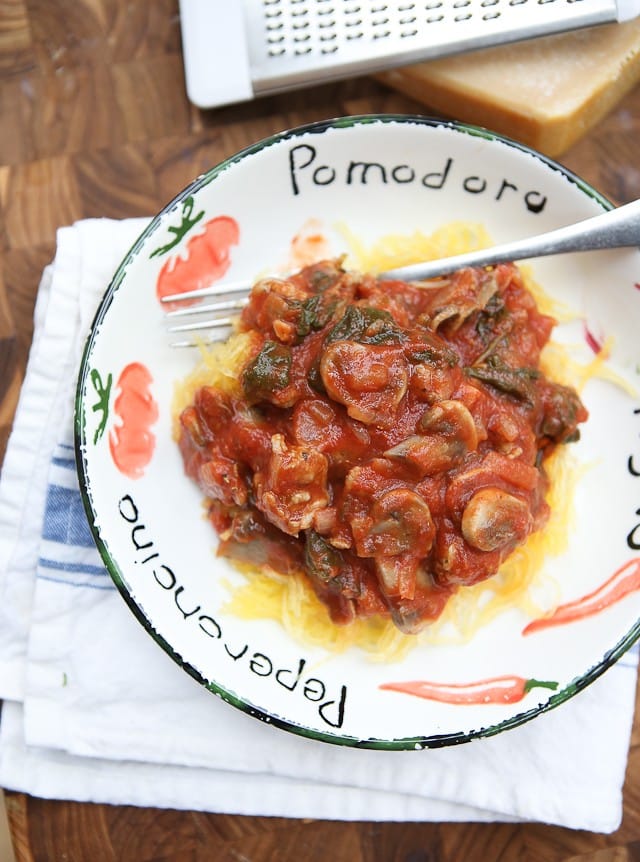 Cooking with spaghetti squash could be fun – especially when you know how good it is for you! Last year I put together a round up for 50 Ways To Cook Spaghetti Squash – so many ideas!! These
Have a great week!
Spaghetti Squash with Sausage and Mushroom Bolognese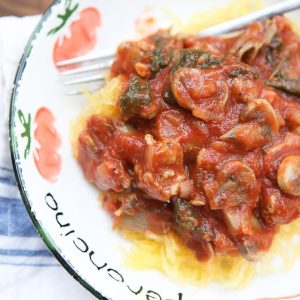 Ingredients:
4-6 cups cooked spaghetti squash
1 tablespoon olive oil
1 onion, minced
2 garlic cloves, minced
1lb fresh Italian chicken or turkey sausage, removed from casings
10 oz whole mushrooms, sliced
1 28 can crushed tomatoes with basil
1/2 teaspoon dried oregano
coarse salt and pepper, to taste
2 large handfuls fresh spinach
freshly grated Parmesan or crumbled feta, for serving
crushed red pepper, for serving
Directions:
Add 1 tablespoon of olive oil in a large skillet over medium heat. Add minced onion and garlic and let cook for 2-3 minutes. Add fresh Italian chicken or turkey sausage (removed from casings) to pan. Let cook and crumble using a wooden spoon.
When sausage is comletely browned, add sliced mushrooms to skillet. Season with salt and pepper and let cook for a few minutes until they start to soften.
Add crushed tomatoes to mushroom and sausage mixture. Season with dried oregano. Let simmer for 5-7 minutes, then adding in handfuls of fresh spinach.
Stir in spinach and let wilt into tomato sauce. Season with salt and pepper to taste. Serve sauce over warm spaghetti squash.
Top with freshly grated Parmesan or crumbled feta and red pepper flakes (optional).
More ideas for your spaghetti squash:
Twice-Baked Spaghetti Squash with Pesto and Parmesan | Kalyn's Kitchen
Low Carb Spaghetti Squash Casserole | SugarFree Mom
Sicilian Chicken and Mushrooms Spaghetti Squash Casserole | Cupcakes and Kale Chips
For more healthy recipes check out my Pinterest Board.
Follow Aggie's Kitchen's board Healthy Recipes on Pinterest.
Are you following me on Instagram, Twitter, Facebook and Pinterest? If you'd like to subscribe to Aggie's Kitchen and have each post delivered straight to your e-mail box, then please add your email here. Happy cooking!
There are affiliate links in this post. I make small earnings through any purchases made through these links. Thank you for supporting Aggie's Kitchen!