Smothered Grilled Pork Chops
So flavorful, this Smothered Grilled Pork Chops dinner comes together easily and will be loved by everyone at the table!
This recipe was created in partnership with Bush's Beans.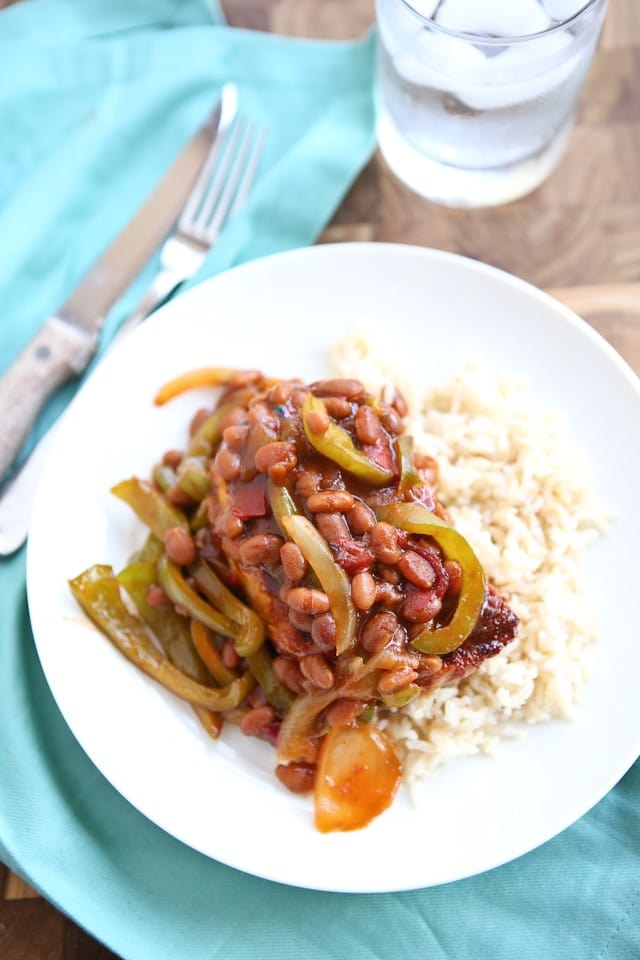 If you like pork chops and barbecue then I am pretty certain you are going to love these Smothered Grilled Pork Chops today. I don't cook pork chops often, but recently I picked up a couple of packages on sale since I know that my mother in law loves them and I want to treat her to dinner.
This meal made enough for them and my husband and I (I decided I wasn't going to make the kids eat all those dreaded peppers 😉 ) and it was absolutely delicious.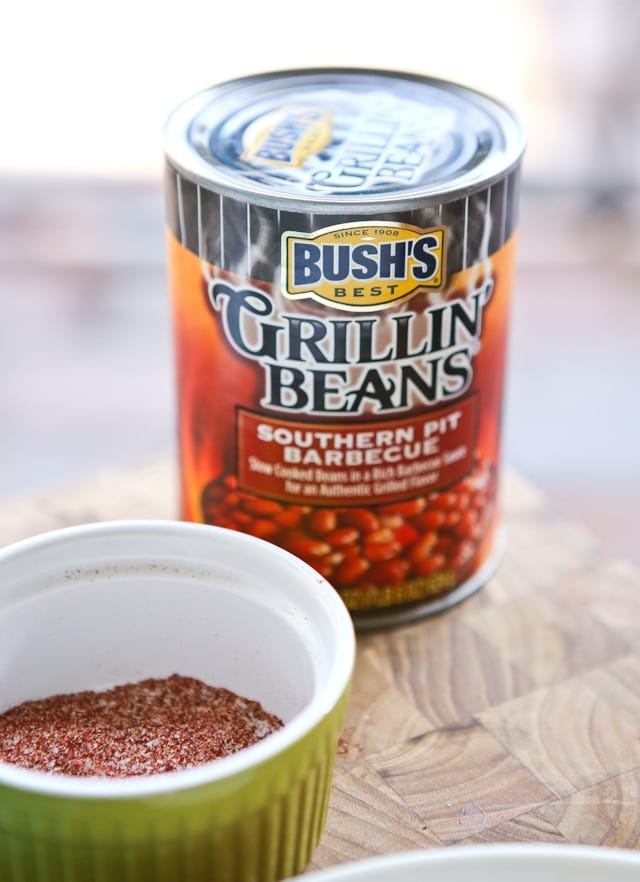 You know what, these smothered grilled pork chops were pretty straightforward and easy to make too. I had cooked up some brown rice ahead of time so that cut the time for that, and since the grill was doing most of the work all I had to worry about was the "smother" part in the skillet.
That couldn't get easier since I took a shortcut and used Bush's Southern Pit Grillin' Beans to add to the sautéed and onions and let it simmer a bit. It made the perfect sauce for the pork chops. If you can't find Grillin' Beans, you can easily use your favorite baked beans instead.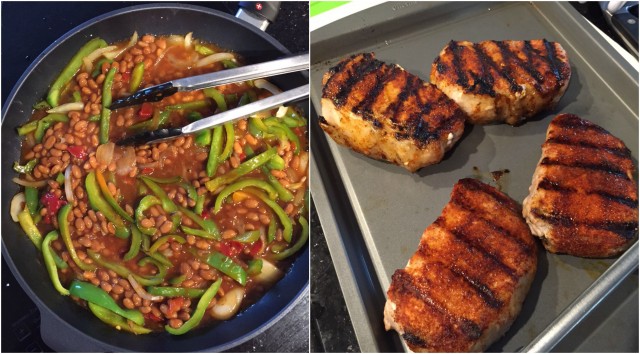 If you don't have a grill to use I am sure you can cook up the pork chops easily in a separate skillet, then finish them off to bake in the oven a bit. You don't want to overcook pork chops and make them dry, but sometimes it's tricky to cook them depending on how thick they are.
I found this video from Weber that shows how to grill basic pork chops – personally I use a gas grill most often but you will get the idea. It really depends on the thickness of the chops, and I noticed a couple of mine needed to be left a little longer than the others because they were so thick. I find it best to touch and test while on the grill (I love Elise's visual how-to post on this!).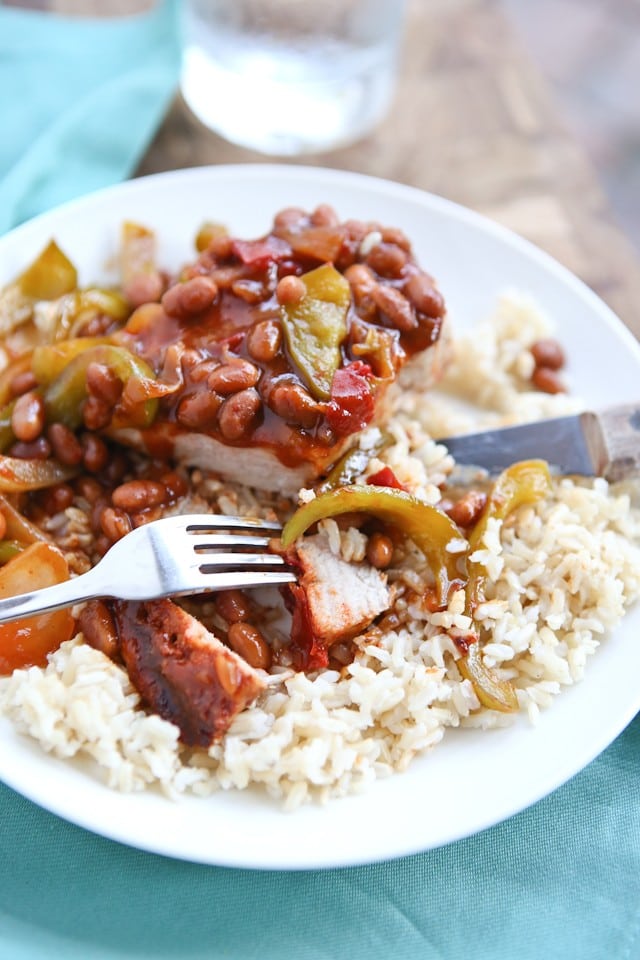 This Smothered Grilled Pork Chops recipe is definitely a keeper! My father in law left me the nicest message the other night telling me this is one of the best dinners I've made him. How happy does that make me? My husband raved about it as well. If I can figure out a way to get my kids to eat the peppers then this would make a regular appearance on the dinner table – maybe I'll switch out the peppers for zucchini and squash like I did in these fajitas, there's an idea!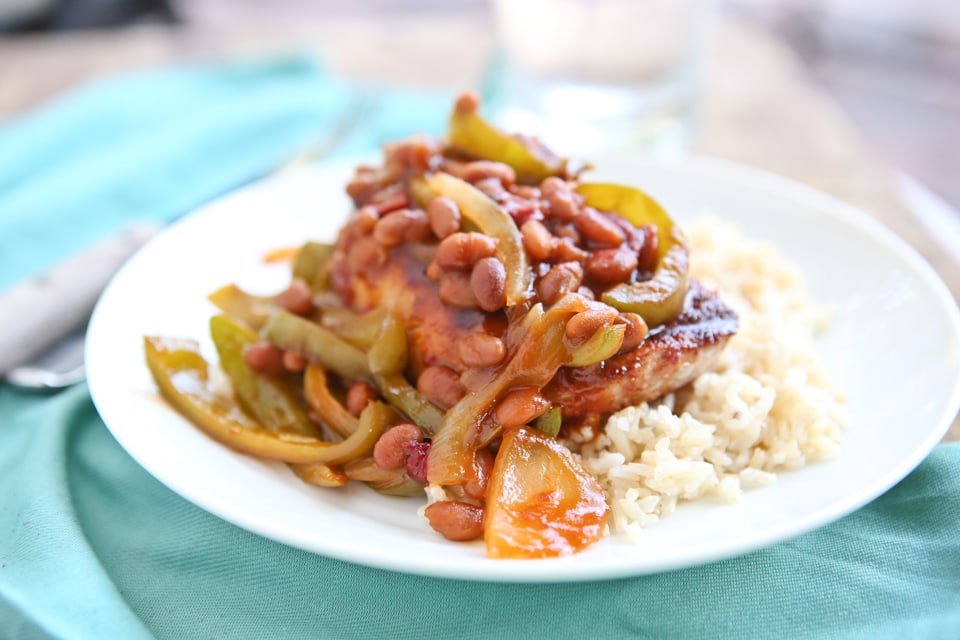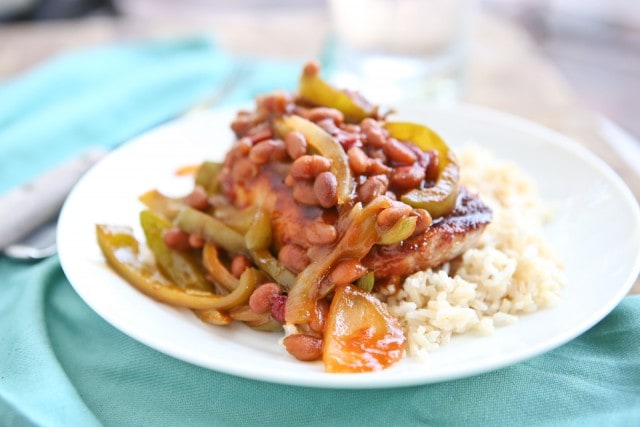 In the mood for pork chops? Try these recipes:
Sheet Pan Chinese Five Spice Pork Chops with Broccoli
Smothered Grilled Pork Chops with Bush's Southern Pit BBQ Grillin' Beans
Yield: 4 - 6 servings
Prep Time:10 minutes
Cook Time:30 minutes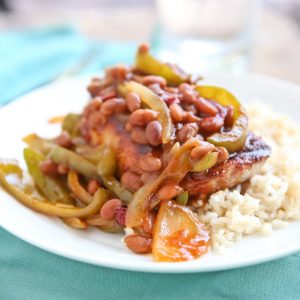 Ingredients:
1.5 - 1.75 lbs pork chops (about 4-5 chops)
1/2 teaspoon coarse salt
1 teaspoon smoked paprika
1/2 teaspoon onion powder
1/2 teaspoon garlic powder
1 teaspoon brown sugar
fresh ground pepper
1 teaspoon oil
1 large Vidalia onion, sliced thin
2 large bell peppers, sliced thin
Directions:
Preheat grill to medium high heat.
In a large skillet, heat up 1 teaspoon oil over medium heat. Place sliced onions and peppers into skillet and lightly season with salt and pepper. Cook for 7-10 minutes until softened. Add in beans with sauce to skillet and reduce heat. Let simmer on low for about 5 - 7 minutes.
While onions and peppers are cooking, prepare pork chops. Combine salt, paprika, onion powder, garlic powder, brown sugar and fresh ground pepper into a small bowl. Liberally coat both sides of pork chops with rub. Place on hot grill plates and let grill for about 5 minutes. Flip pork chop and cook other side for another 5-7 minutes or if using a meat thermometer internal temperature reaches 145 degrees. Place on a plate and cover with foil and let rest for 3 minutes.
When ready to serve, spoon onion, pepper and bean mixture over each pork chop. Best served with cooked brown rice.
This recipe was developed in partnership with and for Bush's Beans.
Follow Aggie's Kitchen's board Aggie's Kitchen Recipes on Pinterest.
Are you following me on Instagram, Twitter, Facebook and Pinterest? If you'd like to subscribe to Aggie's Kitchen and have each post delivered straight to your e-mail box, then please add your email here. Happy cooking!
There are affiliate links in this post. I make small earnings through any purchases made through these links. Thank you for supporting Aggie's Kitchen!