Chinese Five Spice Pork Chops with Broccoli
A sheet pan supper for busy weeknights – this Chinese Five Spice Pork Chops with Broccoli is easy to make and delicious.
Click here to pin this Chinese Five Spice Pork Chops with Broccoli recipe!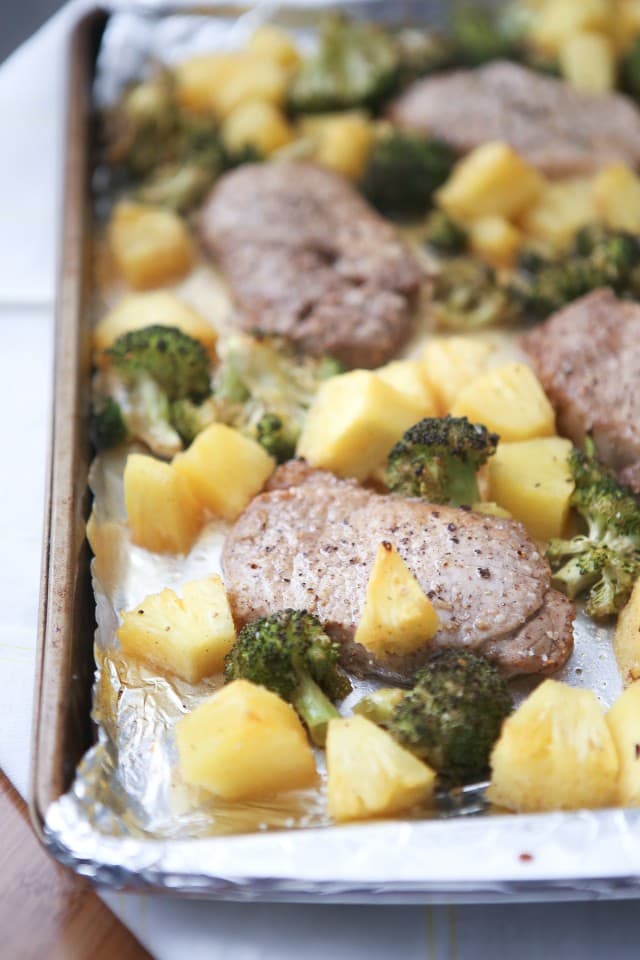 One of my goals for the upcoming new year is to start cooking from my cookbooks again. I have a pretty massive collection of cookbooks that I cherish and love, but sadly don't cook from as much as I used to. Over the years, I've become accustomed to creating recipes from scratch to share here on the blog and my cookbooks have been neglected in the process. One of my recent cookbook purchases is a fantastic and practical cookbook called Sheet Pan Suppers and today's Chinese Spice Pork Chops with Broccoli was inspired from it.
Today's post is also for this month's Recipe Redux – the Recipe Redux is a monthly recipe challenge where we focus on a theme and recreate a recipe with a healthier twist. This month's theme was Grab a Book and Cook, so I was excited to do just that! Since the Recipe Redux is celebrating it's 54th month we were to find a recipe on page 54 or 154 of a nearby cookbook and reinvent a healthy version of it. I picked up Sheet Pan Suppers and found a recipe using an ingredient that I was defrosting for dinner – pork chops. It happens to be on page 123 (oops!!) because I missed the little page detail until later (I blame my holiday brain!).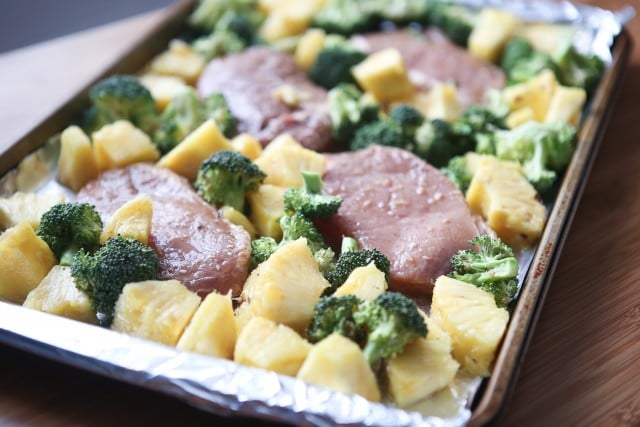 This cookbook literally has pages of recipes that focus on cooking entire meals in one pan. I am loving the idea since one of my go-to meals on busy school nights happens to be one I cook in a sheet pan just like this and loved by my family – Maple Roasted Fall Vegetables with Chicken Apple Sausage.
This Chinese Five Spice Pork Chops with Broccoli was loved by everyone too. My family loves when I make pork (both chops and tenderloin) and I'm trying to make them more often so this was a new way for me to cook them. I marinaded them overnight then placed them on the sheet pan and surrounded them with broccoli florets and fresh pineapple chunks that were also tossed in a little bit of marinade. We are already big fans of roasted broccoli, but I have to tell you the roasted pineapple was an absolutely delicious addition.
Enjoy this month's Recipe Redux cookbook inspired recipes!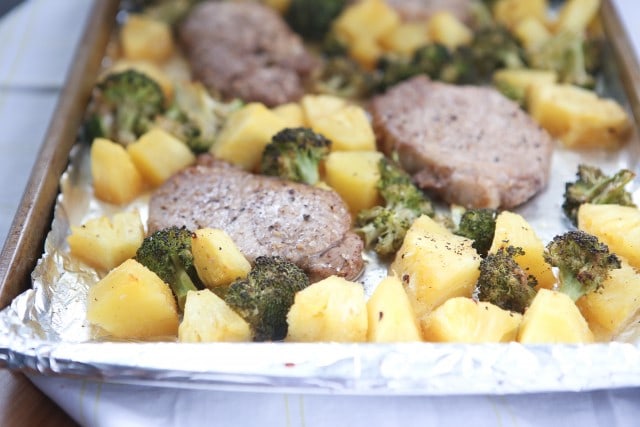 Chinese Five Spice Pork Chops with Broccoli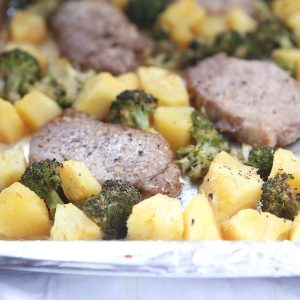 Ingredients:
4 boneless pork chops (about 1.25-1.5 lbs), trimmed of visible fat
2 tablespoons grapeseed oil (or other light flavored oil)
2 tablespoons pure maple syrup
1/4 cup low sodium soy sauce
2 tablespoons rice vinegar
1 2-inch piece fresh ginger, grated
1 teaspoon Chinese five spice powder
1 teaspoon toasted sesame oil
2 large handfuls broccoli florets
1 fresh pineapple, cored and cut into chunks
1 teaspoon sesame seeds (optional)
pinch coarse salt and fresh ground pepper to taste
Directions:
In a bowl, whisk together oil, maple syrup, soy sauce, vinegar, ginger, five spice powder and sesame oil. Place the pork chops in a shallow baking dish or zip top bag and pour marinade over them making sure they are completely coated in the marinade. Marinade the pork chops in the refrigerator for 4 hours up to overnight, taking time to turn the pork chops in the marinade during that time.
When it's time to cook, preheat oven to 425 degrees. Line your sheet pan with aluminum foil and place pork chops onto sheet pan spaced out evenly. Reserve the marinade for the vegetables.
In a bowl, add the broccoli florets and pineapple along with 1/4 cup pf the reserved marinade. Toss to coat. Place broccoli and pineapple on sheet pan and arrange evenly around pork chops.
Bake in 425 degree oven for 15 to 20 minutes, until pork chops are cooked through (you can use an instant read meat thermometer to check internal temperature of 140 -145 degrees if you like). If you prefer, remove pork chops from pan and cook broccoli and pineapple for 5 more minutes (optional). Sprinkle sesame seeds over vegetables. Serve immediately
Recipe inspired and adapted from Chinese Five Spice Pork Chops with Nectarines, Sheet Pan Suppers by Molly Gilbert
Need more easy weeknight meal ideas? Follow my Pinterest board for inspiration!
Follow Aggie's Kitchen's board Easy Weeknight Meals on Pinterest.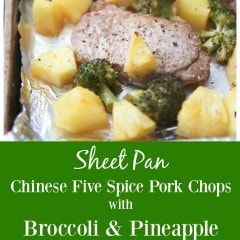 Are you following me on Instagram, Twitter, Facebook and Pinterest? If you'd like to subscribe to Aggie's Kitchen and have each post delivered straight to your e-mail box, then please add your email here. Happy cooking!
There are affiliate links in this post. I make small earnings through any purchases made through these links. Thank you for supporting Aggie's Kitchen!