Sloppy Sammies …
Phew…
I am one tired mom. I have never been so happy for a weekend to end. I have been solo since Thursday while Daddy was in Phoenix for work. My daughter has been sick the last two days so we've been cooped up in the house, not a good scenario when you have to entertain a 4 year old active little boy who is constantly moving and bouncing around. Luckily I have great neighbors with kids the same age that he was able to play with a bit while I stayed in with little Gina. If I really think about it, I'm basically tired from doing nothing! I'm just so happy that Daddy will be returning tomorrow and things will get back to normal around here.
I made these sandwiches last week before the big trip. My 4 year old son, Sammy, is a bit of a picky eater and doesn't always like trying new foods so I wanted to stir up some excitement about dinner by telling him we were eating Sloppy Sammies that night. Boy, did that make his eyes open wide…he liked that a lot. Of course, he had no idea what Sloppy Sammies were, nor did he ask either. He happily ate his dinner that night.
Yes it was that easy. Amazing.
Sloppy Sammies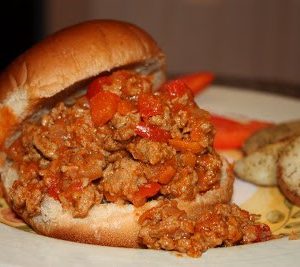 Ingredients:
1.25 lb lean ground turkey
1-2 tsp olive oil
1 med onion, finely chopped
1 carrot, shredded
1 red pepper, finely chopped
1 tsp chili powder
1 tsp smoked paprika
1 tsp garlic
salt and pepper to taste
1 small can of tomato sauce
1/4 cup ketchup
2 tsp Worcestershire sauce
2 tsp chili powder
1 TB mustard
2-3 TB brown sugar
Directions:
In large non-stick skillet over medium high heat, saute onions, carrots and red pepper until softened. Add ground turkey and continue to cook until browned. Add seasonings to meat and veggie mixture and cook through.
In small bowl combine tomato sauce, ketchup, Worcestershire sauce, chili powder, mustard and brown sugar. Add sauce to turkey and veggie mixture and stir. Cook for about 5 minutes until sauce is warmed through and starts to thicken.
Serve on whole wheat or potato rolls.
(for a printable version of this recipe click
here
)

Hope everyone had a great weekend!!

Are you following me on Instagram, Twitter, Facebook and Pinterest? If you'd like to subscribe to Aggie's Kitchen and have each post delivered straight to your e-mail box, then please add your email here. Happy cooking!
There are affiliate links in this post. I make small earnings through any purchases made through these links. Thank you for supporting Aggie's Kitchen!